Last Updated on August 17, 2023 by The ZenMaid Team
As a growing cleaning business owner, you know the importance of being visible to potential customers. With so many businesses competing for attention online, it can be difficult to stand out. That's where search engine optimization (SEO) comes in. Optimizing your online presence can improve your chances of being found by people searching for your services. Setting up your Google profile is one of the best places to start. In this article, we'll show you how to do it and give you tips for optimization. First, let's start with the basics:
What is a Google Business Profile?
When you type a business into Google, your search results should include the business you're looking for and businesses related to it in the same area. On the right side of the search results, you'll see each business' Google Business Profile (GBP.) In short, a GBP is how local business shows up across the search engine in maps and general search results. The profiles can include a list of services, products, locations, reviews, posts, pictures, and the name of the business.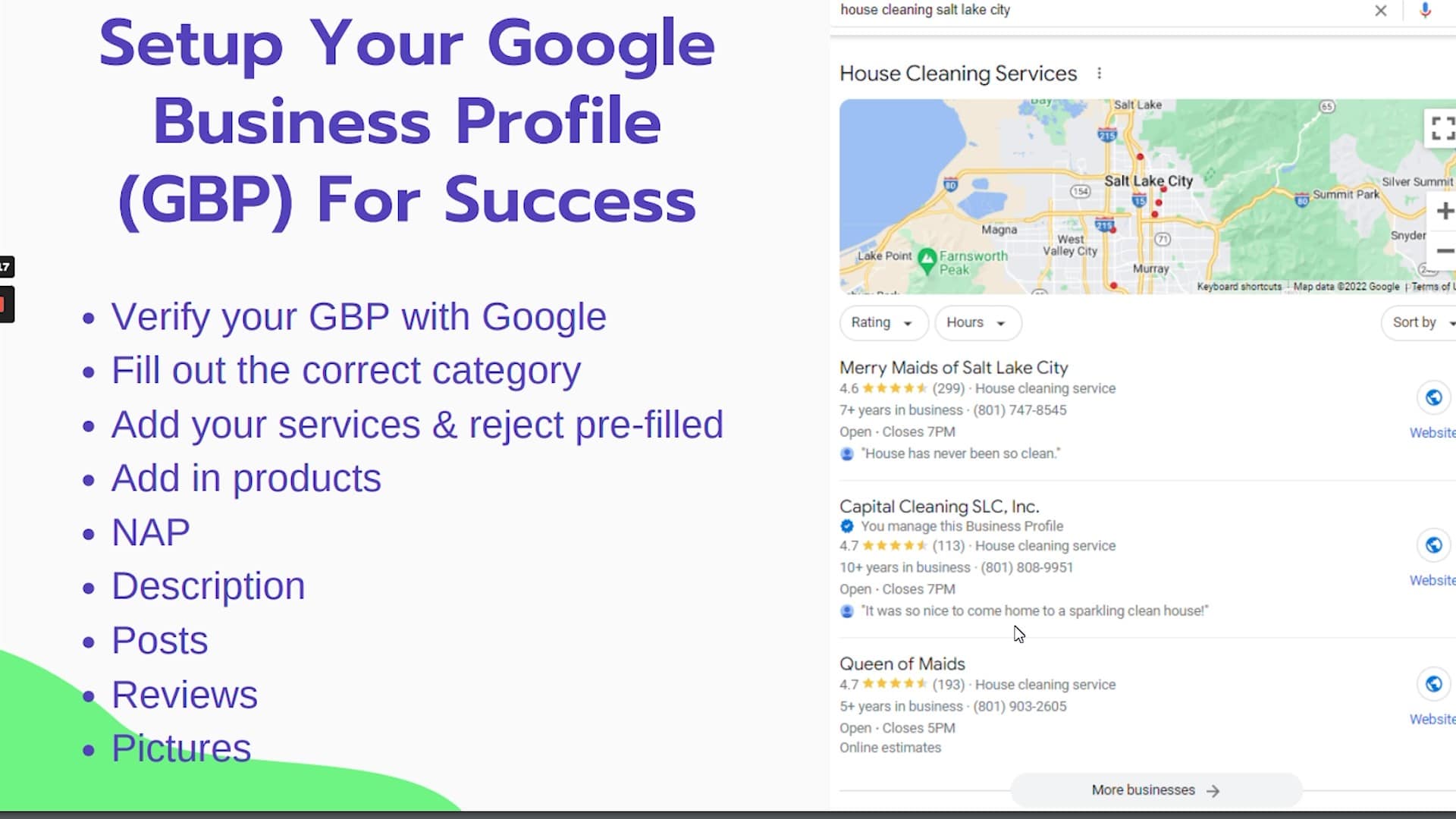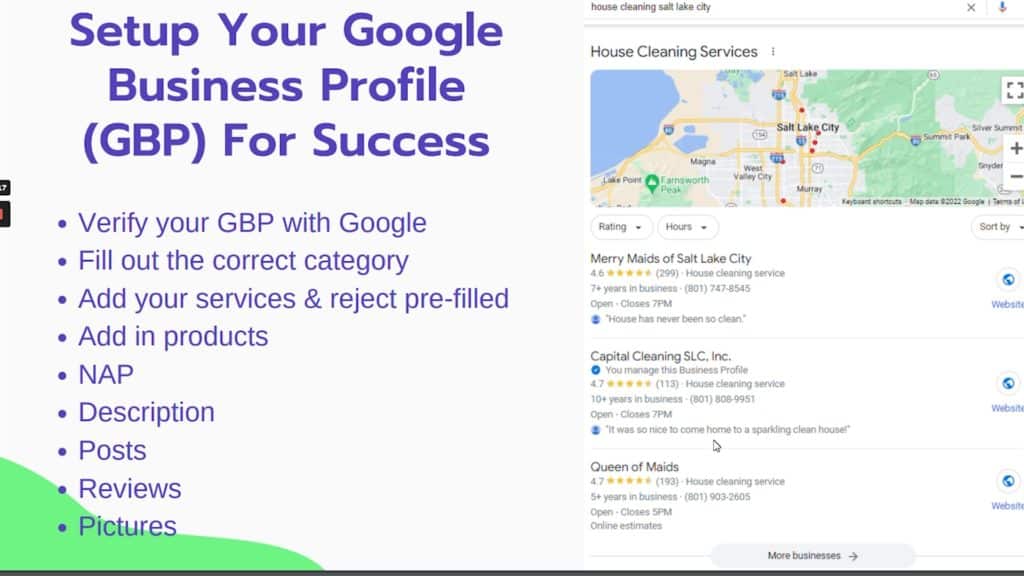 Why are GBP and SEO important?
Right now, Google is the biggest search engine. It dominates with over 60% of searches in the United States and market shares when compared with other large search engines like Bing and Yahoo. That being said, without a Google Business Profile (GBP), your maid service won't show up at the top of search results on Google. GBP improves your Search Engine Optimization (SEO) because it increases your reach to potential customers online. Now, it's worth mentioning that SEO is a huge topic. For the purposes of this article, we're going to be focusing on local SEO and building up your website presence.
Why is SEO important for growth?
It's less expensive to have a potential client find and call you from an organic online search rather than spending hundreds (or thousands) on advertising. But SEO takes time, and the longer you wait to improve it, the longer it will take to build your organic reach. If you're in a small town, building up your local presence can be a lot quicker. However, if you're in a large metropolitan area, which many of us are, SEO is imperative to compete in the local market.
Setting up your Google Business Profile
First, if you haven't already, it's time to set up your Google Business Profile. This profile, also known as the Google Maps page, Google Plus page, or Google My Business page, is what appears when someone searches for a local business on Google. You want to be one of the three relevant businesses that show up on the map, so it's crucial to optimize your profile for keywords that potential customers might be searching for.
To get started, go to google.com/business and click on "sign in" or "sign up." The earlier you start, the better. Once you sign up, you'll receive a postcard to verify your profile and can start filling out the forms to be seen online. If you already have a Google Business Profile, simply sign in and explore the features we'll discuss today to improve your visibility and attract more customers.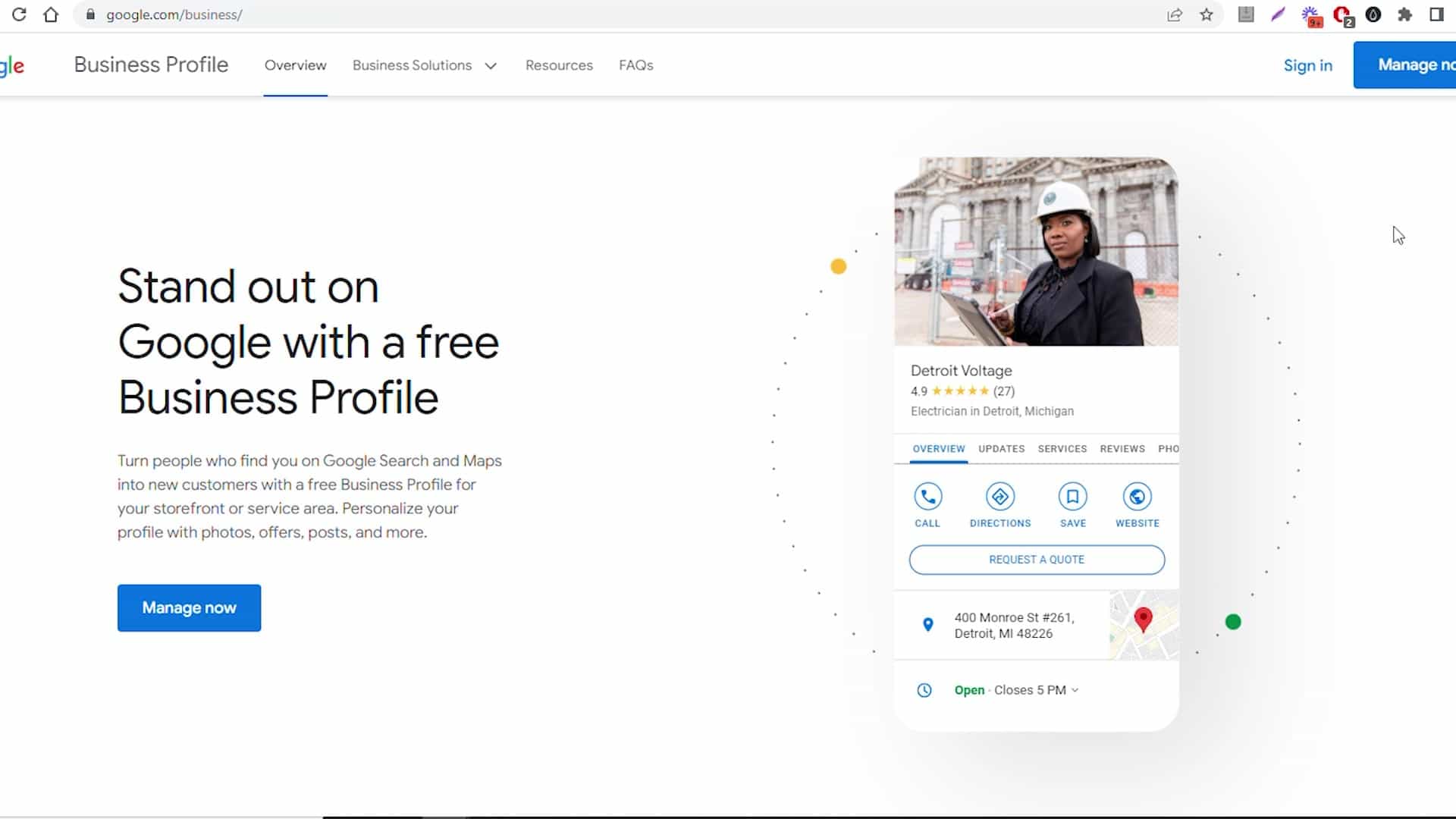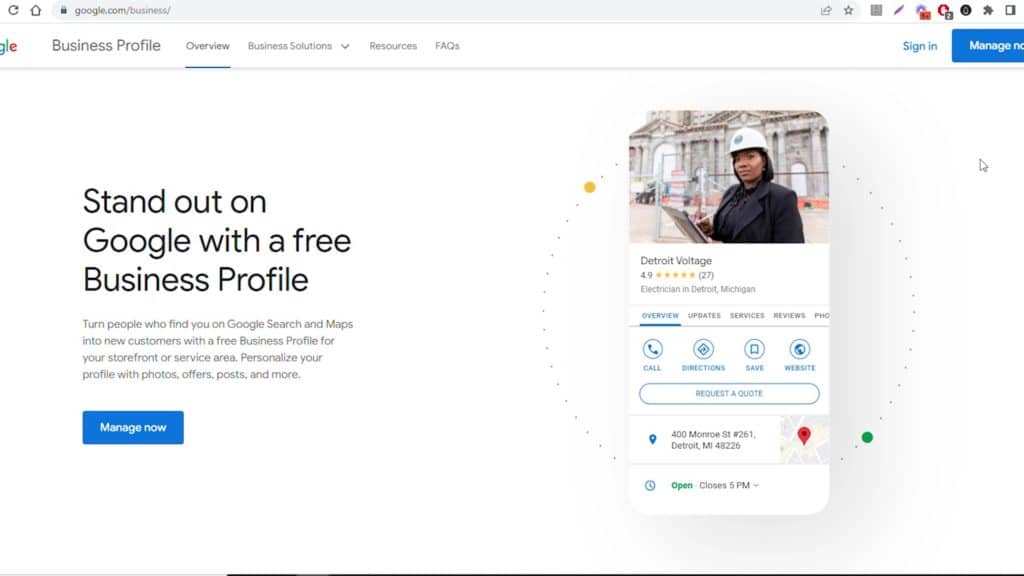 Getting your Google Profile page set up
Once you get your Google Profile activated, fill out every piece of information to ensure your page is complete. If you don't fill out all the information, Google may refer potential customers to another business that has completed its page.
One of the most important things to do is to make sure your categories are correct. Choose the category that best represents your cleaning business, and try to focus on as few categories as possible. This will prevent your business from being spread too thin and help Google understand your business better.
When filling out your page, make sure to provide all the information that Google is asking for — like service areas — but don't display your address if you don't have a physical location for your business. Google will auto-populate some services for you, but make sure to delete any that are irrelevant or too broad.
Next, fill out all of the business attributes, such as if your business is women-led or minority-owned, and make sure to add in services such as disinfecting surfaces. Finally, describe your business, including your name, services, and where you work.
Avoid keyword stuffing, and make your description as natural and human-centered as possible. By completing your full Google business page, you'll have a better chance of ranking higher in search results and attracting potential customers.
Need some help finding keywords relevant to your cleaning business? Check out this article.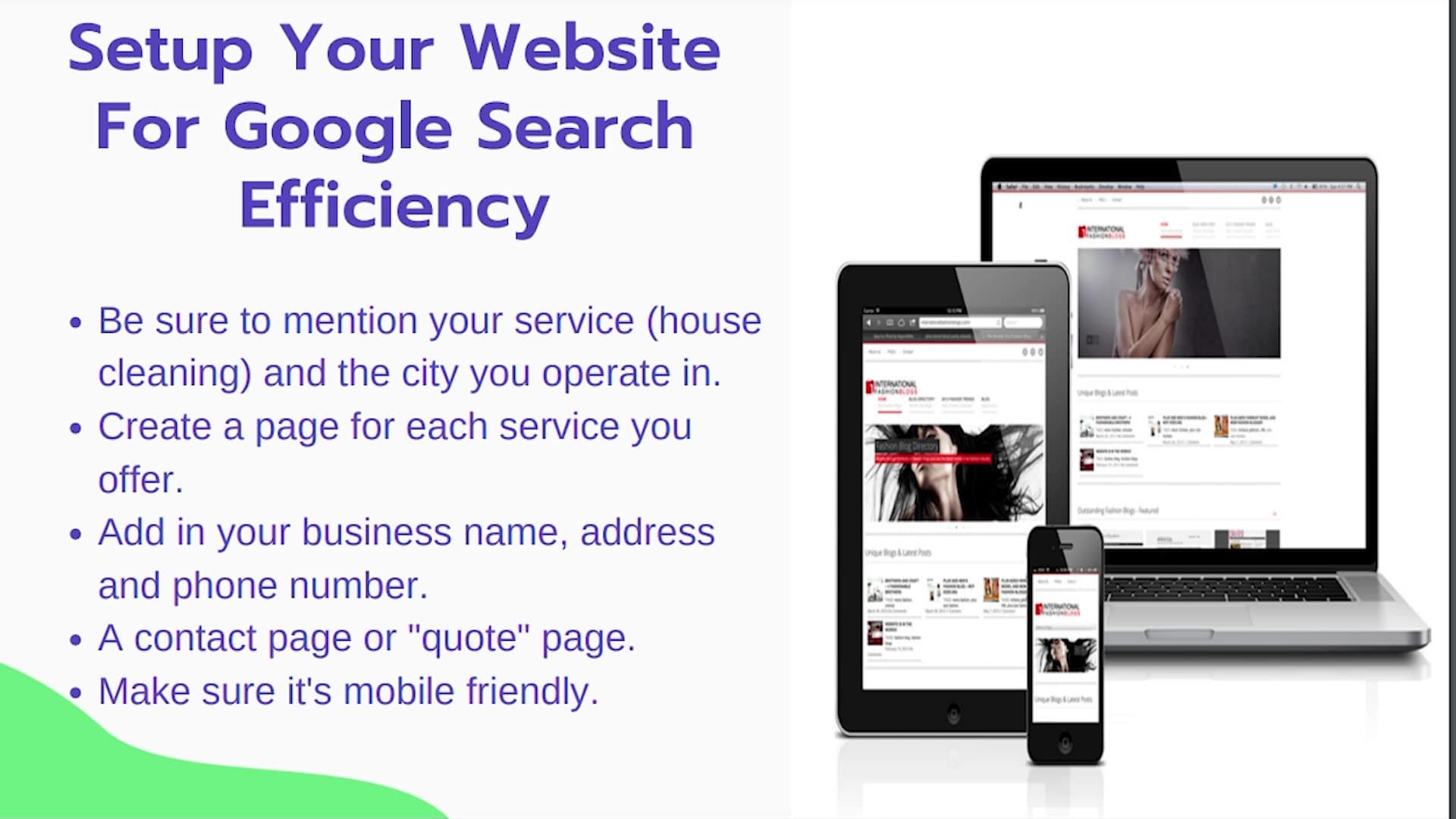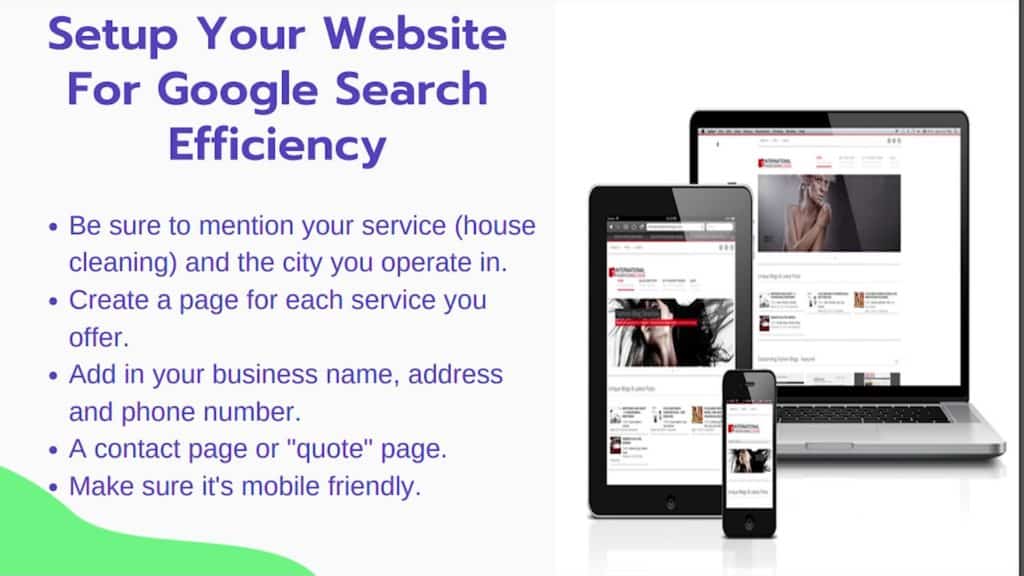 Setting up your website for Google Search Efficiency
Small changes to your Google presence go a long way in your search visibility. Here are some tips to help ensure your profile meets Googe Search's efficiency criteria:
Mention your services and location on your website: When you mention your services and the city you operate in on your website, Google can connect the dots and understand what type of business you are and where you are located.
Include your business name, address, and phone number: Don't skip this step! Having this information on your website is crucial, so people can find and contact you easily. Don't forget to include a "Contact Us" or "Get a Quote" page as well.
Ensure your website is mobile-friendly: With over 50% of searches now conducted on mobile devices, having a website that is mobile-friendly is crucial. If your website was created more than a few years ago, it might not be optimized for mobile devices. Make sure your website is responsive and looks good on any device.

Optimizing your website on Google
Your website can be more than just a digital business card. With the right optimization techniques, it can become a powerful tool to generate new customers and increase revenue.
One crucial aspect of website optimization is ensuring that your services and service areas are prominently featured. Including the city where you operate and the various cleaning services you offer can help Google connect the dots and rank your website higher in search results.
In the cleaning industry alone, there are over 30 keywords related to residential cleanings, such as house cleaning, maid service, move-out cleaning, deep cleaning, post-construction cleaning, and more. Incorporating these keywords into your website content makes it easier for potential customers to find you when searching for those terms.
And the payoff can be significant. For instance, ranking on the first page of Google for recurring cleaning services alone can bring in at least $400 a month in revenue. Move-out cleaning can generate anywhere from $300 to $1,000 or more per job. The possibilities for growth are limited only by your ambition and resources.
Need some more help with your website's optimization? Get a free SEO analysis from the presentation speaker, Jonathan Rodriguez.
Let's recap
Setting up your cleaning business for success online requires some upfront effort, but the rewards are worth it. By creating a website that is optimized for Google search, you can generate more customers and increase revenue for your cleaning business. Pair that with the right keywords and optimization techniques, and your website can become a tool to generate leads and bring in new customers. Ultimately, this will help your business grow and increase your bottom line.
Your next step
If you found this article helpful for your maid service, you may also like:
About the presenter
Jonathan Rodriguez is a professional internet marketing consultant, home service SEO expert, and former cleaning company owner who has helped hundreds of clients from the US to the UK to Canada to Australia and beyond grow their cleaning businesses using SEO and other online advertising techniques.
This talk first aired at the 2022 Maid Service Success Summit.
The Maid Summit is an annual online event that brings together the most successful leaders in the cleaning industry, like Debbie Sardone, Angela Brown, Courtney Wisely, Amy Caris, Chris Schwab and more. Get free access to masterclasses and workshops that will help you to grow, scale and automate your cleaning business so you can get more leads and create more profit. Make sure you're on our email list to find out how to get free tickets to the next event.
Discover how much time you could be saving in your maid service. Get started with ZenMaid for free today.