Last Updated on August 21, 2023 by The ZenMaid Team
Success story: How Kate Sloan reinvented her life with the help of ZenMaid
Kate Sloan needed a plan — quick.
In 2009, Kate was 40, fresh from a divorce, and in desperate need of a way to support herself and her sons. So, she turned to what she knew.
"I was a housewife," Kate says. "I knew how to clean and take care of people."
Kate posted flyers for her house cleaning services and landed a few jobs. To make ends meet, she made pizzas at a gas station. She also pursued her longtime interest in photography and enrolled in classes.
And then the cleaning jobs rolled in.
"When I started making an income just by cleaning, I thought, why am I even bothering going to school?" Kate says.
In the beginning, Kate took every job that came her way. She calls it "gangster cleaning."
Eventually, she earned enough to hire a couple of employees and quickly learned that starting a business was the simple part. Sustaining and growing it would be the real test of her skills and commitment.
CHALLENGES
Growing pains
When she wasn't cleaning, Kate handled booking, scheduling, and recording keeping — everything — on paper.
Index cards contained client information and notes. When Kate or her cleaners went to a home, they'd bring along the client's index card for reference about preferences and requirements.
A large desk calendar served as a dashboard for bookings, employee schedules, and messages. Its margins were a catchall for notes and reminders.
If someone was interested in booking a cleaning:
The lead would call Kate's personal cell phone
Kate would visit the home for a walkthrough
Kate would go back to the office, work up an estimate, and email it to the lead
If the lead booked a cleaning, Kate would log their information on an index card and add them to the schedule on the paper calendar.
She didn't have a system for keeping information about leads who didn't book, so she couldn't send them marketing materials.
"It was always a challenge if I forgot to write anything down, or if I forgot where I wrote it," Kate says. "And then rescheduling was a challenge because I would have to erase it and it would turn into a great big mess."
Sometimes, she'd forget to return calls. And once — in a mishap that can only be funny years later — her crew accidentally cleaned the wrong house.
"I felt messy, unorganized, and overwhelmed," Kate says.
Learning as you go
To boost her business knowledge, Kate scoured the internet for information about how to run a maid service. That's how she discovered scheduling.
"I didn't even know there was such a thing as scheduling software for maid owners," she says.
Her web searches eventually led her to ZenMaid.
Kate knew that if she wanted to serve more clients, or have more free time, she had to move admin tasks from paper to software — but it wasn't an easy switch to make.
The battle against impostor syndrome
For Kate, there were two barriers to switching to ZenMaid: mindset and commitment.
Although her maid service was earning money, she didn't consider herself a business owner.
"The thing that was holding me back was confidence," Kate says.
An investment in software — or any kind of help — meant going all in on Chicka Chicka Broom.
"So I asked myself, 'Are you going to make a go at this? Are you going to be a real business owner?'" Kate recalls.
Her answer: YES.
"It was basically do or die for me,
If I'm going to jump in, I'm gonna jump in with everything I've got."

Kate Sloan, Chicka Chicka Broom
RESULTS
Automations make life simpler
Today, the index cards and paper calendar are history. Instead, Kate and her growing team use ZenMaid to streamline key tasks.
"We call ZenMaid our bible,"

Kate Sloan, Chicka Chicka Broom
Here's a breakdown of how Chicka Chicka Broom uses ZenMaid:
Quoting and booking:
A lead fills out the ZenMaid quote form on the Chicka Chicka Broom website.
Kate's team reviews the information and emails the lead a quote. (Bonus: ZenMaid adds this information to the customer relationship management (CRM) software with an automation set up with Zapier.)
If the lead books a cleaning, the team uses ZenMaid to add the job to the schedule.
ZenMaid automatically texts or emails the new client appointment reminders and follow up messages.
ZenMaid manages rescheduled or canceled appointments seamlessly.
Information about leads who don't book cleanings is saved and automatically added to the marketing funnel.
The cleaning staff uses ZenMaid daily to:
Read detailed client notes
See up-to-date schedules and work orders
Communicate with each other and the office staff
Clock in and clock out
Now that most admin tasks are automated, Kate estimates she saves at least 60 hours a week. That's time she can invest in other parts of her business and enjoy time away from work.
"Without ZenMaid, I would have absolutely zero freedom in my life – and I would have literal chaos,"

Kate Sloan, Chicka Chicka Broom
A thriving business — and businesswoman
Kate is a long way from the "gangster cleaning" days. In fact, Kate doesn't clean anymore and considers herself a true business owner.
ZenMaid now offers a 100% free plan. Unlimited time. Unlimited cleaners. Learn more here
Here's how Chicka Chicka Broom has grown since setting up ZenMaid:
23 employees (as of Spring 2022)
From 50 to 306 clients (and counting)
$1 million dollars in 4 months (end of 2021)
"I spent many years as a solo cleaner kind of lost," Kate says. "I was a housewife. I knew nothing about business. ZenMaid is one of the first things that helped me on my journey."
And the monthly investment? No longer a concern.
"I don't even know how much I pay ZenMaid a month now — and I don't care because I can't run my business without it," Kate says.
Although Kate still works most days, she has the freedom to set her own schedule, making room for fun like days off, an afternoon massage, and road trips with her new husband and dogs.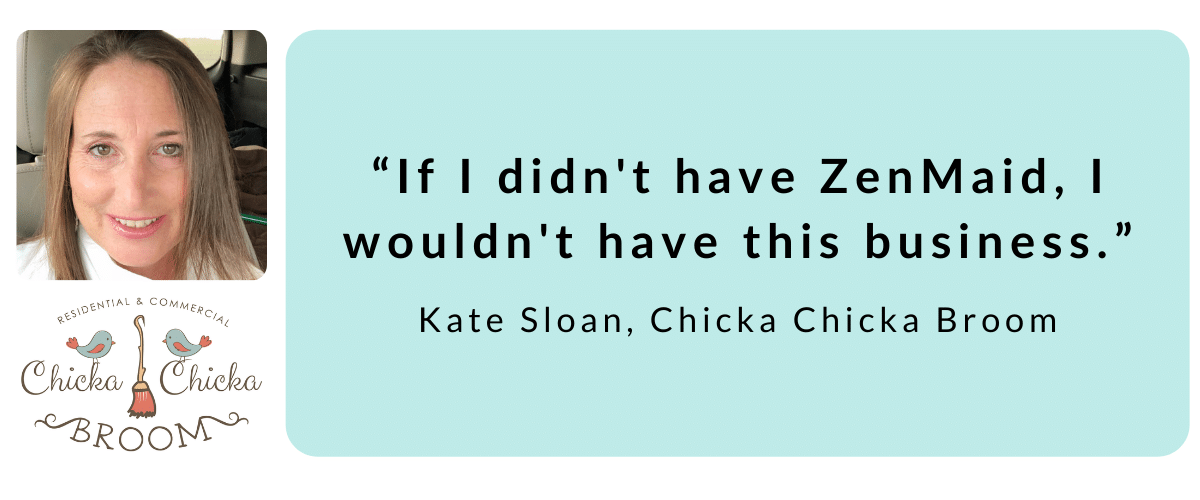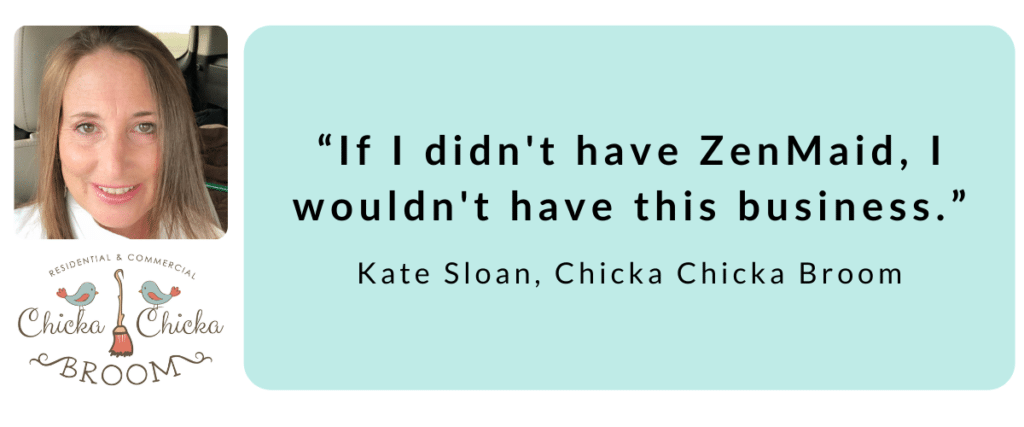 Paying it forward
Kate marvels at how far she's come since she posted her first flyer.
"I never intended to be a business woman. I just intended to support myself and my family," Kate says. "And then I just started to dream and then it got fun."
The fun includes helping her employees thrive and support their families.
"I get so fulfilled from helping my employees pay their rent, buy cars, buy houses," Kate says. "I have a real heart for young parents who are trying to make it work in this world."
And that energy creates a loyal staff. Most of Kate's employees stay at least a year, with some staying as long as five.
"They're always telling me how much they appreciate working here, too," Kate says. "I just love it."
---
ZenMaid + Taskaway: a business-saving combination
When Chicka Chicka Broom owner Kate Sloan remarried, she was determined to go on a two-week honeymoon. So, Kate turned to Task Away for a virtual assistant (VA) to help support the office while she was away.
Task Away not only had a VA ready to jump in, she was already trained in ZenMaid, which Chicka Chicka Broom relies on to run operations.
All of TaskAway's VAs are trained in ZenMaid by owner Maria Dorian, whose expertise comes from being part of ZenMaid's customer success team, where she helps maid service owners get the most out of their ZenMaid account.
Kate enjoyed her honeymoon and her VA, Julissa, became such an essential part of the company she became office manager.
When Julissa had to take a sudden and extended leave of absence, Kate turned to TaskAway again for help.
"I'm crying because I don't know what I would've done without that resource," Kate says.
"If I had to train somebody in ZenMaid, it would've been really hard and time consuming. It's so much easier that the VAs at Task Away are trained in ZenMaid. They go hand in hand."
To find out more about hiring a VA for your maid service, get in touch with Maria: maria@taskawayva.com
---