Last Updated on August 21, 2023 by The ZenMaid Team
What you'll learn in this article:
How to deal with negative feedback from clients
How to develop loyal clients that will stick with you for life
How to ask clients for referrals
The three-step game plan to keep your maid service clients for life
The goal of the three-step plan
The goal of using the three-step game plan in your cleaning business is to help you retain more clients, attract more clients in the future, and increase your revenue by thousands of dollars. Ultimately, we hope this game plan will get you excited about your business again, like back on the first day you started! It will turn your clients into raving fans who refer your business every chance they get.
But before we dive into the three steps, let's talk about what's holding you back: the revolving door.
How to stop the revolving door cycle
Many cleaning business owners have trouble keeping their clients happy. As a result, they can't figure out how to hold on to them for one year, let alone years and years. We call this the revolving door. While the loss of just one or two clients can become routine for many businesses, it quickly adds up to the loss of thousands of dollars.
So how do you STOP the vicious cycle of the revolving door? The most common problems that lead to the revolving door are quality and communication issues.
Calculating your client attrition rate
First, you have to know your client numbers. This number includes how many recurring clients you have, how many you're losing every month, and your attrition rate.
Attrition is the term that we use to talk about the percentage of clients who cancel service each month for any reason. (Now, this doesn't include skipping, but you definitely want to know how many people you're losing each month.) So it doesn't matter if they moved away or were dissatisfied; a cancel is a cancel.
Before we can change these numbers, we have to know what they are. Some people even call this the client churn rate.
So here is how you calculate your attrition rate: take the total clients who canceled in the month and then divide that by the total clients recurring from the beginning of the month. This will give you a percentage, and that is your attrition rate.
A normal percentage for attrition rate is anywhere from one to four percent. The smaller your businesses, the lower that rate will be. If it starts to go over that amount, there's a problem that needs to be addressed.
Understanding the average revenue per client
It also helps to know the average revenue per client for the lifespan of that client. To figure that out, you take your average annual revenue per client times the average lifespan. This will give you a picture of your average client's lifetime value.

How does attrition affect your cleaning business' growth?
If you have a monthly attrition rate of five percent, it means you lose five percent of your clients every month. Compared to industry standards, that's a high number. If you never added any more customers to your business in that year, your business would be cut in half by the end of the year. That's how dangerous attrition is!
Even if you find new clients to replace your lost ones, you're losing time and revenue that doesn't need to be lost. Attrition can stall your business' success, or even kill your growth for good.
The good news for your cleaning business
Ok, all this talk about attrition is scary, but there is some good news here! You have a huge opportunity to grow your business from these clients who you might lose. Our three-step game plan can help you reduce your attrition by half.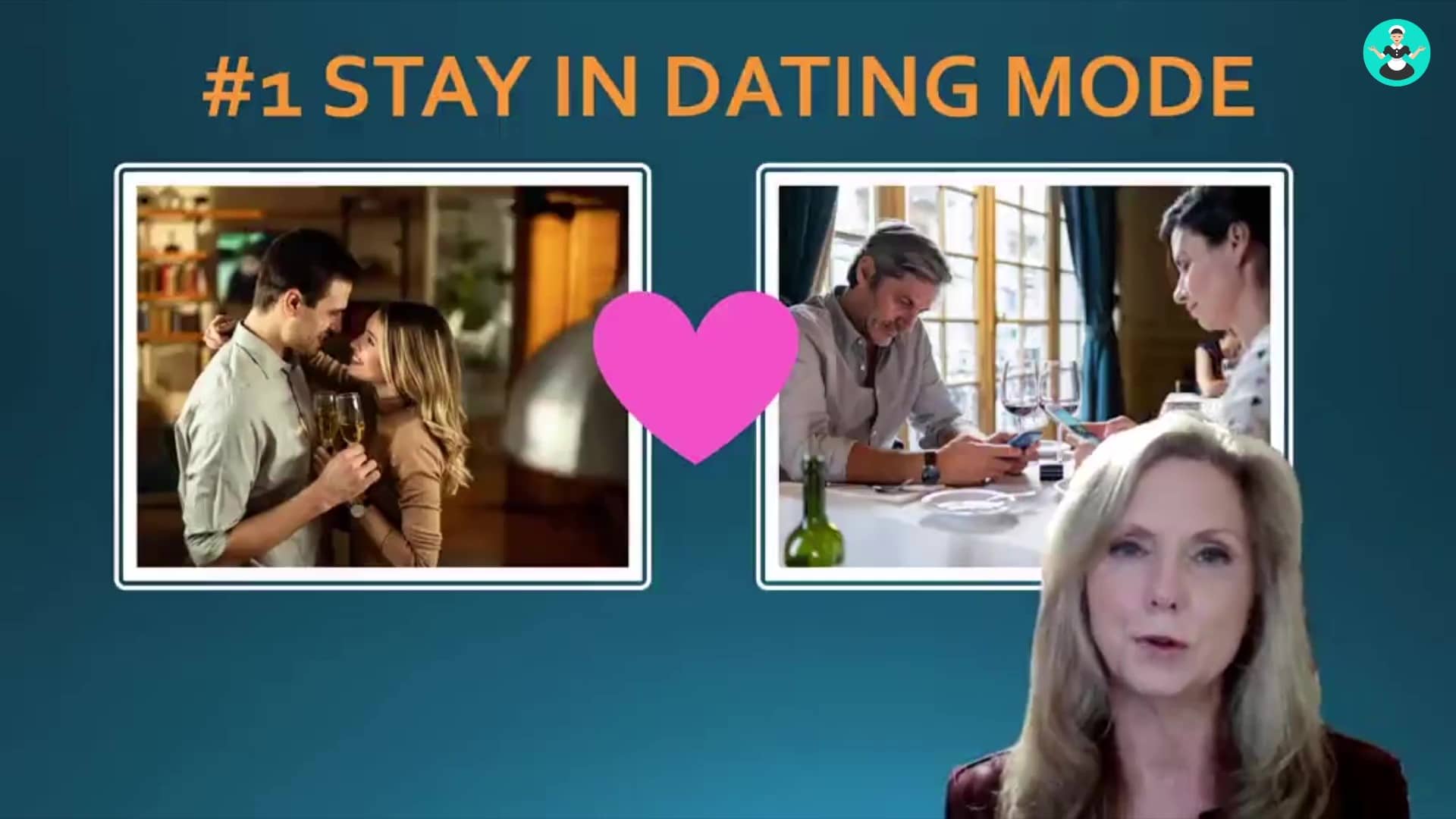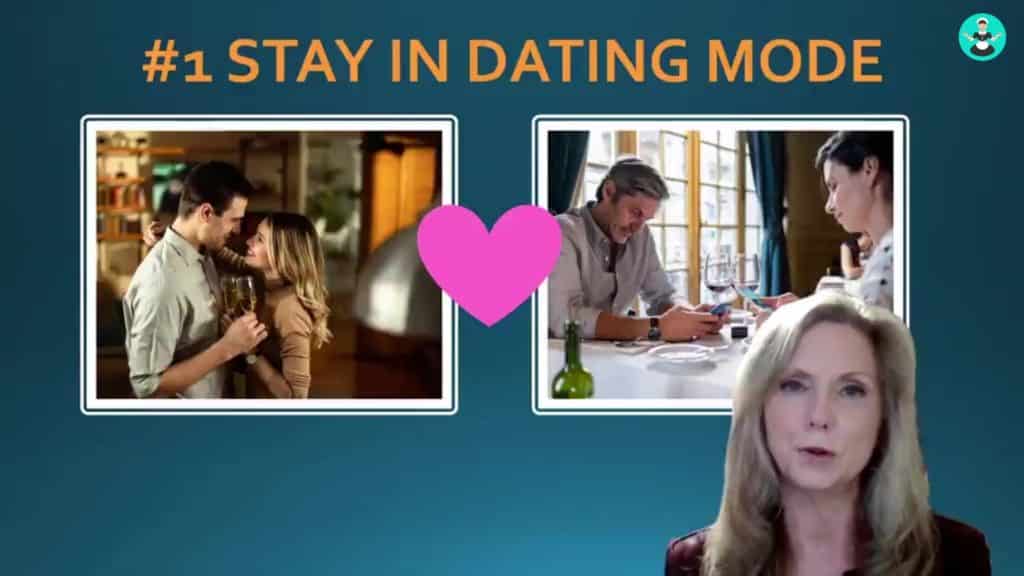 Step one: stay in the dating phase with your clients
Now, this may sound a little corny, but all great relationships start with a dating mode.
Remember the first time you fell in love, and you could stay up all night talking on the phone? You asked this new love of yours hundreds of questions, and couldn't wait to learn more about them.
But then, as time goes on, years later, you find yourself out of the infatuation phase. You might even start to get a little critical of each other and maybe even disappointed sometimes.
It happens in all long-term relationships, but you can work to combat it – just like with your clients! So first, you need to ask yourself, what stage of relationship are my clients in with me?
Pro Tip: Learn How to Use The Five Love Languages to Nurture and Inspire Your Cleaning Team! Staying in the dating phase with your staff makes it easier to stay in the dating phase with your clients.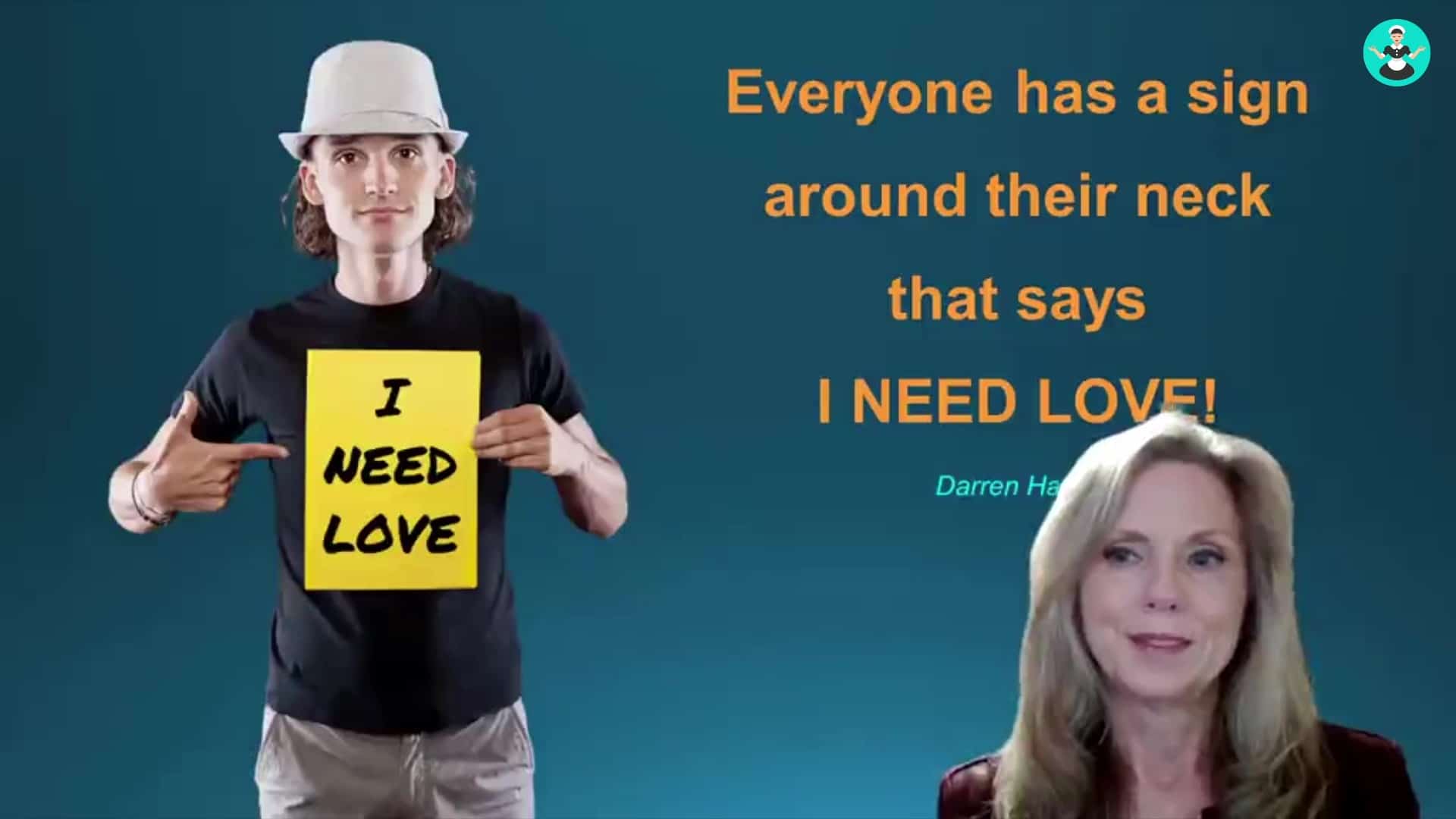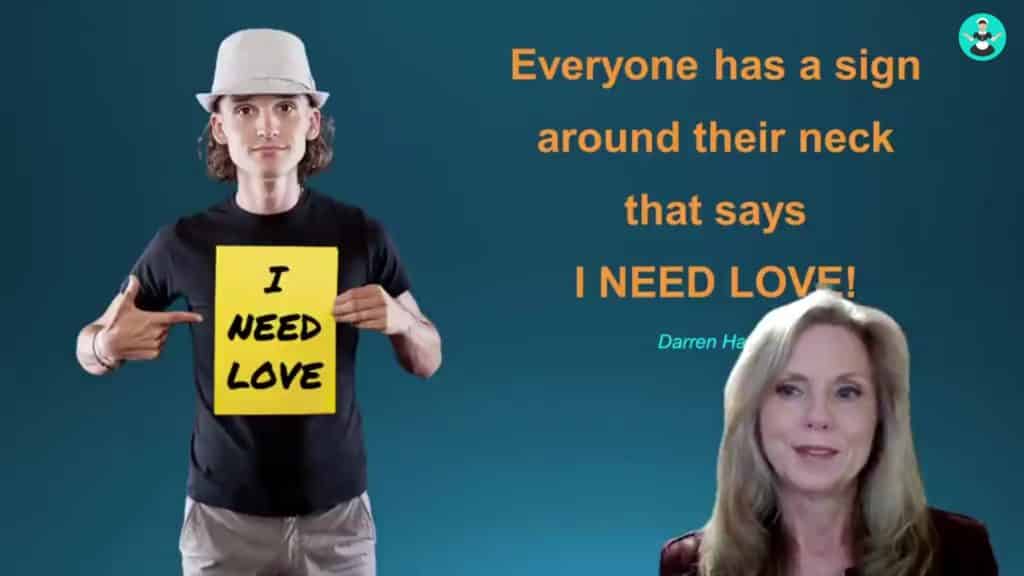 How to deal with negative feedback from your clients
Everyone needs love; it's a basic human need. In your long-term relationships with your clients, you need to show love. So consider, are you asking them questions often? Are you truly listening and responding?
A quote we love from Zig Ziglar helps reframe how we should respond to negative client feedback:
"Statistics suggest that when customers complain, business owners and managers ought to get excited about it. The complaining customer represents a huge opportunity for your business – a huge opportunity!"
Stay in the dating phase with your clients by showing them constant love and listening to their feedback. This doesn't need to be another dreaded item on your to-do list – get creative and have fun with it! Here are five ideas to help get you started:
Send your clients handwritten cards for special occasions, like anniversaries of cleaning their homes, birthdays, Mother's Day, etc
Visits clients homes frequently if you're not the technician who usually cleans them
Send flowers if a mistake is made (we're all human; mistakes happen!)
Offer exclusive deals to your long-term clients
Send regular opportunities for them to share their feedback, like a quick survey after every clean or a monthly phone call from your manager
For more ideas, check out this blog post with 5 Tips for Top Customer Service.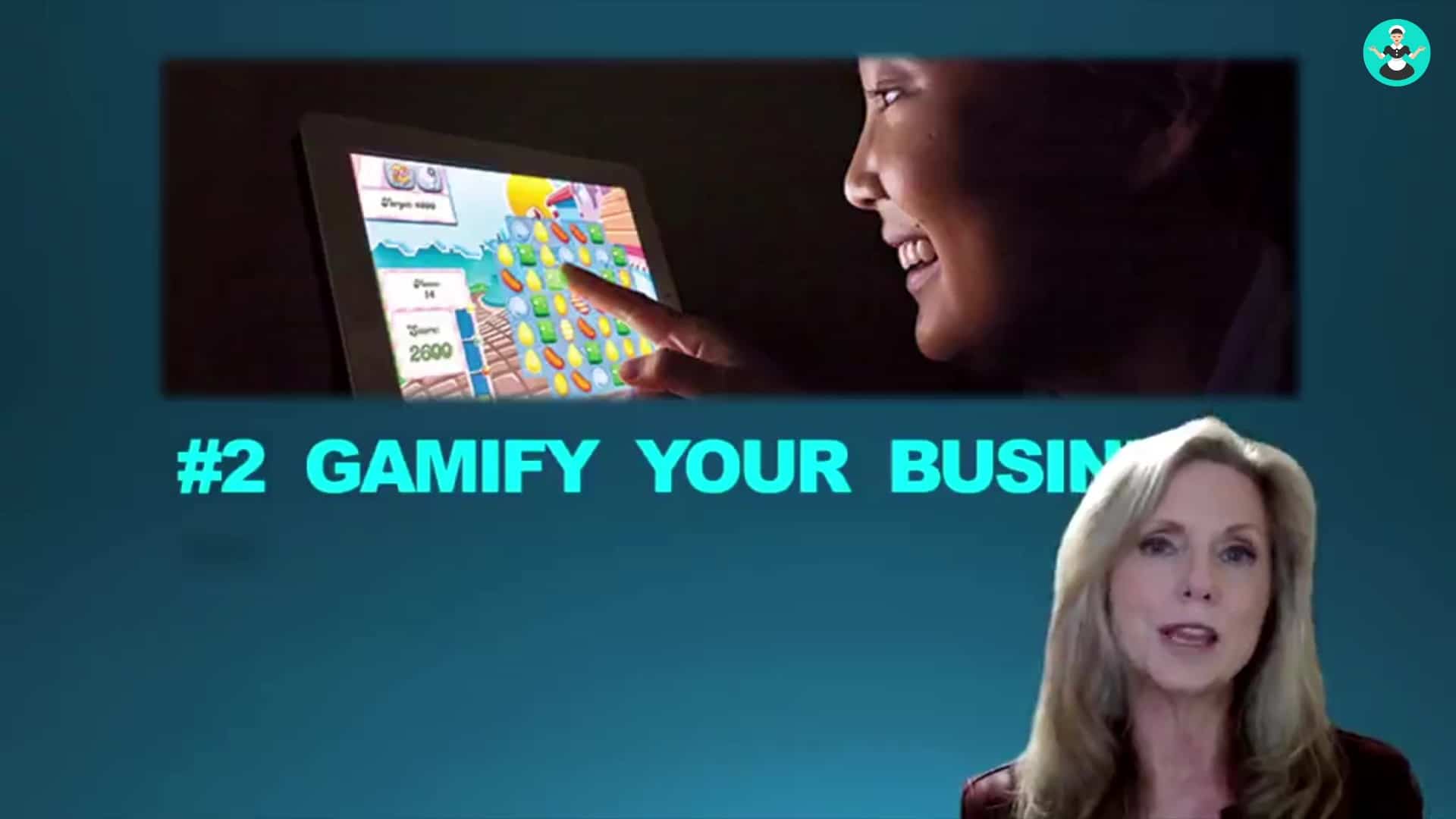 Step two: Set up a points system
Or in other words, gamify your business! Gamification is a big strategy in business across all industries. Why? Because people love to play games. They help keep clients engaged to play the long game, and keep playing for more.
Big brands like Starbucks and Chipotle, Nike, and Target build customer engagement and brand loyalty through their rewards program. Sure, your cleaning business may not be as big as Starbucks, but you can use the same big-business strategy to get game-changing results.
Develop a plan that allows your customers to earn loyalty rewards for every purchase they make with our company. As they build up points, they can earn add-on services, like having the refrigerator cleaned out or their pantry organized.
Additionally, give them an option to save up points to get a completely free cleaning visit or even a discount on spring cleaning. If you're part of something like Cleaning for a Reason, give customers the option to donate to the cause.
Data shows us that loyalty programs work. According to a recent Nielsen study, 84% of customers said they were more likely to engage with a company that offers a loyalty program.
Check out this ZenMaid Magazine article to learn more about creating a rewards program for your cleaning business.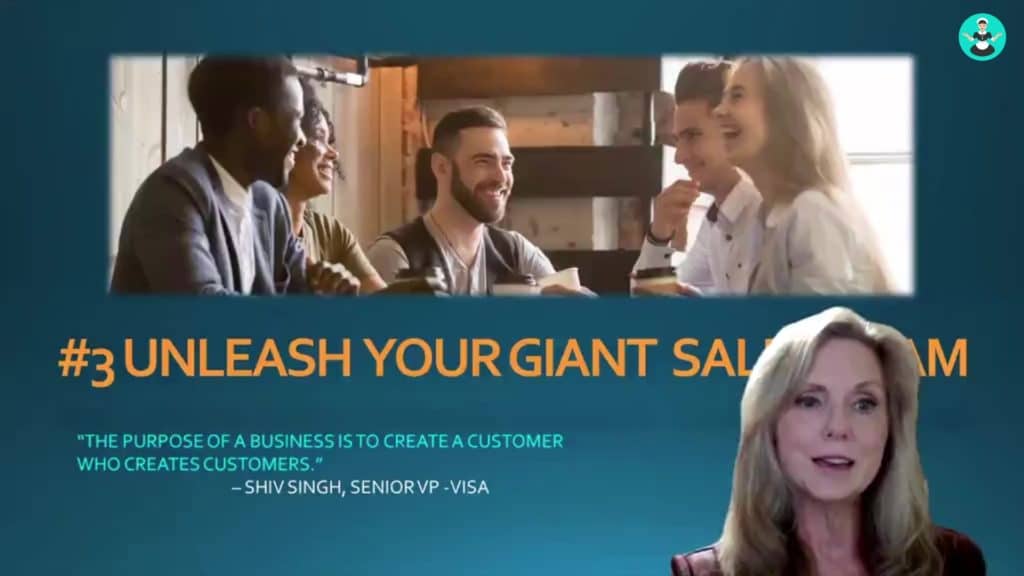 Step three: Unleash your giant sales team
And no, we don't mean dropping thousands to hire on a giant sales team! Instead, encourage your clients to make the sales for you. The best way to do this is through an enticing referral rewards program.
To do this well, you need to understand that people are busy. It takes precious time to go out of their way to refer your business. So how do you keep your business 'top of mind' with all of the people who could refer you without costing an arm and a leg?
First, ask for referrals – don't just sit back and hope they'll do it out of pure love for you. No, you need to make the first move and ask.
Tell them the story about why their referral is so important to your business. Tell them how it helps you provide great jobs to build an amazing team for their service.
And then give them a tool. Give them a way to make it easy to refer you. Using a tool for referrals allows you to make it an automated, hassle-free process. (Find a list of the top ten referral tools here.)
Once they give you a referral, reward, reward, and then reward some more! Create an irresistible reward. Gift cards from $25 – $100 serve as great rewards. You can also offer free add ons or one-time discounts to your cleaning services as a reward.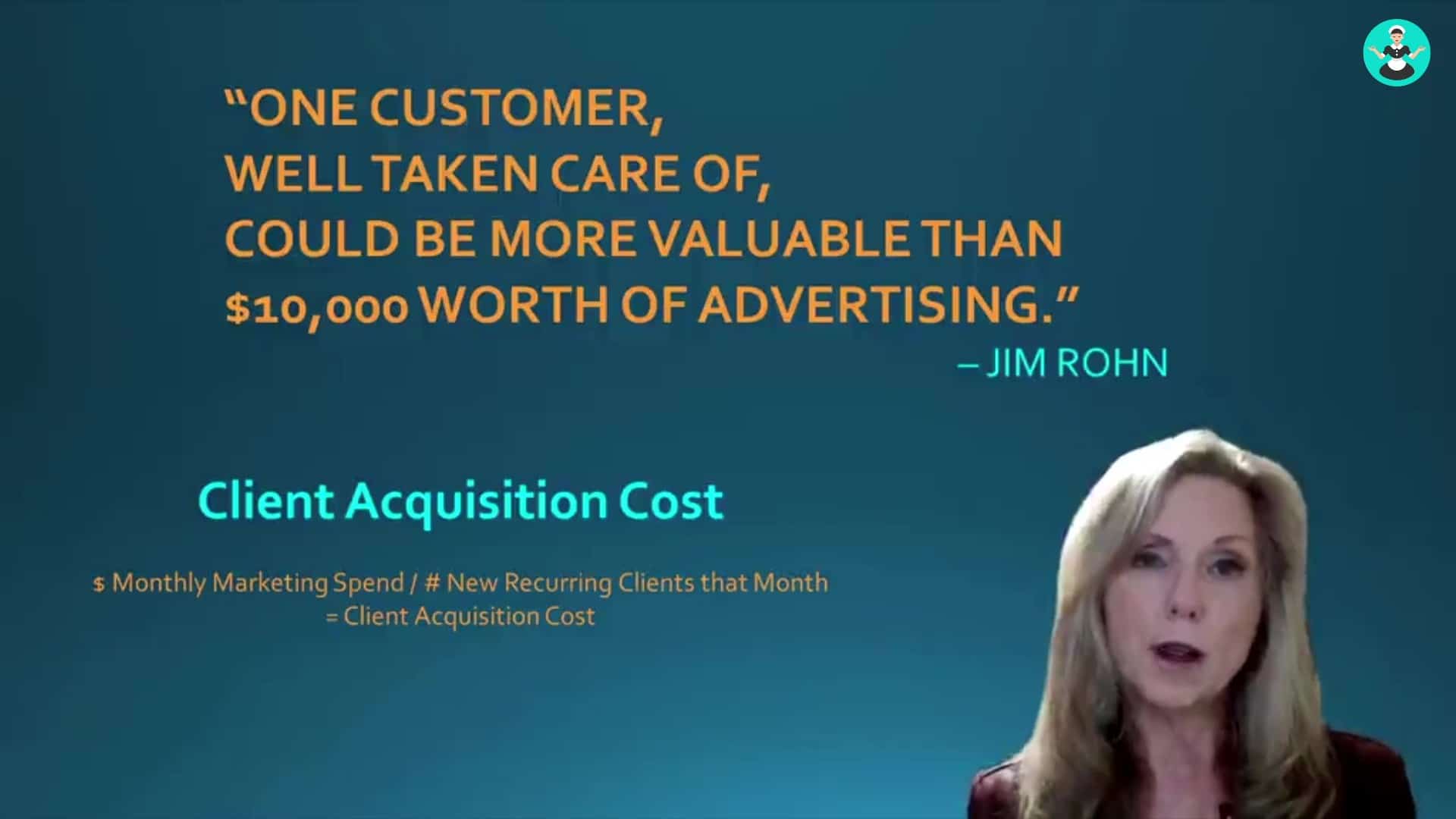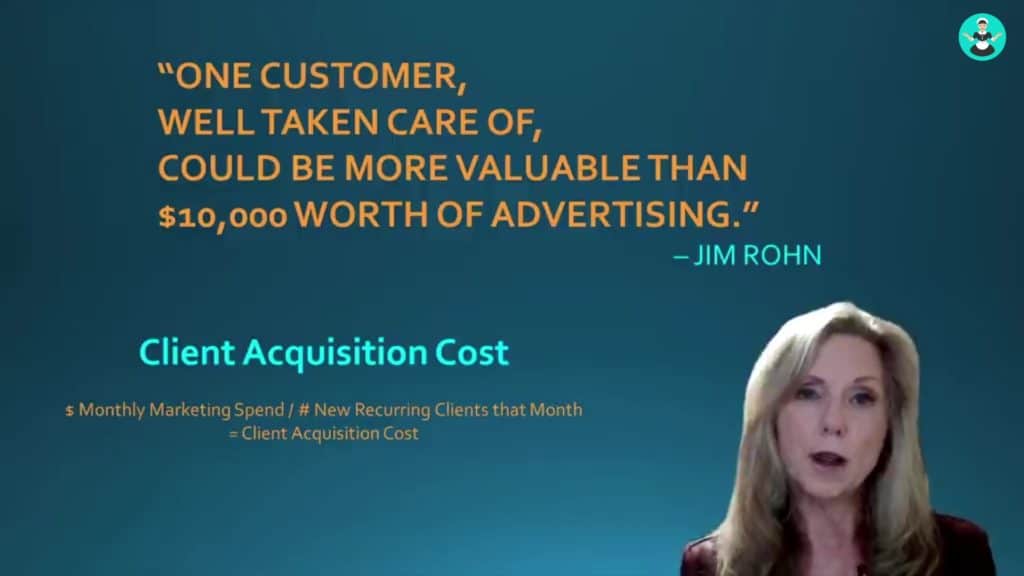 The true cost of rewards
At first, the cost of rewards seems daunting. So when considering your rewards, ask yourself, how much does it cost to get a new client? We call this client acquisition cost.
To calculate your client acquisition cost, take how much you spend on marketing in a month and divide it by the number of new recurring clients. Your total will be how much it costs to get a new client.
What you'll find in any sized business is that the cost of rewarding for referrals is always a fraction of typical client acquisition costs from marketing. Long story short, it's always worth the cost to reward clients.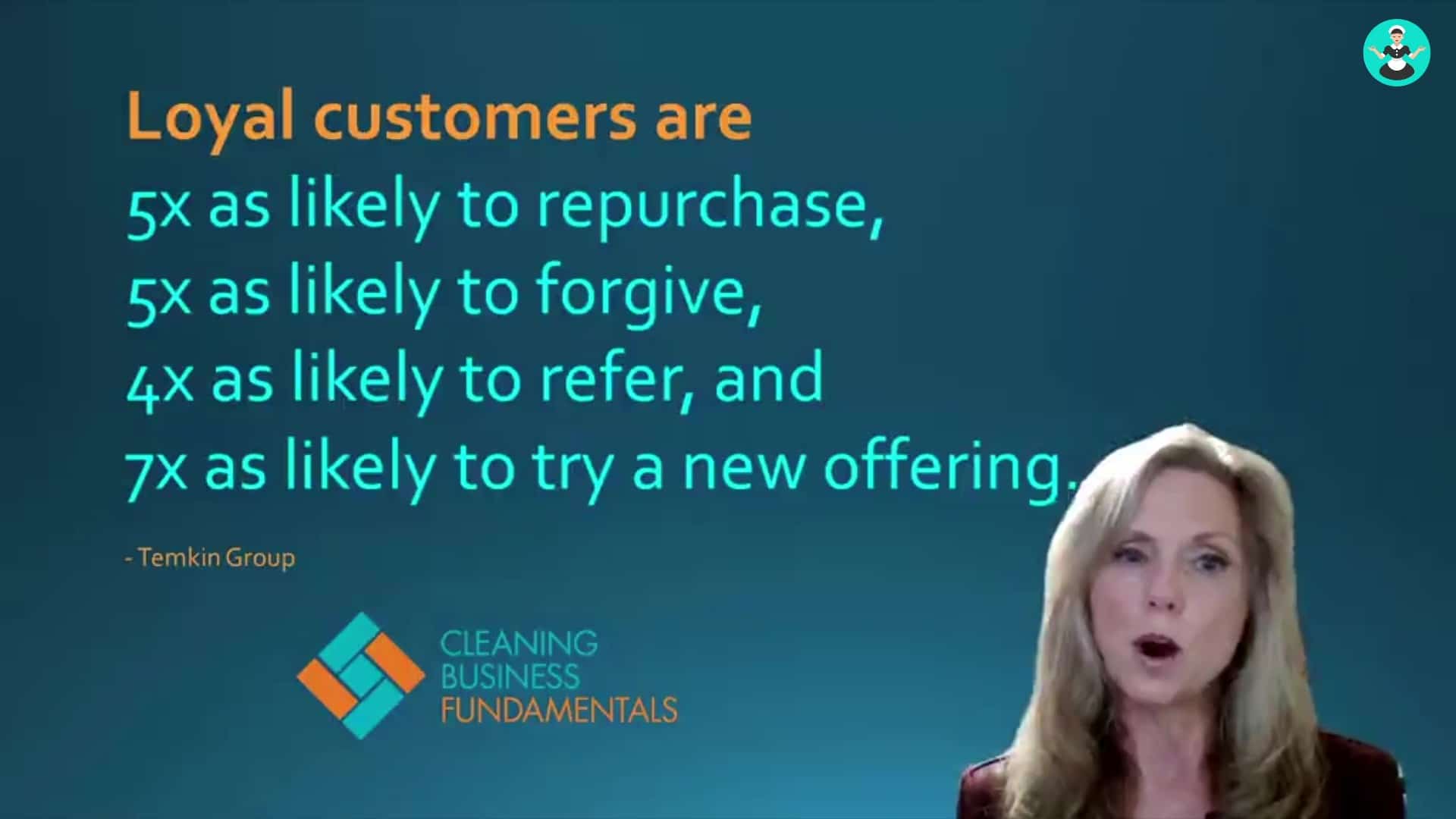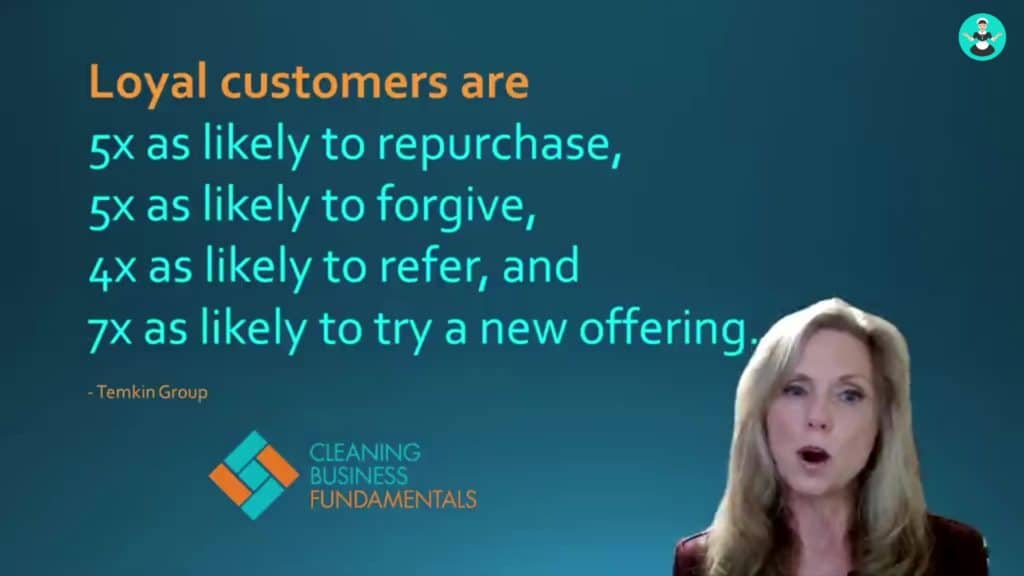 To wrap up
When you stay in dating mode with clients, engage in a loyalty program, and encourage referrals with rewards, you'll find yourself with a community of loyal clients.
Loyal customers are,
Five times as likely to repurchase
Five times as likely to forgive
Four times as likely to refer
Seven times as likely to try a new offering
(Source: Temkin Group)
If you feel stuck because you're losing customers as fast as you can get them, use this three-step game plan to stop the revolving door. Even if you just use one of the steps today, it will make a huge difference in your business.
Good luck, and let us know how it goes! 
About the presenter
Jeannie Henderson is the CEO of Jeannie Cleaning, located in Kalamazoo, Michigan. Her entrepreneurial record includes owning and operating over 30 franchise restaurant locations with her husband, Terry, before purchasing a cleaning business in 2015. Jeannie became a Cleaning Business Fundamentals member a year later and applied the CBF formula to every aspect of her business. With the CBF Model in place, Jeannie's business is run by her fantastic team and has grown to over $1M in annual revenue. She is passionate about creating a positive workplace culture in her thriving, values-driven business.
This talk first aired at the 2021 Maid Service Success Summit.
The Maid Summit is an annual online event that brings together the most successful leaders in the cleaning industry, like Debbie Sardone, Angela Brown, Courtney Wisely, Amy Caris, Chris Schwab and more. Get free access to masterclasses and workshops that will help you to grow, scale and automate your cleaning business so you can get more leads and create more profit. Make sure you're on our email list to find out how to get free tickets to the next event.
Looking for an all-in-one solution to systemize your cleaning business? Try ZenMaid for free today!
If you found this article helpful for your maid service, check these ones out: