In today's article, we're sharing all things vacuums! Here's what to expect:
What to know before you go vacuum hunting
Our top 7 favorite vacuum cleaners
Where our maid service owners shop for their vacuums
First impressions are important — invest in a great vacuum
As a cleaning business owner, you know that first impressions are everything. Your uniforms, website, and interpersonal interactions all leave an impression on your clients.
The truth is, floors are an overlooked first impression that you can't ignore. When a new client comes home for the first time after you've cleaned, one of the most obvious things they notice are the floors. You can make 99% of the home sparkle, but if the floors are still marked with dirt, hair, or bits of food, then you've already lost the trust of your client. Your floors need the shine that a great vacuum provides.
Plus, your employees need effective, powerful, and lightweight vacuums to maximize their efficiency in their day-to-day cleaning tasks. Time wasted equals money wasted for your business. No one wants the hassle of a vacuum that doesn't work well!
How do you purchase the right vacuum when there are thousands of vacuums on the market, all vying for your attention? We asked our ZenMaid Facebook community members what their favorite vacuums are and why? We hope their answers will help you determine which vacuum is best for your maid service.
What to know before you go vacuum hunting
Vacuums are typically broken into two categories: canister and upright. Here are the categories that you should consider before you purchase a vacuum.
It should be durable and dependable: If your vacuum breaks or clogs easily, it's time to look for one that's more sturdy.
Look for something light and manageable: A lightweight vacuum gives your employees a bit of a break during their physically demanding day. Plus, a portable vacuum ensures that your employees can reach all the small nooks and crannies.
Filters are everything: A good vacuum comes with a filter that keeps the air clean for people with dirt and dust allergies. Plus, the air smells better for everyone when you use a vacuum with some sort of filtration system. (If you advertise HEPA filtration cleaning services, make sure you check that your vacuums have HEPA-compliant filters.)
It must be powerful: This is a no-brainer. Your vacuum should have superb suction capacity. Without it, your employees will have to take extra time to get the job done — or worse — leave behind dirt.
Purchase a vacuum specific for your industry: The needs of a residential cleaning business are often different than those of a commercial business. For instance, do your employees need to cover the square footage of large commercial floors, or smaller residential ones? Do your cleaners typically walk up and down several flights of stairs to complete jobs? Keep these factors in mind when choosing your new vacuum cleaners.
Now that you've thought about the basics of vacuum shopping, here are our top picks from our Zenmaid community experts.
Shark Rockets
Here we have the Shark ZS362 Apex corded stick vacuum with duo clean and self-cleaning brush roll, precision duster, crevice, and pet multi-tool.
If you want a reliable brand, look no further. This thin profile model meets all of your residential cleaning needs.
Things to note:
Easy to repair, and the parts can be replaced quickly
Has top-notch customer service
Maneuvers around furniture and can fit into small places
Durable, especially if you clean it regularly
What our members say: "Shark Rockets clean like nothing else!"
"Shark all day! Parts are easy to replace. Shark customer service is on point. They are easy to clean and durable as hell!"
"I've used them for years and been very pleased."
Dyson
This is the top-rated Dyson v11 Animal Cordless Stick Vacuum Cleaner.
Dyson vacuums are simple to use and effective on various types of flooring.
Things to note:
Exceptional at picking up hair
Offers a boost mode for extra suction
Operates quietly
Feels surprisingly light
What our members say: "They work wonderfully on hard floors and carpet, the customer service is amazing! I highly recommend them! They've replaced broken vacs for free many times!"
"My Dysons are the easiest thing to use. I honestly have no idea how you guys all lug around big heavy corded vacuums to each job."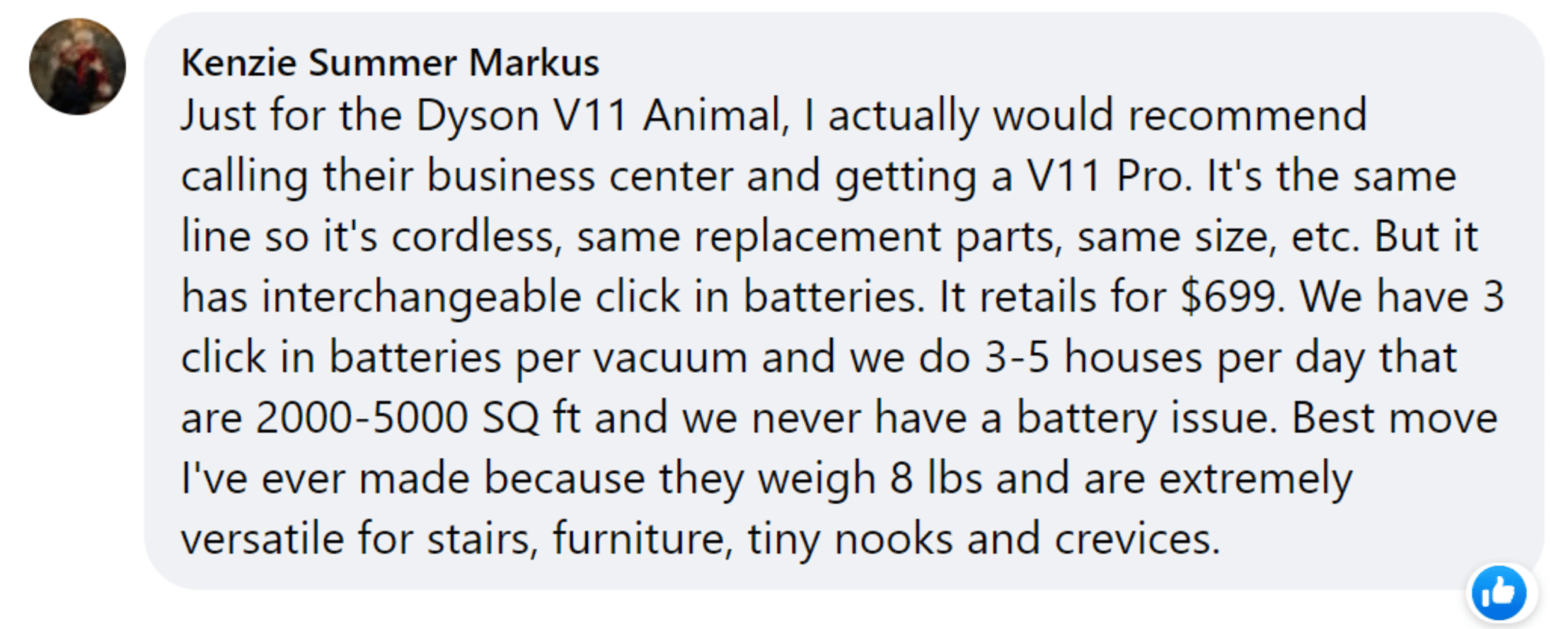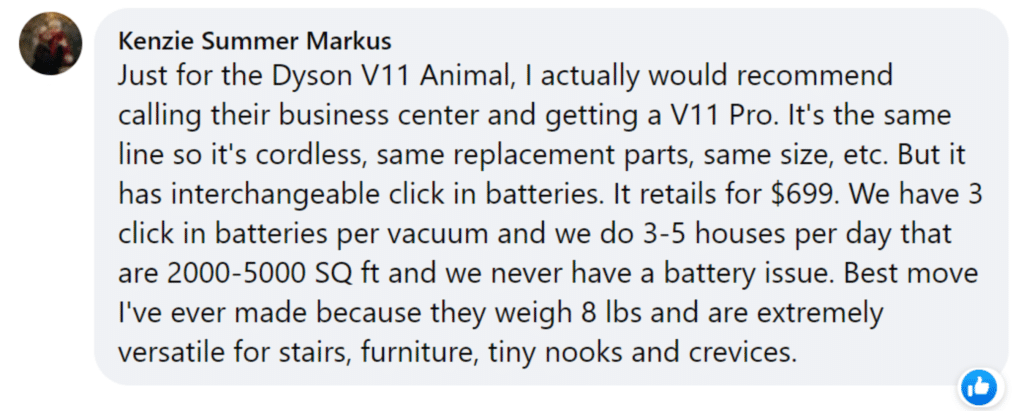 Miele
It's no wonder that cleaners rank the Blizzard CX1 Cat and Dog Bagless
Canister Vacuum as a customer favorite.
If you need a little help cleaning up after a four-legged friend, then this is a great option for you.
Things to note:
Eliminates pet hair
Uses a Hepa Lifetime filter and Gore CleanStream Fine Dust filter to provide quality air
Has a bagless canister with strong suction power
Can adapt to various carpet heights
Uses Vortex Technology for deep cleans
What our members say: "It is bagless and comes with a pet turbo brush—they are expensive, but they do the job. It can be a bit heavy on the side though, but saves a lot on the bags."
Nilfisk
The Nilfisk-Advance VP300 Canister Vacuum is the vacuum you need to get the job done.
Essentially, our experts agree that this vacuum is the kind that you want to keep around for a long time. They are well-built and have stood the test of time so far.
Things to note:
Affordable (who doesn't want this?)
Lightweight
Large capacity
Has reduced power consumption technology to achieve eco-friendly goals
Ideal for commercial cleaning (hotels, offices, retail stores)
What our members say: "You need to look at the true cost. After 5 years, what would you spend buying replacements, having repairs, frustration, trips to get a new vacuum, trips to the repair shop? We use the Nilfisk Advance Clarke model, also called VP 300. They last for years. They are a canister and have a HEPA filter so they are healthy."
Atrix
Are you searching for a backpack vacuum, so you don't have to bend down as often? Look no further. The Atrix VACBP1 Hepa Backpack Vacuum is here to stay.
You already know this —vacuuming is tedious and time-consuming. With the Atrix vacuum, you can maximize your profits. Backpack vacuums typically require fewer repairs and don't contain a cord that allows your employees to move about freely and with ease. You can save time and money with this option.
Things to note:
Ideal for cleaning large commercial areas
Uses a four-stage HEPA filtration system
Affordable
Comfortable fit
Lightweight
What our members say: "We've been using them for almost a year now. No issues and they are HEPA-compliant."
Sebo
If you want a durable upright vacuum, we recommend the Sebo Automatic X4 Upright Vacuum Cleaner.
Sebo vacuums are known to last longer than 25 years which is why we love them. Plus, they are technologically advanced and easy to use—exactly what you want for day-to-day cleaning operations.
Things to note:
Automatic technology that adjusts height and measures resistance of the brush roll on the floor
Active the X4 Boost button for aggressive brush action that efficiently cleans surfaces with dirt, dried mud, or sand
Contains a dusting brush, upholstery nozzle, and crevice tool to reach every corner
Provides free warranty coverage
What our members say: "Solid and repairable if there is an issue!"
Kenmore
Here's one of our top picks for a bagless vacuum. The Kenmore Friendly Lightweight Bagless Compact Canister Vacuum lives up to its name. You can move it easily and you don't have the hassle of changing bags.
The powerful motor is built to pick up dirt and stubborn pet hair all while reducing the rate of entanglement. Whether you need to clean the kitchen, a bedroom, or the garage, this is a great option for a cleaning business.
Things to note:
Pet friendly
HEPA certified filter to remove allergens
Easy to empty the canister and cost-efficient because you don't need to buy bags
Tight turning radius for greater mobility
Lightweight and contains a retractable cord for excellent maneuverability
Affordable
What our members say: "I have used Kenmore for over 35 years!"
Quantum X
Here's another top pick for a bagless vacuum. Except this time, it is an upright vacuum with non-traditional filter technology. Check out the Quantum X Upright Water Filter Vacuum.
This vacuum uses water as a filter to capture dirt, mud, vomit, juice spills, pet hair, and other debris you may find lying around. Yuck! That's why we love the Quantum X. It uses advanced technology to do the dirty work for you.
Things to note:
Cleanses and eliminates odors with its microsilver technology
Provides a 100% satisfaction guarantee
Works on all types of floors — hardwood, carpet, tile
The vacuum body rotates 180 degrees
Affordable
Where do our ZenMaid members purchase their vacuums?
Now that you've seen some of our top choices for vacuum cleaners, you may be wondering where the best places to purchase are. Here's what a few of our members have to say.
Costco: "I decided Costco is the only place I will buy from simply because of their return policy."
Sam's Club: "Great option when vacuums are on sale!"
Kohls: "You can find good deals here."
Consider joining a store's rewards program to be notified when sales are happening. Other members noted that it's best to avoid odd cleaning sites because they can be scams or prone to hacking. And as always, shop local when you can to support small businesses in your area!
Wrapping Up
At the end of the day, investing in a great vacuum can be more expensive, but it usually pays off in efficiency, quality, and durability. What vacuums do you love? Leave a comment in the ZenMaid Mastermind Facebook group — we want to hear from you!
Our ZenMaid community is filled with maid service owners who support and learn from each other every day. Whether you need insights for your hiring techniques, cancellation policies, automation processes, pricing systems, and beyond — we've got you covered!
You have to make so many decisions when running a cleaning business. Instead of doing it alone, do it with us! Join our free Facebook group to collaborate with over 6,000 maid service owners just like you. Some of the amazing business owners in our ZenMaid community have 30 years of experience, and others just hit their two-year mark. No matter where you are in your journey, our community can help. And hey, if you've got a vacuum you love, tell us about it in the group!
You and your maid service deserve a little peace and quiet. Try ZenMaid for free today!