Last Updated on August 21, 2023 by The ZenMaid Team
The five steps to develop a pricing system
One of the most common questions among cleaning business owners is how much should I charge for my services? No matter what location or level you're at in your business, this is a struggle we've all had. So today, we're sharing Royce Ard's pricing model he uses in his own cleaning business.
Royce's pricing model will help save you time and stress from not feeling confident in your pricing. Ultimately, you'll experience increased revenue from knowing the right rates to charge in your cleaning business.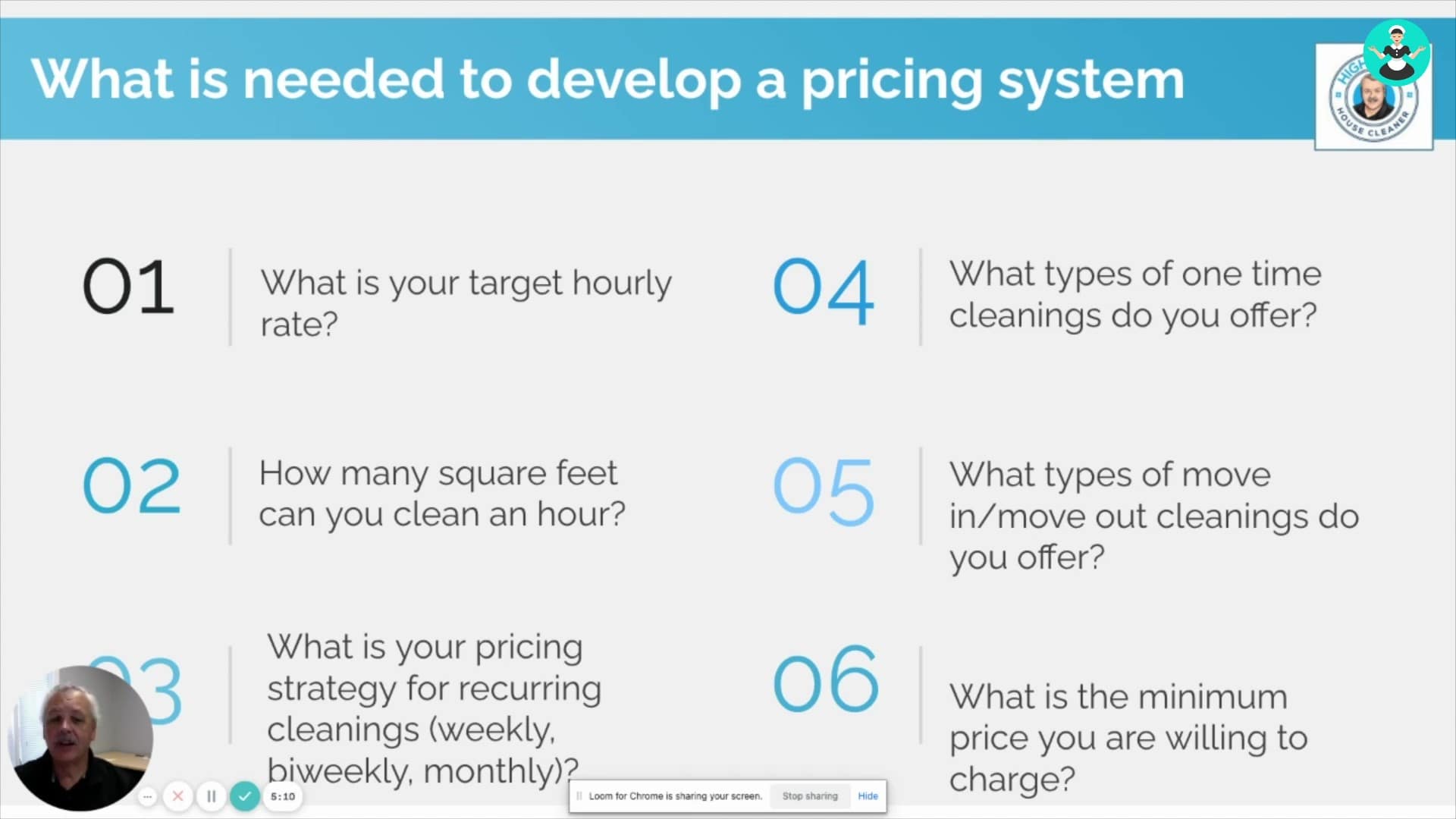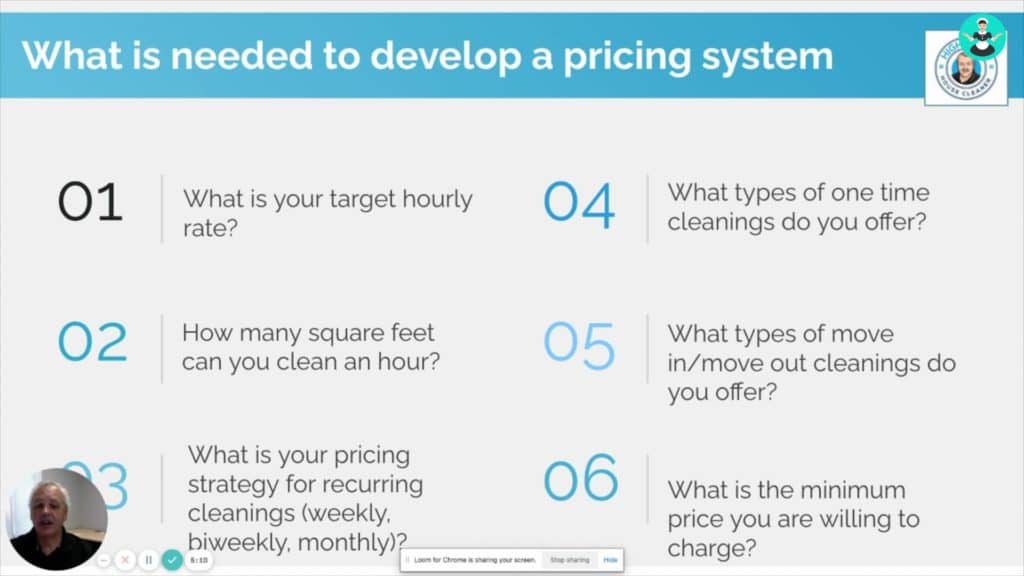 Step One: Finding your target hourly rate
Step Two: Calculating how much square footage you can clean in an hour
Step Three: Developing a pricing strategy
Step Four: Use the pricing formula
How to find the hourly rate for your business
The first step to find an hourly rate for your business starts with doing market research. When conducting your market research, consider these targeted questions: What are other businesses charging? More specifically, what are businesses the same size as yours charging? How often do they offer services?
The easiest way to find out what your competitors are charging is when prices are listed on their website. Unfortunately, that's not very common. So, pick up the phone and call up your competitors to ask. 
Once you know what your competition is charging, try to understand how much you can get for what you offer. Will the demographic in your area pay for a premium service? Do you want to charge the same as a franchise's cleaning business? Facebook groups, clients surveys, and competitors are great places to find these answers. 
After you've done your market research, you'll need to figure out how to position your company in the marketplace. Are you just another residential cleaning service? Or, do you offer a premium, specialized product? 
When you know the direction you're headed, the road to your pricing strategy is easier to find. Some cleaning services like to specialize in large homes or luxury homes. Others just want the 'meat and potatoes' of a basic cleaning service. The good news is that there's plenty of business for everybody. 

Employee pay
The next factor that influences your hourly rate is how much you pay your employees. If you want to pay the bare minimum needed to hire people, that's going to put you on the lower end of the hourly rate. If you aim to offer a livable wage with benefits, you're going to need to charge more. There are no correct answers here, but you need to understand these factors when developing your hourly rate.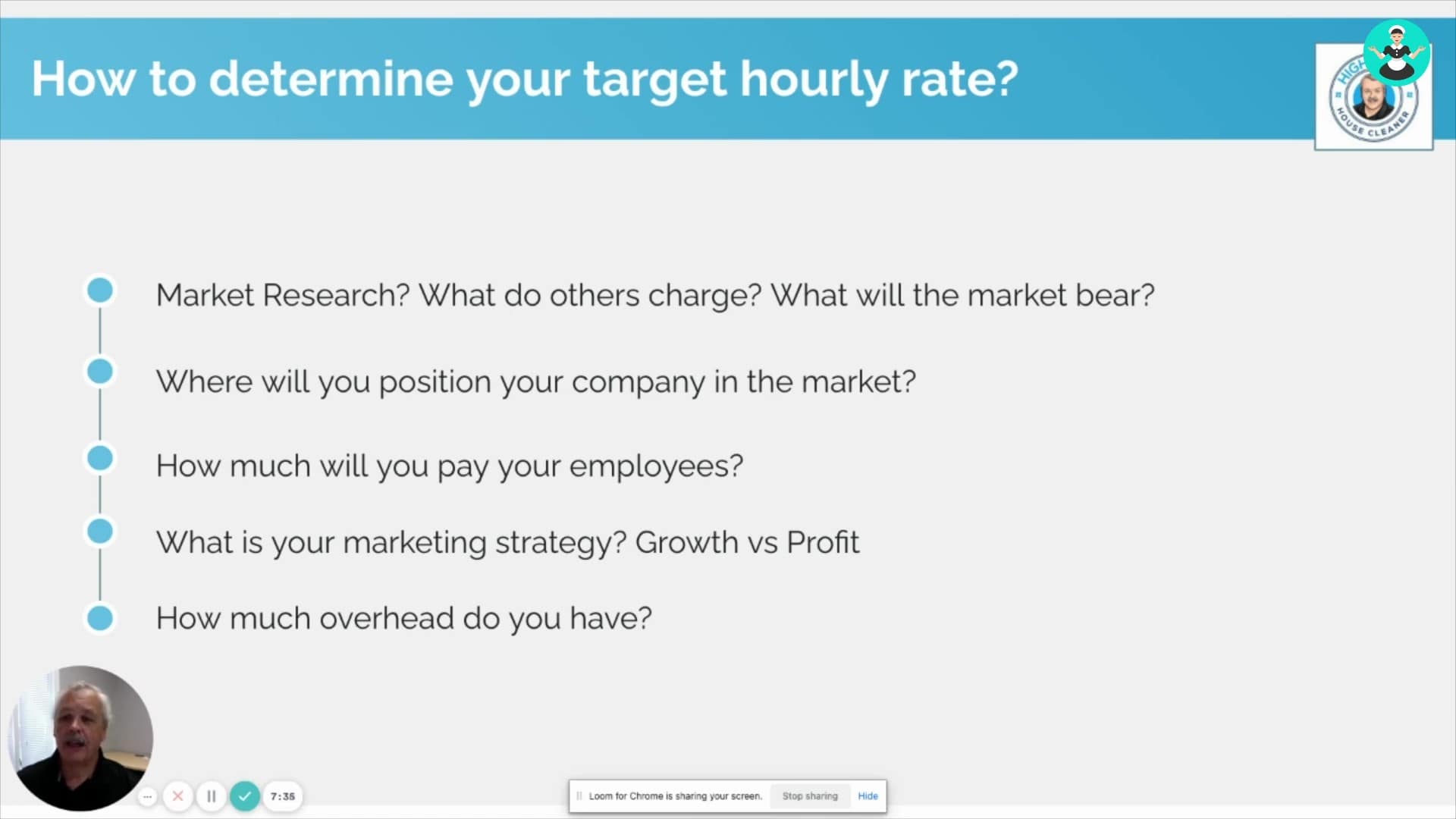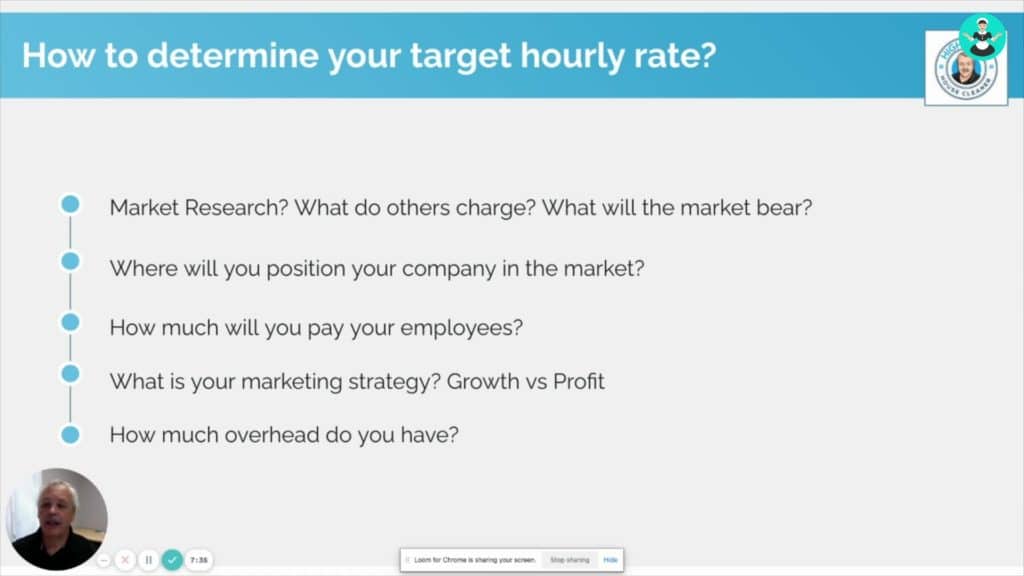 Consider your marketing strategy
The final factor for your hourly rate that we'll cover today is your marketing strategy. Are you trying to grow your business? Your rate will need to be competitive if you're hoping to grow at a fast pace. If you need to grow rapidly but don't want to lower prices, read this article three ways to get more cleaning customers without lowering your prices. 
If your business has grown to a place you're comfortable with, or if you're well-known in the area, you can probably charge a higher hourly rate. And you can definitely charge a higher rate if you have a waiting list of clients!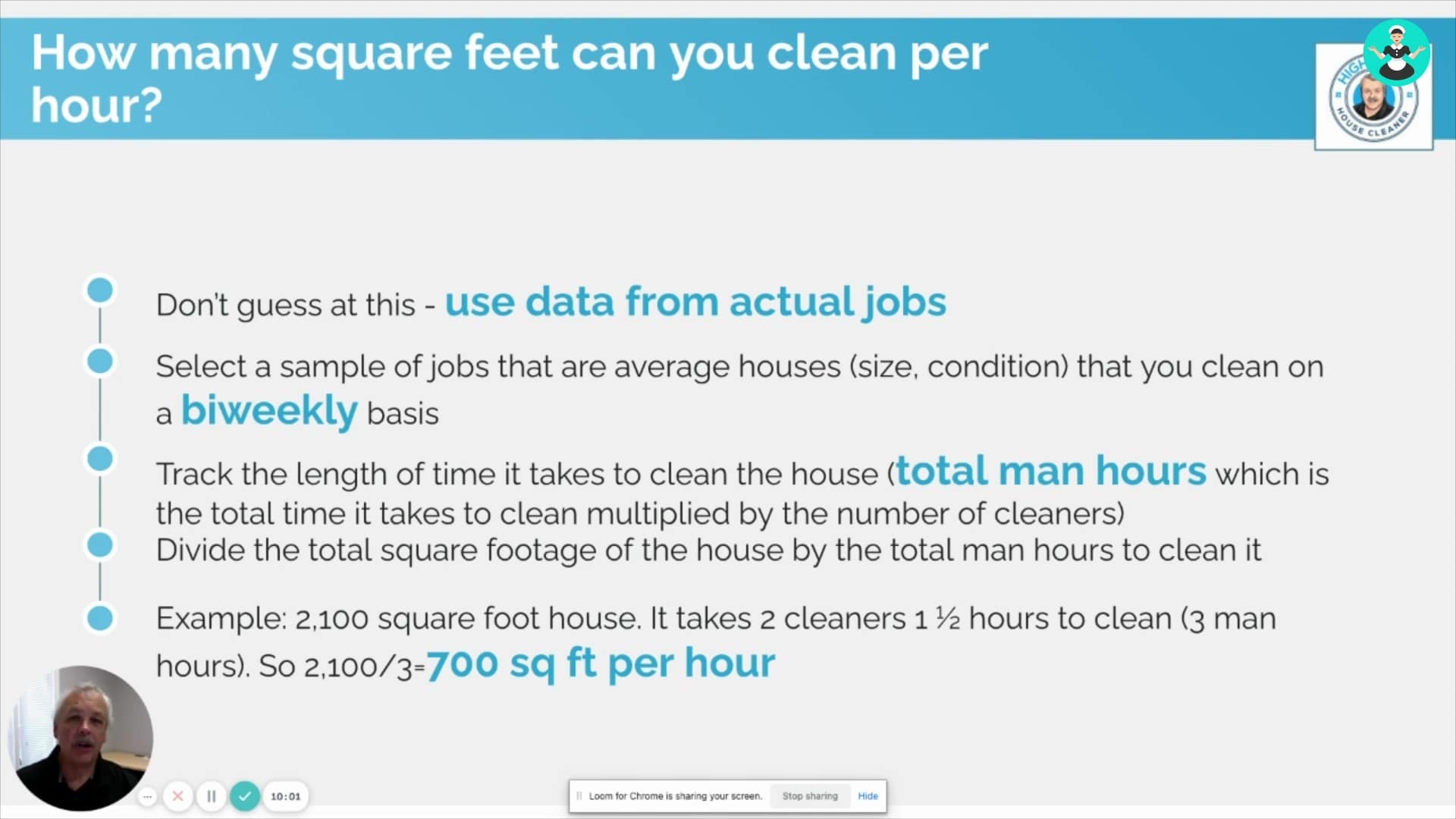 How many square feet can you clean per hour?
After you've found your hourly rate, understand how many square feet you can clean per hour. Now, at first, this can seem hard to find, but you likely already have the information you need – it's just a matter of finding it! It's important to know your square footage per hour because you will use it as a baseline for all your prices.
Use data from past cleaning jobs to learn how fast you can clean 500 square feet. You'll want to calculate an average from your recent jobs. How long did the last ten *typical jobs take you? How many employees were on the cleaning job? How many square feet were the homes?
Don't have any recent data? No worries! Start recording this data for the next week and then use it to find your average.
*Several variables can affect your average cleaning rate, so use only typical homes when calculating your average cleaning pace. Your typical homes are the predictable ones that are simple to clean, requiring only your basic cleaning services. (We'll touch on how to avoid pricing disasters in these kinds of homes at the end of this article!)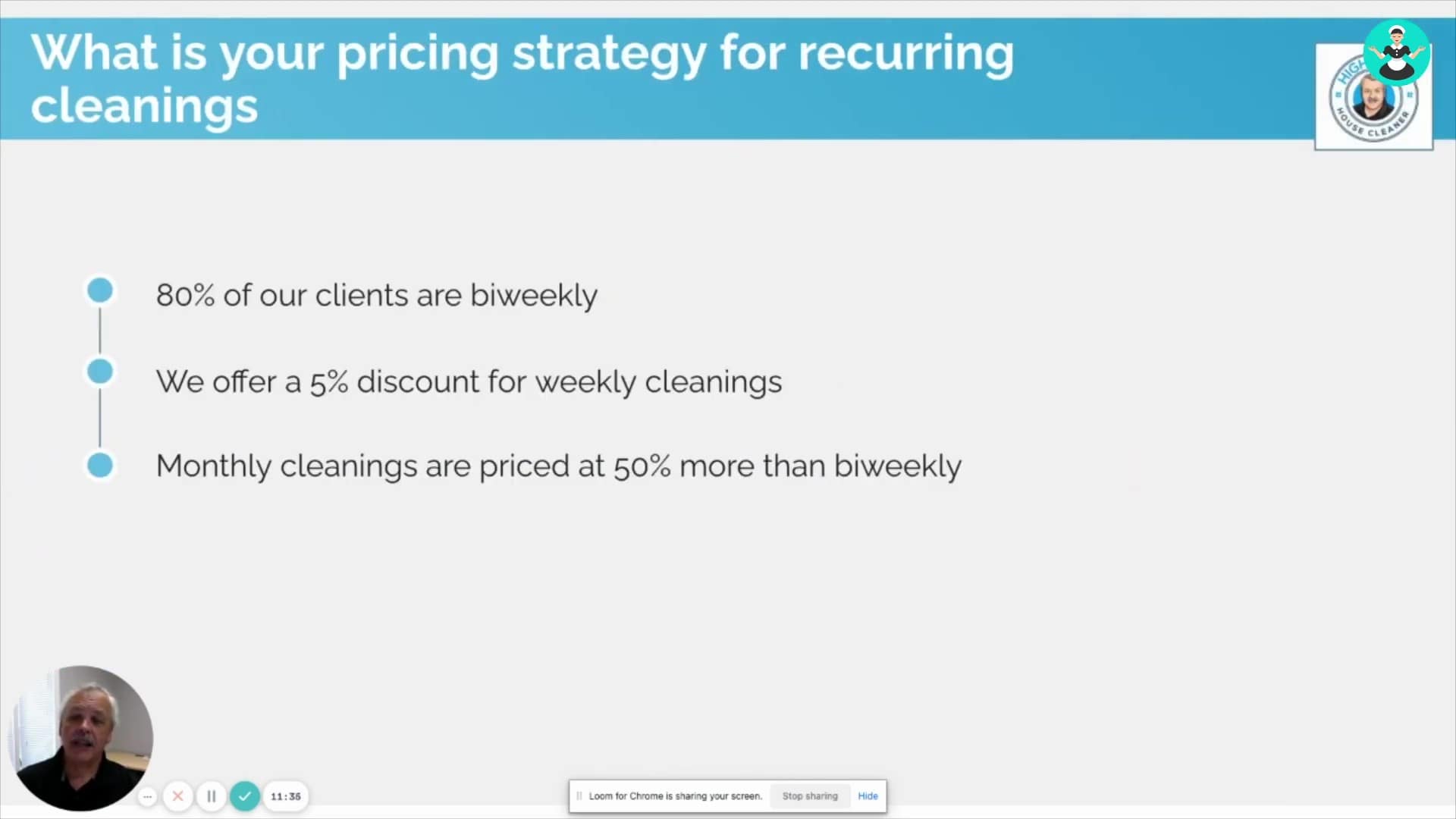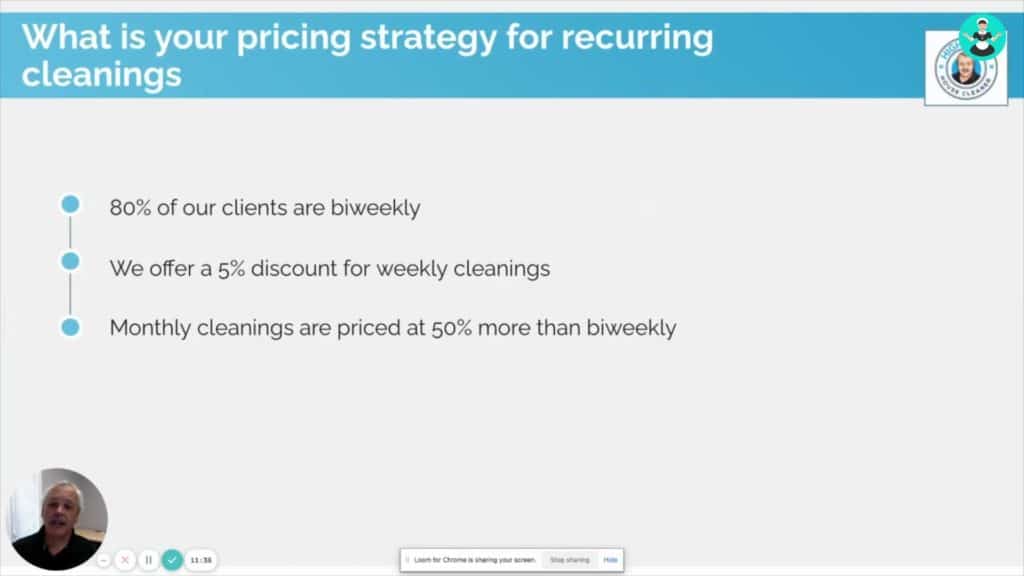 How to find your pricing strategy
The next step to nail down your pricing system is to identify your pricing strategy. In other words, how frequently do you hope to charge for services? We're going to use your pricing strategy to calculate our prices based on frequency. Do you want your main revenue to come from weekly cleans, bi-weekly, or monthly with extra fees?
Many residential cleaning companies push for bi-weekly cleans. Offering a small discount of around 5% is a great option to incentivize clients to choose these more frequent cleans. 
On the other hand, charging more for monthly cleans is a good way to help clients choose more frequent cleans. It's often reasonable to charge an additional 50% for a monthly clean. 
We see too many cleaning business owners charge the same rate for bi-weekly and monthly cleans. When this happens, your client has no reason to choose bi-weekly over monthly. 
To learn more about building a pricing strategy for your cleaning business, check out this article!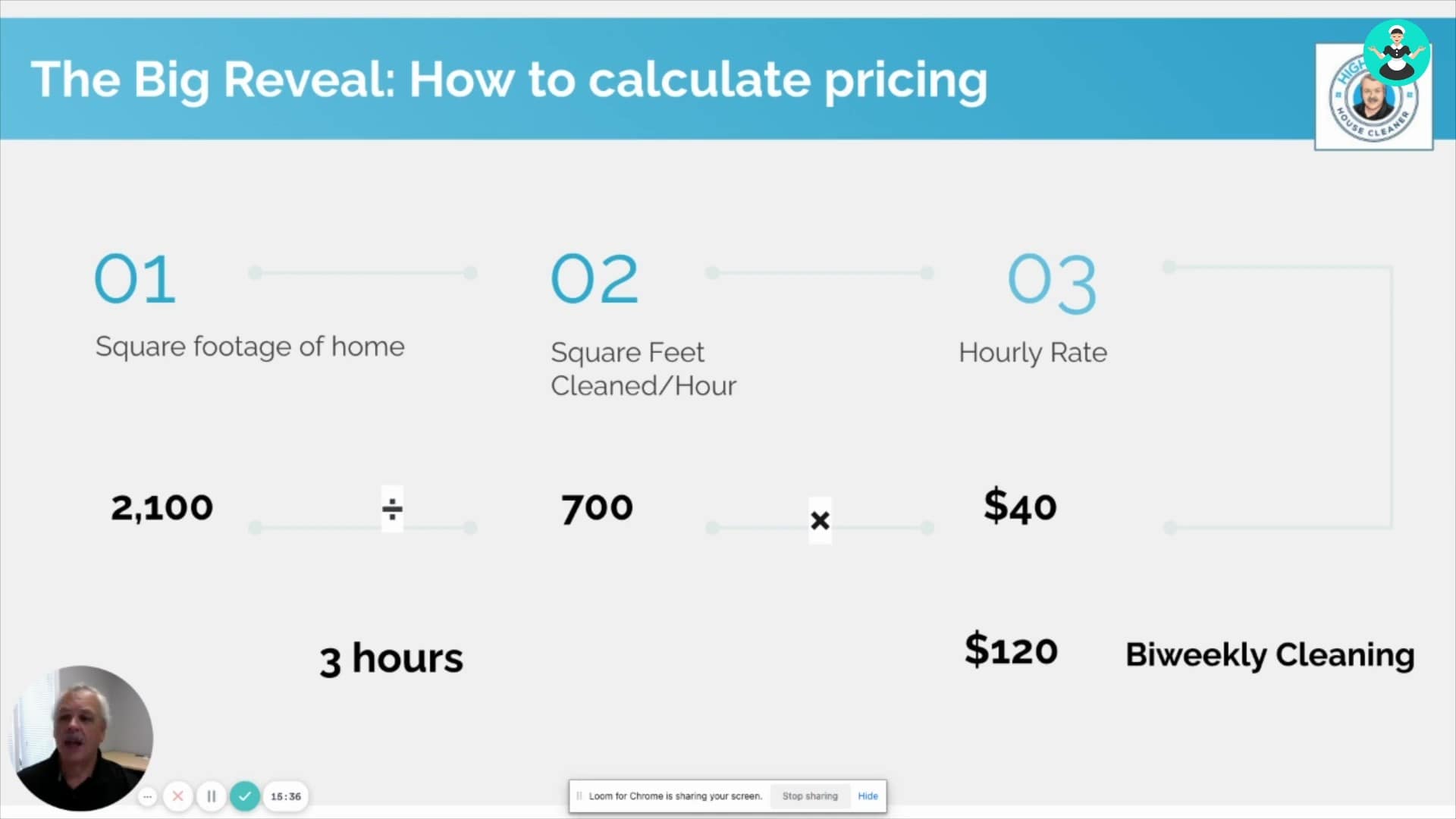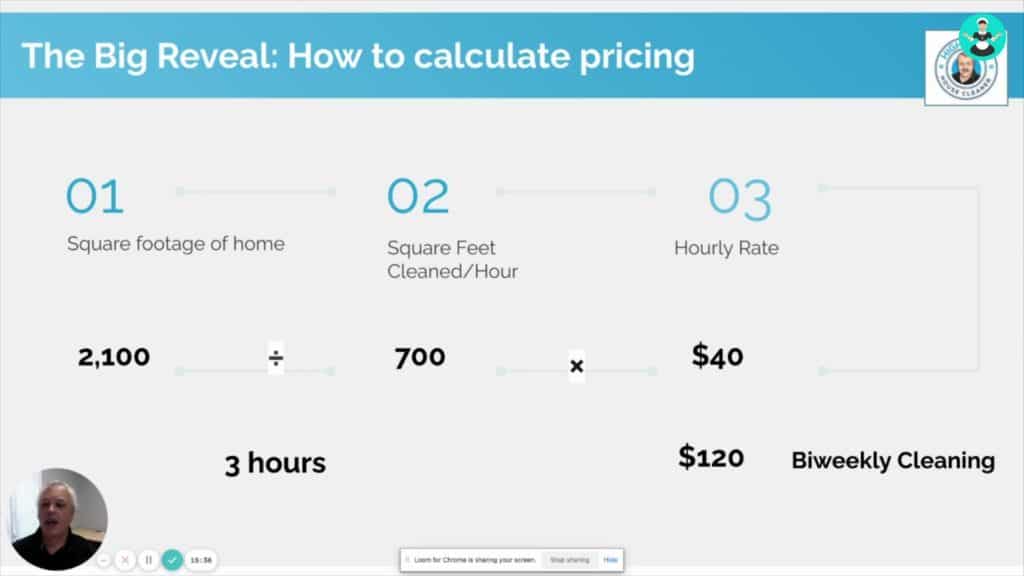 How to calculate your pricing
We've made it to the pricing calculator! After you've gone through all the steps above, this next step is pretty simple.
First, take the square footage of your client's home and divide it by your rate of square feet cleaned per hour. Then, multiply it by your hourly rate. The total number is how much you'll charge for a single job in that client's home. 
So let's use an easy number as an example: If a client with a 2,000 square foot home calls you looking for a quote, divide 2,000 by 500 (rate of square feet cleaned per hour) multiplied by $50 (an hourly rate.) The total one-time clean for that client is $200.
Bi-weekly rate
As we mentioned before, offering a 5% discount for bi-weekly cleans is a great incentive for clients. Using the $200 example above, this would mean a client can have a 2,000 square foot home cleaned twice a month for $380 (after the 5% is applied.) This is an example of a baseline bi-weekly rate. 
Monthly rate
Your monthly cleans can have an additional 50% charge to encourage more frequent cleans and account for the extra dust and dirt the home will accumulate between cleans. Using the $200 example, a monthly clean would cost a 2,000 square foot client $300 (after an extra 50% is added.) This is an example of a baseline monthly rate. 
You can use this formula to calculate any specialty service in your business. Just play around with different percentages and values until you come to a reasonable and profitable baseline. 
Minimum rate
No matter what kind of service you're offering, it's important to set a minimum rate to avoid losing money on out-of-scope services. This will save you the headache of negotiating with a client who might only want a certain room in their home clean. Or perhaps, if they have a smaller home that would only require an hour of cleaning based on your square footage cleaning rate. Set this minimum rate using the pricing calculator and the base amount required to make a profit per clean. 
Looking for a way to save all of this information in one place? Join Royce Ard's Facebook group to get a free calculator spreadsheet to save and download!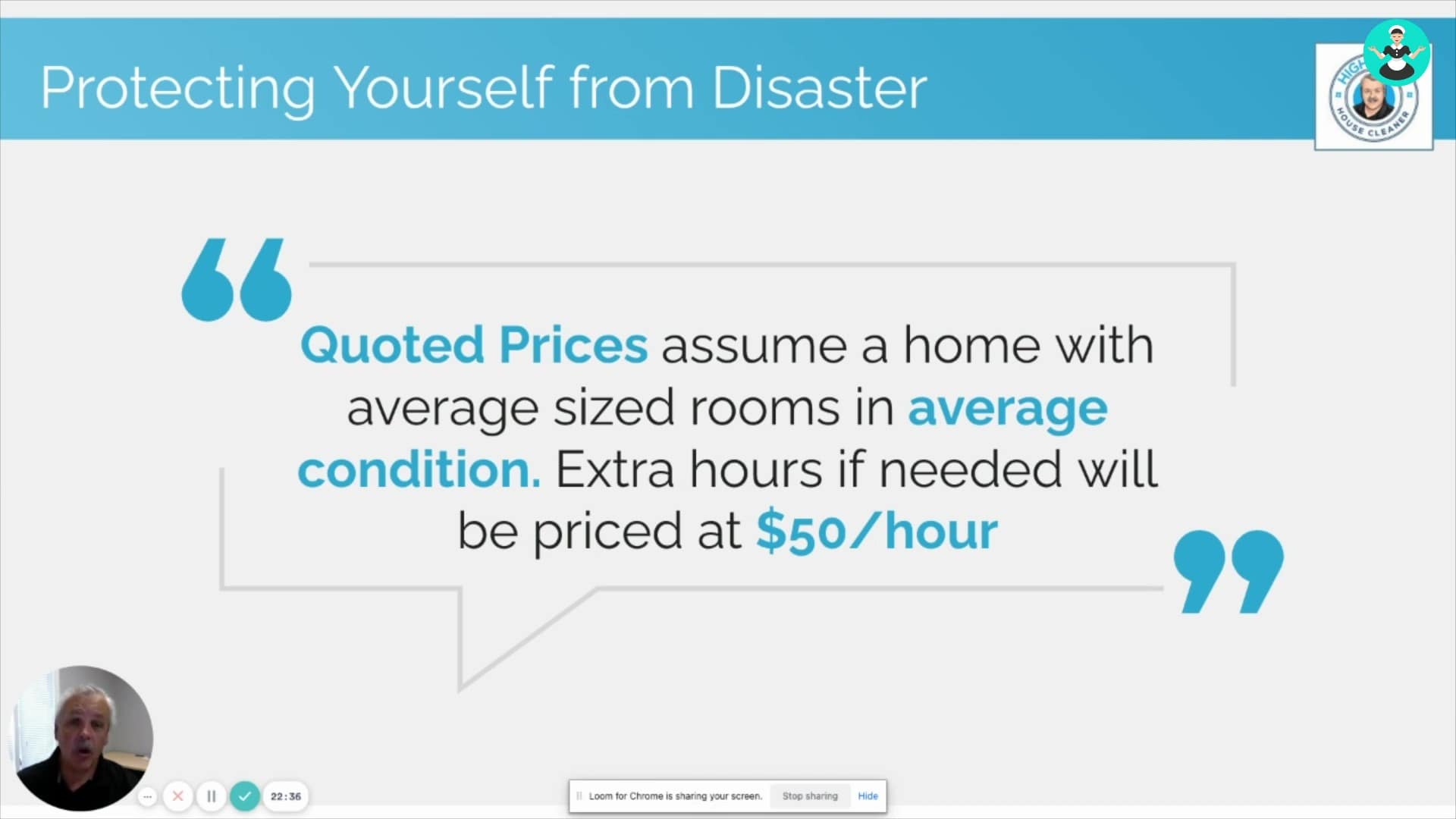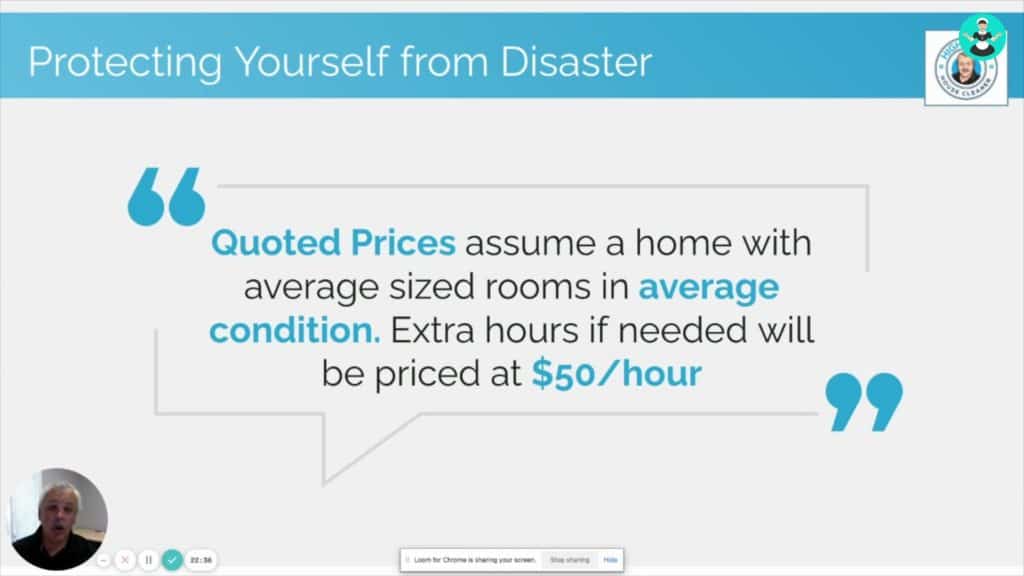 Protecting yourself from pricing disasters
With flat-rate pricing, you need to protect yourself from pricing disasters. We've all been there: after quoting a home, we walk into a cleaning job that takes way longer than estimated. There are mountains of clutter, piles of dust, and floors in need of a little too much love. So what do you do?
When taking any new job, set the precedent that you may need to overcharge if any visit takes longer than planned. An example line you can add to your contracts is, "quoted prices assume average sized rooms in average condition. Extra hours needed to clean will be priced with an additional $50 per hour." When a client agrees to this ahead of time, you've protected yourself from being underpaid. 
Then, when you find yourself in a job taking longer than expected (which is bound to happen at some point), take a break from cleaning to notify the client that an extra fee will be added to keep cleaning. If they give you the go-ahead, you can proceed and charge extra as needed. 
If the client declines moving forward, then you can wrap up the job without any penalty. Don't wait until you're at the end of a job to notify the client of an extra charge. 
Final thoughts
Your cleaning business' success starts with finding the right rates to charge. Instead of guessing what to charge and hoping it works, we hope you've found our pricing formula helpful to start with!
Check out the awesome replays from the 2021 Maid Summit, hosted by ZenMaid! To learn more about the topic of pricing and profits, read our popular post, 3 Rules For Exploding Profits And Help Your Cleaning Business Grow.
About the presenter
Royce Ard is a sought-after speaker for his ability to talk about most aspects of running a service business. His broad experience includes work in sales, marketing, management, operations, and finance. His passion is using technology and automation to help owners make their service businesses more efficient and profitable.
Royce and his wife are long time owners of the successful cleaning company, My Amazing Maid.
This talk first aired at the 2021 Maid Service Success Summit.
The Maid Summit is an annual online event that brings together the most successful leaders in the cleaning industry, like Debbie Sardone, Angela Brown, Courtney Wisely, Amy Caris, Chris Schwab and more. Get free access to masterclasses and workshops that will help you to grow, scale and automate your cleaning business so you can get more leads and create more profit. Make sure you're on our email list to find out how to get free tickets to the next event.
If you found this article helpful for your maid service, you may also like:
ZenMaid is the only systems solution for your cleaning business. Try it for free today!