Last Updated on August 21, 2023 by The ZenMaid Team
The following article is based on a interview with a ZenMaid customer and self-proclaimed serial entrepreneur, Matt Staton.
Technology and automation are critical for scaling your Maid Service
As a maid service owner, you need to prepare for the future growth of your company, and a key component to start scaling is setting up your leads for success. The longer your lead sits and waits, the longer they have to go out and find one of your competitors.
But who has time to answer every single phone call, message, and email right away? If anyone gets it, it's us; ZenMaid is run by busy cleaning business owners like you.
This is where the importance of efficient technology and automation comes in. Always try to optimize, automate, and outsource for efficiency.
One reason why we put off getting started is because we're afraid of doing it wrong. But remember: your business will never be perfect (and that's okay!) Like with all good things, it will need tweaks and improvements as you go along. So don't be afraid to make mistakes — everything is a learning process.
So let's dive right in! In today's article, we're giving you a step-by-step guide to building automations for your maid service.
How to create automated workflow systems
The truth is, you don't need to be "techie" to automate your business. You just need to know what you want the end goal to be. With the tools that exist today, you don't need to learn how to code — you just need to know how to drag and drop.
ZenMaid is a great all-in-one tool to use, especially if you need help with the technology side of things. It's user-friendly, intuitive, in app form, and has a great community of other business owners to collaborate with. (In fact, you can join the community right here on Facebook!)
Here is how Matt Staton uses his automation processes: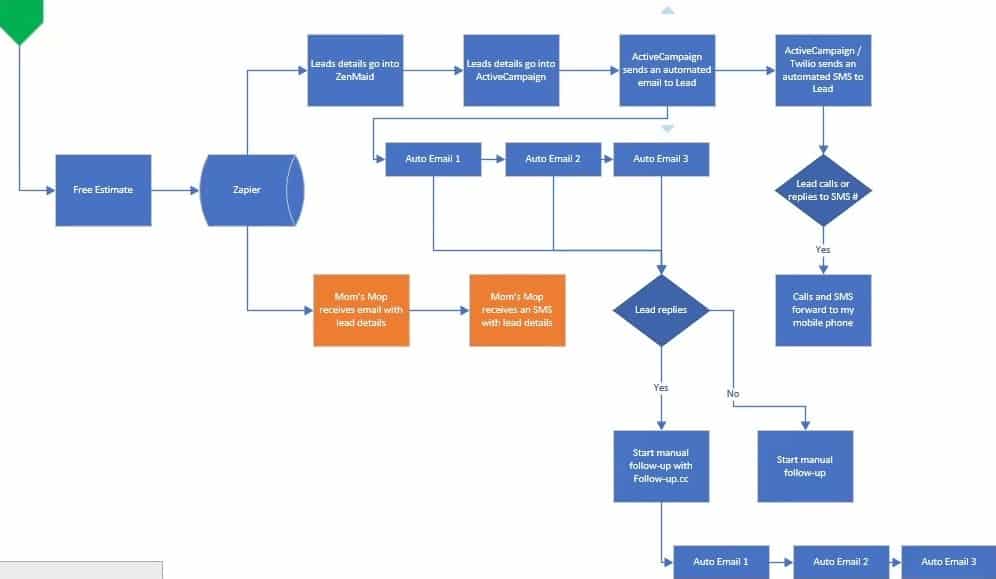 Zapier
When a lead comes through the website, they're immediately sent in Zapier. In the past, if you needed two systems to "talk" with each other, you needed robust tech nerds to create a webhook specifically designed for you. Zapier is a platform that automatically moves info between your web apps — no tech genius necessary.
Essentially, it helps you automate workflows by connecting the services you use. Zapier supports thousands of applications that enable you to connect your ZenMaid account to Google Sheets, or any other platform you want. It allows non-"techie" people to communicate between two different applications.
If a lead comes in, use Zapier to bridge the gap.
ActiveCampaign
Then, the lead details go in his autoresponder ActiveCampaign. This platform starts a free estimate automation. With ActiveCampaign, you build a personal touch with your client. It's a way that you can send campaign emails and create automations.
When a lead comes in, you can use what's called a drip sequence. This email marketing technique allows you to automatically send personalized and relevant messages to potential clients. If you send your leads the same introduction email when they first inquire about your services, then you should automate this process to save time.
Twilio
Twilio is another great autoresponder tool. Unlike ActiveCampaign that manages emails, Twilio sends and receives phone calls and messages for your company.
With Twilio, you acquire a phone number from a lead, whether it is a local or business number. Then, you can send text messages, forward phone calls, and build an interactive voice response system. Your Twilio phone number is a forwarding phone number that can be sent to your cell phone or whatever other device you choose. (You can also silence calls whenever you need to — we all need a vacation sometimes!)
Twilio can also send texts on behalf of your business. Texts have a 97% open and read rate, which is currently the highest conversion rate of messaging out there. To learn more about sending text campaigns, check out this article.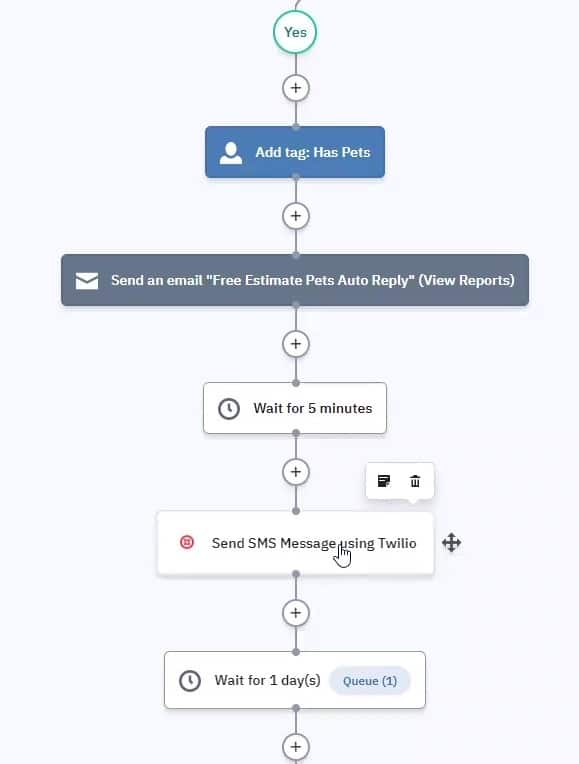 Followup
Followup is a productivity software that prevents your tasks and conversations from falling through the cracks.
For example, let's say you want to send an email. With Followup, you can automate what the software should do with your emails. It gives you the option to send an email immediately, wait a day to send it, etc.
If a lead replies to the email, the software automatically stops the follow-up emails.
If the automations go all the way through, or at any point in time in the automation you see a really good lead and you want to jump on it manually, you can go ahead and do it whenever. If the lead never replies, you can also manually follow up.
The automations work so well that you don't need to manually follow up very often, saving you a ton of time!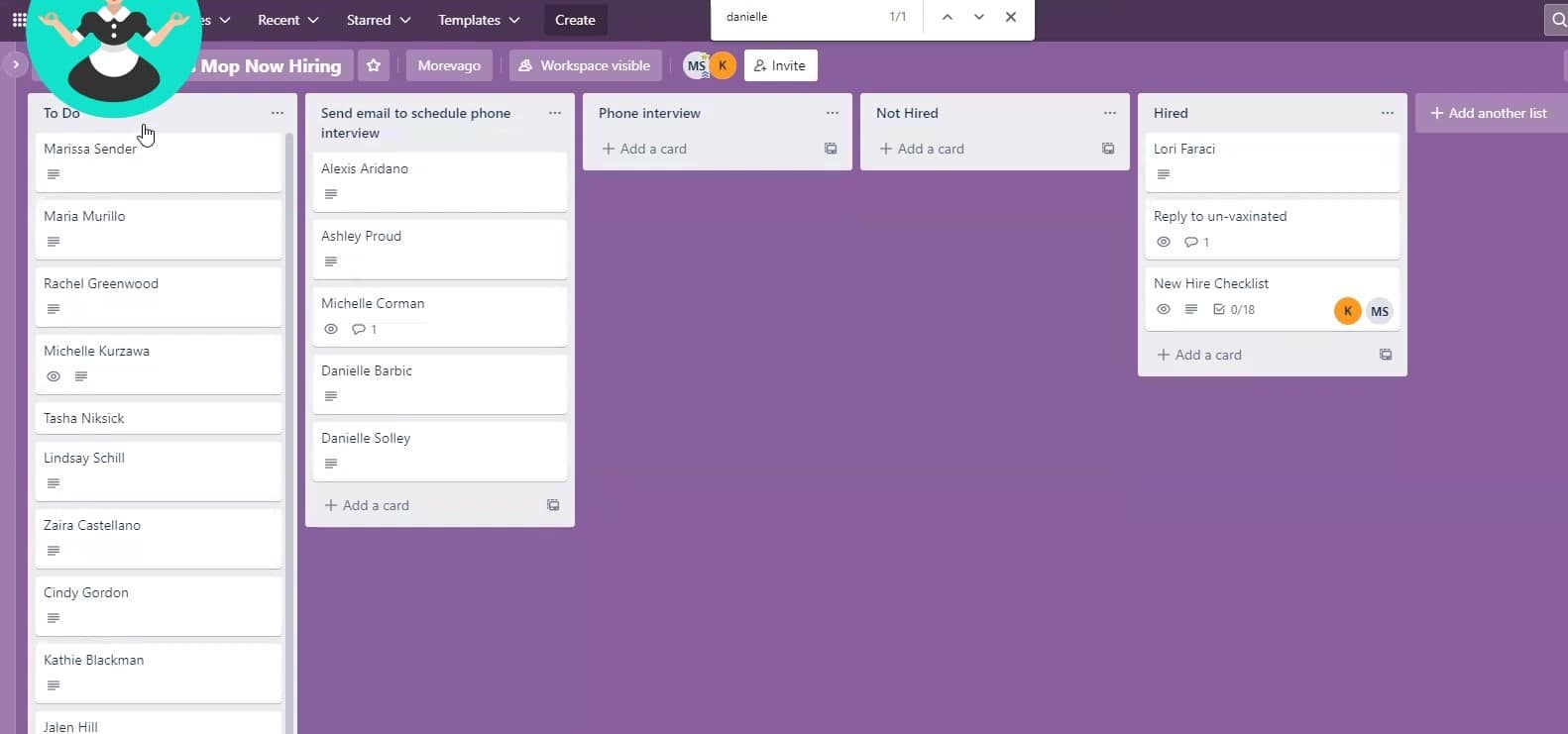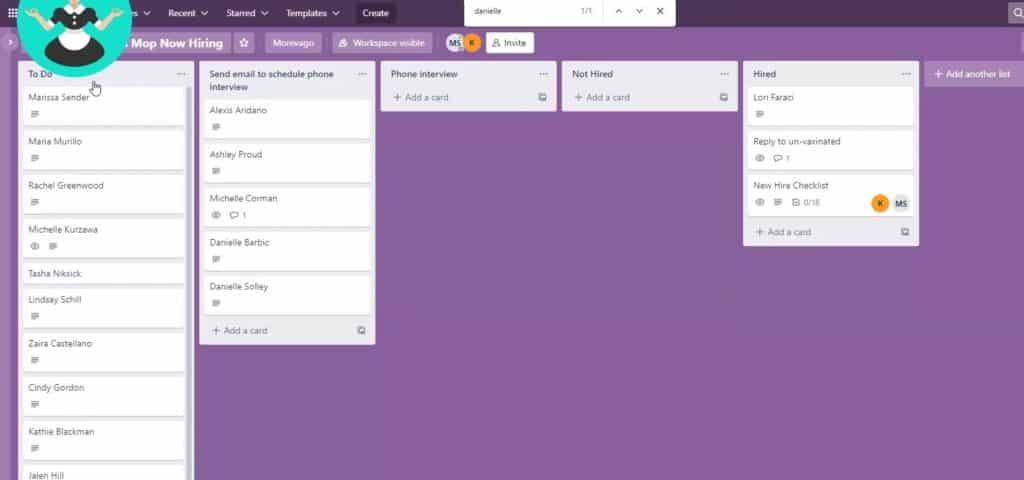 Trello
The automation process in marketing is key. Some business owners overlook the importance of a good marketing strategy when it comes to hiring.
Trello puts your new hire applications in your to-do column. Once you screen your applicants you can send them an email to schedule a phone interview. The platform shows the different categories that you can move around once you complete an item.
To do
Send email to schedule a phone interview
Phone interview
Not hired
Hired
+ add another list
Trello is an intuitive software that basically anyone can use. And trust us; it's better than the pen and paper you've been using.

Include a free estimate tool on your website
Today's modern customers look for companies that give them quick and easy processes to decide if you're worthy of their business. Essentially, they want instant gratification. A great tool to help get new leads and scale your business is a free estimate tool on the main page of your website.
Here's an example of what that could look like: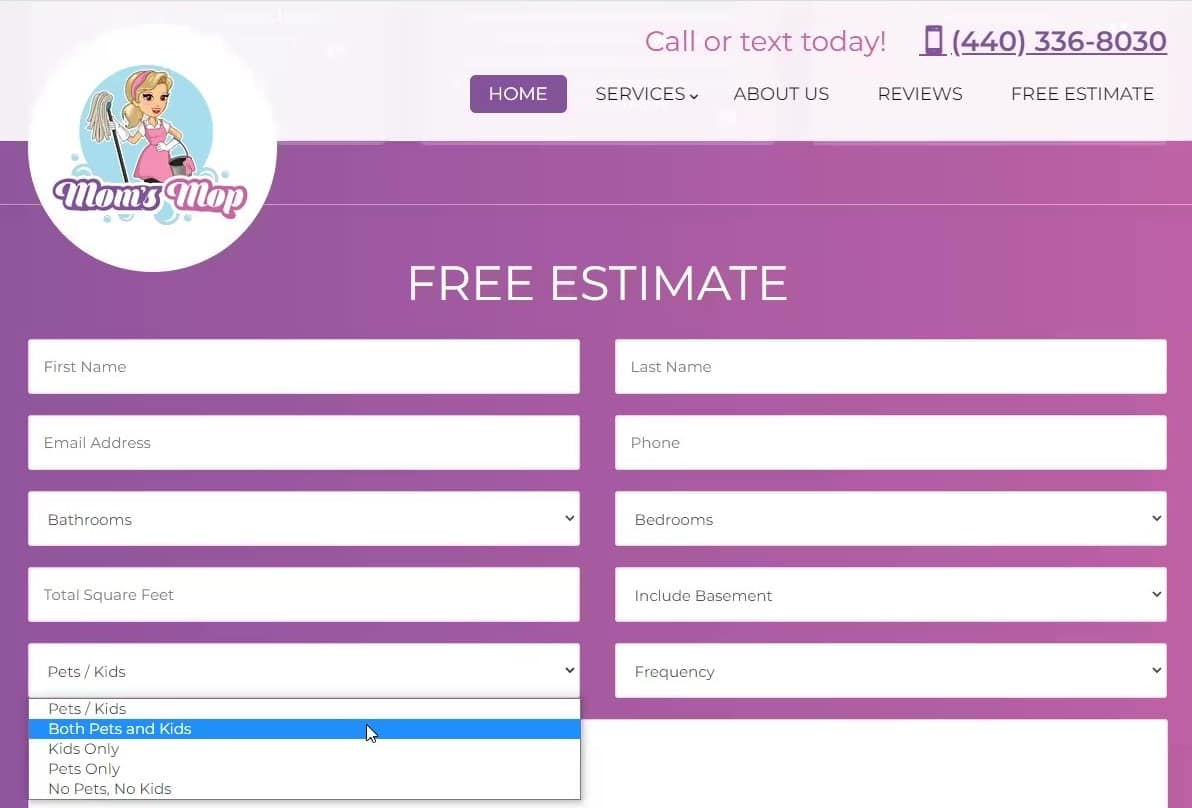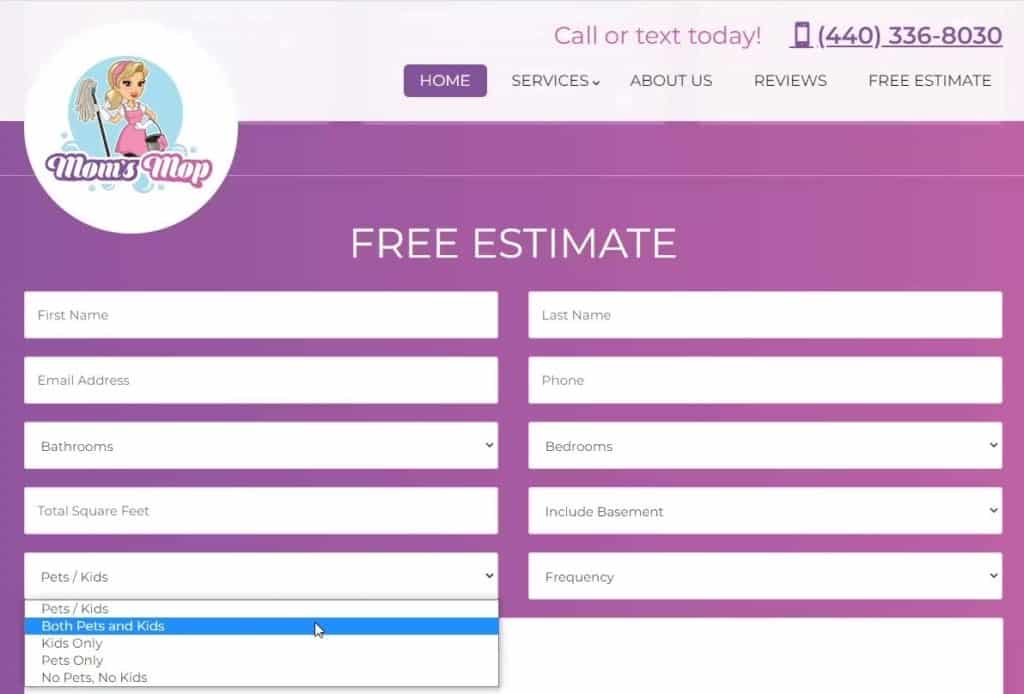 This free quote goes directly to your email so that you have access to the inquiry details.
Your categories can include
First Name, Last Name
Email Address
Phone Number
Bathrooms
Bedrooms
Total Square Feet
Basement
Pets /Kids
Frequency
The free estimate tool is helpful to your future clients and gives you an introduction to them — it's a great way to get higher-quality leads. Add the ZenMaid booking and quote form right on your website or link it to the button on your Facebook business page. See how easy it is here.
Thank you page
After someone submits their free estimate, you can direct them to another page.
Matt Staton's page looks like this:
Thank you for requesting a free estimate from ______
I value your time and respond quickly!
Here's what to expect next:
In the next few minutes, I will send you a quick text and email
Once I receive your email reply, I will send over pricing
Schedule your first sparkling clean and relax while we do all the work —because you deserve it!
Underneath this area, Matt Staton includes a link to his "116 points sparkling home checklist" as well as reviews from happy customers. It's always a good idea to offer value like this to prospective customers. A great "thank you" page shows customers that you are different from everyone else.
The follow-up emails from your free estimate
After your potential client submits their free quote, you can automate an email with extra details to make the experience more personable and persuade them to schedule an appointment with you.
For example, Matt Staton's follow-up email to a pet owner looks like this:
Hi ________,
Thank you for reaching out.
Got pets?! ….more on that in just a second.
To give you the most accurate estimate, please reply to this email with the following…
How would you describe the current condition of your home?
Are there any areas that are heavily soiled?
Click to discover our 116 Point Sparkling Home Checklist!…this is how we make sure your home is sparkling every time we clean it!
But don't take our word for it, read Brenda's Facebook review below
….and, we love pets!
Unlike our competitors, we don't charge you extra for being an animal lover!
Our family has two dogs, Tucker and Maximus "Max". (Picture below)
Thank you
_____________, Founder
(Company name)
As you can see, Matt Staton developed a specific email geared toward animal lovers. He can use this template to respond to every person who mentioned that they owned a dog. He made a connection with his future client to build rapport.
Craft your responses to fit with different clientele. Then, you have less to craft manually. Believe it or not, you can have a system that is both automated and personalized.
Always look for ways to automate
No matter what step of your business you want to improve, you can probably automate it.
According to Matt Staton, 95% of things in your business can be automated — especially if you're talking through systems.
Whenever you think "ugh this is so annoying", try to find a way to automate things that you don't like to do.
If there are two systems that need to "talk" to each other and push data, then they can be automated. This allows you to save more time to do the things that really matter. Plus, automation keeps your business organized.
Want more resources on how to automate your business? We've got a ton of great articles about it right here!
Wrapping up
Remember: automation isn't as scary as it seems. For those of you who feel intimidated by automation, take it slow.
At first, just set up one automation with three different emails. Think about what the end goal is and gear your automations toward that.
Start with an estimate form on your website that goes straight into Zapier with ZenMaid. Once you've completed this step, get your information into ActiveCampaign. If you're feeling hesitant about committing to a platform, keep in mind that many software companies offer demos so that you can learn the ins and outs before you pay for them.
At first glance, some of these processes can seem complex. Take the extra time now to learn these simple softwares and you'll thank us later!
If you found this article helpful for your maid service, you may also like:
To hear Matt Staton's full interview, click here.
Try ZenMaid for free!