Google is by far the most used search engine on the internet. It accounts for more than 92% of the search engine market share globally. And the United States leads the pack with the most searches done on Google, worldwide. [source: Hubspot]
With over 5.8 billion searches per day, there's a great chance that potential customers in your area are looking for your cleaning business right this minute.
It makes sense then, that you should be doing everything in your power to improve your visibility on the platform — both organically and through paid advertising. They both have merit and, when done right, can deliver the desired results.
In this post we'll discuss both, and then take a deeper look at how to create cleaning ads that convert.
Branching beyond Google Adwords, we unpack the key elements that go into creating an ad and offer examples of maid service ads that work well.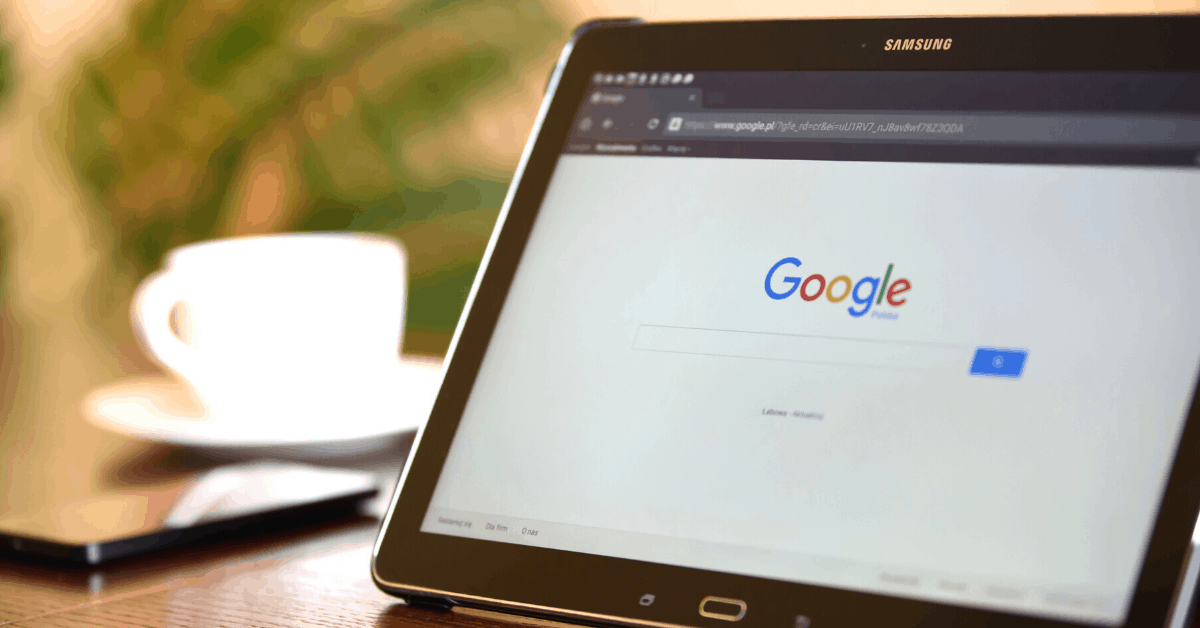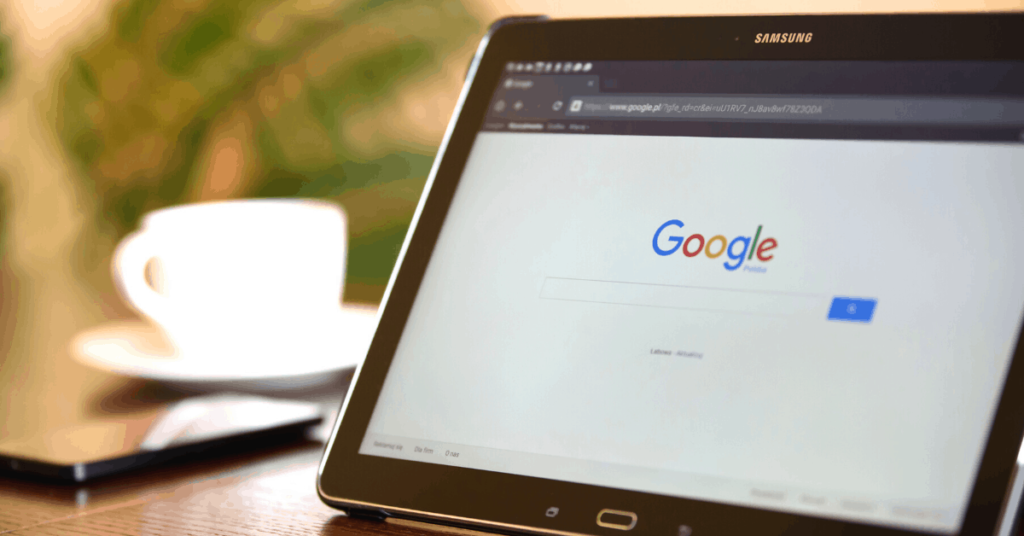 How People Find Your House Cleaning Service via Google
There are two ways to get in front of your future cleaning clients on Google.
SEO (Search Engine Optimization): You can optimize your website to rank for the keywords people are using to search for your services.
Google AdWords: The other option is to advertise on Google using Google AdWords in order to show up at the top of your prospective client's screen when they search for your service.
While both these methods have the potential to yield great results, it is important to remember that neither of them will happen overnight.
Optimizing Your Cleaning Business Website (Using Organic SEO)
What is SEO?
SEO is an acronym for Search Engine Optimization.
What the heck does that even mean?
In non-techy speak, it basically means optimizing your online content (the words and media on your website) so that search engines (e.g. Google) will show your website at the top of organic search results when someone searches for particular keywords.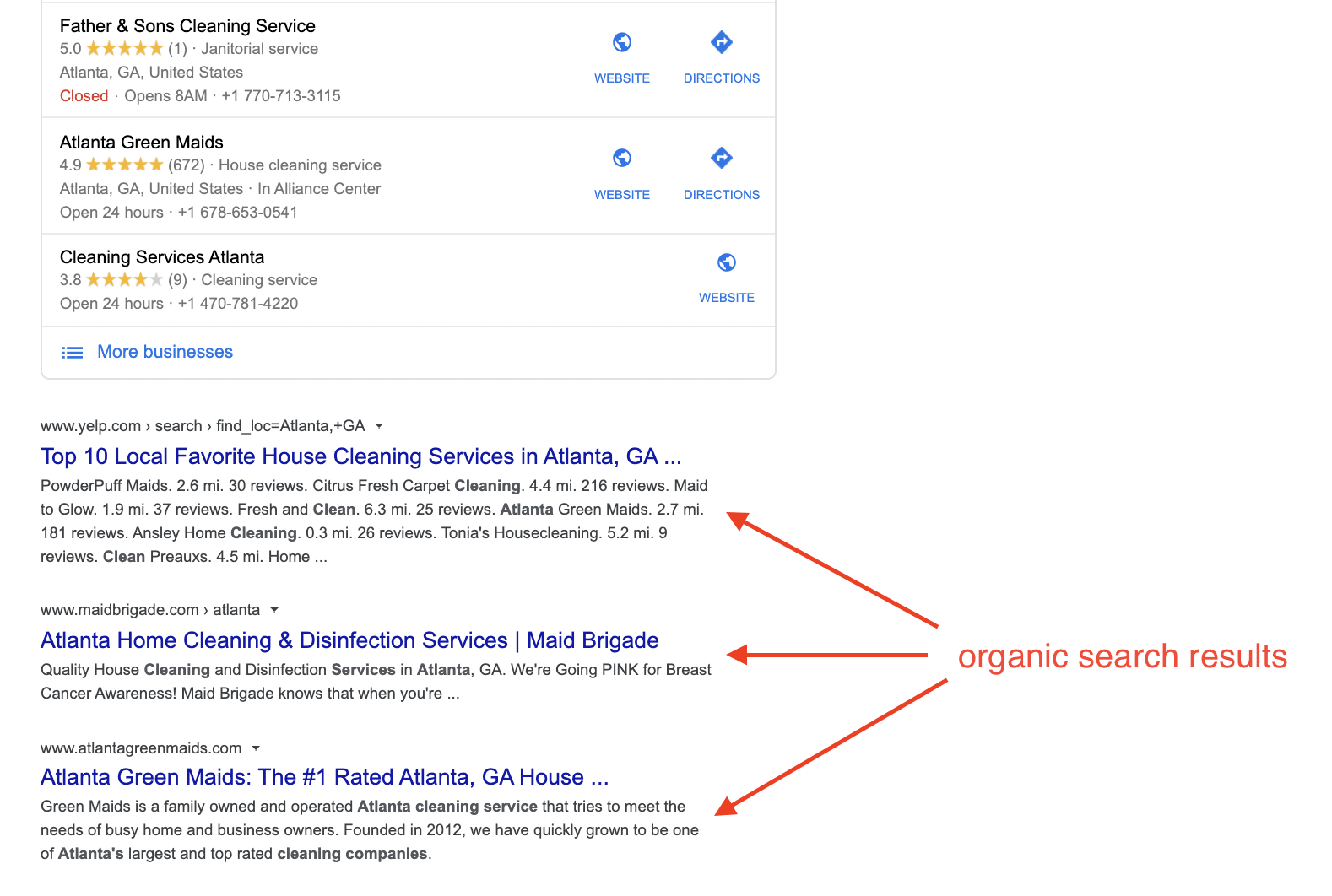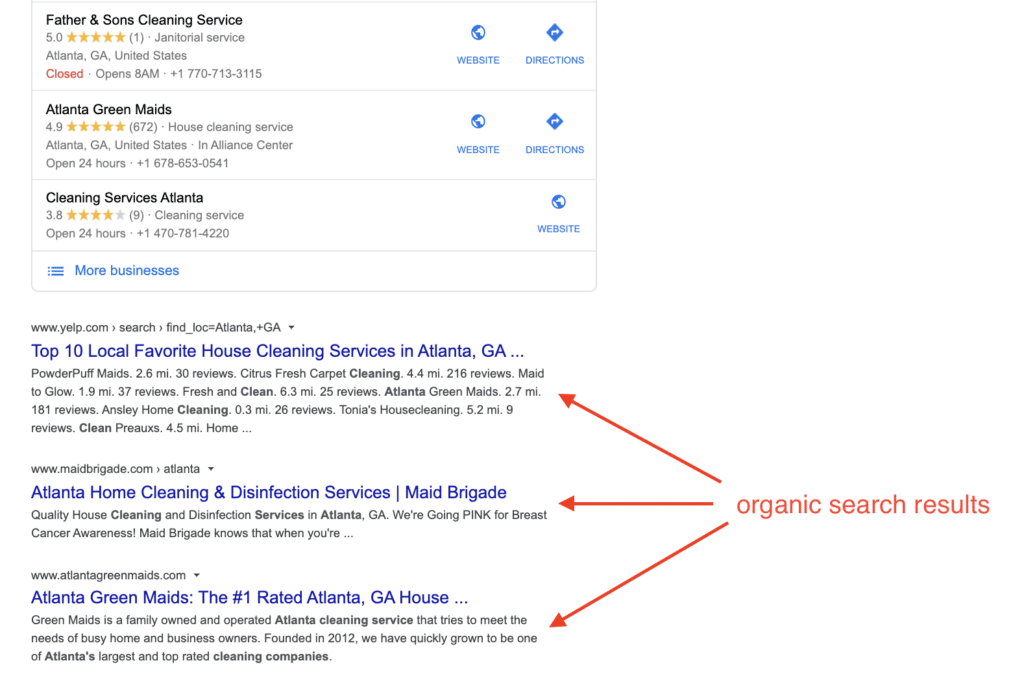 To optimize, and ideally rank, your content you need to target the right keywords.
What are keywords?
They're the words people type into the search bar in the hopes of finding specific content on the web. For example, keywords for a cleaning or maid service could include: residential cleaning, house cleaners, house cleaning, etc. They can also be short phrases, known as long-tail keywords, such as: cleaning company in Atlanta.
When optimizing your website for SEO, it's important to focus on the people that are visiting your site. How well you'll rank on Google should always be secondary to that.
While optimizing your content for keywords is only one portion of SEO, it will go a long way to letting search engines know that you are answering the questions that people are searching for.
Promoting Your Cleaning Service With Google AdWords
As a maid service looking to get in front of more cleaning clients in your local area, using Google Adwords as a paid advertising platform to promote your business can be an effective way to garner new leads.
Google Ads can grow your cleaning business by driving more traffic to your website or getting prospective clients to call your cleaning company.
You can control where your ads are seen (globally or locally) and how much you spend on them.
Here is a brief explanation of what Google Ads are and why you would use them for your business.
If you are familiar with the platform and have already created your own account, you can add our recommended keywords directly into your account. From there, you can create your ad using some of those keywords in your copy.
Remember: You don't want to "stuff" your ad copy. Text should be compelling, to the point and natural-sounding. Don't just put in a bunch of keywords or use phrases that a human being wouldn't say.
You can think of your ads as the answer to the question someone might type into the Google search box. If someone searches for "house cleaning Atlanta," you want your ad, and ultimately your business, to be the "answer" they are looking for.
The way you do that is by ensuring that the keywords you're using in your ad copy match (or are related to) the searches people are typing.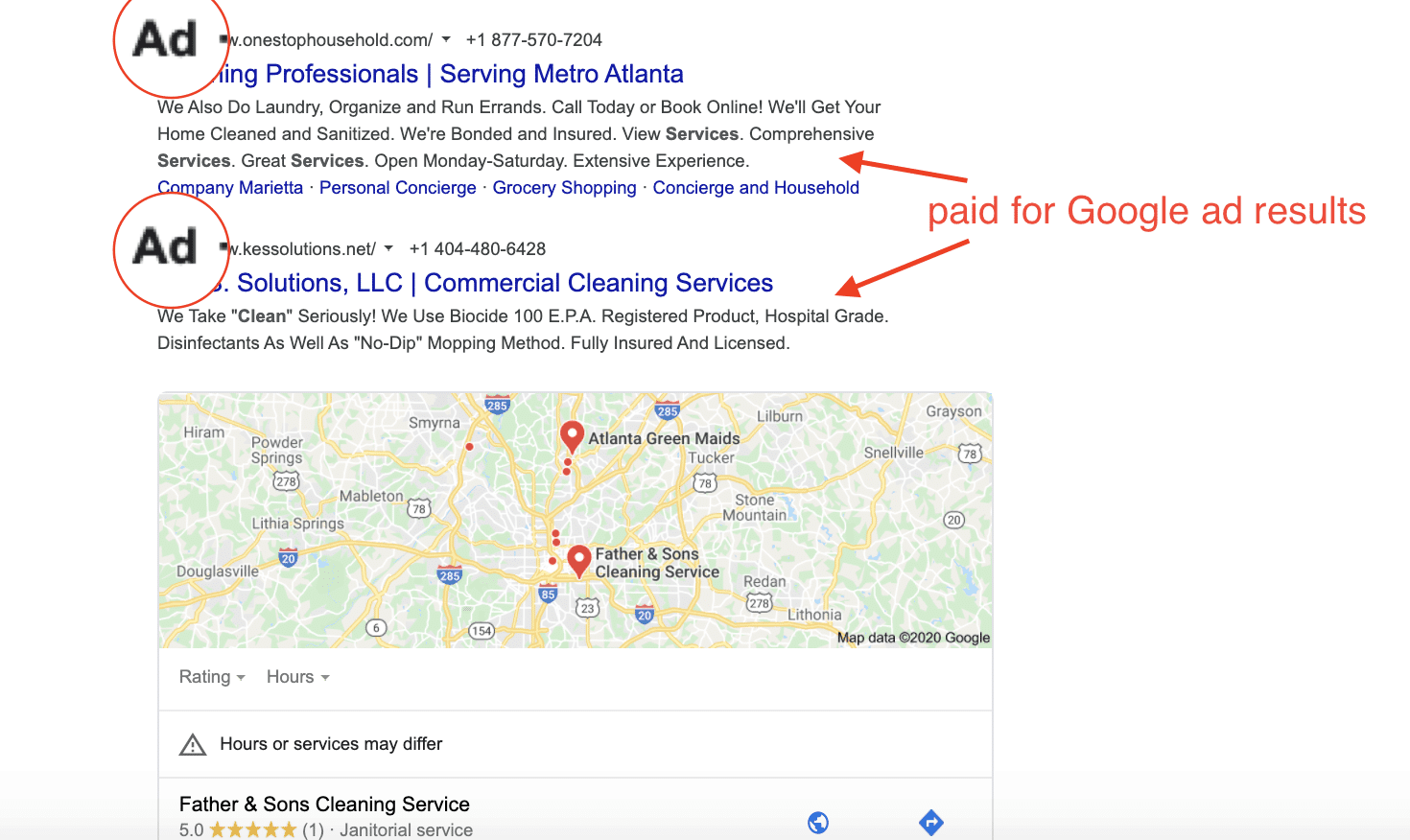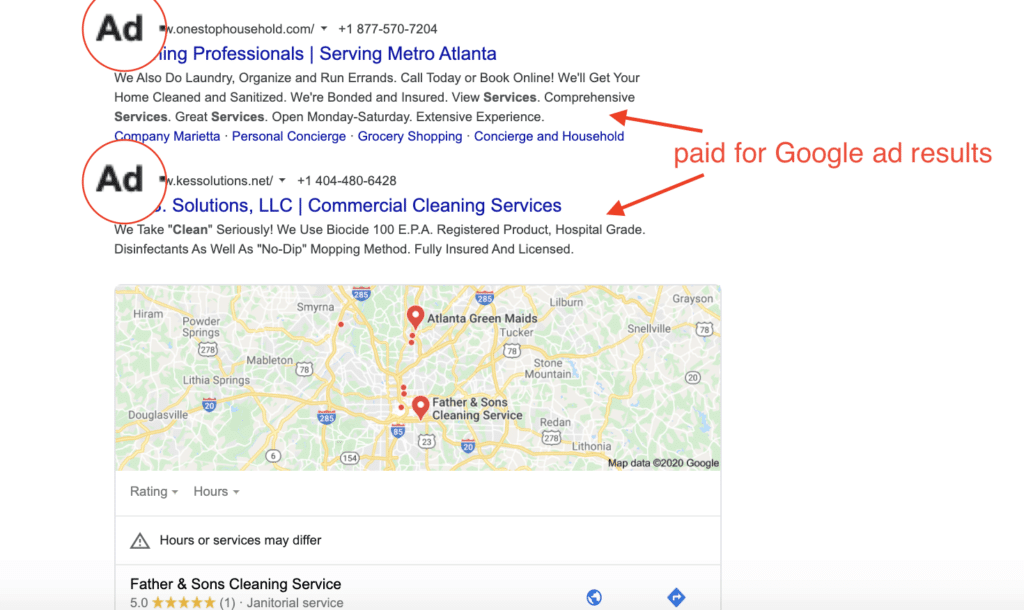 While paid ads have a small tag that says "ad" on them, one of their greatest benefits is that they display above the organic search results.
Success in Google all comes down to visibility. The higher you display, the more people will see your results. And, if your copy is compelling, the more people will click through to your website.
Using the Right Keywords for Your Cleaning Service
Start optimizing both your website and Google ads today using the top 47 keywords for cleaning services. These keywords will help your website rank higher in Google's search results and drive more traffic to your cleaning ads.
All of which will result in more profitable leads for your maid service.
The easiest way to start using this list of cleaning services keywords is to work as many of them into your website as possible — without affecting its readability. In other words, your content must still make sense for the reader.
Include them in all the blog content or articles on your website.
If you are sharing easy cleaning hacks, how-tos and tips without using relevant keywords, you're doing your content a disservice.
That said, don't go to the other extreme and add every single one of these keywords to every page on your website. This is known as "keyword stuffing" and it won't go down well with Google or your readers.
After working them into the copy on your website, select specific ones to target via your ad campaigns, too.
Did you know? 8% of search queries are phrased as questions.

Moz
Keep this in mind when you are writing copy for your website or ads. What questions do you think people would be typing into Google when searching for a home cleaning company?
Using the list of keywords, replace some of the current references to your cleaning business with keywords that aren't already on your site.
Mix up the words and phrases you use to ensure you cover all of the words someone might be using when searching. For example, if you only refer to your business as a "maid service," you could be missing out on people searching for a "residential cleaning business."
For more information on Google, SEO and Google Adwords, watch this video from cleaning service PPC and SEO specialist, Landon Sanford from the 2019 Maid Summit.
How To Create Ads for House Cleaning Businesses
Until now, we've focused on Google, but your cleaning ads can expand beyond the world's most used search platform. Display ads and advertising through social media also provide you with great opportunities to capture the attention of new clients.
Creating ads for house cleaning services isn't rocket science, but there is an art to writing ads that rank, or attract attention, and convert. Once you understand what makes a great cleaning ad, it's easy to adapt them according to your goals.
Whether you want to drive traffic to your website, get people to subscribe to your newsletter or encourage prospective customers to call you, having a range of cleaning ads in your marketing arsenal will help you grow your maid service business in no time.
When advertising outside of Google Search Ads, your cleaning ad must have five key components for it to be successful:
1. Eye-Catching Visuals
Include a photo or image to draw attention to your ad. Eye-catching visuals stop people from scrolling past your ad and instead make them want to find out more.
2. Strong Branding
Make sure your company name and logo are easily identifiable. Strong branding helps potential customers remember you.
3. A Catchy Tagline
Write a simple phrase to highlight a key selling point of your business. What do you offer that sets you apart from the competition?
4. Supporting Ad Copy
Write some text to elaborate on your tagline and provide additional context for your message. Go into more detail, but don't make it too long.
5. A Clear CTA
Every ad you post needs a clear call-to-action (CTA) telling the reader what to do e.g. "Call now!" or "Subscribe to our newsletter!"
By including these key components you will help readers notice your ad, understand what it's about and most importantly, know what action you want them to take. Take a look at The Cleaning Authority's advert to see how well they've incorporated each of the key elements into their advert.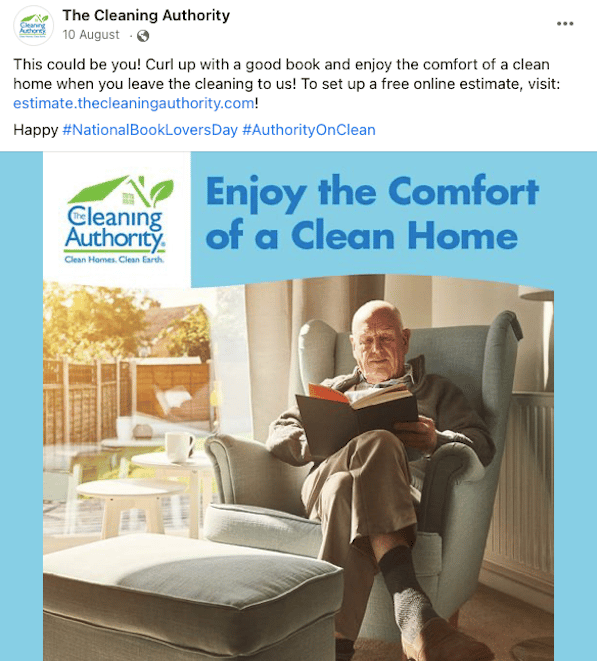 3 House Cleaning Ad Examples that Work
Once you have a handle on what it takes to create cleaning ads that convert, it's time to brainstorm some ad ideas to grab the attention of your future customers. We've listed some examples below to get you started, but once you get the hang of it you're sure to come up with plenty more on your own.
1. Before and After
Let your work sell itself by using before and after images in your ad. People want to know that hiring you will make a difference to their home. Why tell them what you can do when you can show them? JLM's Detailed Cleaning Services does an excellent job of this. One look at these photos is all you need to convince you to hire them.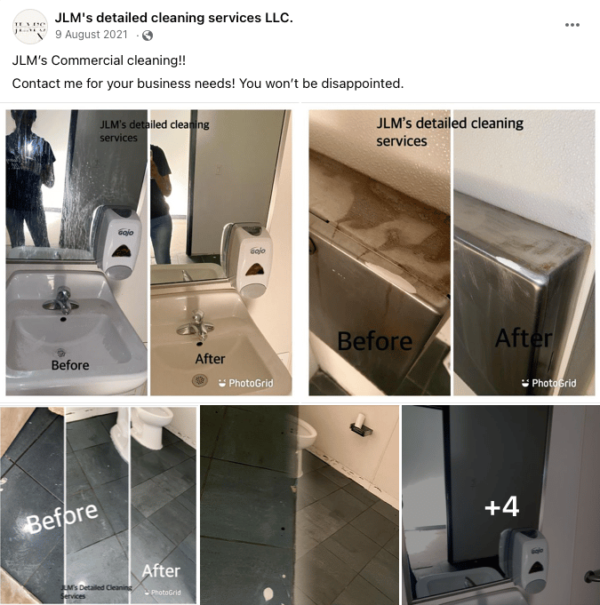 2. Social Proof Sells
Social proof is the ultimate maid service marketing tool. People want to know about others' experience before making a decision. Sharing online reviews and testimonials lets prospective customers know that your brand delivers. If MaidPro told you how prompt and professional they were you might cock an eyebrow (of course they'd say that about themselves), but when you hear it from a customer it sounds convincing.
3. Address Pain Points
Nothing draws attention quite like an ad that feels as if it's speaking directly to the reader. Young, working professionals with busy lives and little motivation to clean respond to an ad that empathizes with, and makes light of, how low cleaning is on their priority list. For this audience, Pamela's Cleaning Service's advert speaks volumes. And who doesn't love a good cat meme?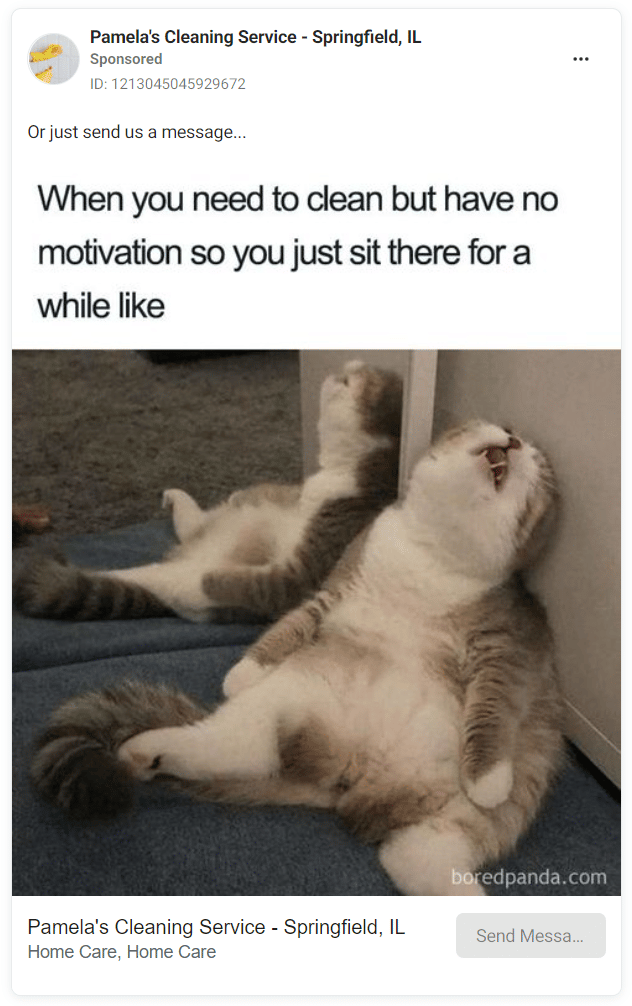 Summing Up
The ultimate goal of advertising is to drum up leads and grow your business. Whether you go all in with Google, or branch out to other networks, the key is to make sure your cleaning ads reflect your business and, most importantly, speak to your ideal clients.
Meet your potential customers on the platforms they use, and create compelling ads that answer their questions, address their pains or connect with them in a way that they simply can't say no!
If you have any questions about advertising your maid service, don't hesitate to reach out. I'm always happy to help out new and growing businesses in any way that I can, so drop me a line at Amar@ZenMaid.com and I'll get back to you!
---
You and your maid service deserve a little peace and quiet. Sign up for your free trial today at ZenMaid.com and discover the freedom and clarity that ZenMaid can bring to your maid service!