Last Updated on August 21, 2023 by The ZenMaid Team
The following article is based on a talk given by Sean Parry at the 2021 Maid Summit, hosted and organized by ZenMaid.
Sean Parry is a Google Ads specialist and cleaning business owner based in the UK. His cleaning business' Google Ads were originally managed by an outside agency. After the account underperformed, Sean fired the agency and became an expert on Google Ads. Now, Sean primarily works with cleaning businesses in the US and Canada. His business, Project83, helps companies reach 83k of revenue each month or one million per year.
Page #1 on Google is the "Holy Grail"
Page one is the first page that pops up when you Google a particular word or phrase. If you want to maximize your visibility as a business, you need to be on the first page.
First, you'll notice the Google Ads position at the top. The number of ads that appear is changing with the times, and Google gets paid every time someone clicks on an ad. Since Google is a business interested in making profits, these ads are likely to increase from here.
One important thing to note about Google Ads is the device someone is using to search from. Desktop use is becoming less common, and cell phone use dominates, the top few images are more important.
Since the screen on a cell phone is small, when you search for something on your phone, you will initially only see the top few options — typically Google Ads.
Because of this, Google Ads is becoming more important as Google continues to grow.
Google My Business
Next, is the "My Business Listings", or "Google My Business" in the middle of the search page.
This part of page one is important for different reasons. Here, you'll create a profile and potential clients can see your location, what services you offer, and customer reviews and ratings.
Make sure that you're consistently receiving positive ratings and reviews to boost your visibility in this middle section.
Last is the bottom section of page one, organic search results from Google SEO.
Google SEO is still really important, but less important than it was a decade ago because of the current spots for ads and google maps.
Looking for more help with your Google My Business profile? Check out this article from ZenMaid Magazine!
Page one summary:
For business owners looking to build a sizable business, (seven figures or more), you'll want to maximize your visibility all on page one. You need to do Google ads, maximize your GMB profiles in addition to an active SEO strategy. If you neglect any of those, your visibility will decrease, and you will have less traffic to your website. Less traffic means fewer clients.
What's the best approach for Google Ads?
It can seem incredibly complex if you're not familiar with Google Ads.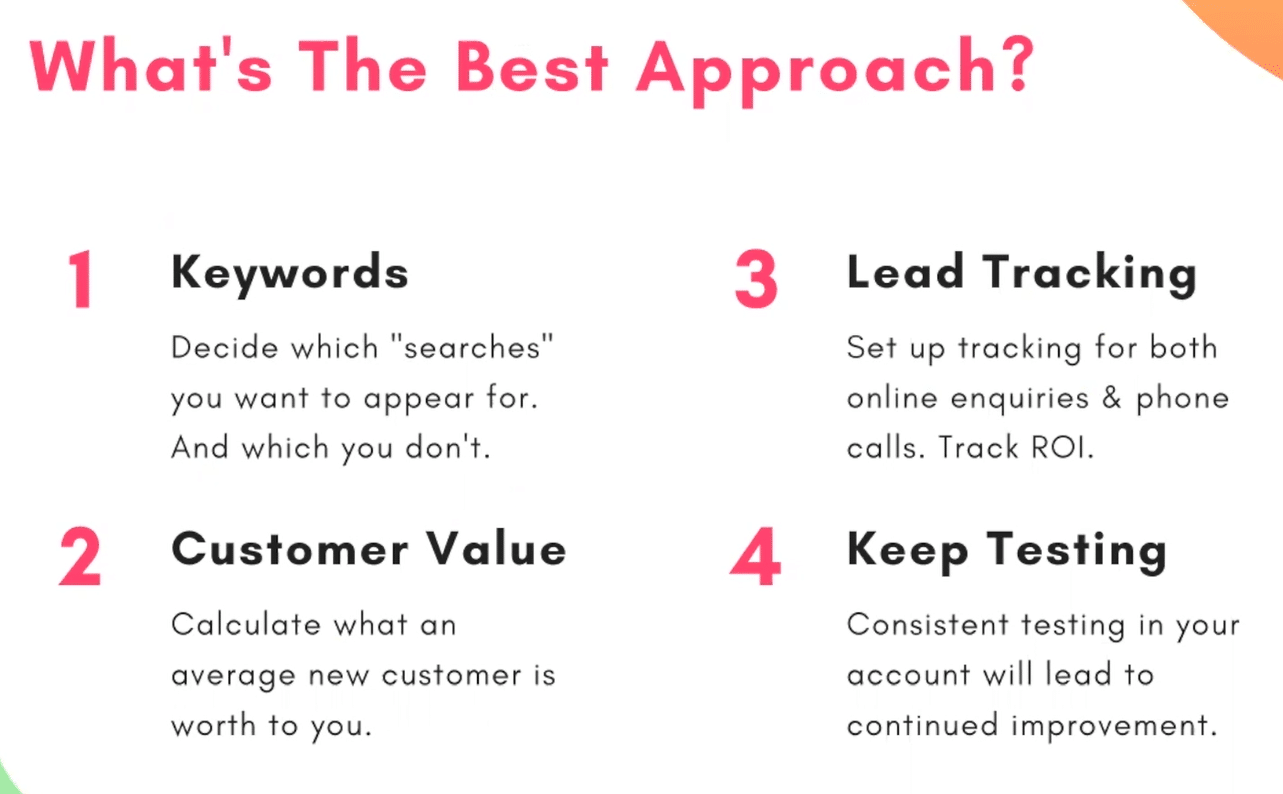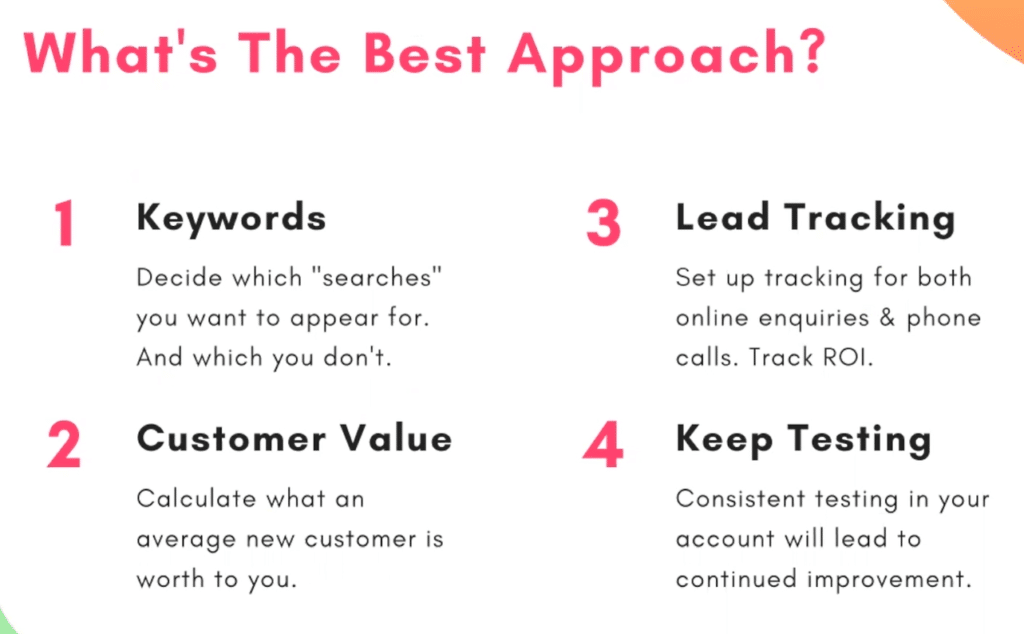 Here are the four most important things to focus on:
Keywords: Decide which "searches" you want to appear and which ones you don't. Potential clients search for keywords in many different ways. People may type "cleaning company," "cleaning services near me," "cleaners," or "cleaning services." There are numerous combinations people use to search for cleaning services. Try to capture as many of those combinations as possible, and remember, humans are typing in search inquiries, not robots!
Negative keywords are words you don't want to trigger ads. Example:
"cleaning job near me." In this instance, you want potential clients to see your
ads, not someone looking for a job. Advertisements cost money and you want to maximize every dollar spent on them. You can avoid a wasted click with a negative keyword list.
Don't know where to start when it comes to keywords? Don't worry, we've got you covered with our free list of 47 keywords every maid service owner should know for Google.
Customer value: Calculate what an average customer is worth to you. Look at the entire time a customer is with you and how much money that customer brings to your business. Then, average all of your customers together. This determines the "worth" of your average customer by calculating the average customer lifetime value.
Then, sit down and establish the desired number for your customer lifetime value and look at your Google Ads campaign to determine if your ROI (return on investment) is working.
Lead tracking: Set up tracking for both online inquiries and phone calls and track your ROI.
We need to know the accurate cost of client acquisition. If someone fills out an online form, we need to know each time that happens.
Even though online booking is popular, traditional phone calls are still important. Businesses are quick to track online inquiries but neglect phone calls. About half of people who are interested in cleaning services want to call a company to ask questions.
In the cleaning industry, it is important to build rapport with your customers because you will eventually enter their homes/private spaces. A phone call can build trust between you and a potential client.
Phone tracking software may cost an extra $20 a month, but small adjustments like this give you a tight ad campaign in a competitive market.
Keep testing: You need to run the race and finish the race to get the gold medal.
Some people think that if you create a campaign, keywords, negative keywords, etc., you don't need to do anything else — you press launch and immediately churn off leads to your business.
Consistent testing will lead to continued improvement.
Track the performance of one keyword versus another, take out negative keywords, and test an advertisement against another.

Case study example
Let's say you own a house cleaning company in Chicago and you just set up your first Google Ads campaign.
Which google search do you think is best?:
"Cleaning services"
"House cleaning job"
"Best cleaning company Chicago"
"Office cleaner near me"
"Molly maid Chicago"
So, which search is the best?
"Cleaning services" – this seems fairly relevant.
"House cleaning job"- you can exclude this one because the word "job" relates more toward someone looking for employment.
"Best cleaning company Chicago" – this is a great option because it provides the service rendered and the location.
"Office cleaner near me" – although office cleaning may be somewhat similar to house cleaning, it will ultimately be a "waste of clicks."
"Molly maid Chicago" – using the name of a related franchise may be helpful, but be careful not to run into copyright issues.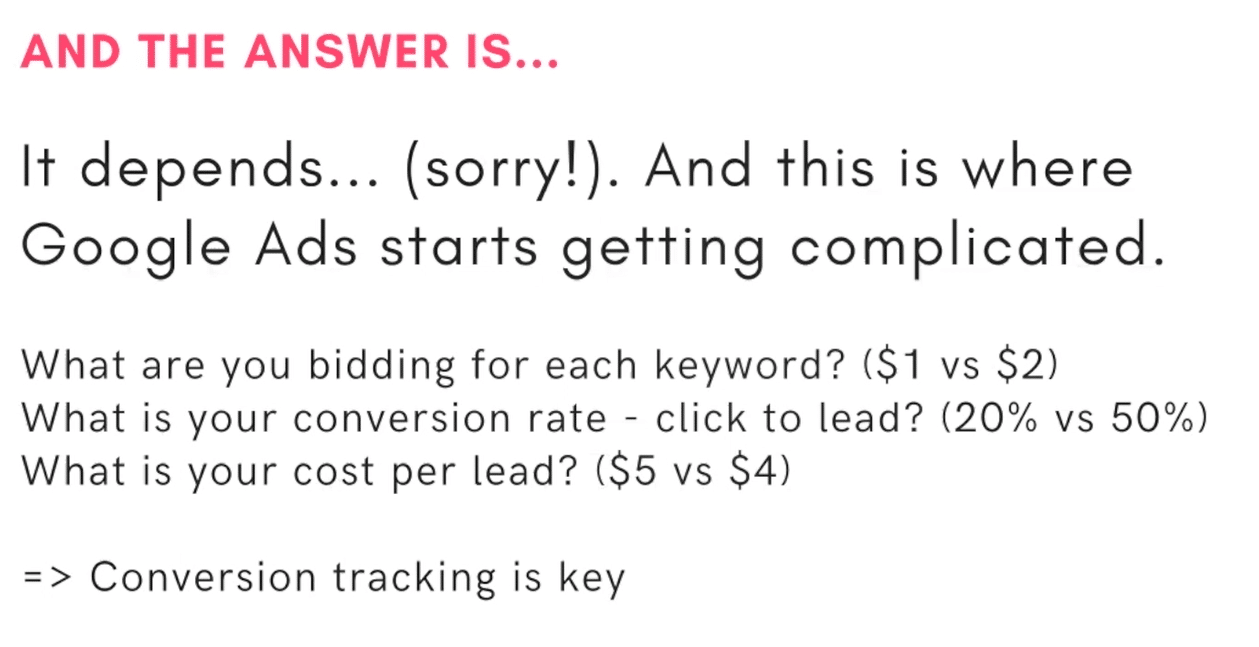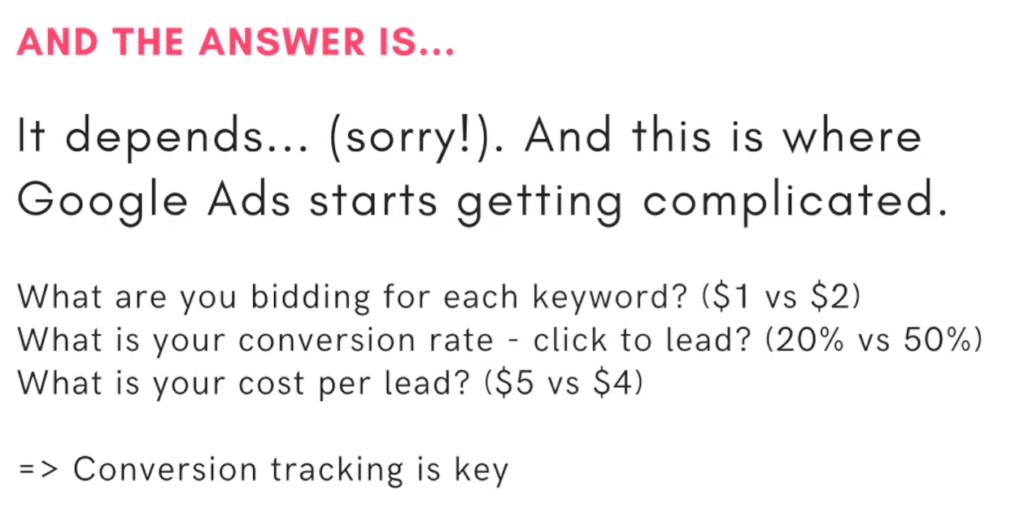 For this case study, our top two choices would be number one (cleaning services) and number three (best cleaning company Chicago).
What businesses need to understand is that each keyword is an auction process.
"Cleaning services" may cost $1 per click, while "best cleaning company Chicago" costs $2 per click. We're potentially paying twice the amount per click for the second option.
Now, you must determine if paying for the higher-priced keywords is more beneficial. Maybe the more expensive option brings in considerably more customers than the first option – maybe it doesn't.
Conversion rates
Let's say that you want a 20% lead conversion rate. For every five advertisement clicks, one person will call that business or will fill out an online form.
If you want a 50% conversion rate, you want three people who follow up with your business out of six advertisement clicks.
Realistically, a 50% conversion rate is unlikely. A 20% or 25% conversion rate is more achievable.
After determining your conversion rate, compare the overall prices of the different keywords. You want to channel more of your money into a lower cost per lead keyword than a higher one.
Conversion tracking is critical because the data you receive will help determine your next steps; otherwise, you are simply guessing your online efficiency.
Considering that conversion rates change weekly, you should regularly review these numbers to maximize your profits.
When to use Google Ads manager
"I've tried, but I've failed" – Google Ads can be complicated, and it's easy to waste money if you're using it ineffectively. If you're not sure where to start, use a specialist to help you get "up the curve". An expert can start you down the right path.
"Will an agency get me a better ROI?" – One extra recurring client with a $15,000+ lifetime value pays for your management fees.
Make sure that you use a manager who has experience in your industry and geographical location.
Besides monetary value, think of the time you will save when you use an expert. Now you have a successful ad campaign AND more time to spend on other areas of your business.
Summary of what we covered today
What is Google Ads?
What's the best approach?
Should I use a manager?
Next steps
If you found this article helpful for your maid service, you may also like:
For more resources on how to grow and perfect your cleaning business, check out the replays from the 2021 Maid Summit, hosted by ZenMaid. The summit featured more than 60 presentations from other maid service owners who shared tools and strategies to help you achieve the highest levels of success in your business.
To hear Sean Parry's full talk from the Maid Summit, click here.

Try ZenMaid for free!