Last Updated on August 21, 2023 by The ZenMaid Team
The benefits of automated text messaging
Communicating with your customers at every stage of their journey doesn't need to be time-consuming. When you digitize and automate, you'll supercharge your cleaning business, increase revenue, and free up more of your time.
The three main stages of your cleaning business' customer journey are categorized into the pre-appointment stage, post-appointment stage, and missed opportunities. Text messaging is the best solution to streamline all stages of their journey.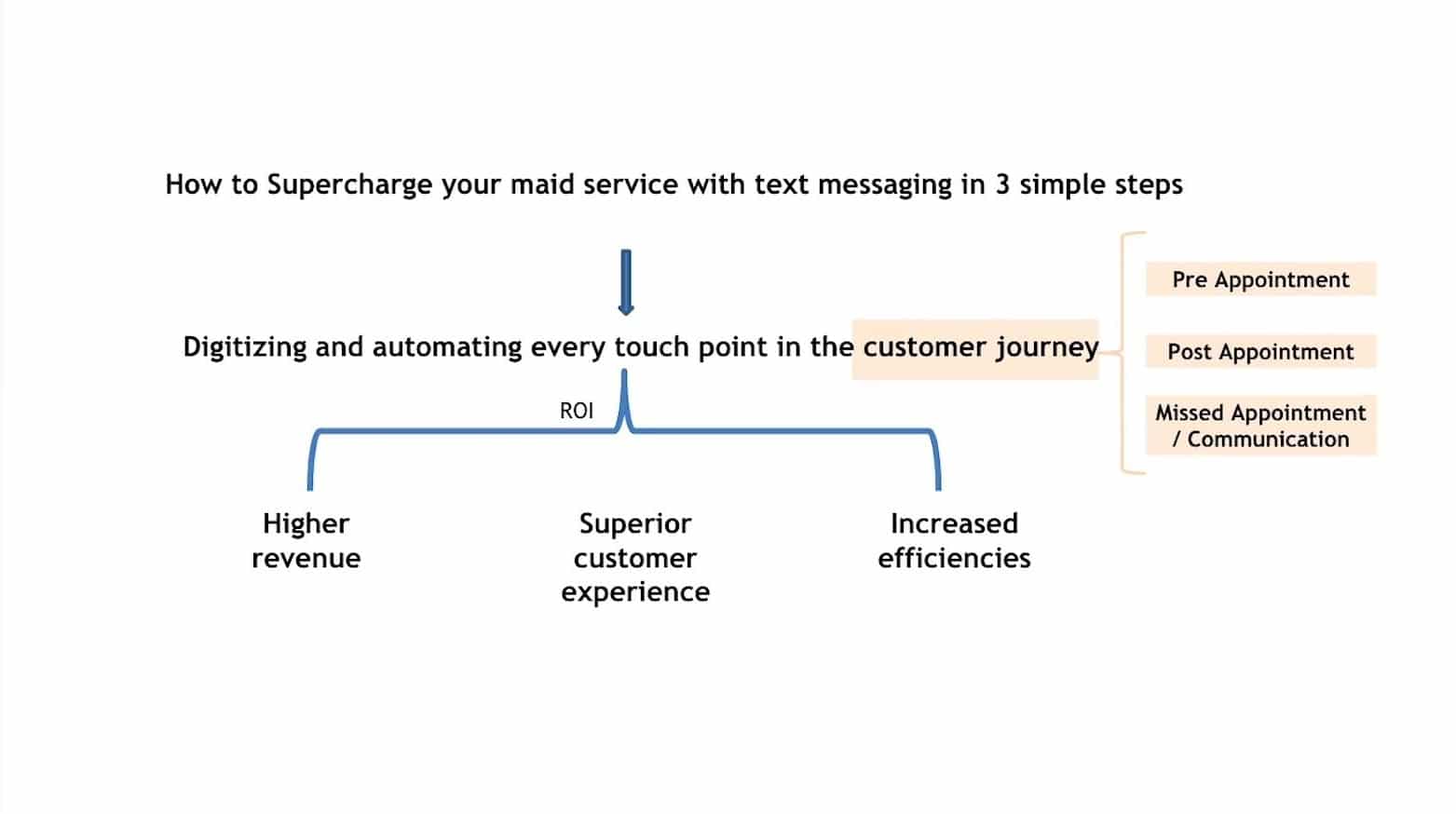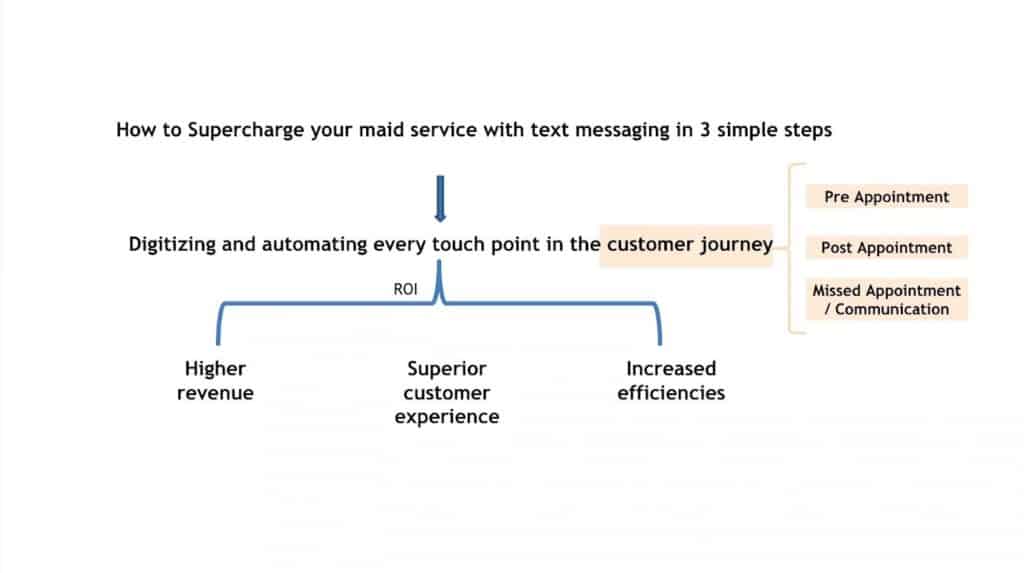 So how exactly do you supercharge your maid service with something as simple as text messaging? (It seems too good to be true, right?) Anmol Oberoi breaks down the benefits of text messaging into three steps:
Digitizing with text messaging leads to higher revenue
Automating with text messaging leads to superior customer experience
Text messaging contributes to increased efficiency in your cleaning business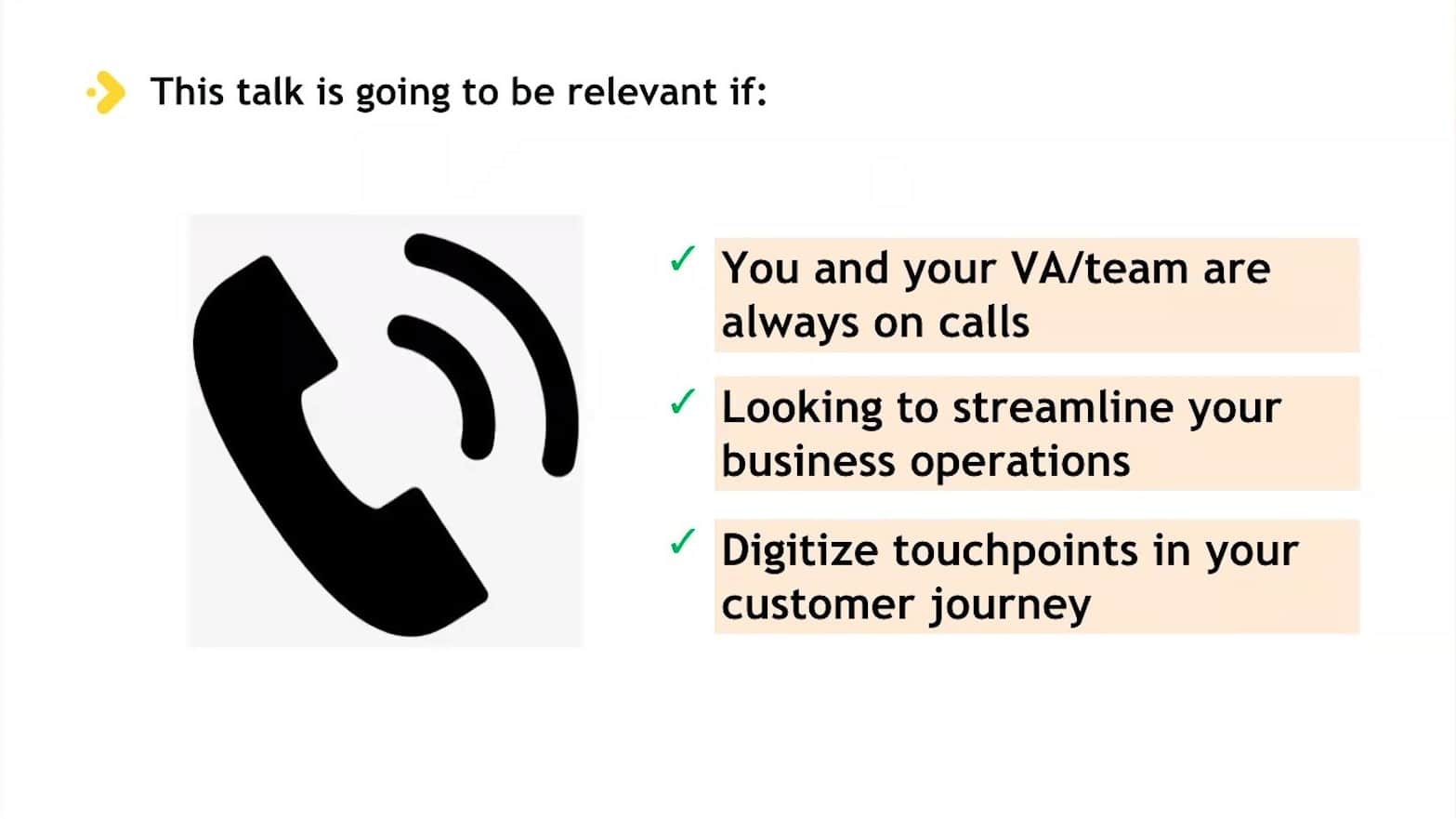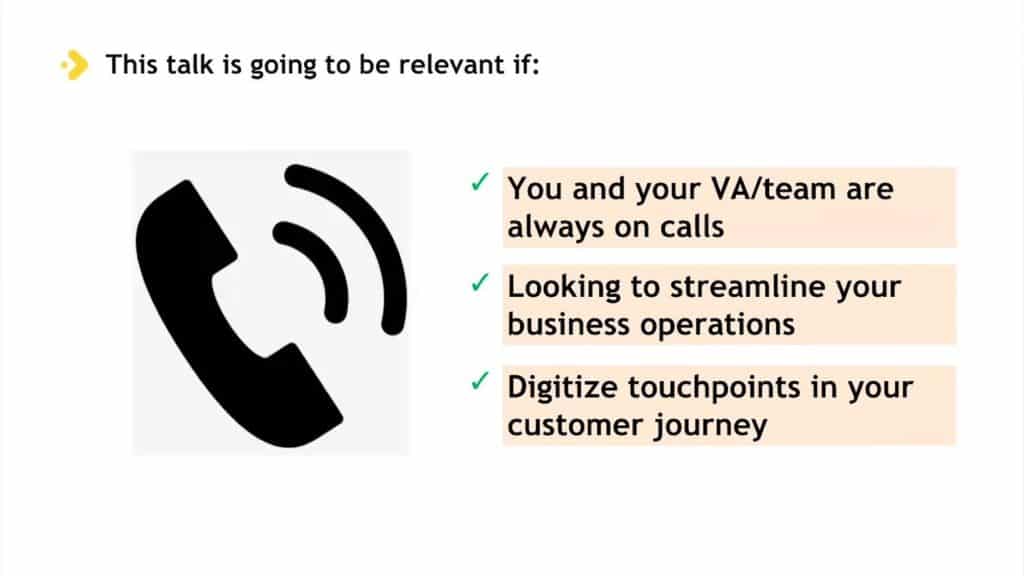 How do you know if your cleaning business needs text messaging?
Are you and your team always tied up with phone calls? Whether you're chasing calls, answering calls, or stressed by the amount of missed calls you need to get back to, something needs to change!
Maybe you have an awesome Virtual Assistant who handles communication for you. Think of the time you can free up in their schedule to focus on other tasks for your business. When working with a Virtual Assistant or any employee, text messaging is a great tool for everyone to utilize.
Have you missed out on new customer opportunities because you didn't respond back in time? As a busy cleaning business owner, you have a lot to manage. If you wait an afternoon to return a potential customer's call, they likely will find another business to hire – one that responded quickly because of automated systems.
The era of automation
Business is heading into an era of full automation. As technology continues to advance, more businesses are adopting digital platforms to automate their communication. Customers are also getting smarter with access to more resources at their fingertips. This means that customers' expectations are increasing along with the advancement of technology.
If you're looking to streamline your business operations and digitize touchpoints in your customer's journey, text messaging is your solution. Are you interested in automating all of your business systems? Check out this post to learn how automating your text messaging, marketing, and scheduling can save you at least thirty hours every week!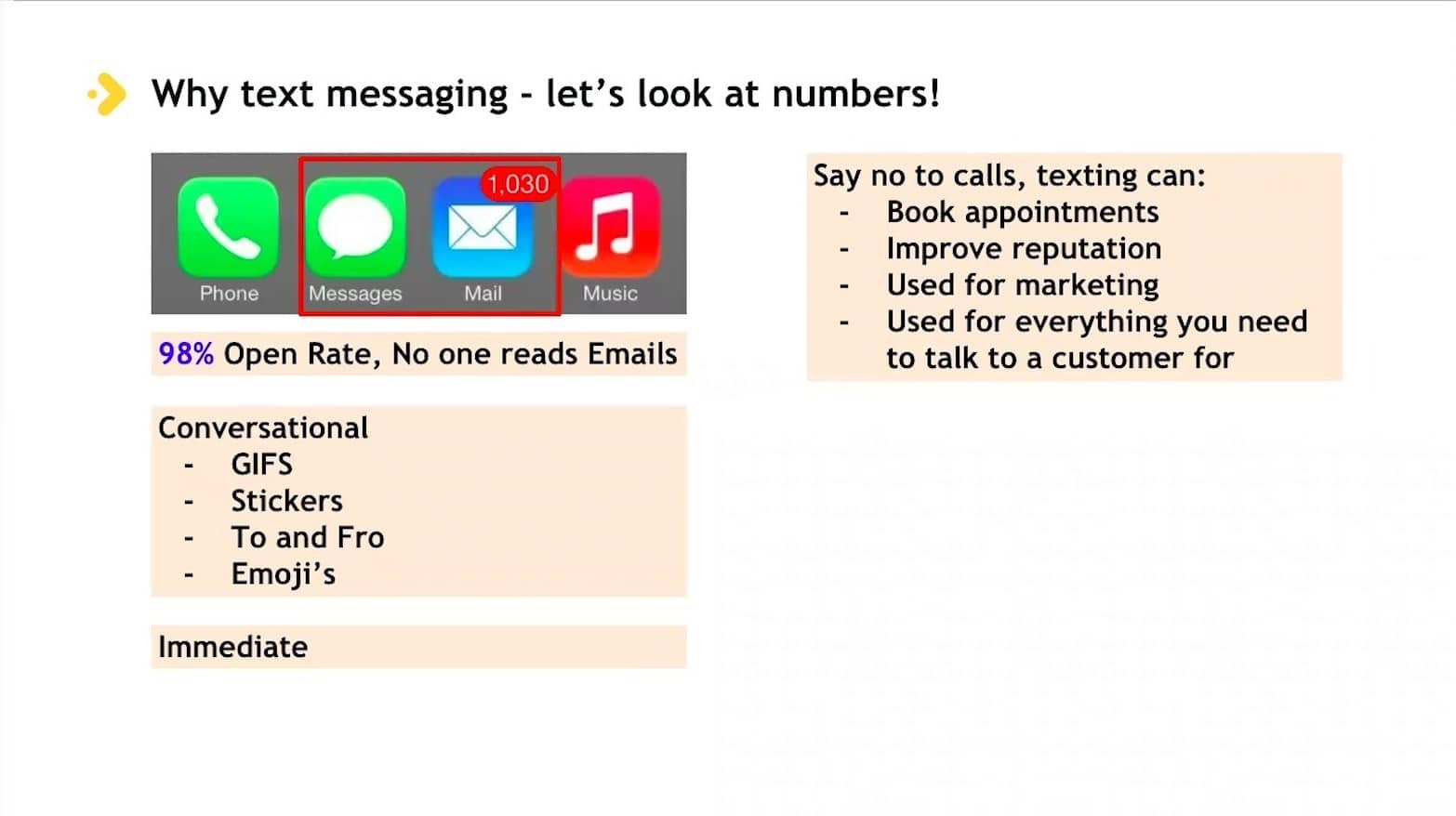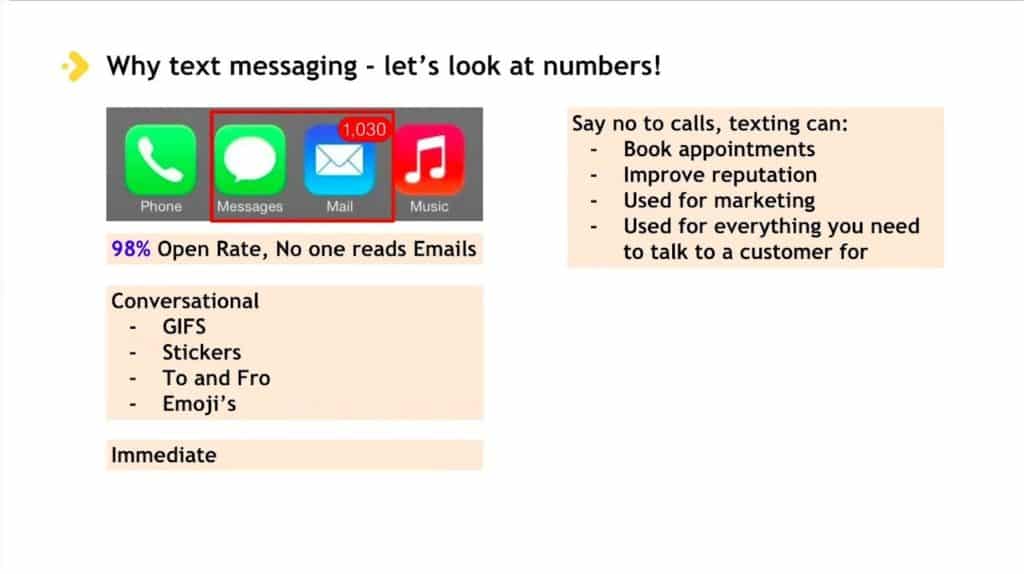 Why text messaging for your cleaning business?
If you check anyone's phone screen right now, you can expect it to look like the one pictured above: thousands of unread emails with minimal unread text messages. In this day and age, with increasing technology and decreasing attention spans, long-form communication is dying. Unfortunately, email communication is one of them.
When you take the time to write an important message to your customers, you want to make sure they're actually reading them. And that starts with the open rate.
According to Mailchimp, the average open rate for email marketing is 22.7%. Text messaging, on the other hand, has an average open rate of 98%. That's a drastic difference!
Text messaging offers unique opportunities to connect with your customer. For instance, you can send GIFs, stickers, emojis, and pictures with a text message.
Sure, you can technically send those connection points in an email, but they're generally more accepted in a text message.
Why? Because text messaging is personal and conversational.
You can achieve almost any communication traditionally done over the phone or through email with the power of text messaging. Whether you're booking an appointment, asking for a review, or sending out a marketing campaign, it can all be done through text messaging.
Life is busy; technology is busier. Your customers are already receiving endless marketing efforts from businesses with email, social media, and video. Stand out from the competition by landing in the most personal piece of technology they have: their text messaging inbox.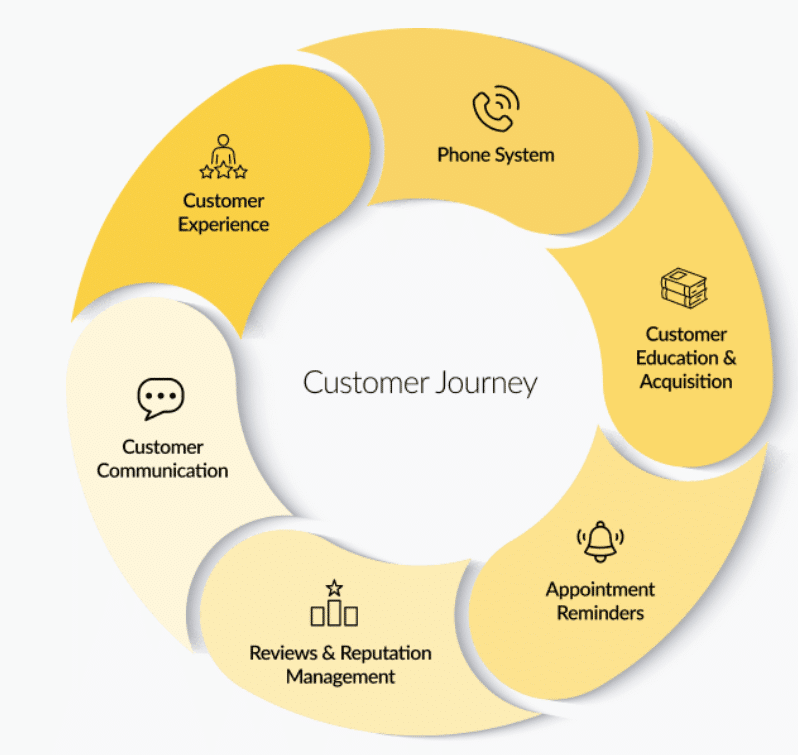 This image is from Emitrr.com
What communication does a text messaging platform offer your maid service?
An all-in-one phone system: Streamline all of your phone communication into one platform. Most business text messaging software allows you to make phone calls and leave messages with the same dashboard you use for text messaging.
Customer education pre and post-purchase: If your customer has a question, you can answer them directly with a text message. You can also keep your customer informed after they book your services by sending them text messages with special offers, discounts, and more service opportunities. 
Appointment reminders: Remind your customers of upcoming appointments, payments, and other important notes with the ease of automated text messaging. Some text messaging platforms will also let your customers reschedule their service through text messaging, cutting out the need for yet another phone call. 
Reviews and reputation management: Ask for reviews through text messaging! Your customers are more likely to fill out a review form if it's quick and easy to access. 
Direct communication with your customers: In addition to automated text messages, you can communicate directly with customers through text messaging. 

How to use text messaging at every stage of the customer journey
We mentioned earlier that text messaging is the best solution for personal communication at every stage of your customer's journey. In business, the three widely accepted customer journey stages are the awareness stage, the consideration stage, and finally, the decisions stage.
The three stages that Anmol Oberoi teaches about text messaging for cleaning businesses are the pre-appointment stage, post-appointment stage, and missed opportunities. In this section, we're going to break down exactly how you can use text messaging in each stage.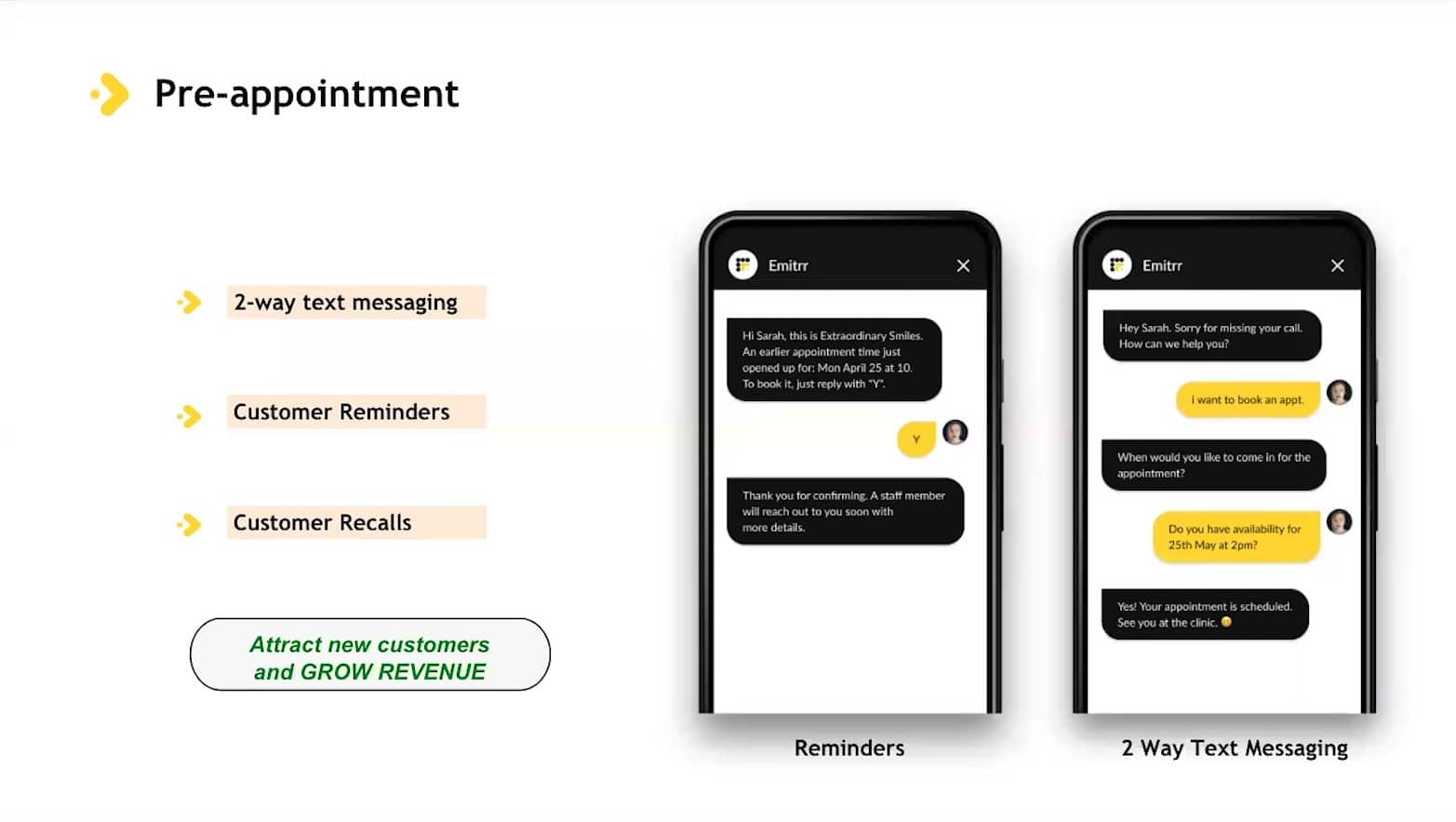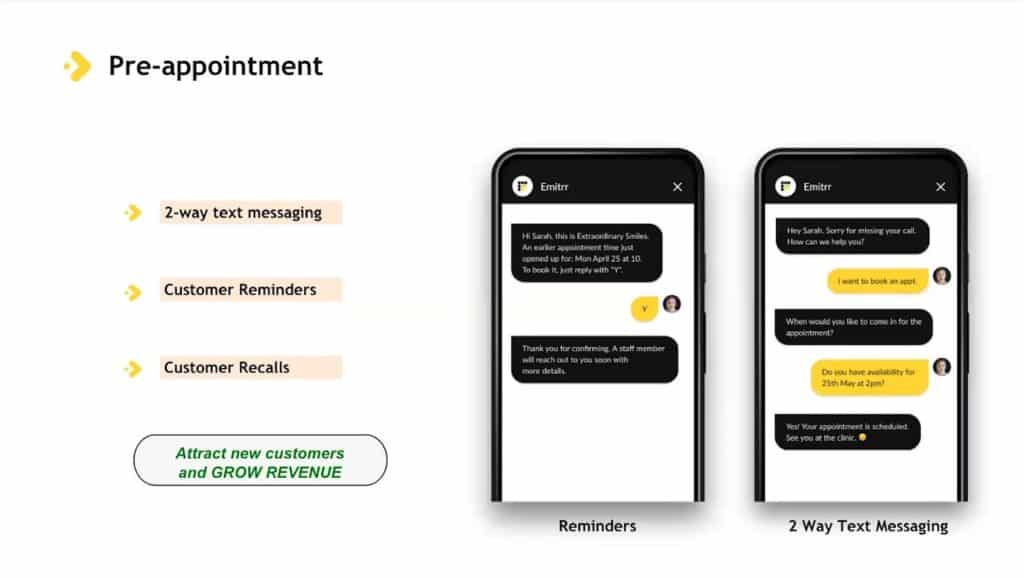 The Pre-Appointment Stage
In the pre-appointment stage, your potential customer is either considering your services or waiting for their first appointment. While your potential customer is considering you, texting allows direct messaging to answer all of their questions in a timely manner. (Way more effective than playing phone tag all day!)
Remember, in this stage, you're competing with established service providers who have streamlined communication already. Offering potential customers direct messaging to help them in their decision-making is crucial!
If your customer has already booked you (wahoo!) automated text messages send them instant appointment reminders. This cuts down on the cost of unexpected lockouts and helps enhance your customer's experience.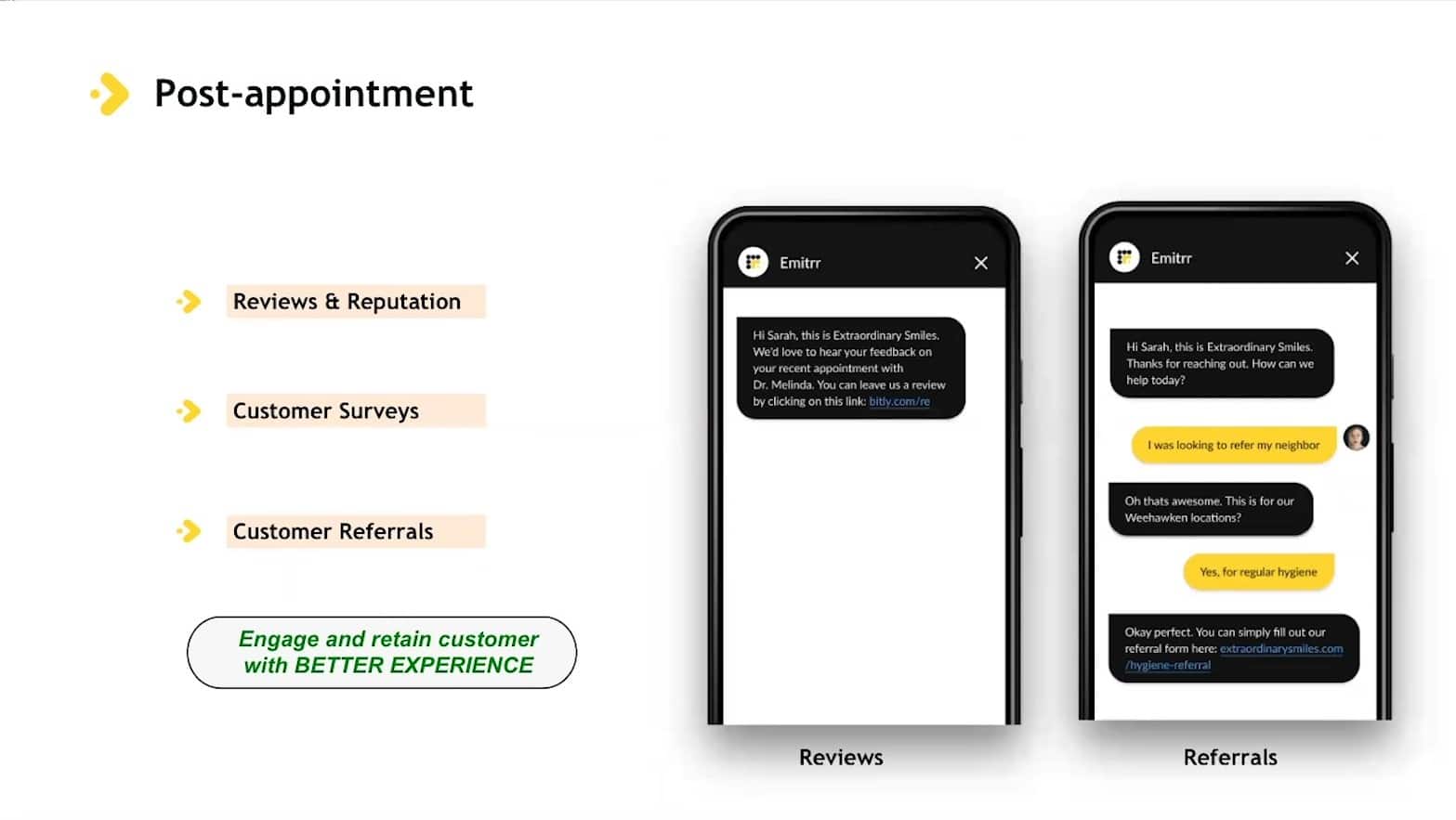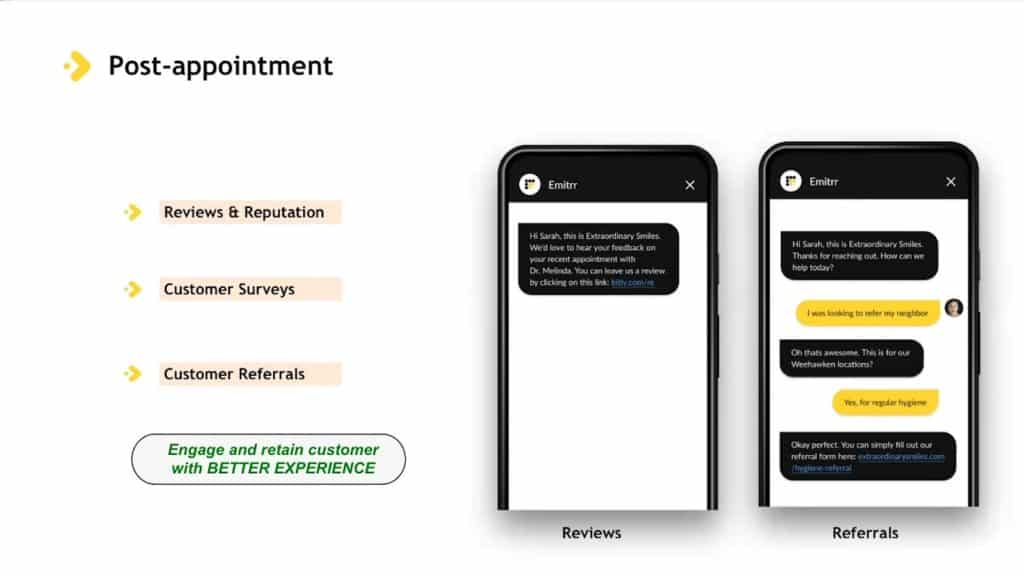 The Post-Appointment Stage
So you've landed a new customer, cleaned their home, and received their payment – way to go! The ease of text messaging is perfect for the next steps.
Send your customers a simple option to fill out a review with an automated text. The simplicity of text messaging boosts your likelihood of landing a great customer review.
Next, be sure to send a quick survey through text messaging. As business owners, we should always be looking for ways to improve our services. Similarly to landing a great review, the simplicity of text messaging increases the likelihood of your customer filling out a survey.
To add an extra incentive for leaving a review or filling out a survey for your business, offer customers a service credit or coffee gift card as a 'thank you.'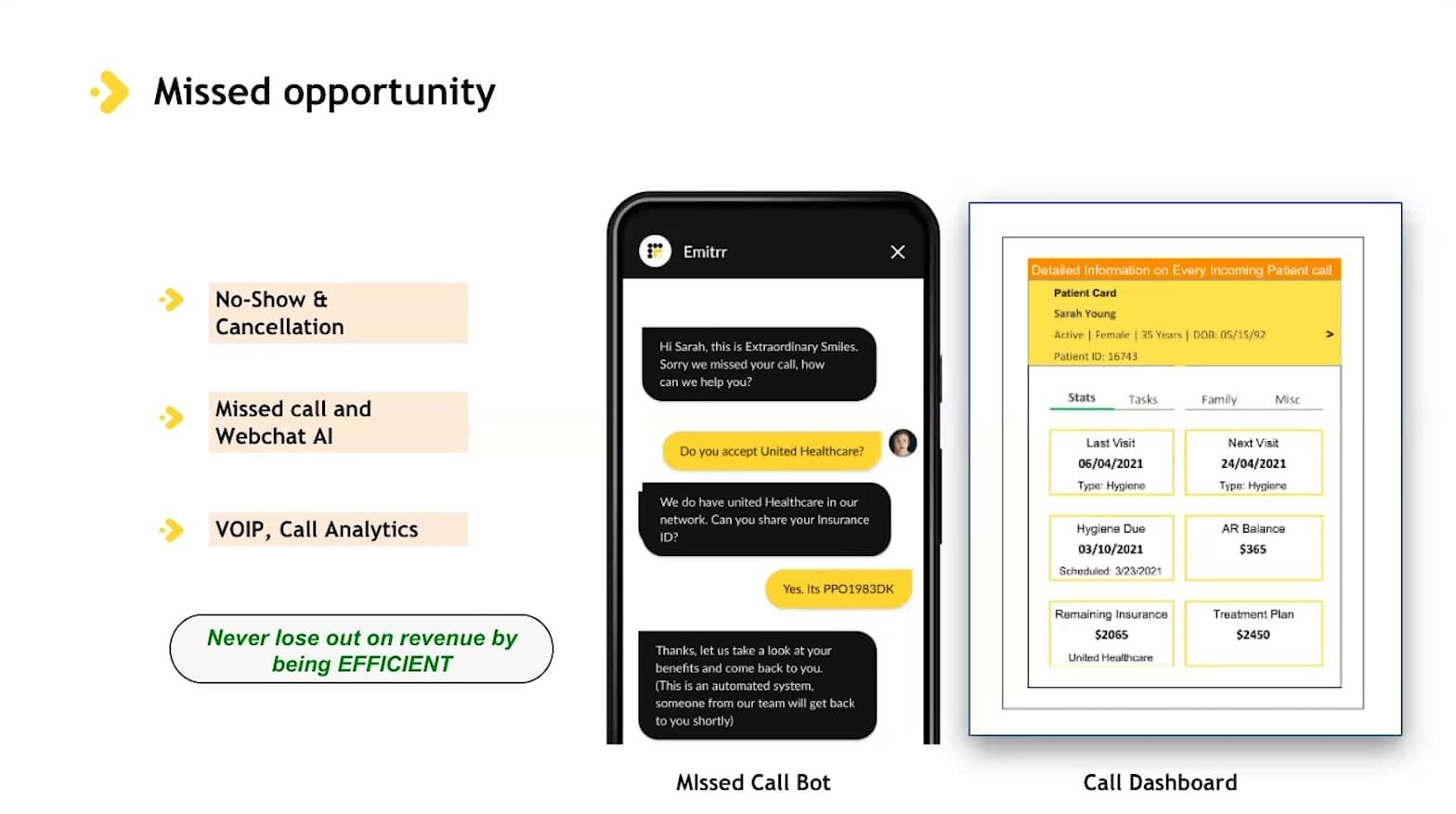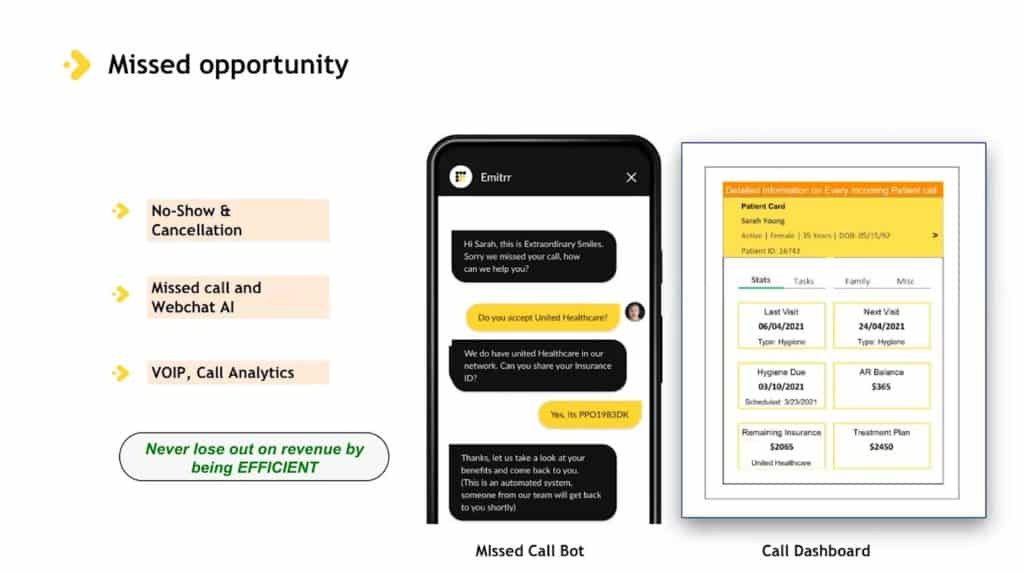 Missed Opportunities
As cleaning business owners, we've all taken a hit from missed opportunities. Maybe it's a forgotten appointment lockout or a missed call to cancel. Either way, these losses in your cleaning business can be avoided with the power of text messaging.
To learn more about how automated messaging can help your maid service, read our recent post, How Automated Messaging Can Help You Book More Cleaning Clients.
How to choose your text messaging solution
There are a lot of text messaging options for small businesses; it can be intimidating to find the best one for you. To make your search easier, these are four things to look for when choosing a platform:
Find a platform that operates separately from your personal phone. Remember, text messaging aims to simplify and streamline communication — not give you more work! So instead of getting notifications from customers on your personal phone all day, make sure the text messaging platform uses a separate dashboard.
Make sure it's comprehensive. The best text messaging software offers integrated phone systems, reputation management, direct customer engagement, webchat options, and automated marketing options.
Find an affordable platform. You shouldn't be breaking the bank for automated text messaging. When used correctly, text messaging will start making you money from day one. Pricing varies between companies. Some platforms offer per text pricing, per number pricing, or flat monthly rates. See if you can start with a free trial before you commit to one platform.
Look for good reviews. Reviews reflect what a platform is really like. Always check the reviews before choosing new text messaging software.
Ready to try text messaging for your cleaning business?
Are you looking for a text messaging platform built specifically for maid service owners? Check out Anmol Oberoi's company, Emitrr.
For more resources on how to grow and perfect your cleaning business, check out the replays from the 2021 Maid Summit, hosted by ZenMaid. The summit featured more than 60 presentations from other maid service owners who shared tools and strategies to help you achieve the highest levels of success in your business.
About the presenter
Anmol is the Founder of Emitrr, a 24/7 backup receptionist and text messaging software for maid service businesses that helps schedule cleaning – even after office hours! Anmol has six years of experience scaling marketing efforts of multi-million dollar Saas platforms. 
This talk first aired at the 2021 Maid Service Success Summit.
The Maid Summit is an annual online event that brings together the most successful leaders in the cleaning industry, like Debbie Sardone, Angela Brown, Courtney Wisely, Amy Caris, Chris Schwab and more. Get free access to masterclasses and workshops that will help you to grow, scale and automate your cleaning business so you can get more leads and create more profit. Make sure you're on our email list to find out how to get free tickets to the next event.
If you found this article helpful for your maid service, check these ones out: