Last Updated on August 21, 2023 by The ZenMaid Team
Are you struggling to create an effective marketing plan for your cleaning services? You're not alone — with so many different platforms and marketing gurus, it's hard to know where to start. With some help from Ginger Whitson, you can learn how to create a more straightforward (and more effective) marketing strategy: begin by aiming for page 1 of Google. By the end of this article, you'll know the three elements of a marketing strategy, understand why prioritizing SEO on Google is worth your time, and learn the first steps to get started with your Google Map Pack. Let's get started.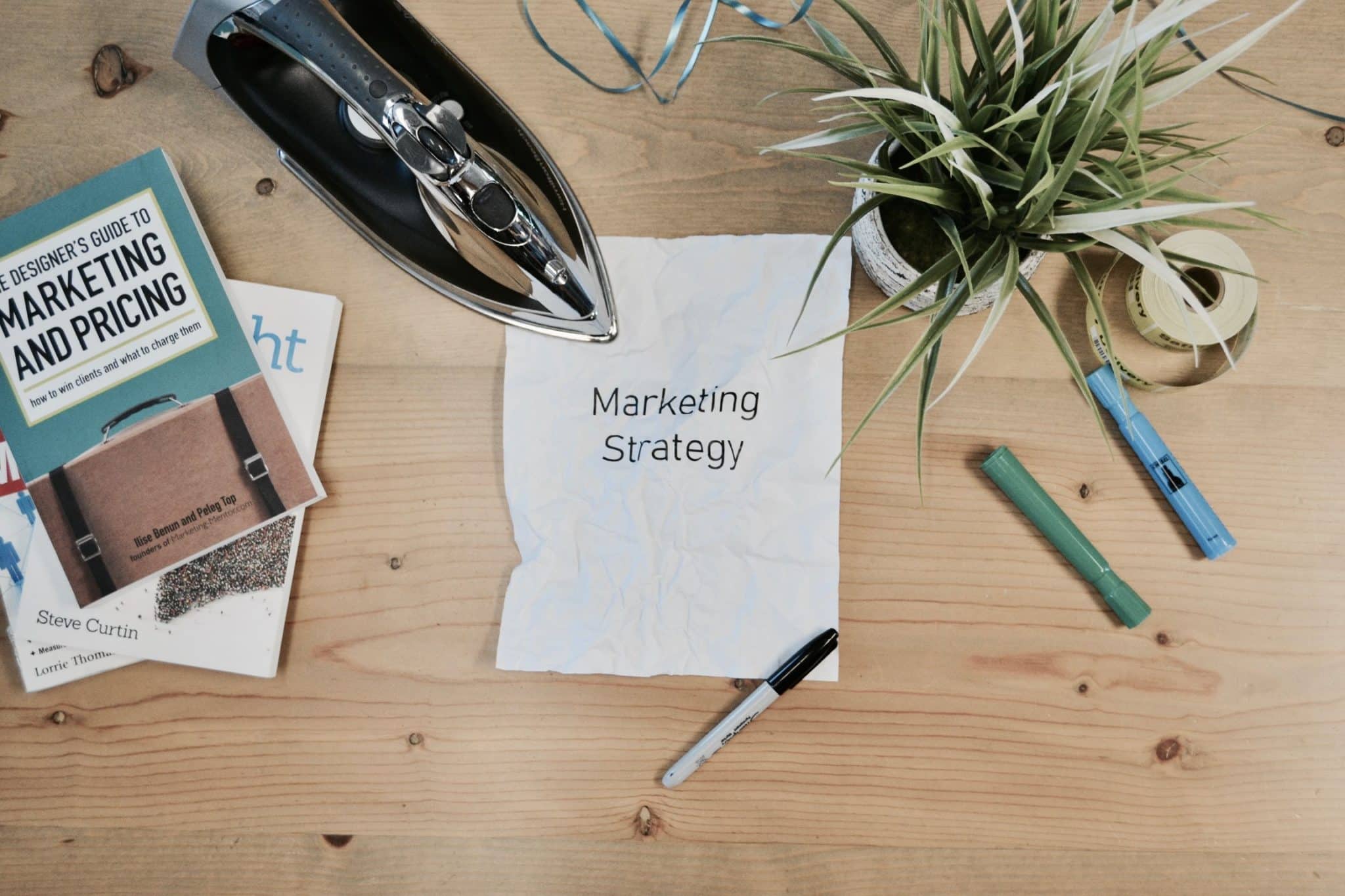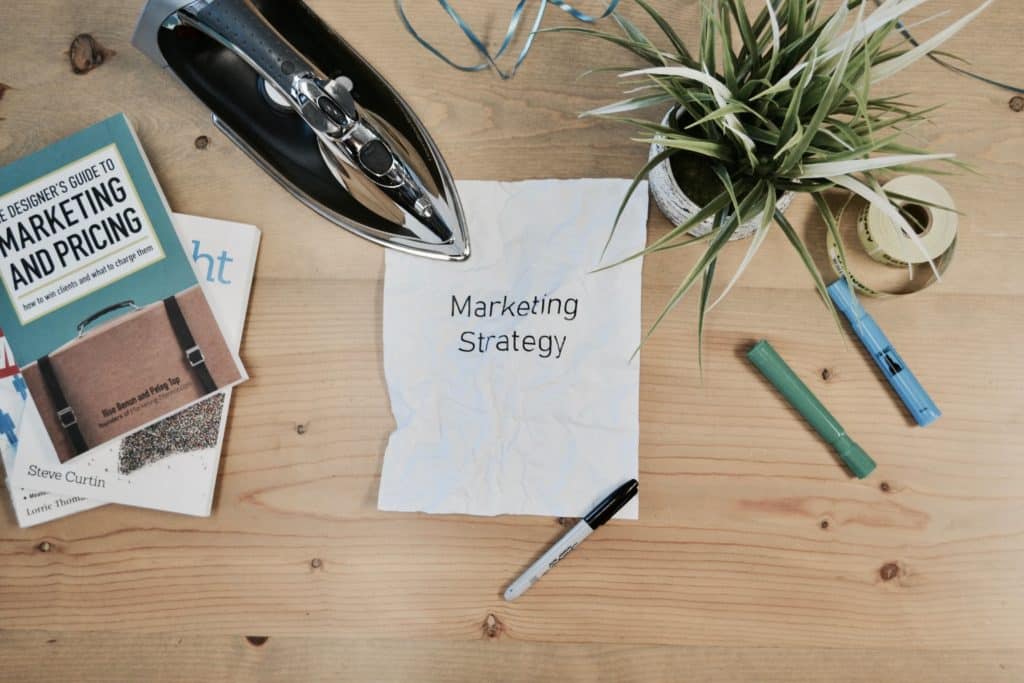 Source: Campaign Creators at Unsplash
The 3 elements of a cleaning business marketing strategy
Effective marketing starts with a well-thought-out strategy considering three key elements: growth goals, budget, and investments. Here's the breakdown:
1. Growth goals
What do you want to achieve? Do you have a revenue goal? Do you want to open another location? Get clear on your goals and your marketing strategy.
2. Budget
Although you can grow your business organically through referrals and search engine optimization (SEO), paid methods are the fastest way to go.
For example, here's a simple framework for how much of your monthly revenue to invest in marketing for your cleaning business:
Start slow: 5%
Moderate growth: 7%
Aggressive growth: 10%
For more budget breakdown examples, head to this article next.
3. Investments
After you've clarified your goals and budget, decide what marketing products or services you'll invest in to meet your goals. Knowing exactly what you want to achieve and how much you can spend makes you less likely to waste money on products or services.
Marketing your cleaning business on Google is worth your time — here's why
If you want to grow your cleaning business and have limited marketing dollars, you must be smart about where to invest them. None of us has deep pockets, but we can still be smart with our marketing dollars. Luckily, the answer is simple: a market where people shop.
In Ginger's experience, the first place to promote your cleaning business is where people are looking for cleaning services: on Google.
When people want a cleaning service, they typically go to their computer or phone and search for "housecleaning near me" on Google. Then Google serves up a page full of options. This is where people start their search and generally pick up one or two to call. Knowing this, to be visible, you need to aim for the first page of Google.

Aim for page 1 of Google search results
There are many marketing options, including lead generation services, mailers, postcards, and flyers. But remember — what do most people do when they need a clearing service? They turn to the internet. Most likely, their search will happen on Google. So, the first page of Google's search engine results pages (SERPs) is where you want to be to get in front of as many prospective clients as possible.
Here's how to increase your chances of showing up on the first page of Google:
Have a website that encourages visitors to book or contact you.
If you're going to spend money to drive traffic to your cleaning business website, it must answer potential clients' common questions and feature an easy way for people to contact you. This includes forms, bright buttons, or prominent displays of your contact information.
Don't overthink the design. Be sure it looks professional and is easy to scan. Look at it from the fresh eyes of a new visitor. Would they be impressed?
Need some more guidance optimizing your cleaning business website? No worries. We'll share more on this in a minute.
If your residential cleaning business is not showing up organically in a prominent position on Google, buy Google Ads. To run a successful Google Ads campaign, invest a minimum of $30 a day. Anything less will generate only a trickle of leads.

If it's within your budget, hire a professional to run the ads for you. Check-in with them often to review the metrics focusing on conversions and how much each conversion costs. A conversion happens when someone clicks on an ad on your website. Aim for a conversion rate of 20% and a cost of $30 or less per conversion.
Invest in SEO as soon as you can.
SEO (search engine optimization) can be out of budget for new businesses. So when you get to $25,000 to $30,000 a month in revenue, invest.
Landing in the map section of a Google results page, known as the Google Map Pack, is hitting the marketing jackpot. While the organic sections below it are also great, the map section draws the most visitors (and therefore potential clients!). You don't need to buy Google Ads if you show up as one of the first three businesses listed under a map.
In the screenshot below, you'll see a Google search results for "maid service Arlington, TX." Ginger's company, Love My Maids, appears as the first cleaning company under the map – a prime spot.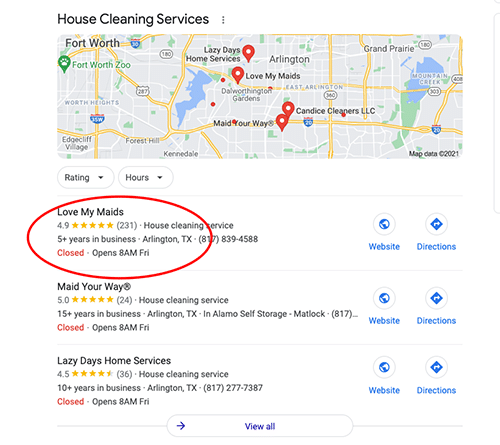 Keep in mind SEO is a long process. You don't show up on page one instantly. It can take months or even a year, but it's worth investing the time and money.
Once you reach page one, you can pay for lower-cost SEO maintenance packages from your consultant. So dial it back, but don't quit.
Start email marketing to keep leads.
You may lose the sale, but you don't have to lose the lead.
Stay in potential customers' minds through email marketing that offers value. Then, when they're ready for a cleaning service, they'll think of you. Aim to send an email about three times a month.
Build a strong client retention strategy.
Keeping current cleaning clients is easier and less expensive than getting new ones.
Plus, you can upsell current clients on new services or gift cards. Make their word-of-mouth part of your marketing program and ask for reviews and referrals.
Warm vs cold cleaning leads
What's the difference between warm vs cold leads? Warm leads are people actively looking for a cleaning service and have money in their pockets. On the other hand, cold leads are people not actively looking for a cleaning service.
When it comes to warm leads, there's only one place they go to find a cleaning service. So your job is to ensure your cleaning business appears on page 1 of Google search results so they go to you when actively looking for a cleaning service. This means optimizing your website for search engines and investing in pay-per-click (PPC) advertising.
For cold leads, your marketing strategy will be different. Door hangers, BBB, BNI, and postcards are all effective ways to market to cold leads. However, remember that most of these marketing efforts are designed to reach people not actively looking for a cleaning service. So, it's like trying to find a needle in a haystack. Your goal is to get the attention of a few people who might be interested and convert them into customers with a special offer or discount.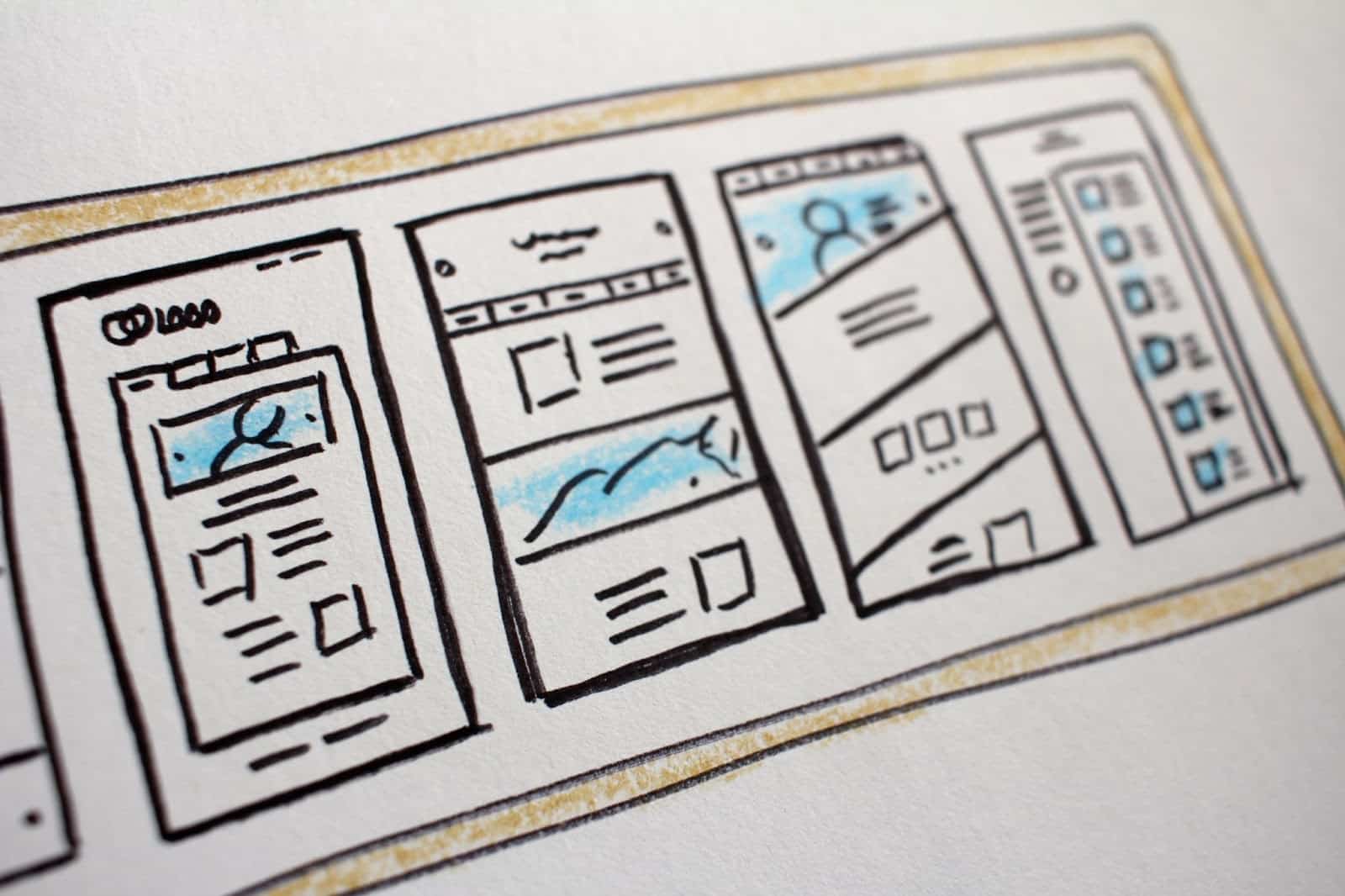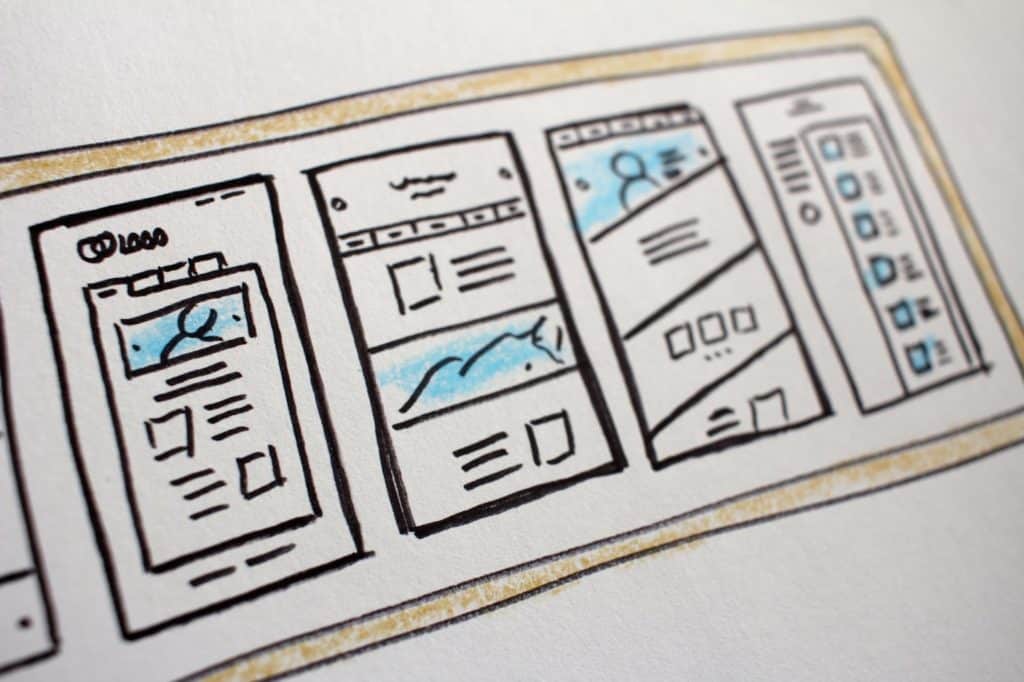 Source: Hal Gatewood at UnSplash
Optimizing your cleaning website
As we mentioned earlier, optimizing your website is the key to the success of your online marketing efforts. Before running any Google ads or SEO, you must ensure your website is high-converting and SEO-friendly. (Yes, you can run Google Local Ads without a good website, but it's not advisable because it won't send traffic to your site.) Ginger teaches that a bad website costs more than a new website. A new website may cost you just under $3,000, but it will convert and is worth the investment.
What's the true cost of conversion?
Now, let's consider two different scenarios: a low-converting website and a high-converting website. For example, suppose someone spends $1,000 monthly on marketing through Google ads, and their website converts at a 10% rate. That means 10% of visitors to their site are picking up the phone or filling out a form. So they're getting 20 leads, and their cost per conversion is about $50. That's not great, but it's not terrible, either.
On the other hand, if you have a good-converting website, you'll get many more leads at a much lower cost per lead. Suppose you're also spending $1,000 a month, but your website converts at 30%. You're generating more leads, and more people are picking up the phone or filling out a form. Instead of 20 leads, you're getting 60 leads in a month. Doing some simple math, $1,000 divided by 60 is about $17. So the low-converting website is paying $50 per lead for 20 leads, while the high-converting website is paying $17 per lead for 60 leads.
Over time, the high-converting website will pay for itself because it's getting way more leads at a much lower cost per lead, and you'll grow much faster.
So, what constitutes a "good" website?
First, it needs to be mobile-friendly and easy to navigate. Modern consumers are impatient; if your website could be faster or clearer, they'll go elsewhere. Your website needs to be fast and have call-to-action buttons. The job of your cleaning company website is to get people to pick up the phone and call you or fill out a form; call-to-action buttons make that easy. Your website must also answer basic questions about your services and provide value to potential customers. It needs to be graphically pleasing and well-organized, too.
It's worth investing in a high-converting website, even if it costs more upfront because it will pay for itself in the long run. Conversely, a low-converting website is a waste of money, and it will cost you more in the end. So, if you plan to run Google ads or any other online marketing campaign, ensure your website is up to the task!
Check out this article to learn more about optimizing your website to increase conversions and land new customers.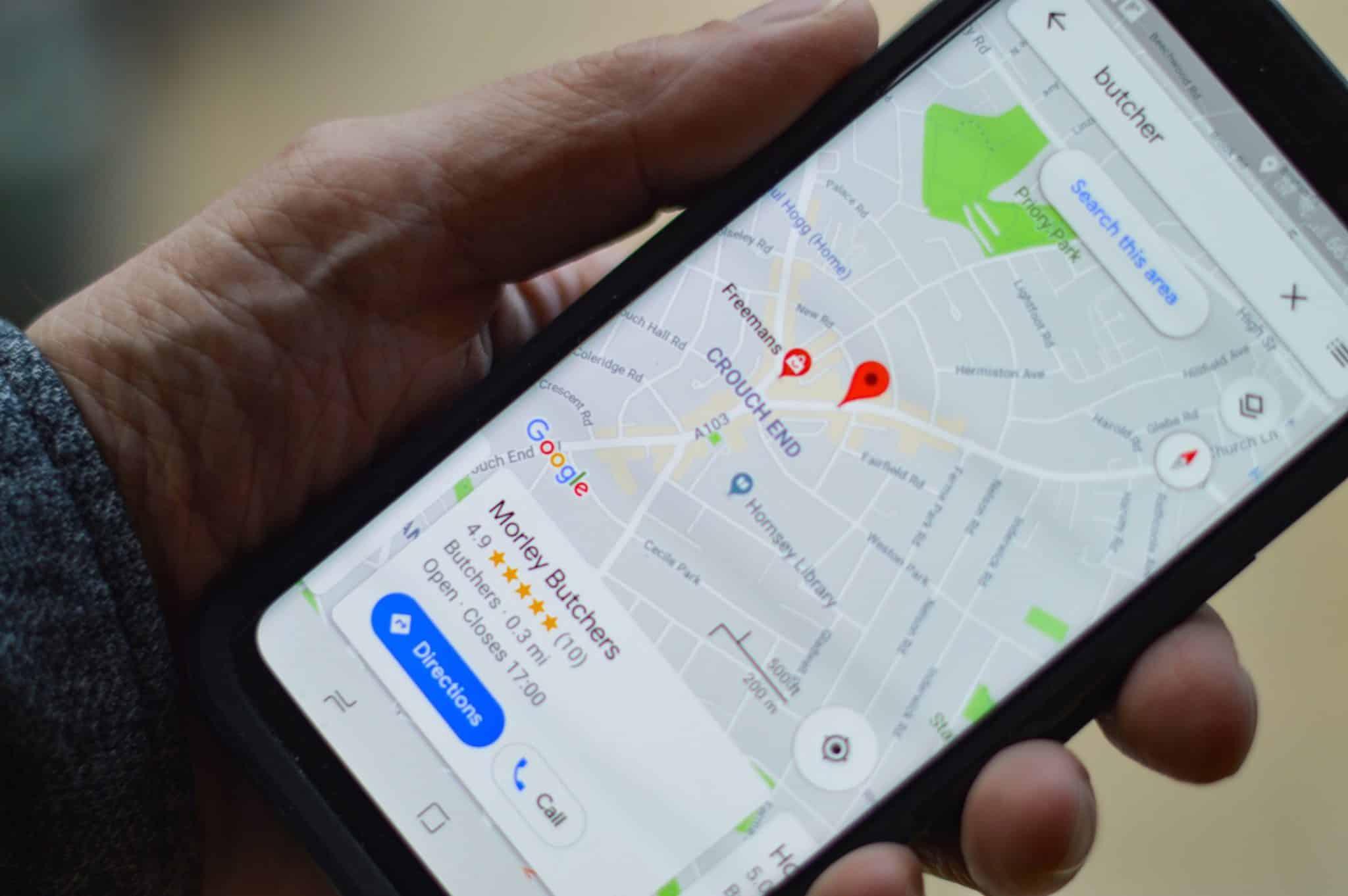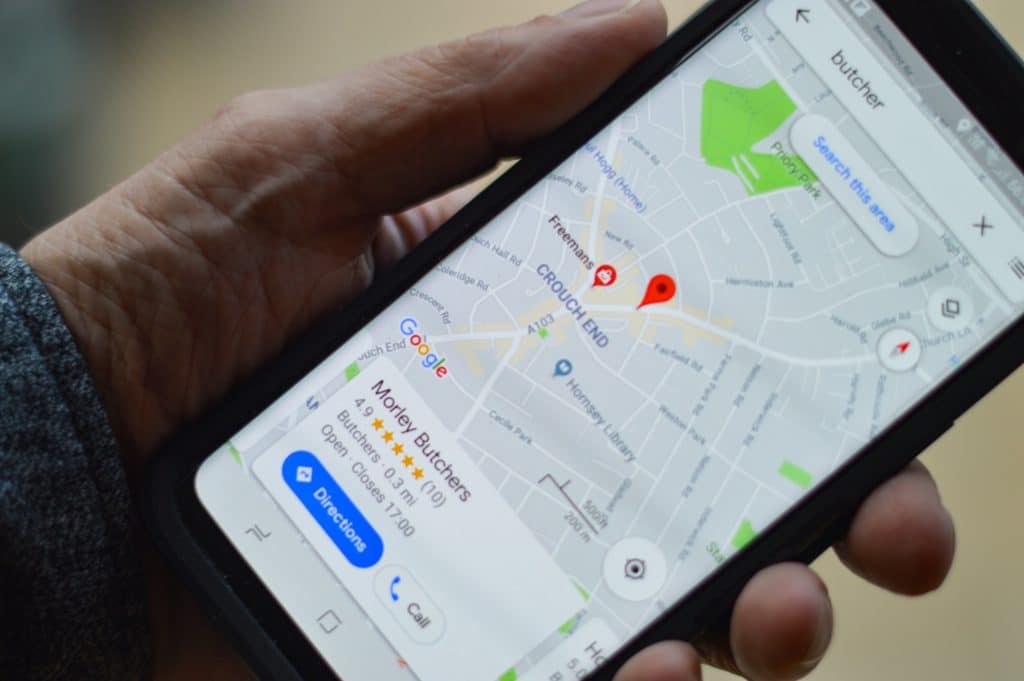 Source: Henry Perks at UnSplash
Your SEO Map Pack
The map pack, also known as the local pack or the 3-pack, is a section of Google's search results page that displays a map and the top three local businesses related to the user's search query. Local businesses highly covet this section as it is a prominent feature that appears above the organic search results and can drive significant traffic to their website and physical location.
To appear in the map pack, cleaning businesses can optimize their online presence through local SEO strategies. This includes creating and verifying a Google My Business (GMB) profile. This free online listing provides essential information about the business, such as its name, address, phone number, hours of operation, website, and reviews.
In addition to an optimized GMB profile, you can improve your chances of appearing in the map pack by building local citations, which are online references to the business's name, address, and phone number. These citations can be obtained through local directories, industry-specific websites, and social media platforms.
Additionally, you can improve your local SEO by building backlinks from reputable local websites, creating high-quality content with local keywords.
Generating cleaning leads with email marketing
So you've reached page one on Google — now what?
In this last section, we will cover the importance of email marketing for generating leads and keeping your business in mind with potential customers. When you start driving traffic to your website, you need to have a system to capture those leads and continue to market to them even if they don't buy right away. This is where email marketing comes in.
Only some leads that come your way will be a good fit or ready to buy, but you don't want to ensure those leads are used wisely. Automated email marketing is an effective way to stay in touch with these leads and nurture them until they are ready to convert.
The goal of other marketing strategies like Google Ads and SEO is to bring strangers into your funnel, but not all of them will convert. With email marketing, you can continue to market to these cold leads and keep your business top of mind with them until they are ready to buy. Learn how to automate your email marketing in this next article: A step-by-step guide to building automation for your Maid Service.
Wrapping up
Remember, in today's digital age, prioritizing your online presence and aiming for page one of Google search results is more important than ever. With the right approach, dedication, and consistency, you can build a strong brand, attract new customers, and take your cleaning business to new heights.
Your next step
If you found this article helpful for your maid service, you may also like:
About the presenter
Ginger is the owner of Cleaning Business Growth, a marketing company for maid services, and Love My Maids, a cleaning company. Before starting those businesses, Ginger was a corporate trainer, executive coach, and management consultant. 
These presentations aired at the 2021 and 2022 Maid Service Success Summit. The Maid Summit is an annual online event that brings together the most successful leaders in the cleaning industry, like Debbie Sardone, Angela Brown, Courtney Wisely, Amy Caris, Chris Schwab and more. Get free access to masterclasses and workshops that will help you grow, scale and automate your cleaning business to get more leads and create more profit. Make sure you're on our email list to find out how to get free tickets to the next event.