Check out these 16 books recommended by Cleaning Industry Expert Debbie Sardone and ZenMaid CEO Amar Ghose. You'll find the recording of their live video from Texas as well as a quick list for your convenience below.
Last night Debbie Sardone and I sat down to talk books in her home office in Flower Mound, TX. This is the office Debbie runs 3 businesses and 1 non-profit from. We've all seen many videos she's also filmed in this office and I know I'm not the only one who wondered what books she had behind her!

We had a fantastic Facebook Live where we took 16 books off her shelf and broke down the lessons that we've learned and why you should read them too. Over 60 people joined us live across 3 channels and got to comment in real time.
You can watch that replay below, or browse the list full list we've created under the video. If you're like me and don't enjoy reading much, remember most of these books are available on audio book to be listened to (which is how I do my "reading").
DISCLAIMER: We make no commission for recommending the books below. In fact when you buy through our links you'll have the option to donate a portion of Amazon's cut to charity, including Debbie's non-profit Cleaning For a Reason.

#1 - Strategic Thinking by Bill Birnbaum - Discussed at 2:45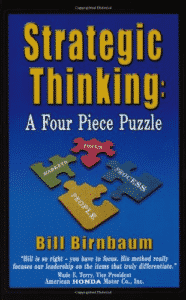 This book essentially teaches you how to think strategically. He explains what people who practice strategic thinking do in 4 puzzle pieces:
Rather than try to accomplish "everything," they diligently maintain focus.
They develop and maintain an intimate understanding of their markets – and of their customers within those markets.
They truly care about – thus they nurture – their people.
And they carefully manage their processes.
Click here to check out Strategic Thinking
These are just some of the books that have changed Debbie's life and mine. Below is the abbreviated list of the books covered above.
If you're interested in more amazing content like this, join the ZenMaid mastermind or sign up for our email list.
Looking for more books and other content to help your business? Check out our catalog!
The 22 Immutable Laws of Marketing
The Life Changing Magic of Cleaning Up
---

---