Last Updated on August 21, 2023 by The ZenMaid Team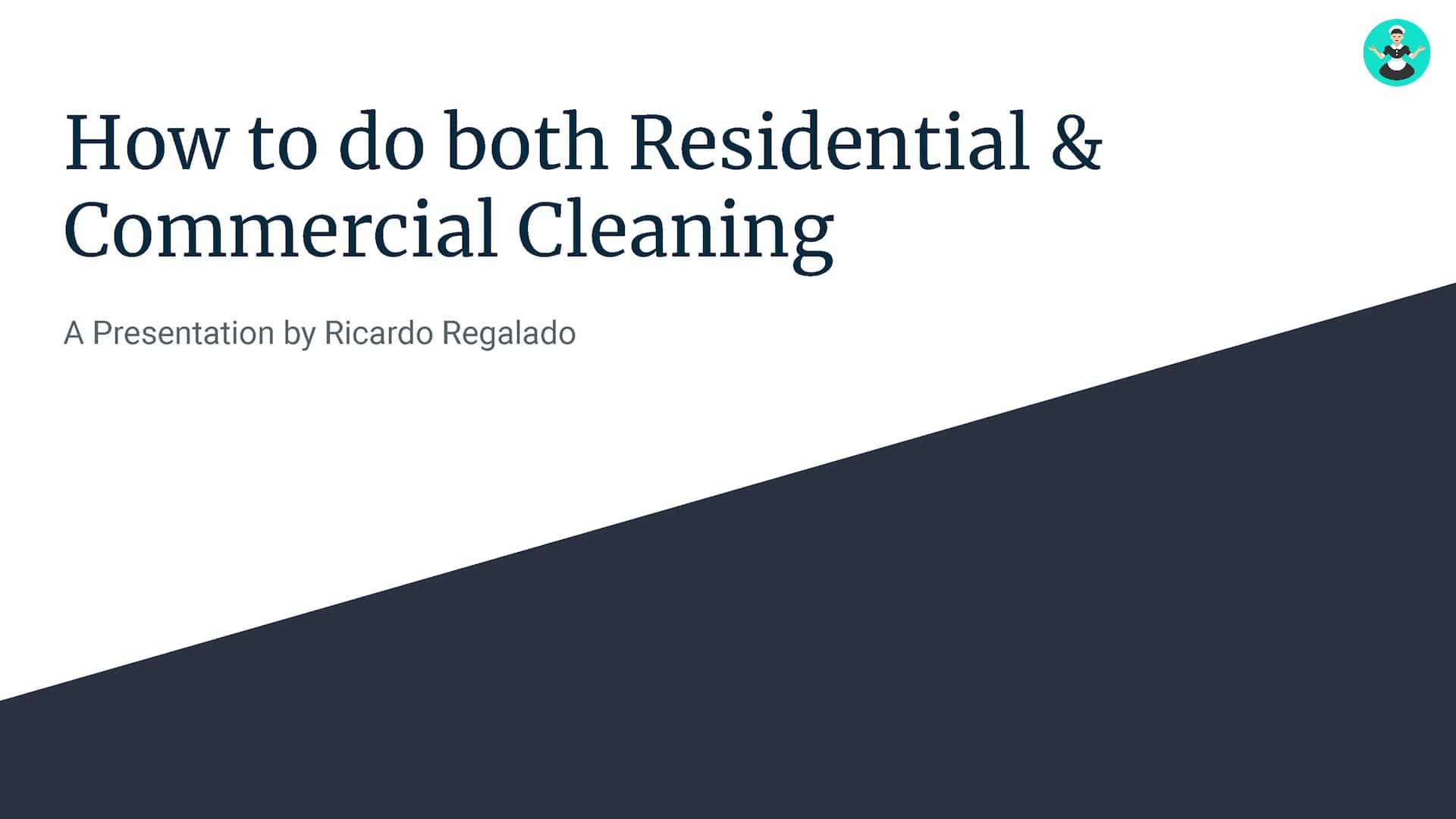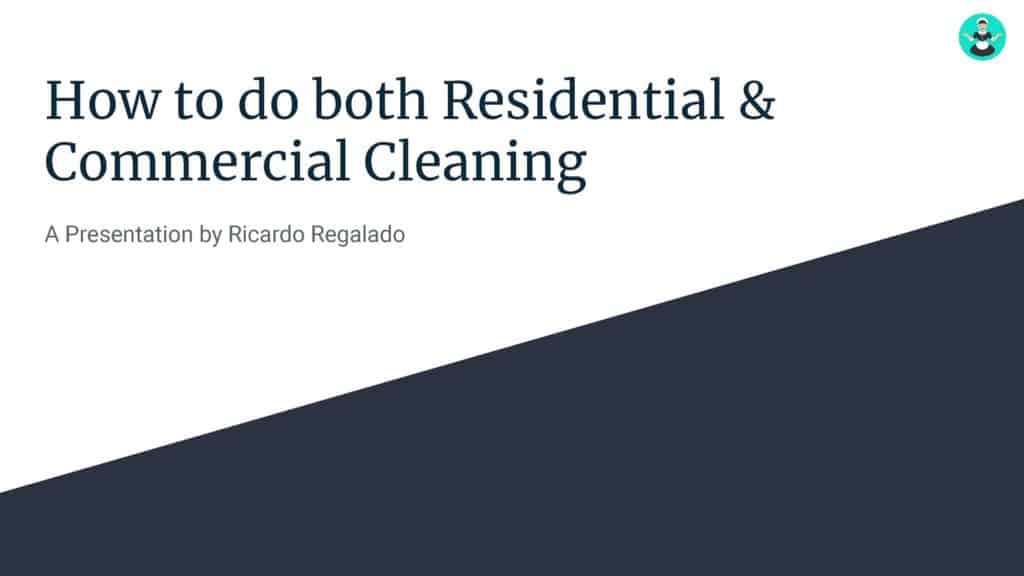 When Ricky Regalado first started his cleaning business, he cleaned both residential and commercial properties. He and his wife quickly realized that they needed to streamline their systems to run the business efficiently. As a result, they developed two different cleaning approaches for each style of cleaning: residential and commercial cleaning services.
Whether you want to offer only one service or are looking to expand into both sectors, we'll share the best tools and tips we've learned along the way. To start off, here's a list of common service offerings for residential and commercial cleaning businesses:
(Pro Tip: Save this list to refer back to when you're deciding what services to focus on!)
Residential: House Focused Cleaning Services
Carpet & hard floor cleaning
Blinds cleaning
Window washing
Upholstery cleaning
Kitchen & equipment steam cleaning
Pressure washing
Laundry service
Post-construction cleaning
Handyman services
Commercial Property Focused Cleaning Services
Carpet cleaning
Tile & grout cleaning
Upholstery cleaning
VCT strip and wax
LVT scrub
Hardwood sanding and refinish
Epoxy floor cleaning
Warehouse floor scrub
Virucide disinfectant
Pest construction cleaning
Window washing
Supply ordering
Day porter services
Pressure washing
Maintenance services
Commercial Property Frequency
Since commercial properties are larger, varied, and host more foot traffic than residential homes, cleaning opportunities are more frequent. You can offer services from a range of once a week, seven times a week, on-demand, or on a project-based contract.
Residential Cleaning Frequency
Depending on which objectives the residential owner hires you for, you have the opportunity to clean homes weekly, biweekly, or monthly. Another option is to offer an on-call service where a homeowner can hire you for special occasions.
Scaling your cleaning services
Based on cleaning opportunities and frequency of work, commercial cleaning can be the fastest way to grow your business. However, if you're turning a profit and building great relationships with residential clients, stick with it! There are other ways to start scaling a residential cleaning business.
Cleaning with subcontractors
Working with subcontractors is a great way to offer full services to clients when you're working with limited equipment. For instance, if you have a machine to clean carpet, tile, and grout but no equipment to offer maintenance services, contract out a local handyperson under your business.
Building these partnerships is worth it to become a client's go-to company for all things cleaning, washing, and maintenance. Ultimately, subcontracting can help you scale your services.
Specialized cleaning services
Special services – both residential and commercial – are a great way to start scaling. In fact, many large cleaning companies adopt this model of service.
One way to specialize is to focus on a service you can offer to any cleaning sector. For example, if you have a machine to clean carpet, tile, and grout, offer this niche service to both residential and commercial.
Specializing in a service empowers your business to get extremely proficient in a specific skill. You can build a reputation in your community to be the go-to service provider. Additionally, it lowers the learning curve for new employees and reduces the need to buy extensive equipment.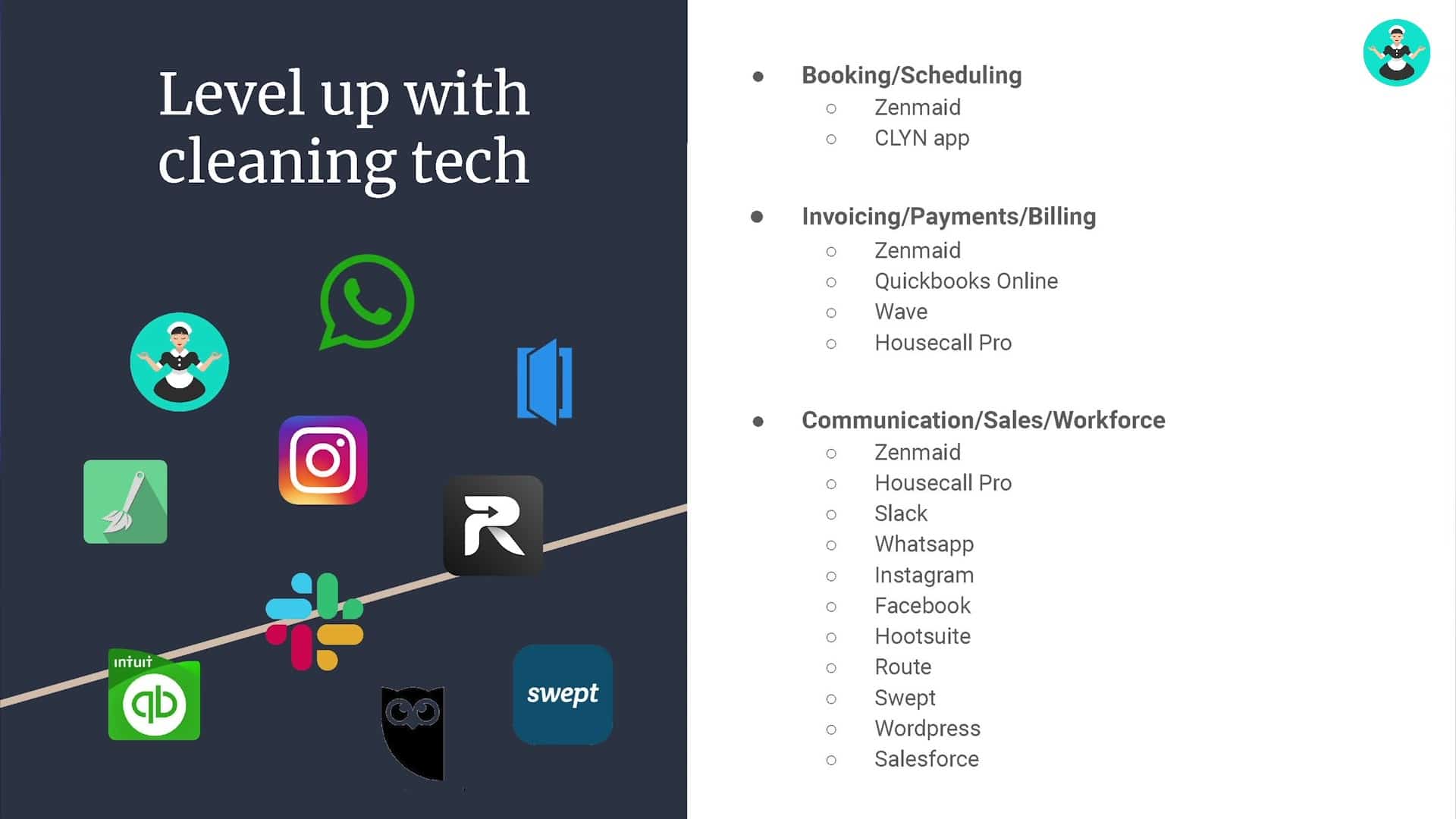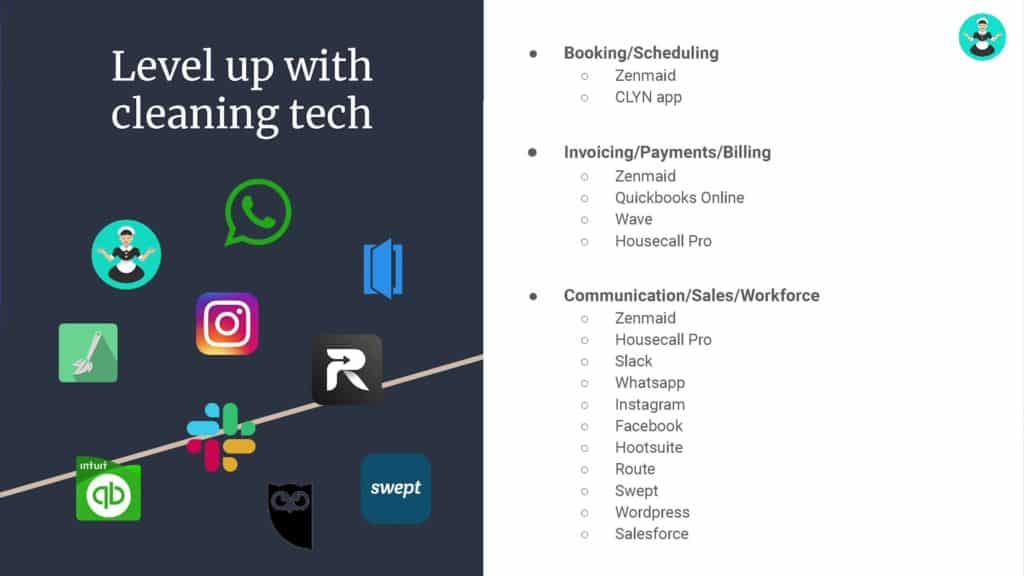 Technologies to embrace for your cleaning business
Technology is hands-down the best solution to streamline your business. Scheduling, booking, billing, payments, communication, marketing – you name it! Although some technology requires learning a new system, which many busy business owners dread, a technology that simplifies your life is always worth the time and effort.
Technology for booking and scheduling
ZenMaid has highly-ranked instant booking features to set up client bookings for you. Not only does it book client appointments for you, but ZenMaid also sends reminders to your clients, sends 'on the way' texts to let your clients know that the cleaner is coming, and sends a follow-up message after the appointment.
Finding an intuitive automation system for your booking process helps prevent double booking, increases client retention, and serves as a great API tool to track your business' growth.
To try it out, start with ZenMaid for free!
Technology for Financial Management
There's a quick turnaround for cleaning services, particularly among residential cleaning jobs. The quicker you can bill a client in a clean, professional manner, ask for an easy review, and then submit payments, the easier your working relationship will be.
The solution? Automate! Automate your financial management with technology. ZenMaid includes features for streamlining invoices, payments, and follow-up. While there are many options for financial management systems, ZenMaid offers the benefit of being designed for cleaning businesses.
Other technologies that are not specialized but still effective for financial management are QuickBooks Online, Wave, and Housecall Pro.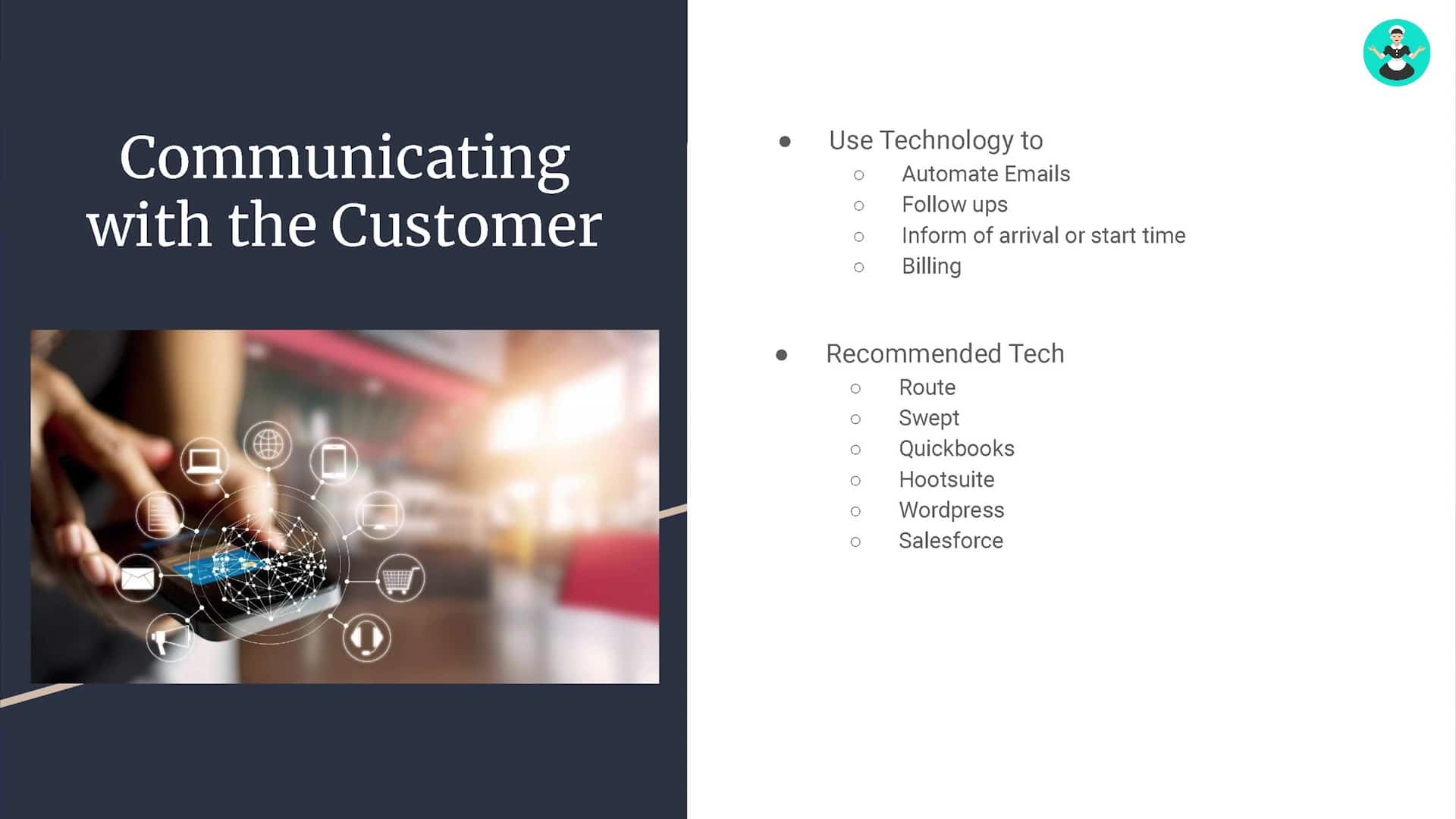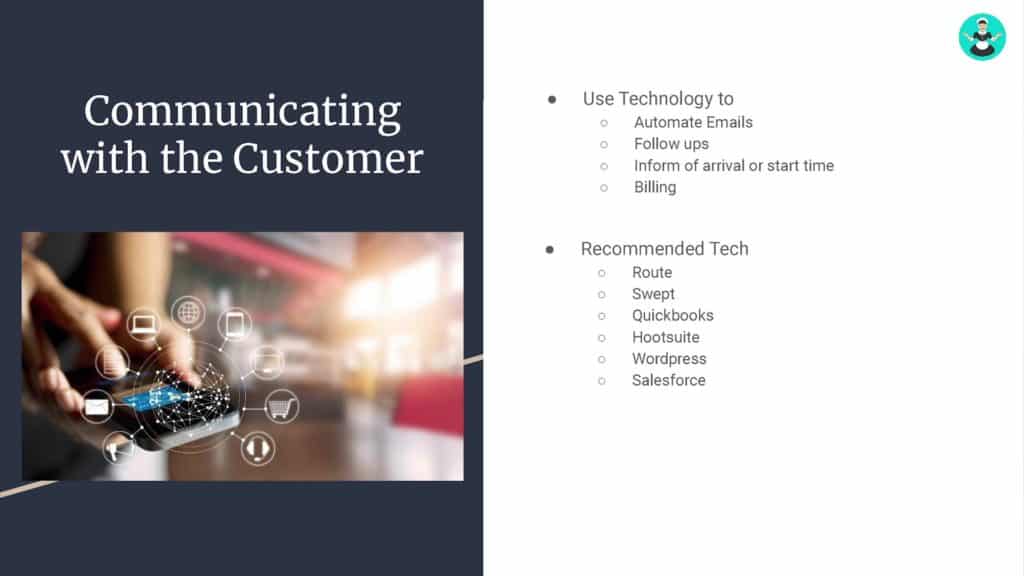 Technology to communicate with your team
First, we'll start with technology for team communication. It's important to have efficient communication with your staff, whether in the office or out in the field.
Our first instinct as small business owners is to rely on basic communication channels — for instance, phone calls, texting, and email. However, as your business grows with more employees, having multiple communication channels becomes ineffective and confusing. It's also easy for important pieces of information to get lost in the shuffle.
If you're not ready to try out a full system, some free group messaging apps are Slack, Whatsapp, and Facebook Messenger. However, you should consider using ZenMaid as an all-in-one communication tool for every member of your team. ZenMaid is created specifically for cleaning businesses, which means it's easy to use with features that other mainstream systems don't have.
Technology to communicate with your customer
We'll discuss approaches to marketing your business a little farther down, but for now, here are some great tools to consider to communicate with your customer.
Try ZenMaid for free! In under seven days, you can automate your entire business!

What are the differences between residential and commercial cleaning services?
We've already covered how the services you provide are different from residential to commercial cleaning services, but it's important to discuss some additional ways the two differ. Here, we'll cover how these two services compare with your equipment, billings and payments, service charges, the scope of work, and logistics.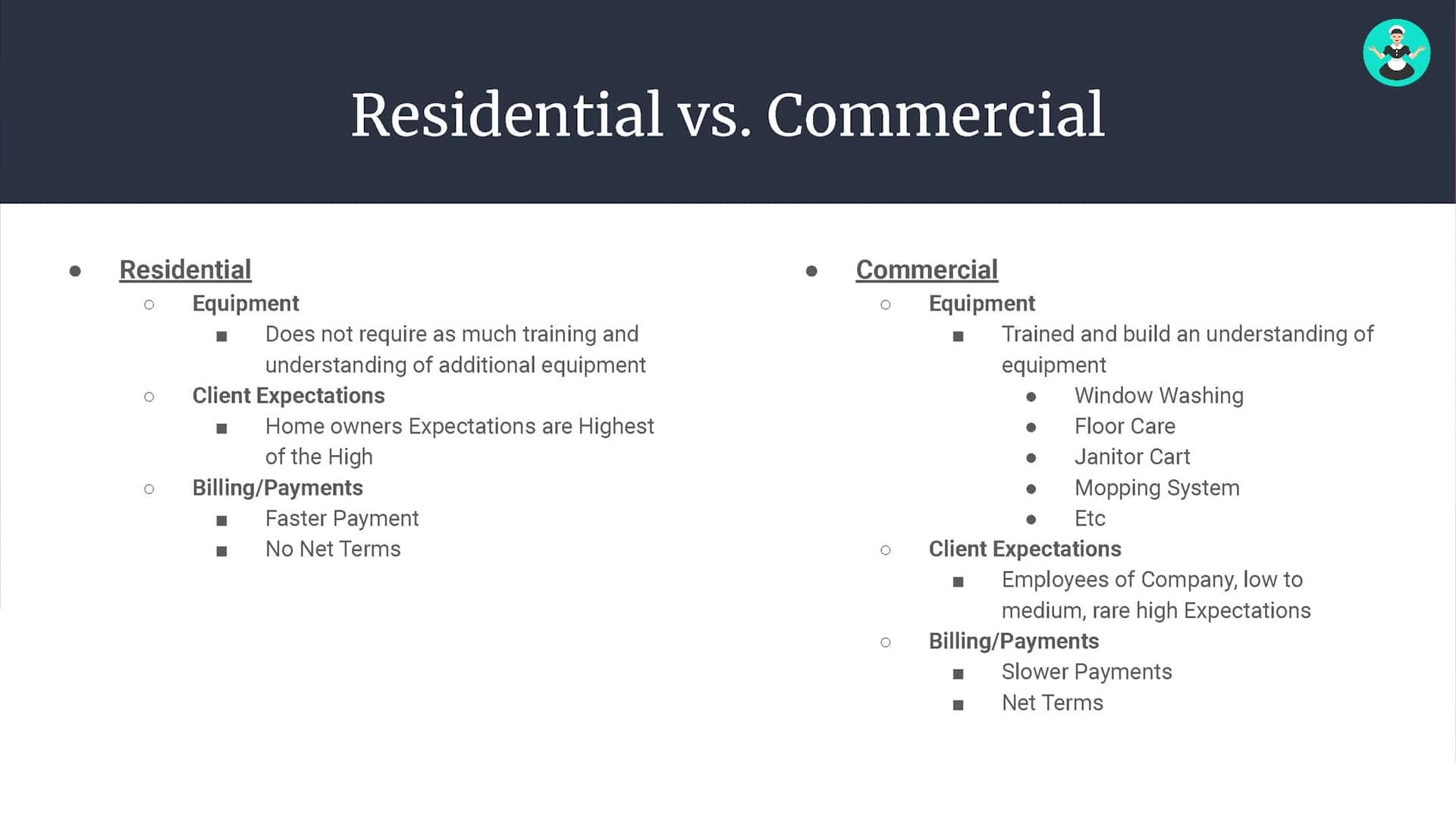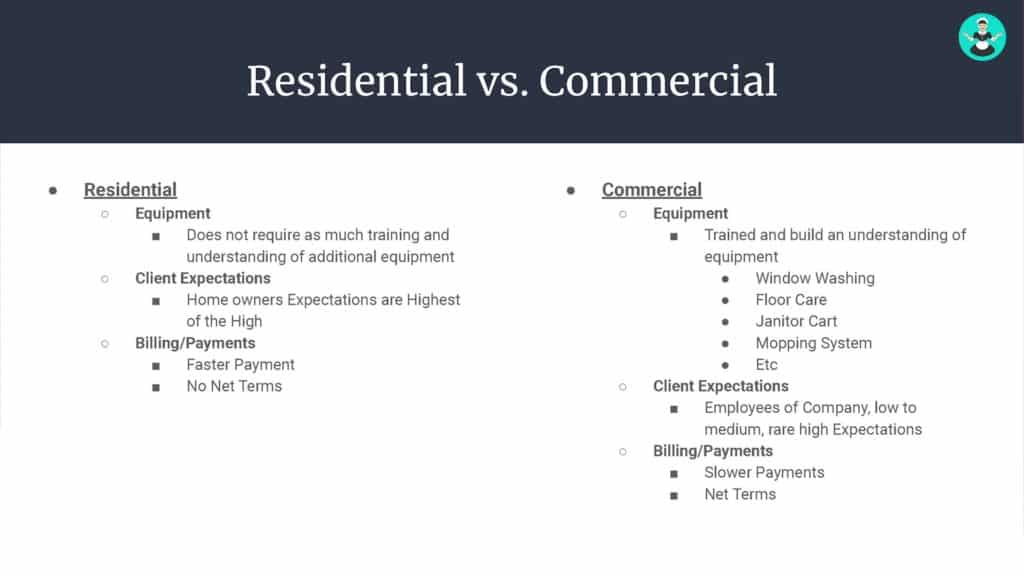 Staffing
In residential cleaning, your staff needs to be detailed oriented, friendly, and personable. This is because residential cleaners interact often with clients in their homes.
In commercial cleaning, you usually service the account after work hours when there's nobody around. These employees still need to be trustworthy and have great attention to detail, but they can be more focused on their cleaning and less on their interpersonal skills.
Equipment
Typically, your starter kits for residential and commercial will be similar; however, commercial cleaning often requires heavier duty equipment. For instance, in a residential home, you can use a regular vacuum, while in a commercial space, it's more efficient to have an industrial-sized one.
Of course, if you're specializing in a service, you'll only need equipment to perform your specialized task.
Billing & Payments
Billings tend to be the same between residential and commercial services. For residential cleaning, you don't usually charge for services until completion. In commercial services, however, invoicing before performing the service is common.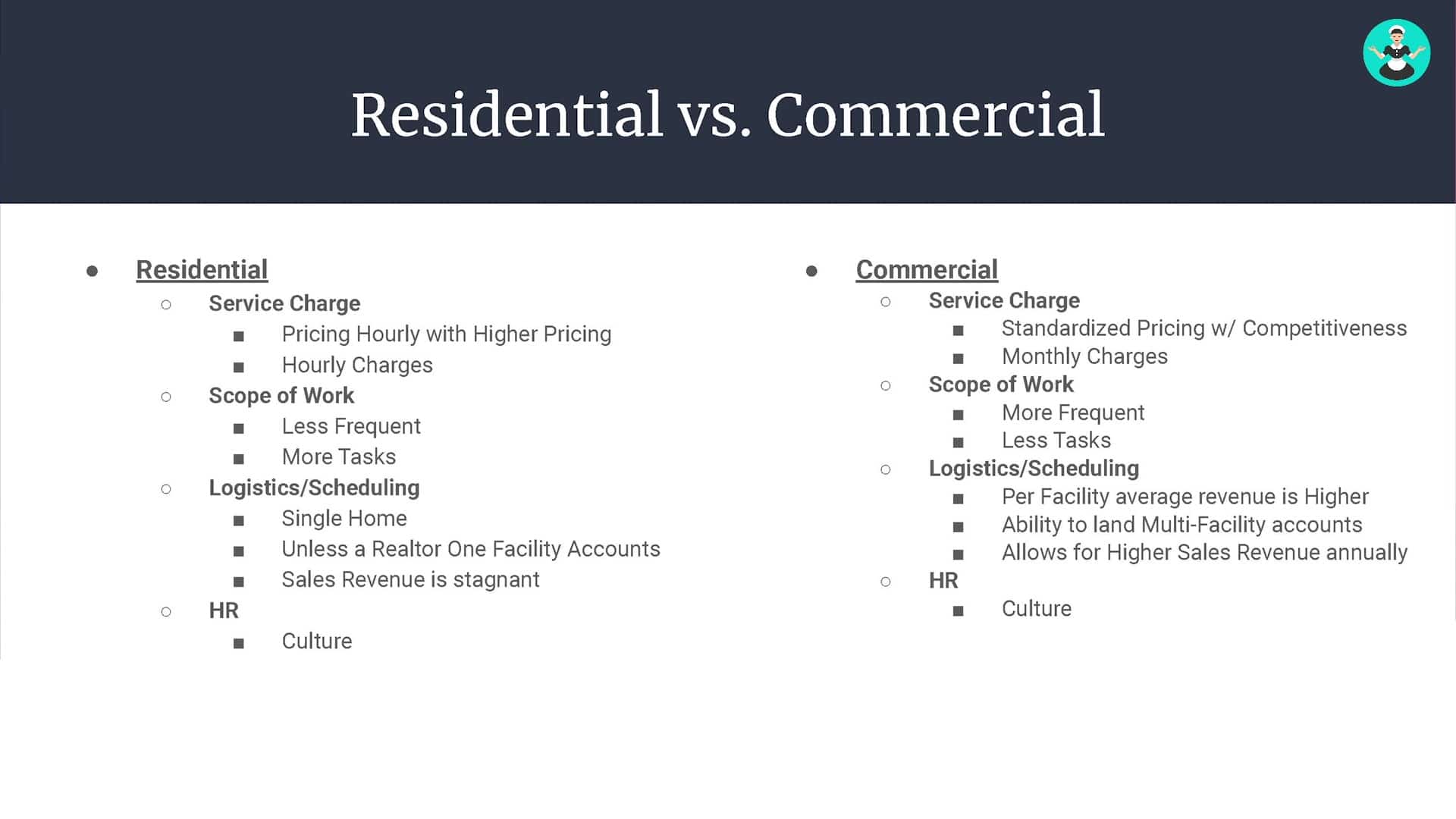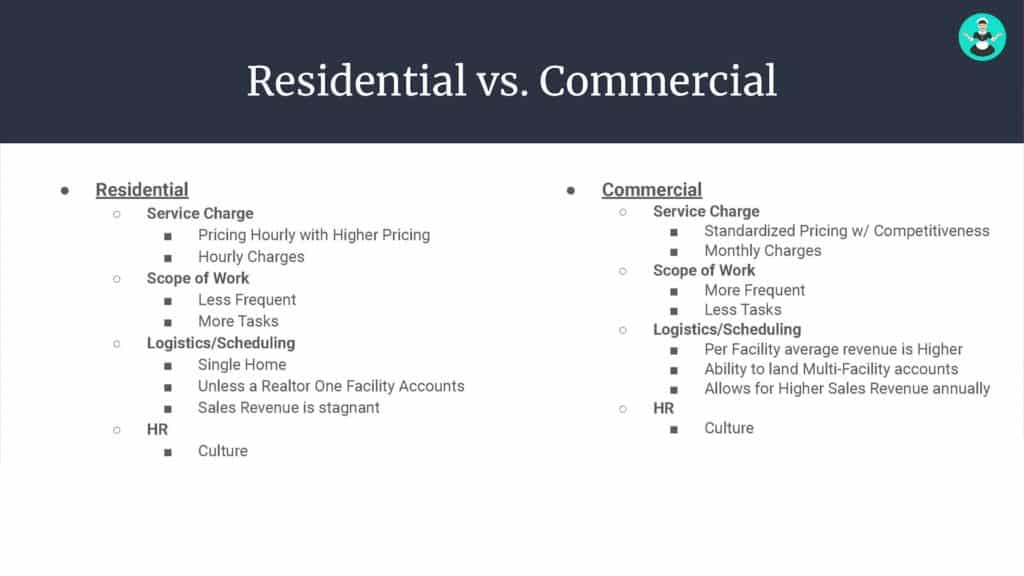 Service Charges
Pricing between residential and commercial cleaning is very different. With residential pricing, you likely price per home layout, such as one bedroom, two bedrooms, two bathrooms, basement, and so on. For larger homes, square footage is a factor as well. An hourly charge is a common strategy for pricing residential homes.
With commercial cleaning, you usually price per square footage, floor type density, the type of facility, your production rate, and client expectations. Charging a weekly or monthly fee is the most common way to price commercial cleaning services.
Logistics & Scheduling
In commercial cleaning, you can schedule a team of cleaners to work in one location for several shifts at a time. On the other hand, residential cleaning has more moving pieces, You might have one to two cleaning technicians traveling to several locations in one day.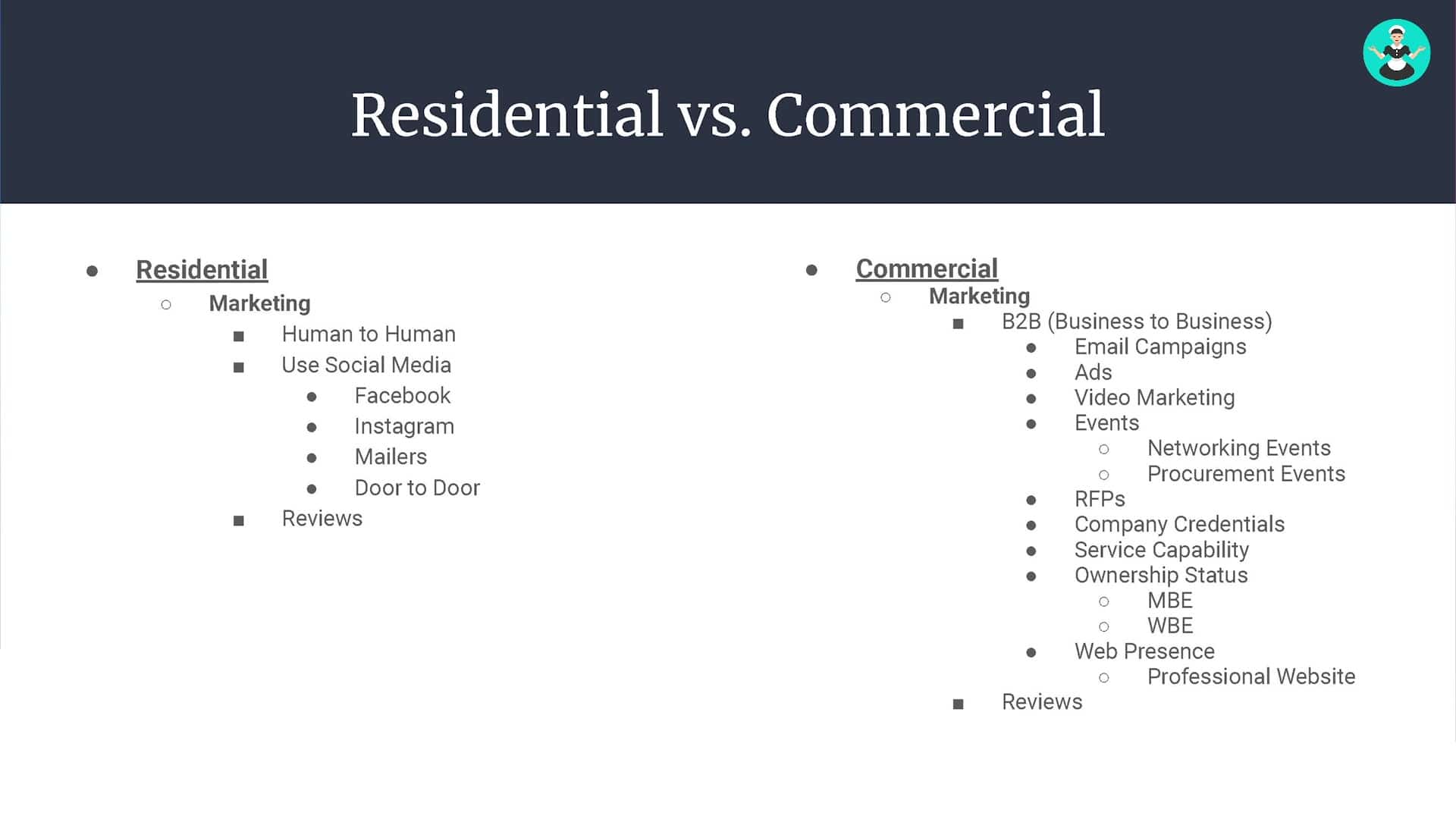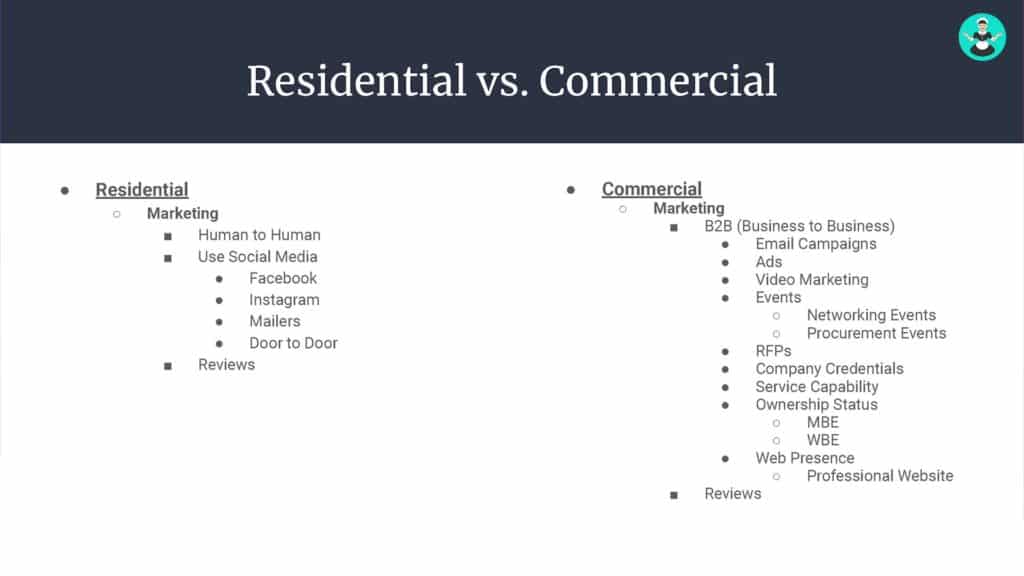 Two different approaches to marketing your cleaning business
How to market your services will depend entirely on if you're offering residential or commercial cleaning services (or both!)
Residential Marketing
Residential cleaning is a very personal service. Homeowners need to be able to trust you to go into their home and handle their personal belongings. A great approach to gain their trust is to focus on promoting your business as a personal brand. Ultimately, your goal is to connect with potential clients on a human-to-human level.
Even if you're not always the technician cleaning inside the homes, advertise using your name and face whenever possible. Great ways to market your personal brand are using Instagram, Facebook, personalized email campaigns, and door-to-door advertising in target neighborhoods.
Commercial Marketing
When it comes to commercial cleaning, your objective is B2B marketing (business to business.) Your focus should be to present your business in the most credible and professional light possible.
Market your commercial cleaning business through automated email campaigns, video advertising, and attending networking and procurement events. Having a professional online presence and website is also very important to appeal to large companies.
For more tips to market your cleaning business, check out this blog post: 21 Way To Market Your Cleaning Business.
To wrap up
We hope this article has been helpful to learn about the two different types of cleaning businesses! To wrap up, these are the key points we covered today:
Residential vs. commercial cleaning services
How frequently you can offer cleaning services
How to scale your cleaning services
Technologies to embrace for your business
The main difference between residential and commercial cleaning
Two approaches to marketing your services
About the presenter
Ricky Regalado built a $10M Commercial cleaning company and turned it into a business management marketplace called Route + Rozalado. It's been named Inc 5000 Fastest company three years in a row. Ricky oversees 700 employees, spanning 25 states in over 20 facilities. 
To hear Ricky Regalado's full talk from the Maid Summit, click here. 
This talk first aired at the 2021 Maid Service Success Summit.
The Maid Summit is an annual online event that brings together the most successful leaders in the cleaning industry, like Debbie Sardone, Angela Brown, Courtney Wisely, Amy Caris, Chris Schwab and more. Get free access to masterclasses and workshops that will help you to grow, scale and automate your cleaning business so you can get more leads and create more profit. Make sure you're on our email list to find out how to get free tickets to the next event.
Try ZenMaid for free!
If you found this article helpful for your maid service, check these ones out: