This article will help you with turning cleaning quotes into happy, paying customers for your cleaning business.
The first thing to do after quoting a home
When I first started my cleaning company many years ago (Fast Friendly Spotless) my quoting process went something like this:
Step 1) Potential customer calls in and I provide quote/estimate.* (see note below).
Step 2) I do nothing.
Step 3) My newest customer either called back and booked … Or they didn't and we never talked again.
*If someone called in asking for a quote I'd give it to them over the phone based on the information I had and leave it at that. I did not provide them with a follow-up message or anything in writing.
In hindsight it seems rather obvious that I should have been doing something instead of nothing to encourage my cleaning customer to schedule a cleaning.
Thankfully I only did for the first few weeks we were in business before fixing it.
There is no doubt that failing to send out written quotes was costing my cleaning business money.
The first thing you must do after quoting a new home is to put together a written quote. Then email it to the potential cleaning customer.
Why? So many reasons:
You'll stand out from the competition that doesn't follow up.
Make the next steps of booking the appointment clear.
Show your professionalism and organization.
It's easy for them to share the quote with their significant other.
They can easily refer back to the proposal to call you.
Direct them where to find more information about your cleaning services online.
ZenMaid takes the hassle out of creating written quotes for your clients.
Find out how to easy it is to send your clients an estimate through the ZenMaid software:
When to follow-up with your cleaning customer
Next we'll cover when to first follow up with your customer after you've sent them their written quote via email.
I added a process to follow-up with homeowners 48 hours after leaving them with a quote.
For us, the best way to close new business was over the phone. I set a reminder in my calendar to call the lead after 48 hours if they had not contacted me.
I set a calendar reminder with the cleaning client name, phone number, and quote included for easy reference: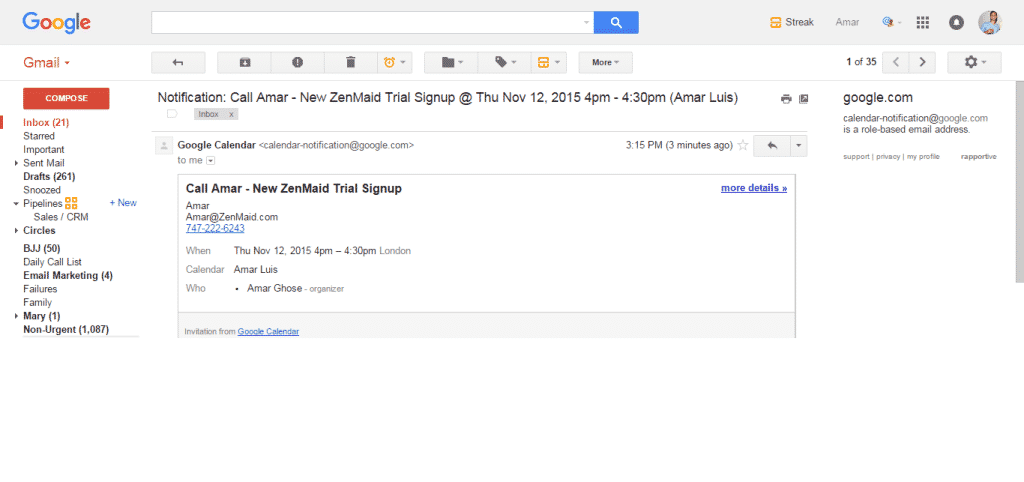 (I don't even schedule these calls anymore, my assistant does so these emails just pop up in my email each day. I click the number in it and make the call. That easy.)
It was so simple but again, this little action jumped my new business!
Make it easy for your customers to book a cleaning
The ZenMaid software makes it very easy for clients to book a cleaning with you.
It's a quick set-up to get the forms linked on your website or through your Facebook business page.
Find out just how easy it is to get a booking form (or an quote form) set-up to start booking cleanings:
Try this for the next week and see how it affects your new bookings
After you get off the phone with a potential cleaning customer add it to your to-do list/calendar. Follow up 2 days later to see if there are any questions or the person is ready to book a cleaning service.
PRO TIP: If you don't want to make calls every day, set your reminders for a single day of the week. By batching your calls you can save yourself a ton of time!
What do you do if they don't pick up?
If it's been two days since you sent them the estimate, I recommend leaving a voicemail.
Leave your contact information for them to contact you with questions or to book the cleaning appointment.
Incorporate a sense of urgency by letting them know your schedule is booking up and you would hate for them to miss out on getting their choice of day/time for their house cleaning.
---
Did You Know?
ZenMaid's marketing service helps you to track and handle these sorts of follow-ups to your customers.
We'll set you up to strategically follow-up for a full year after your customer gets a quote from you (of course we stop following-up when they book with you).
To find out more, visit: ZenMaid.com
---
You and your Maid Service deserve a little peace and quiet.
Sign up for your free trial today at Zenmaid.com and discover the freedom and clarity that ZenMaid can bring to your Maid Service!