Last Updated on October 10, 2022 by The ZenMaid Team
Your signature gets seen every time you send a business email to anyone you work with. Make it easy for people to share info about your great cleaning service!
Having an informative signature on your emails can only help your maid business. There's literally no downside. That basic information limits people's frustration if they need to talk to you due to a problem. And it makes it easier for them to share information about you with their friends.
And if you're using a cleaning service software like ZenMaid you can improve your signature just one time and permanently help your branding and marketing.

Maid Service Signature #1: The basics
Make sure your email signature includes your company name, phone number and website. This basic information gives anyone you email the easiest immediate way to get in touch with you.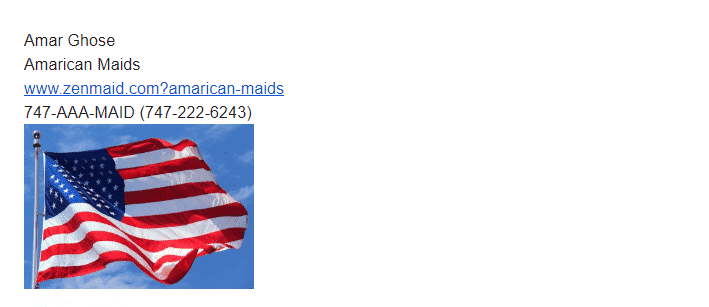 ** That's the ZenMaid phone number. Easy to remember, right?
Maid Service Signature #2: The basics + more
It is also a good idea to include your name and title, as well as your email address. If you're the owner and face of your business I suggest doing this. You can even include a picture of yourself if you are part of your maid service branding. You may have seen this on emails from me if you've signed up for our 5 part marketing course on ZenMaid.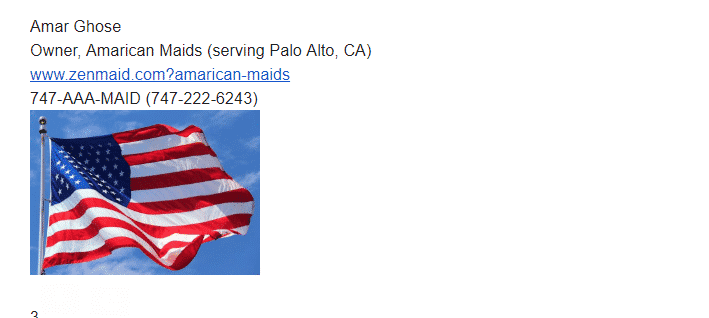 Maid Service Signature #3: The marketing signature
First, consider a link to your Facebook or Yelp page. This makes it easy for your customers and friends to like and share your business.
Second, you can put your company slogan. Anything that makes your cleaning business slightly more memorable makes it easier for your cleaning customers to share your maid business with others.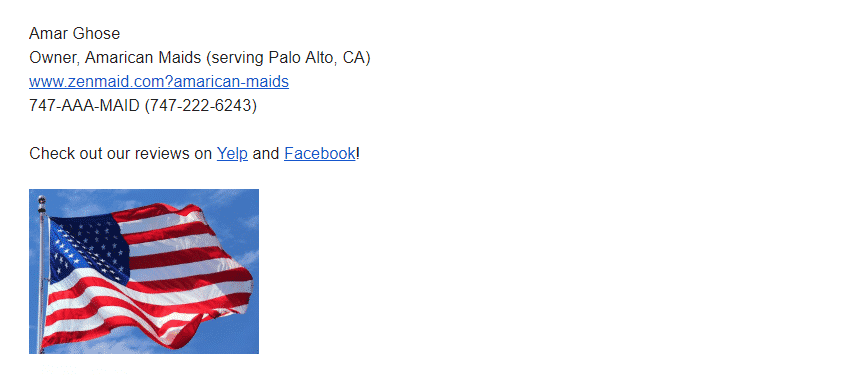 Or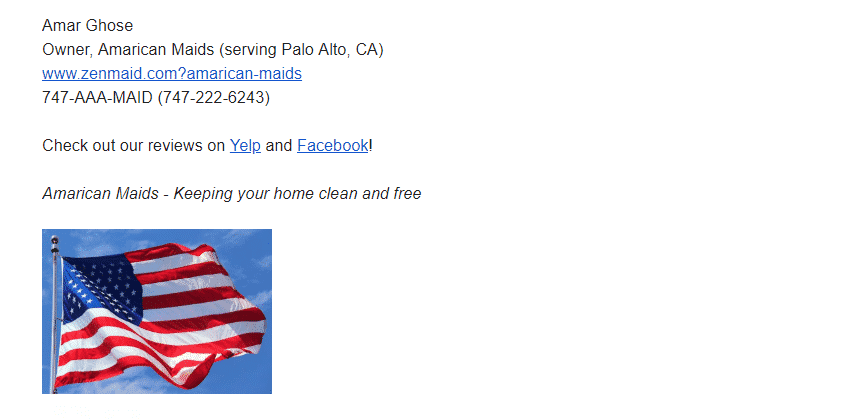 By not including the information in the signatures above on every single email you send out, you could potentially be missing out on easy business! Make it as easy as possible for your network to share your information with their friends and communities.
All of the signatures above can now be easily set up with all your automatic emails on ZenMaid.
---
You and your Maid Service deserve a little peace and quiet. Sign up for your free trial today at ZenMaid.com and discover the freedom and clarity that ZenMaid can bring to your Maid Service!