Last Updated on August 21, 2023 by The ZenMaid Team
This year has been a whirlwind. In virtually every industry, the pandemic came and changed the way businesses need to operate.
Although it was unexpected, it's forced businesses to change the way they operate for the better. It's likely that even before the pandemic, you may have been trying to find ways to spend less time in your business and make things more efficient for you and everyone else involved.
As the world continues to move from in-person to virtual, you have an opportunity to shift your business in ways that can help it not only survive the pandemic but make it even more successful.
In this post, we'll talk about the key systems to implement within your maid service to make sure it can withstand the test of time and continue to thrive in a virtual world.
Move your hiring process completely online
Just because you can't interview candidates in person doesn't mean you should stop looking for top talent for your maid service. In fact, moving your hiring and onboarding process online can help you make the process more streamlined and can help you identify and hire top candidates more easily.
When creating an online interview process, start by creating an online form or application that can help you easily vet candidates and decide who is qualified. For the candidates that meet your minimum qualifications, you can invite them to a virtual interview.
The next step is to implement a process to conduct phone or video interviews. Phone interviews work just fine. However, conducting interviews via video chat using a tool like Zoom can help you build a better relationship and get to know the candidate on a deeper level.
Once you've decided who you want to hire, find ways to implement an online onboarding and orientation process. Take your current orientation and onboarding materials, and make them available to candidates digitally. It also helps to have some sort of quiz or test to make sure they've thoroughly read the onboarding and orientation documents. This will help you identify if they need additional training early on and confirm if they understand your policies and procedures.
It's also important to have a way to keep track of your candidates and where they are in the online hiring process. You can create your own spreadsheet to track this information or use an HR management tool like BambooHR. This lets you ensure that you have everything you need from candidates and new hires and stores the information you collect from them for future reference.
Implement virtual training programs
After setting up a process to virtually hire and onboard your candidates, you need to create a way to continue to train your team members. This is where it comes in handy to implement virtual training programs and have your training materials available online.
Among these training materials, you can include copies of your new company policies as they shift. You can also give your team members access to new educational tools. That can include things like courses on new ways to clean or new company procedures to make sure your customers and staff are safe.
Having an ongoing training system for your existing employees will help them feel more confident in their role. It will also ensure that they're always providing your customers with the best service. The last thing you want is for the quality of your service to drop.

Adapt your pricing system
One common topic of discussion among maid service owners these days is how to provide new customers with estimates. Some maid service owners prefer giving in-person estimates because it gives the most accurate assessment of the space to make the most accurate price estimate possible.
While this is true, doing estimates in person is more time consuming and, these days, many customers won't want to have that extra home visit. In a post-Covid world, customers want to hire you online, get an estimate, and book the appointment without having to interact in-person.
Strive to implement a system that allows you to give customers an estimate over the phone or online. You can do this by creating a standard form or template that customers can fill out and send to you for an estimate.
If you're using ZenMaid as your scheduling software, you can easily set up an estimator or booking form for customers to use directly on your website.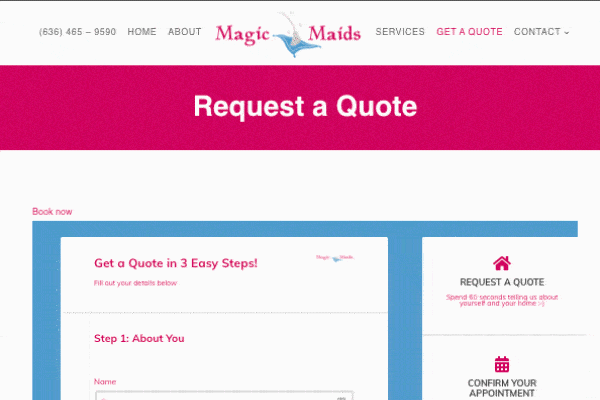 One fear that comes with giving digital estimates is that you might underestimate the work and undercharge for your services. There are a few ways to make sure this doesn't happen. One way is to reverse engineer your estimates using the customers you already have as a baseline. Make a note of the different types of homes you clean, their sizes, how long they take to clean, and how much you're charging those customers.
When giving potential customers an estimate, there are two numbers to keep in mind – the home's square footage and how many square feet you can clean per hour. If you ask a homeowner for the square footage of their home and they don't know, you can always try and find this information yourself using a site like realtor.com or Zillow. You can also ask the customer to send you a virtual walk-through in the form of a video they take of the house to give you an idea of its size.
Next, you need to know how many square feet you can clean per hour per cleaner. Take that number to multiply it by your hourly rate and by how many square feet the home is to get your estimate.
Develop a virtual communication plan
We tend to think that everything is as important to others as it is to us. But sometimes, you'll need to communicate the same information more than once to make sure that things are being understood as best as possible. This applies to both your team members and your customers.
It's important to recognize that people receive and process information differently. This makes it important that you disseminate information to people in different ways. For example, when training your team members or onboarding new hires, you might provide the training materials as both a text document and a video so that they have different ways of accessing the information.
When sending your clients reminders or preparation information, try to send them that information in a few different mediums. If you communicate over the phone, make sure you also send emails with the same information so that you have records of the message being sent.
If you're not already using email marketing as a way to communicate with customers, now is the perfect time to start. You can use email marketing software like MailChimp, which is free if you have less than 2000 contacts.
MailChimp is one of the top 5 free (or cheap) tools that we recommend every maid service owner use. Check out our full list of tool recommendations here.
When you're communicating via email, make sure you are segmenting your customer lists. Use tags to separate your weekly vs. monthly vs. one-time cleaning customers. Then create custom messaging for each type of customer so that the email applies specifically to them.
When using software like MailChimp, you can see who opened the email. If you see certain customers not opening emails, then you can try reaching them a different way, like via a text message or a phone call. You can reuse the same messaging when you text or call them. Then they're getting the same message multiple times in different ways so that hopefully one reaches them.
Final Thoughts
Even if you were able to stay open the entire year, you still had to change how you worked. Whether that meant working from home or switching to solo cleaner models, something within your business will have had to change to adapt to what was happening around you.
With these changes, there were immediate needs for new ways to train team members and communicate with clients. This means learning how to use new tools, finding new cleaning techniques, and discovering ways to minimize physical contact with clients while still providing the same level of service.
Implementing the right systems and processes can help you retain customers, team members, and maintain a great reputation as a business. By recognizing that the world is changing and committing to change with it, you can gain new levels of trust with your employees and with your customers.
To learn more about how to implement the right tools and tech to keep your maid service aligned with the times, join Royce's Facebook Group, The High Tech Housekeeper, and check out his full presentation from the 2020 Maid Summit.
About the presenter
Royce Ard, along with his wife Tamara, has owned My Amazing Maid in Columbus, GA, since 2013. Royce has many years of experience in the technology industry, in both operations and sales and marketing. In this post, we'll highlight the systems and technologies he recommends maid services implement to keep them thriving in a post-Covid world.
This talk first aired at the 2020 Maid Service Success Summit.
The Maid Summit is an annual online event that brings together the most successful leaders in the cleaning industry, like Debbie Sardone, Angela Brown, Courtney Wisely, Amy Caris, Chris Schwab and more. Get free access to masterclasses and workshops that will help you to grow, scale and automate your cleaning business so you can get more leads and create more profit. Make sure you're on our email list to find out how to get free tickets to the next event.
If you found this article useful, check out these other articles on ZenMaid Magazine: