Last Updated on August 24, 2023 by The ZenMaid Team
What is lifecycle marketing?
Marketing can feel like a complicated beast to tackle. You know you need it, but it's overwhelming! Do you find yourself wondering things like, Where do I start? How often should I target my audience? What do people actually like? How much should I spend? Do I use Google ads? Should I do SEO? How much growth do I need to plan for?
The questions never end!
To cut through the chaos, you need a roadmap. After all, maps make things easier. When you travel, you use a map, GPS device, or some type of app on your phone. You need directions to get from point A to point B — and you need it to get you there as fast and efficiently as possible.
Lifecycle marketing is that map. It's a framework that helps you design a marketing plan to attract customers, convert sales, and retain customers.
With lifecycle marketing, you have the opportunity to market through the customer's journey — not just at the beginning. You will:
Attract interest
Capture leads
Nurture prospects
Convert sales
Deliver and satisfy
Upsell customers
Get referrals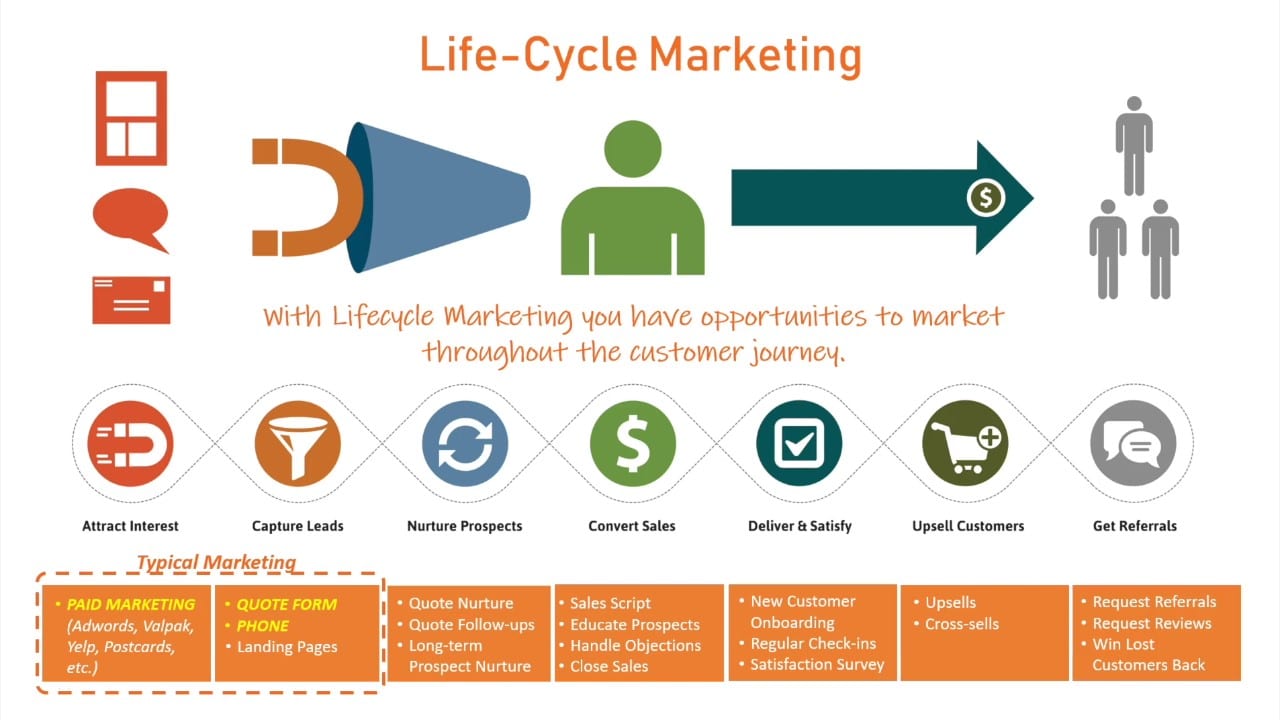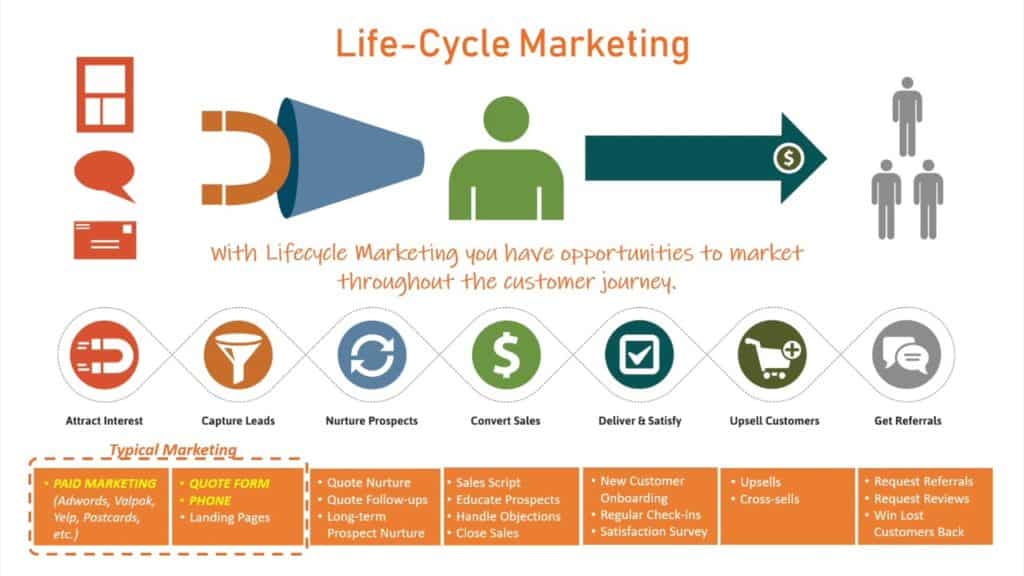 Lifecycle marketing takes your business beyond the typical marketing schemes. If you want the maximum amount of leads, then you need to market to your customers throughout their whole "lifecycle."
For the next few minutes, look through this checklist and honestly answer the question.
How many of these do you do consistently?
I have a lead capture strategy
I consistently follow-up on quotes given
I nurture quotes for at least 14 days
I communicate with prospects at least monthly
I have a solid new customer onboarding process
I constantly check in on clients to see how things are going
I regularly ask clients for referrals
I regularly ask for reviews
I offer my clients chances to purchase more (upsells)
I have a strategy to get clients back when customers quit.
If you can only check off 2-4 of these, then guess what? You're not alone. A lot of cleaning business owners are just like you. However, a lifecycle marketing strategy will allow you to check off each one of these points and secure a competitive edge over other maid services in your area. This strategy involves three distinct stages, and in this article, we'll take you through all of them: the attract stage, the sell stage, and the WOW stage.
Looking for more great marketing resources after this article? Head over to our free magazine next!

#1 – The attract stage
First, take a deep breath. You're in this for the long haul. You can do it!
In this first stage, you need to understand your target market before you can start on anything else. Who needs your services?
It could be busy parents with young children, empty-nesters, or senior citizens. Sometimes businesses target a wide range of demographics, but it's best to focus your messaging on one ideal client profile when you're just getting started. You can expand your target later! Your audience determines your marketing strategy: what pictures you use, how you speak with someone on the phone, how you approach a sales call, and how you follow-up with someone.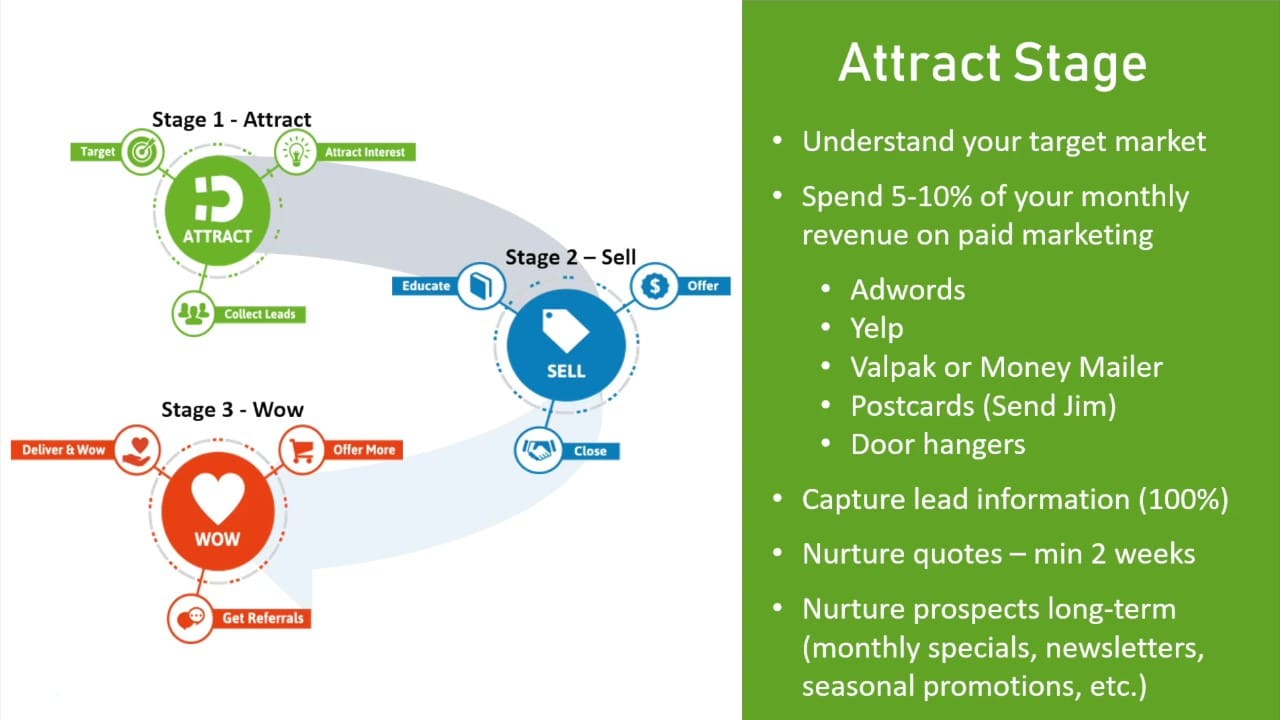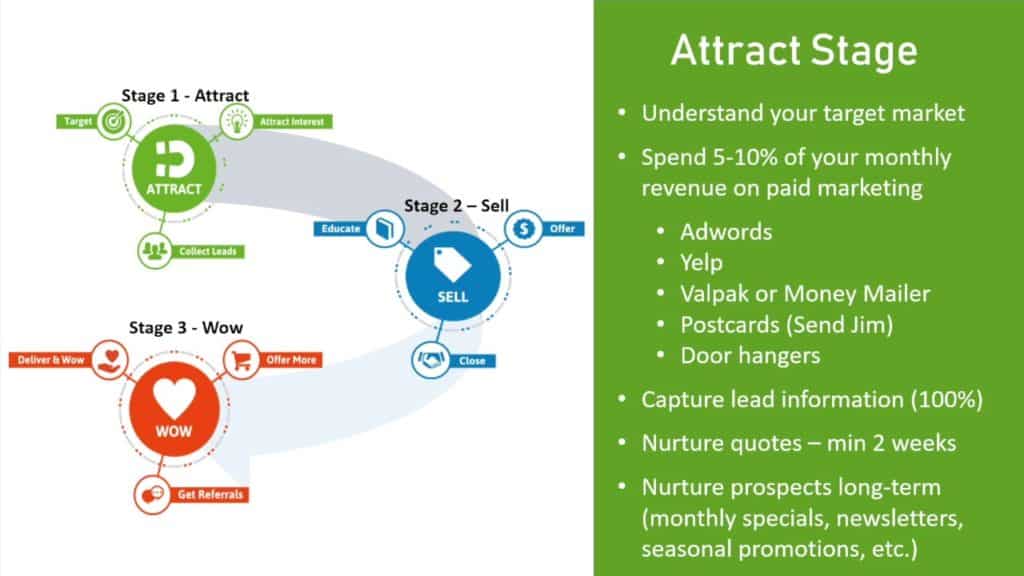 Once you've determined this, you're ready for your budget. Ideally, you should spend 5-10% of your monthly revenue on paid marketing. But ultimately, do what makes the most sense for your unique maid service. If something doesn't work, you can tweak it and try again.
Once you start seeing leads on your website, follow up with whoever fills out a form as soon as possible. For a minimum of two weeks, do everything you can to turn the person from a prospective customer to a paying customer.
If possible, nurture your long-term prospects. Just because you didn't convert someone right away doesn't mean that you can't convert them later. Use everything at your disposal: monthly specials, newsletters, seasonal promotions, etc.
A typical maid service marketing program looks like this: Phone call to quote > Quote email > Wait one day > 1st follow-up.
With lifecycle marketing, however, you go beyond the typical marketing pattern. It looks more like this:
Day 1: Call your leads, provide a quote, and send them an email
Day 2: Wait
Day 3: Send the 1st follow-up email
Day 4 – 5: Wait
Day 6: Send an email about your home cleaning company, who you are, and what you represent
Day 7 – 8: Wait
Day 9: Send an email with testimonials from satisfied cleaning clients
Day 10 – 12: Wait
Day 13: Send the lead an offer, specials, or coupons
Day 14: Wait
Day 15: Call the cleaning client to follow-up and schedule the special offer
Day 16 – 20: Wait
Day 21: Send another special offer that differs in appearance, style, or product
Days 22 – 27: Wait
Day 28: Contact via email or phone to tell the potential client that the deal will expire soon
This 28-day quote nurture sequence works wonders. After you implement this, you're ready for the next stage.
#2 – The sell stage
The sell stage is where you convert your leads from the first step (the attract stage) into a customer.
Very few business owners pay attention to their sales script. If you're taking notes, jot this down (or copy and paste it into a notes document): You need a sales script that is written, tested, tweaked, and finalized.
A good sales script is one that you've used before and works for you. It should:
Educate your potential customers on your value proposition: Show them why your company is better than the other cleaning services near you (but be sure not to drag anyone through the mud.)
Address objections: If people typically think that your prices are high, write down the reason why you charge that much.
Close the sale using clear closing questions: Memorize your notes and practice your sales script. Come up with multiple scenarios so that you're ready for anything. Ask them: Which type of cleaning do you want, and when should we get started? Does Tuesday work for you, or should we come Wednesday? This is a sales technique that transforms potential customers into current customers.
Offer upsells: Persuade your customer to buy another service. Tell them about your new products or upcoming promos.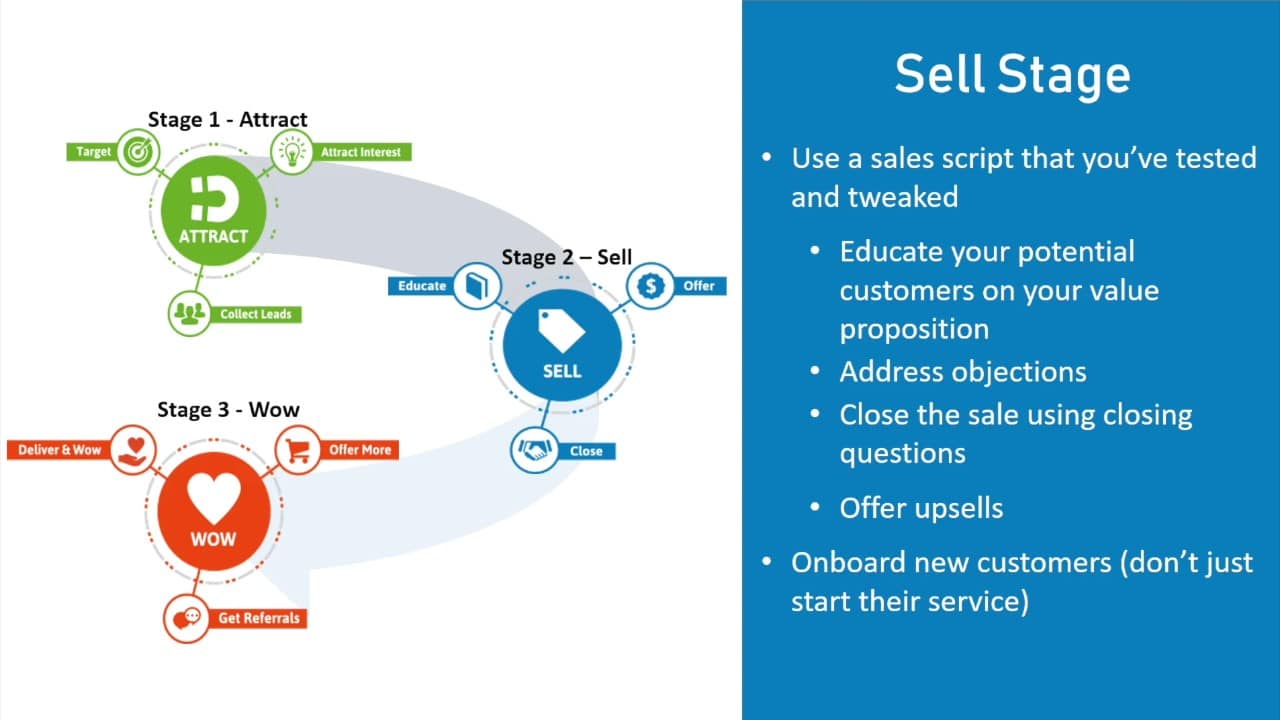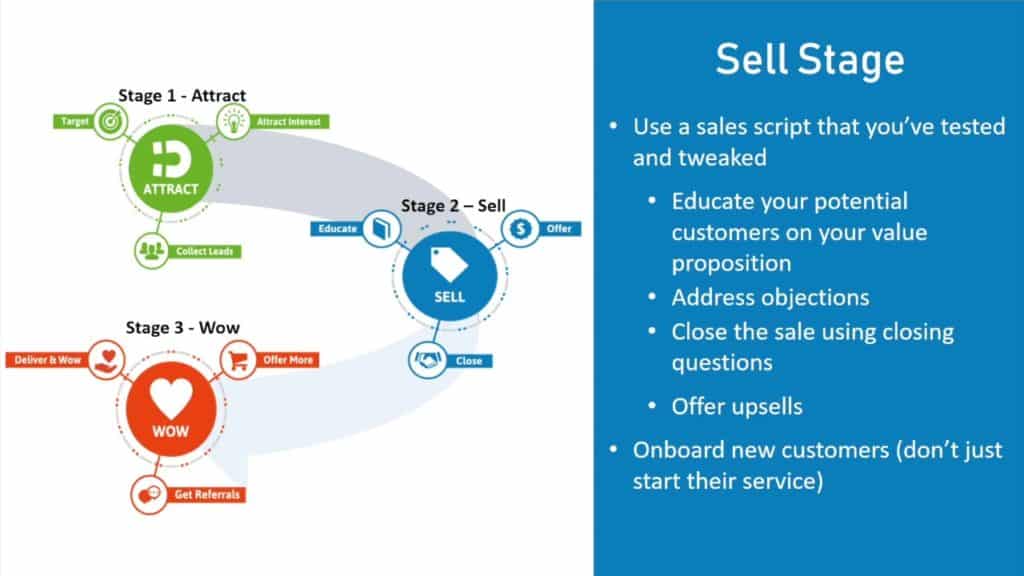 Onboard your customers in a way that helps you build a relationship with them. By the end, they should know a little bit about you on a personal level, and vice versa.
One of your biggest assets is your customers because, without them, your business would go down the drain. So, be sure to make them feel valued:
Check-in on them right before their first cleaning, and right after
Send them thank you emails
Complete a service follow up
Do a 30-day, 60-day, and 90-day check-in
If you 'hold your customer's hand' for 90 days, you'll have them for life! Now you're ready for the last stage.

#3 – The WOW stage
This is the chance that you've been waiting for. Now's the time to "wow" your customers with your amazing quality service and customer care.
If you want to "wow" your customers, you need to start with the basics:
Show up on time
Be dependable
Provide a high quality clean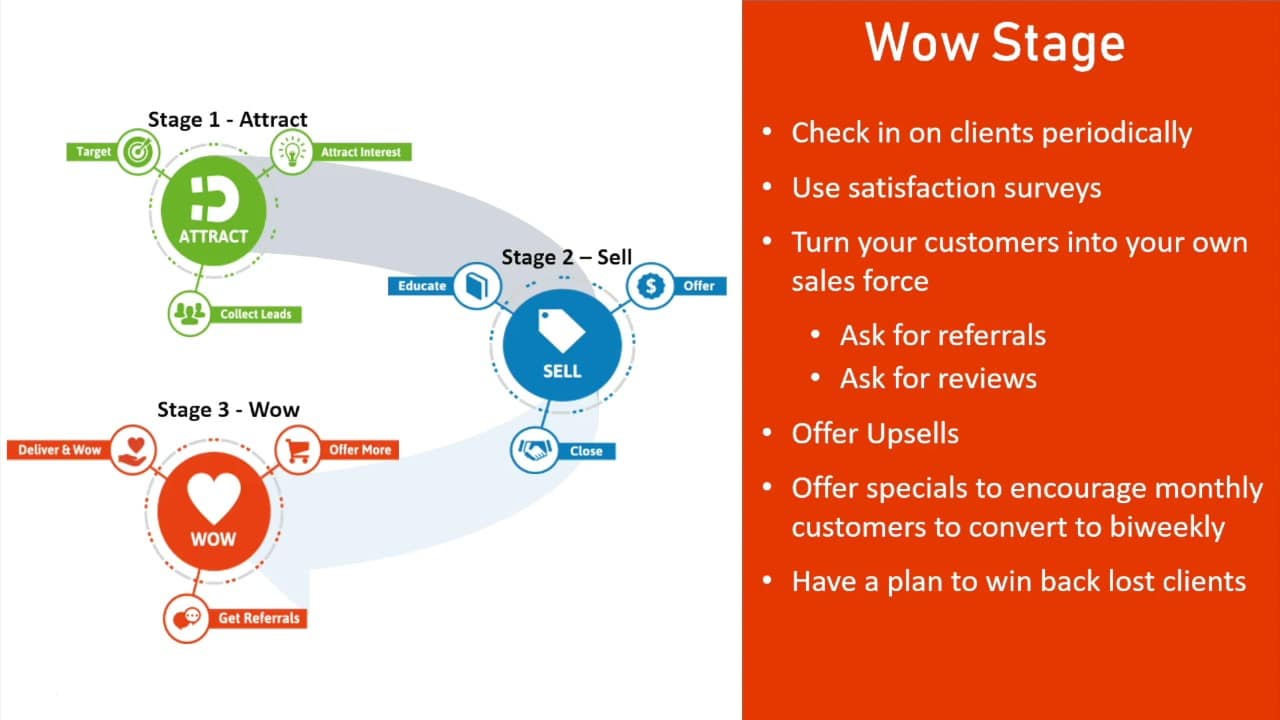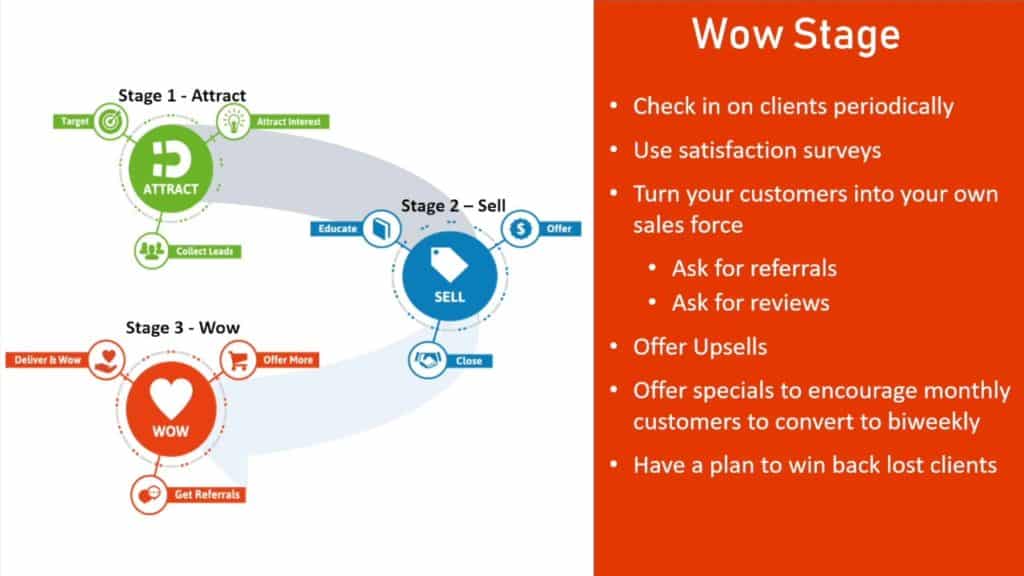 Send your customers satisfaction surveys every few months. After you've done the basics, go one step further. Surveys show your customers that you really care about them, and you want to make every cleaning experience the best it can be. This goes a long way!
When your customers love your work, they become part of your sales force; they give you referrals and write reviews on Yelp, Facebook, or Google. If you're tempted to skip this stage — don't! In today's world, online reviews build your business. There's really no way around it. So, use reviews to your advantage. Check out more on this topic here.
Twice a year, send out specials to your loyal customers. During the spring and around the holidays, send them an email with a promo. You won't believe how much business you'll get from these specials.
Make a plan to win back lost customers. If you don't, they'll simply walk out the door, and you'll never hear from them again. When you notice that a customer hasn't rescheduled a cleaning in a while –
Send them a "sorry to see you go" or "we miss you" email
A coupon
Another coupon if you haven't heard back from them after the first coupon
Call them and ask if they want to schedule a deep clean
If the call doesn't work, send them a third coupon
Over these 90 days, check-in with your cleaning clients to see how you can help them with your cleaning services. This will help remind your busy cleaning clients that you are available and able to assist them with their needs, large or small.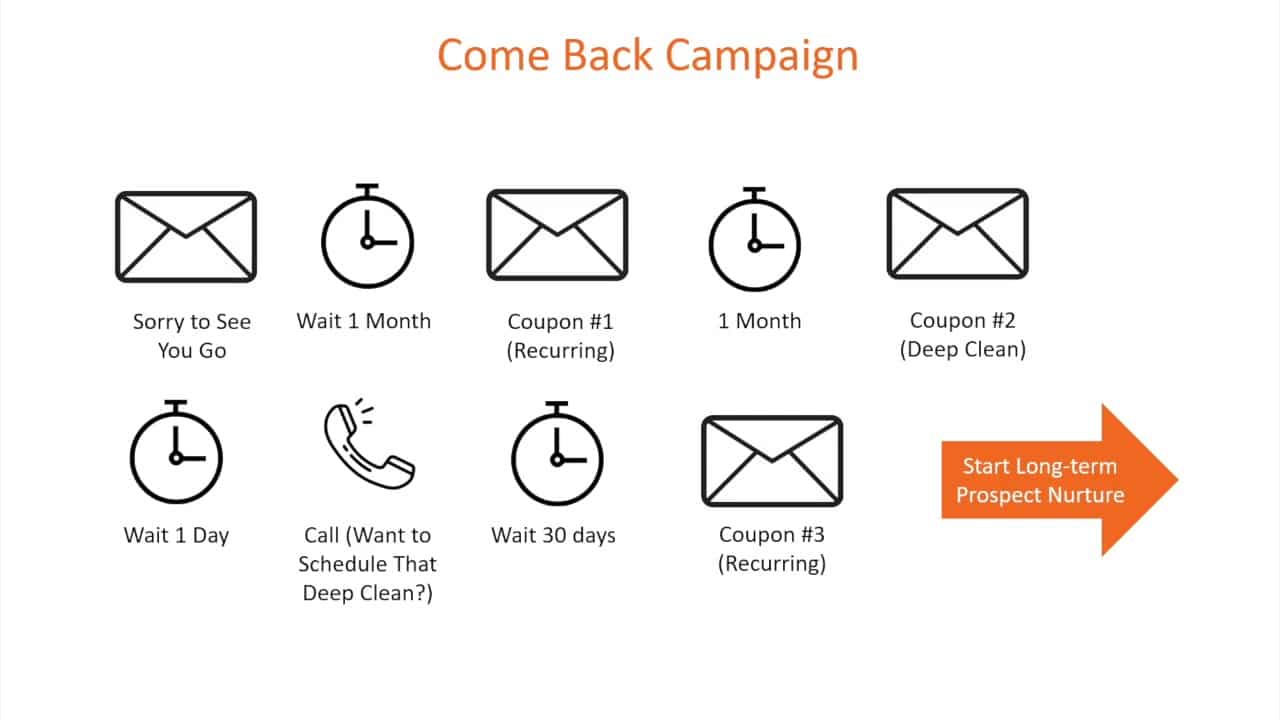 Will this "Come Back Campaign" work for everyone? No. However, plenty of people will notice your efforts, and they will come back to your business. The work you put into this campaign will pay itself off in the long run.
Next Steps
Now that you're (basically) an expert in lifecycle marketing, you're ready to conquer the world of marketing! Try this step-by-step plan and see how it transforms your business!
If you found this article helpful for your maid service, you may also like:
For more resources on how to grow and perfect your cleaning business, check out the replays from the 2021 Maid Summit, hosted by ZenMaid. The summit featured more than 60 presentations from other maid service owners who shared tools and strategies to help you achieve the highest levels of success in your business.
To hear Ginger Whitson's full talk from the Maid Summit, click here. 
About the presenter
Ginger Whitson is the owner of Love My Maids, which she lovingly notes is a freedom-based cleaning business. To get there she had to ask herself each day how to get clients for my cleaning business?

Her success encouraged her to inspire others trying to expand and create a marketing plan to promote their cleaning business. She believes that lifecycle marketing is a framework that you can use as a map to develop your marketing plan, and anyone with enough drive can follow that map to their dream life.
This talk first aired at the 2019 Maid Service Success Summit.
The Maid Summit is an annual online event that brings together the most successful leaders in the cleaning industry, like Debbie Sardone, Angela Brown, Courtney Wisely, Amy Caris, Chris Schwab and more. Get free access to masterclasses and workshops that will help you to grow, scale and automate your cleaning business so you can get more leads and create more profit. Make sure you're on our email list to find out how to get free tickets to the next event.
You and your maid service deserve a little peace and quiet. Try ZenMaid for free today!