Last Updated on August 21, 2023 by The ZenMaid Team
The following article is based on a talk given by Jamie Reader at the 2021 Maid Summit, hosted and organized by ZenMaid.
Jamie is the owner of Dust and Mop, a million-dollar cleaning service. Just a few months after starting Dust and Mop, Jamie quickly realized that she needed help and found Debbie Sardone. As a result of following Debbie Sardone's program, the CBF system, Dust and Mop became a million-dollar+ business and has continued to grow. Today, Jamie is a certified CBF coach teaching other maid service owners how to scale their businesses.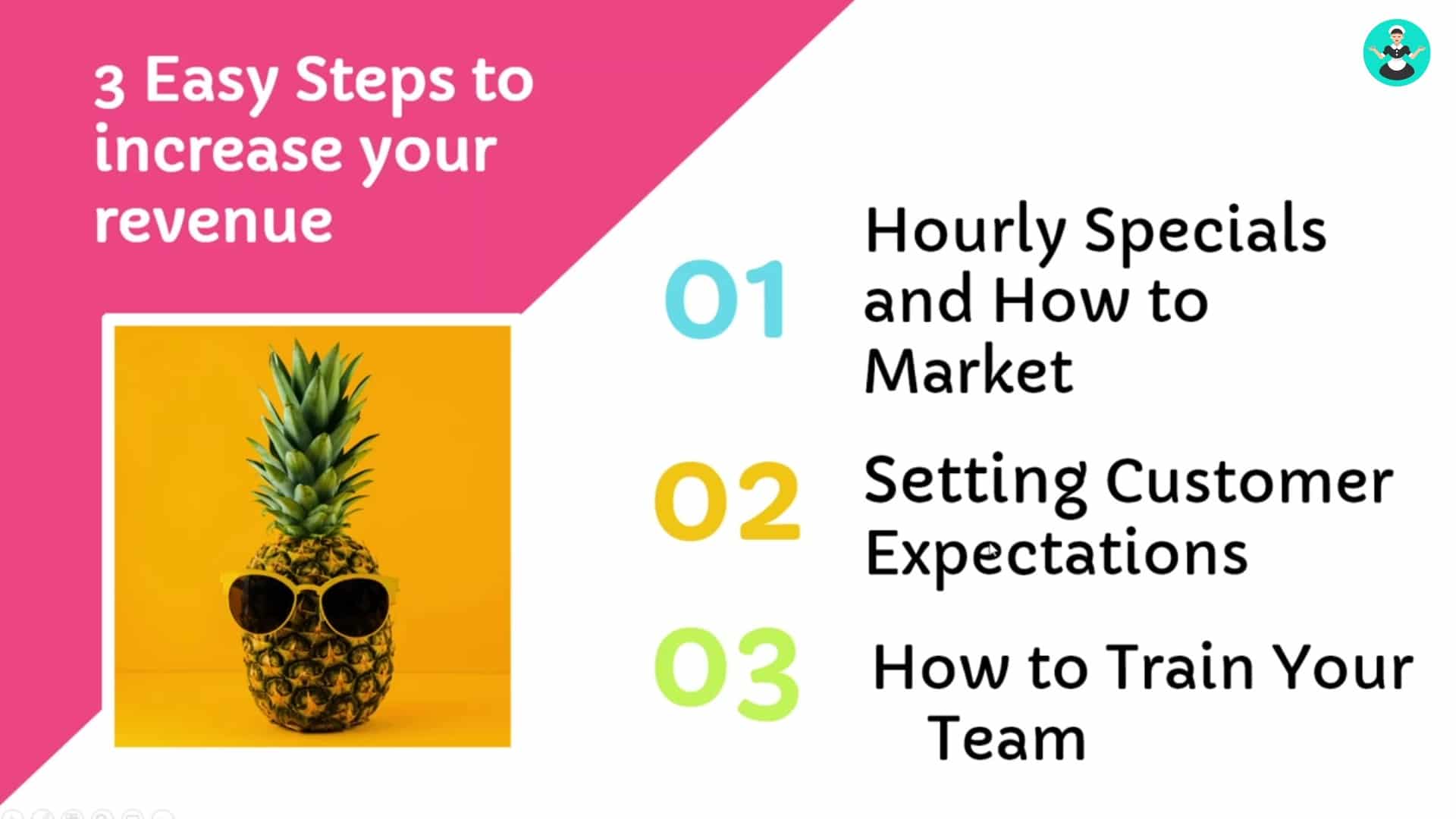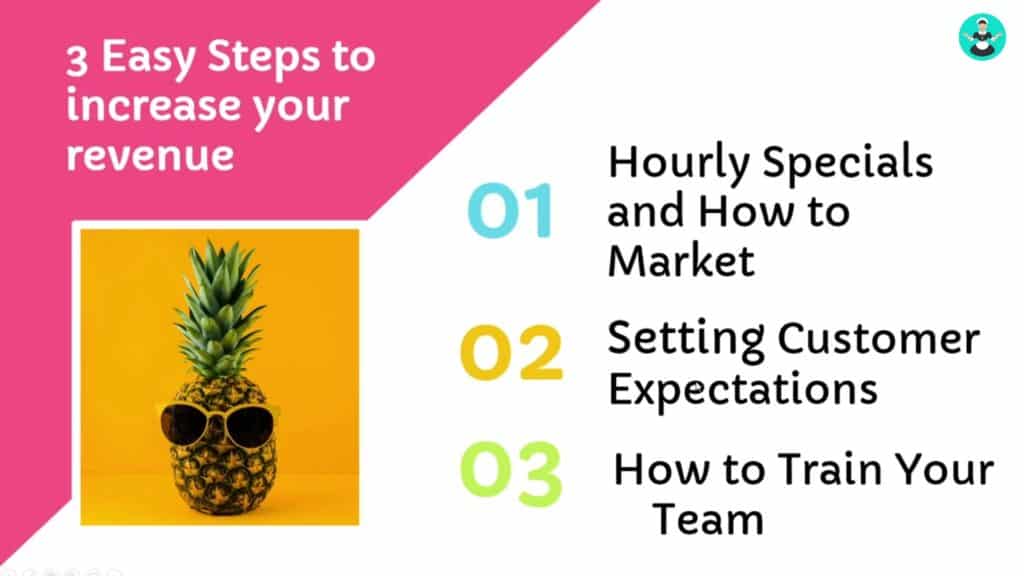 What to expect
As a busy maid service owner, do you ever wish you could buy more time in the day? We face the reality that lost time equals lost revenue. Not only is it impossible to make more hours in the day, but we can't buy our time back.
Jamie Reader was grappling with the same time/revenue challenge when she came across the hourly special service. Implementing this single service in her cleaning business has brought in thousands of extra dollars that she would've otherwise missed out on.
In this article, we're going to break down a simple three-step process that will increase your revenue by thousands without adding any more hours to your day.
So what are the three simple steps?
Step one: Create an hourly cleaning special
Step two: How to market your cleaning special
Step three: Setting the right expectations
Does this sound like something you want to know more about? Keep reading!
Create an hourly cleaning special
An hourly cleaning special is a short service you can offer at a higher rate whenever you see upcoming gaps on the cleaning calendar. You may be wondering, how is this a special offer if I'm charging a higher rate?
Good question. It's considered a special offer because it lies outside of your ordinary scope of service. What's more, clients benefit from a quick turnaround when booking this special.
You'll want to keep your cleaning special under three hours per client, offering only basic cleaning. So, for example, if you're running a special when your usual rate is $45 an hour, your special service rate could be $50 an hour.
The hourly cleaning special is a great opportunity to warm up new clients. If they're impressed with your service, they could book you for a recurring cleaning. With that in mind, you don't usually want to offer this service to your regular clients. Think of it more as a lead generator at the top of your sales funnel.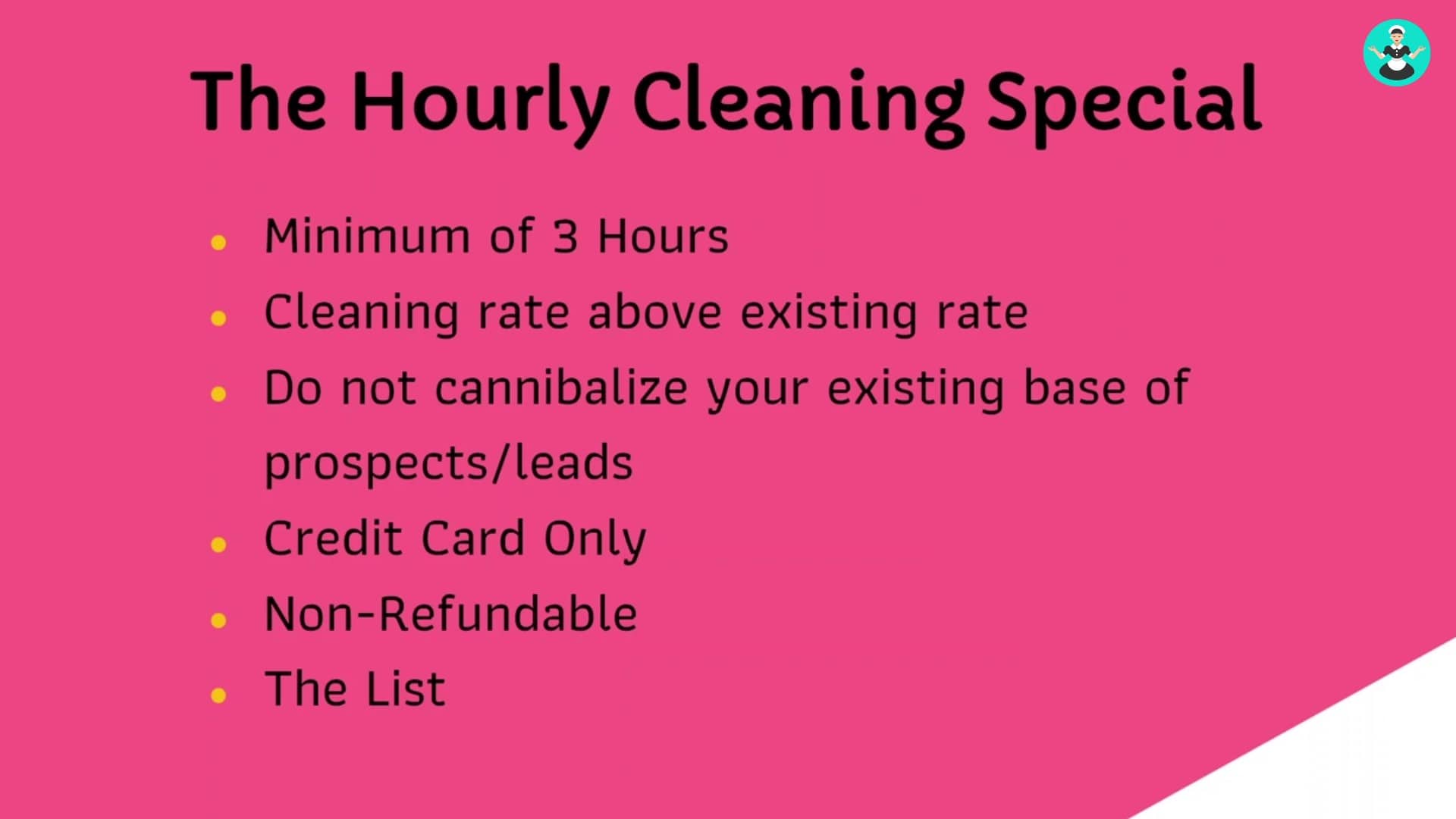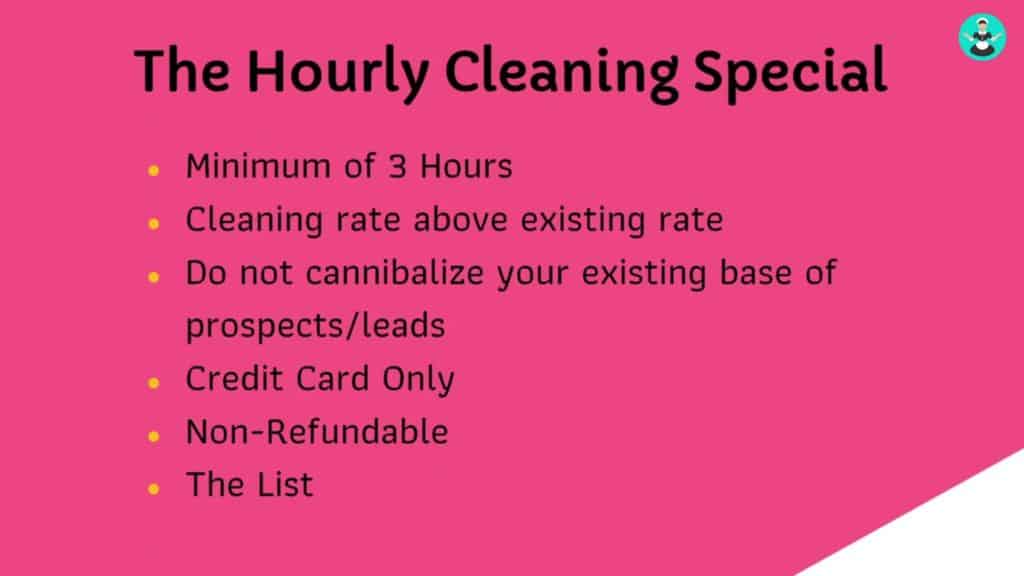 Rules of the service
To optimize your hourly cleaning special, there are a few rules to follow:
Keep it at a minimum of three hours
Charge above your existing rate
Tap into new leads, not your existing clients
Require only credit/debit card payments
Keep it non-refundable
Follow a specific cleaning list during the service
Minimum of three hours
Since this service will only be offered when you see gaps in the cleaning schedule, make sure to keep the special at a minimum of three hours. Reason being so you don't create more gaps of one hour here, and one hour there. Instead, consider offering your cleaning special in three, four, and six-hour blocks.
Charge above existing rate
We already covered this, but as a reminder: only offer your cleaning special at a rate higher than your existing one. The 'special' part of the service comes from clients getting an exclusive, out-of-scope offer with a quick turnaround.
New leads
Since this is not a substitute service, only offer it to your potential clients. We'll talk more about marketing to leads in just a minute!
Credit cards only
Even if you have options for your regular clients, don't offer payment plans or check payments for this service. Keep it simple with credit card-only payment options. Since this is an extra service with openings for only a few clients at a time, you don't have to worry about losing business over this.
Non-refundable
This is not meant to be a substitute for a deep cleaning or any recurring service, so keep it non-refundable. This way, you're protected if the job turns out to be a lock-out or cancellation. The key is to communicate this clearly upfront so no one gets surprised. Clients should know it's non-refundable before they make any payment.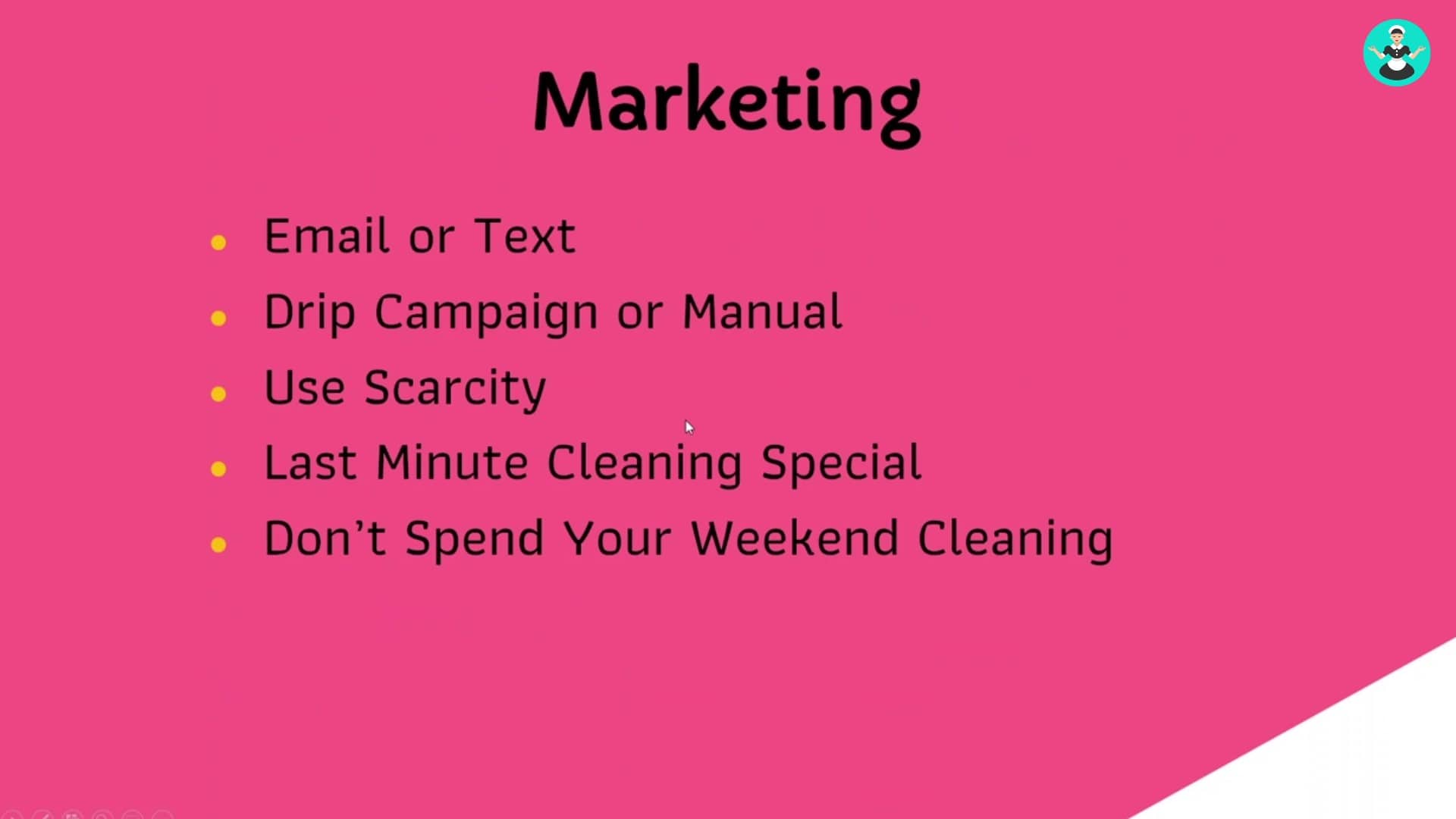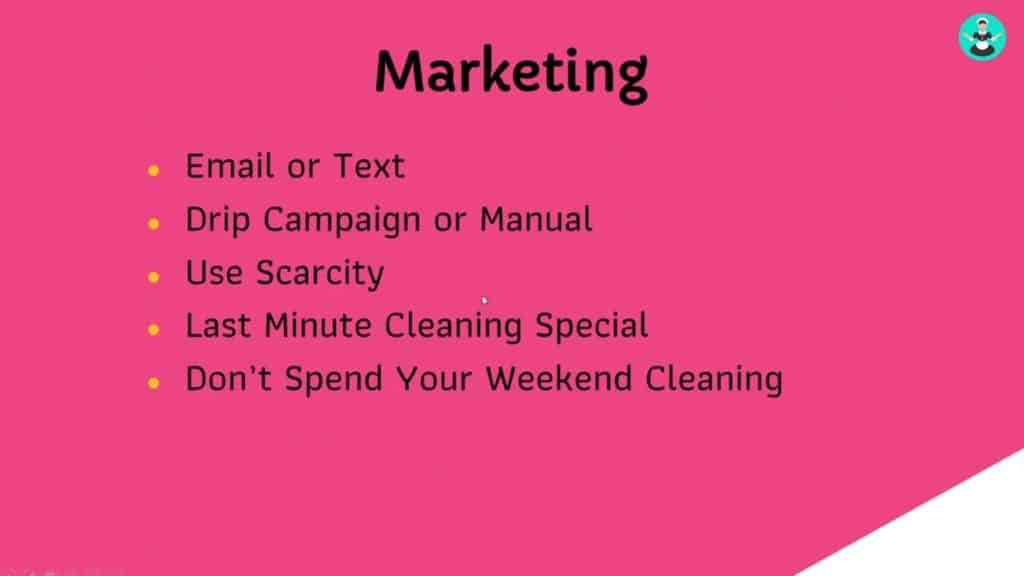 How to market your hourly cleaning special
Even if you're a small company with a minimal database, you can still market a cleaning special effectively! To get started, find a short list of five to ten leads who may be interested in booking this service. Here are some ideas of who could be on this list:
Leads you've quoted who never got back to you
Past clients who canceled services on good terms
People who have inquired through social media, email, or phone
If you offer commercial services: businesses you have a contact at
SMS or email campaigns
Send a targeted SMS or email campaign to your short list of leads. Since this group of people won't know you very well, include messaging that feels welcoming and personal. If you're using a platform that allows sequences (or flows), set up a reminder email to the users whose behavior indicates opening the email but not taking action.
Better yet, make it as easy as possible to book your services with an automated booking option. Not set up on an automated email platform yet? No worries. Check out this article to learn about a free option with ZenMaid.
Urgent messaging
Hourly cleaning specials work because they offer a quick solution to clients. With that in mind, create a sense of urgency to book it. With a sense of urgency, convey exclusivity or urgency in your messaging. Here are some messaging examples to use in your marketing:
"Don't spend your weekend cleaning."
"Grab the last spot."
"Need a last-minute cleaning? We've got you covered."
"Don't miss out — last chance to book our special!"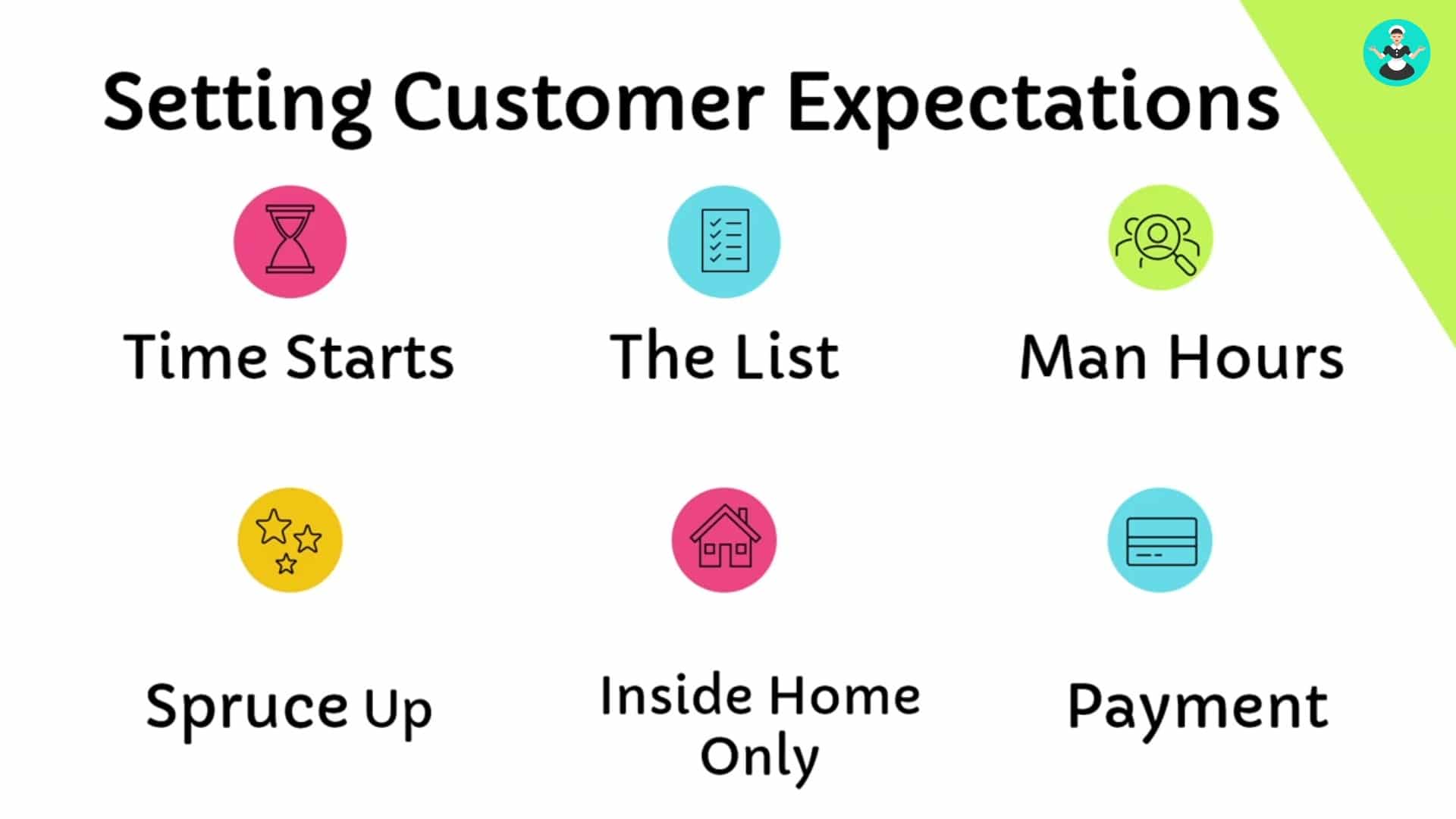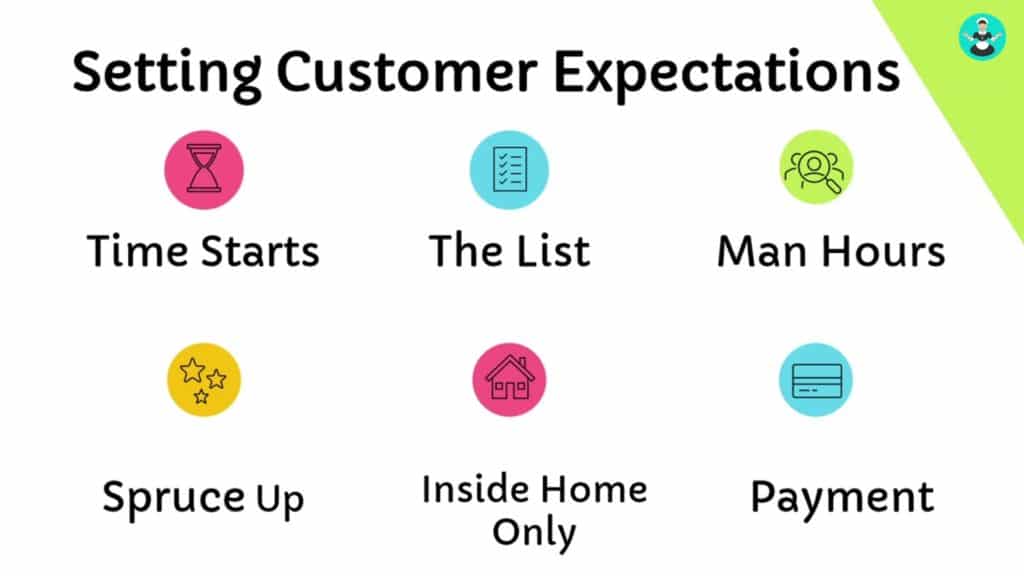 Setting the right customer expectations
Setting the right customer expectations before any cleaning starts is crucial to making an hourly special work. So let's talk about what those expectations should be.
When the time starts
Since this is an hourly cleaning special, you need to make sure the time allotted for cleaning is protected. The clocked time always starts when your cleaners arrive at the cleaning site. No matter if the client is late to the site, or if there's a delay getting started (as long as it's not the cleaner's fault), the timer needs to start.
How to communicate this: Let the client know that it's to protect the time of your cleaners, but more importantly, to protect your client's investment in the cleaning.

List of priorities
As a reminder, an hourly cleaning special is not your regular top to bottom cleaning service. Therefore, your cleaners will have a prioritized list of duties to work on. They'll start at the top of the list and work their way down. Once the time runs out, the cleaners will be done even if there's more on the list to do.
The client can choose this list before the day of the cleaning. Make sure you have a copy of the list for the client and for your cleaners. That way, there's no miscommunication or unmet expectations. You can also provide a standard list of duties if you don't want clients to choose ahead of time.
We recommend avoiding duties like completing laundry or dishes as the length of time for these services is variable.
An example of "the list":
Full clean of the bathrooms (toilet, bath, shower, sink, dust, mop)
Wipe down and mop kitchen
Dust and vacuum living room
Wash inside of windows
Dust and vacuum bedrooms
If there's time: dust and vacuum basement or bonus room
Length of cleaning
To summarize what we've already shared on this topic: offer your hourly cleaning special at three, four, and six-hour blocks. Make sure this is extremely clear to the client. In addition, make sure the client is aware that this option is not for houses needing a deep clean, but rather, a general surface-level clean. If your client's home or business needs a deeper scrubbing, recommend your top to bottom cleaning service instead.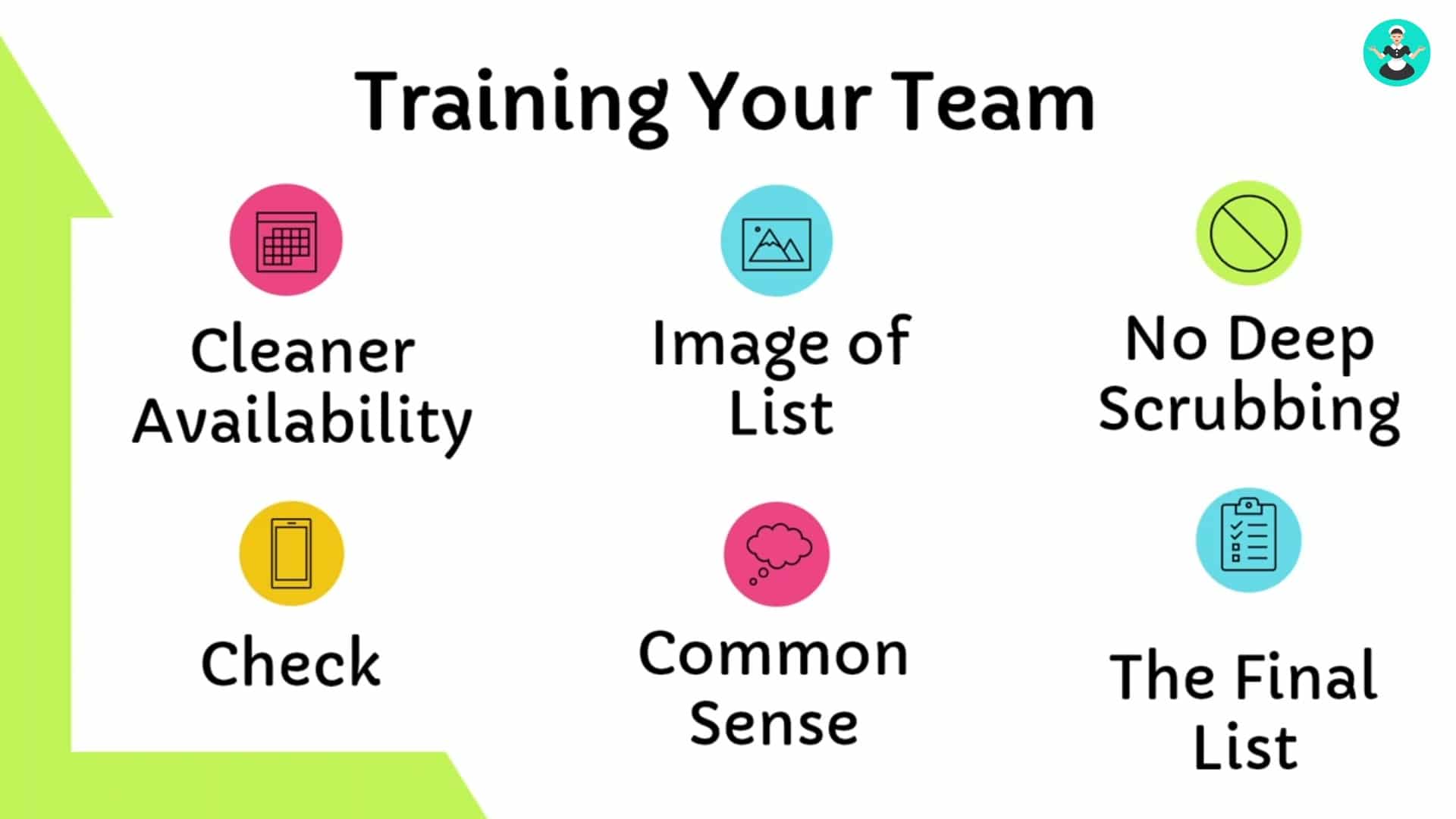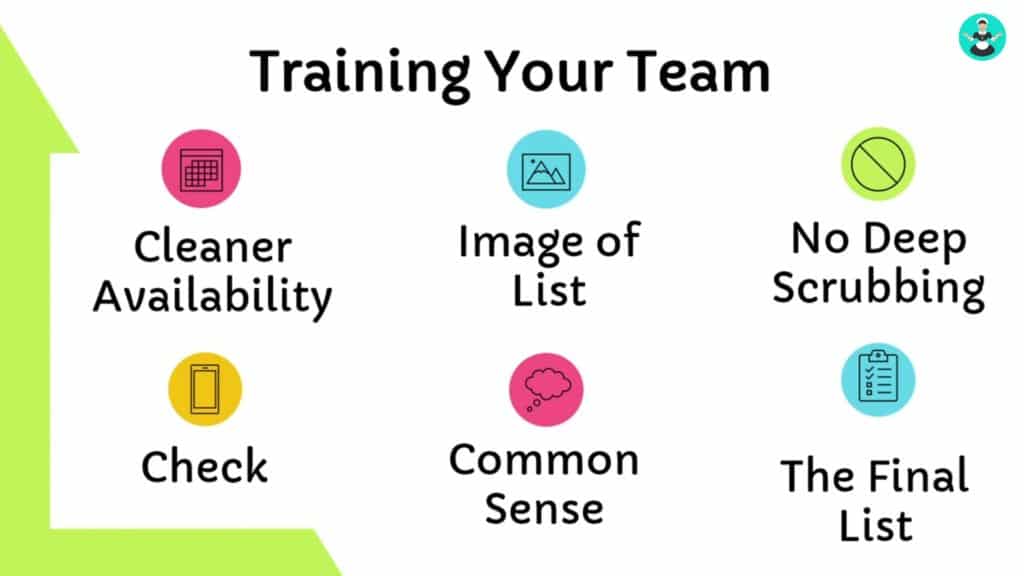 Training your team
We won't dive too far into this topic today, but we'll cover the general overview of preparing your team for an hourly clean.
For starters, make sure that you have cleaner availability during the time slots you're offering for the special.
Secondly, make sure your cleaning staff understands that these cleans are not for deep cleaning or scrubbing.
And finally, ensure that your cleaning staff understands the list they need to work off of. Just like communicating with your clients, it's important to be as clear as possible with your cleaning team since this is not like the usual cleaning services they perform.
Your next step
To learn more about creating an hourly cleaning special and training your team to do it, you can access Jamie Reader's full talk right here.
For more resources on how to grow and perfect your cleaning business, check out the replays from the 2021 Maid Summit, hosted by ZenMaid. The summit featured more than 60 presentations from other maid service owners who shared tools and strategies to help you achieve the highest levels of success in your business.
Did you find this article helpful? You might also like these resources: