Last Updated on August 24, 2023 by The ZenMaid Team
Scaling your business takes strategy
Believe it or not, you CAN grow your maid service. If you're reading this article today, you might be stuck in a rut. Or maybe your business did well in the past, but now it seems a little stagnant. Whatever the case may be, you're not alone, and you can make it through this season.
One of the most important lessons to learn is that progress is a process. If you want to own a six-figure or even a seven-figure business, then you need to keep an open mind to new strategies.
Without a constant desire to learn and grow, you'll end up like a lot of other small businesses. Right now, there are 30.2 million small businesses in the U.S. Out of these, 40% are profitable, 30% break even, and 30% lose money.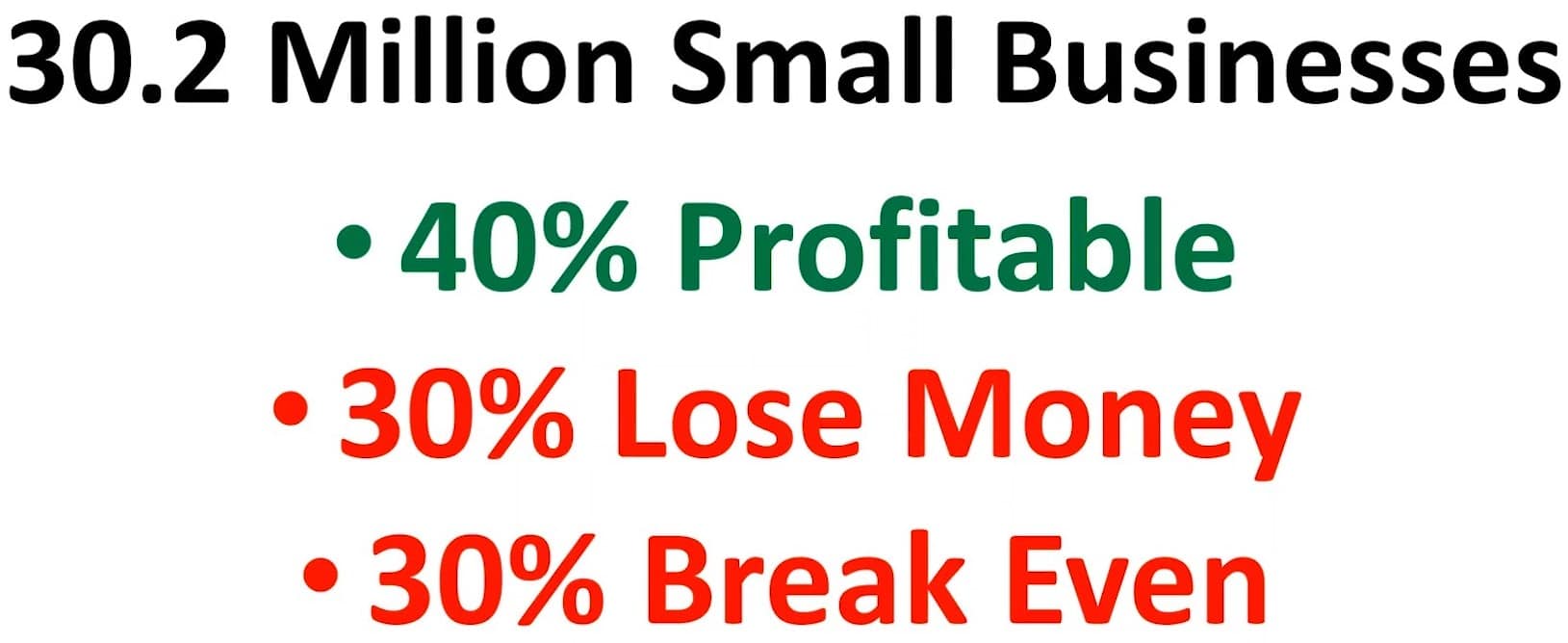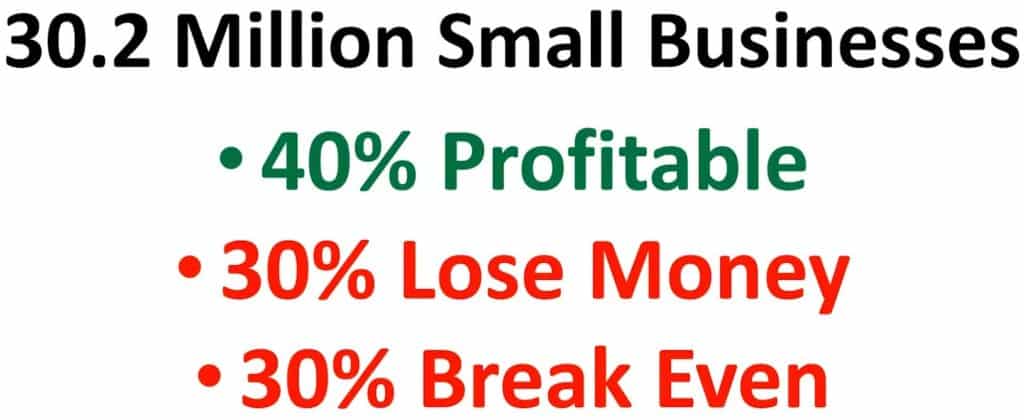 These are scary statistics — 60% of small businesses aren't making money! But guess what? You can be in the 40% group. It's not rocket science; it's strategy.
So what are millions of businesses doing wrong? They're competing on prices.
STOP competing on price
This is the first thing wrong. When you structure your business solely based on price, then you make your business a commodity. And like all commodities, the one with the lowest price wins. Even if you have the second-lowest price, you still lose.
This is not how you want to run your maid service, is it? Take a moment to think about your business. Have you done this before? If the answer is yes, don't be too hard on yourself. A lot of maid service owners have been in the same boat.
Here's how you turn this situation around.
STOP competing on price and instead focus on value!
So how do you get there? You need a vision before you begin.
First, imagine what it would be like to add 15 new bi-weekly customers every month.
Next, think about what it would feel like to know that you have a competitive advantage over your local competition.
Last, imagine what it would be like to grow a million-dollar cleaning business.
This doesn't have to be a wish. It can be a reality if you implement a few industry-proven steps.


Secret #1 – When you lead with a discount, you attract a discount customer
We're here to tell you that you don't need to discount your prices to scale your business. Get rid of those coupons and flash-sale promos! Believe it or not, you don't need to lower your prices to get faithful customers.
The truth is: When you discount your prices, you attract a DISCOUNT CUSTOMER who can't afford your service and will wreak havoc on your business.
If you haven't already discovered this, discount customers can be a pain. Here's why.
They're only interested in the deal
They never turn into repeat customers
They'll only do business with you again when you offer a repeat deal
Trust us; you do not want to be a Groupon-type of business.
Discounts are designed for high-margin businesses like large retail electronics stores that buy TVs for $289 and sell them for $899. Their markup is 200%. And guess what? They can afford a flash sale or coupon.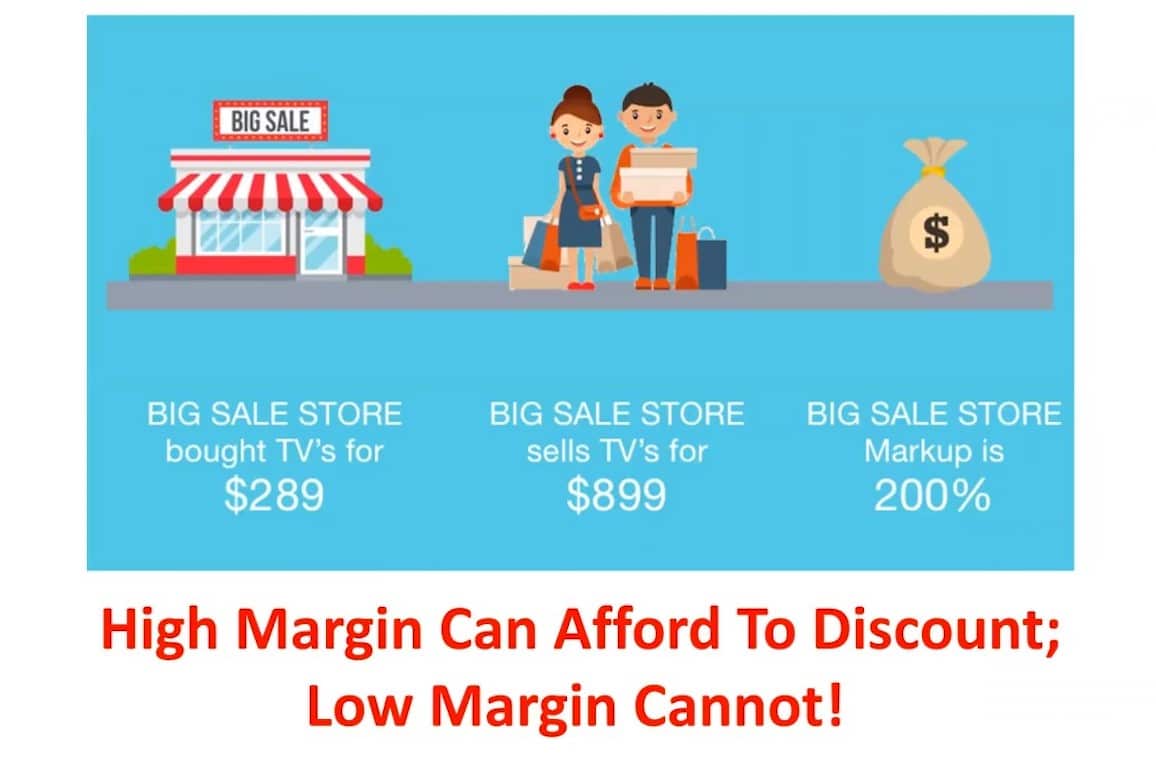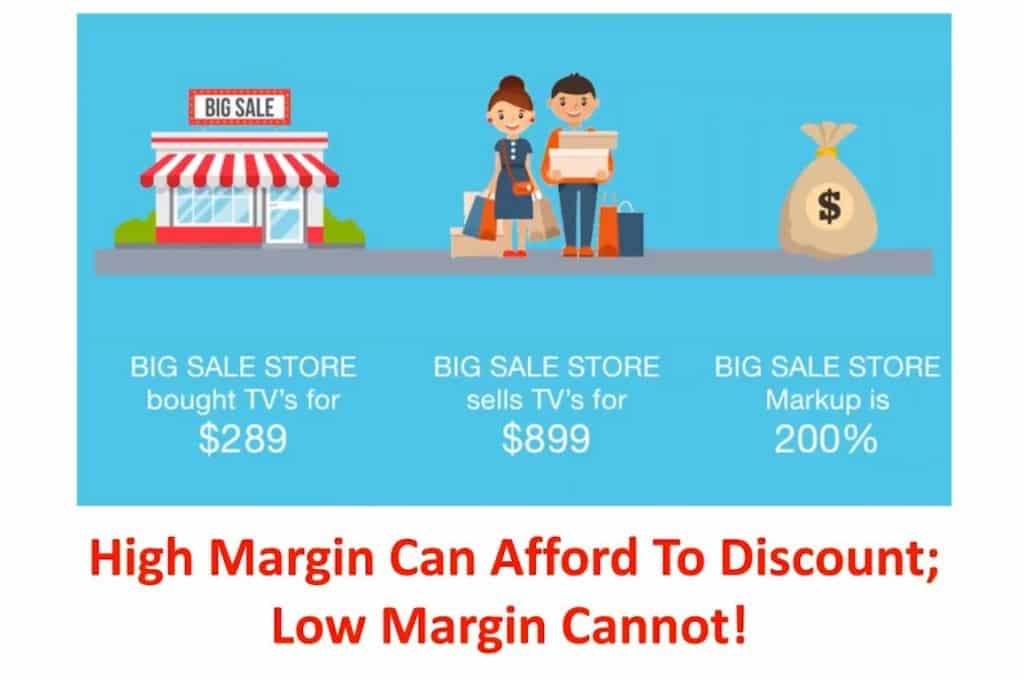 Your cleaning business, however, cannot do the same thing — you likely have a low-margin business. If you gave a 25% discount then you essentially just threw away a hard-earned profit.
Discounts will put you out of business faster than most things. It's a never-ending cycle that will crush everything you've worked for. They'll:
Attract the wrong customer
Devalue your brand
Force you to give more discounts
Lower your employee wages
Reduce your profits
Secret #2 – When you solve your customer's problem, you give them a reason to buy
Common Belief: My customers only book one-time cleanings; they never convert to bi-weekly customers.
The truth is: You're not solving your customers' problem, so they won't sign up for bi-weekly service!
This secret shouldn't be much of a secret because you're in the cleaning business for one main reason—to solve your customer's problem!
Every business exists to solve a problem.
The problem isn't a dirty house.
The problem is your customer doesn't have the time to clean their home.
Your customer wants to know what their life is going to be like after working with you.
Ultimately, everything starts with your sales script—you have to give your customer a reason to buy.
Find the pain
Offer a solution
Sell them a destination
Make them an offer!
Remember, the destination is not a clean house. The destination is a bi-weekly service.

Secret #3 – When you provide more value, you become more valuable
Common Belief: I need to lower my prices in order to attract more customers
The truth is: You need to increase the value of your service which will ultimately make you more valuable.
The old way of business is leading with a discount. But that's not you anymore — never again! The new way of business is to make an irresistible offer.
If you don't have an irresistible offer, all you can do is compete on price. As we know by now, you're shooting yourself in the foot if you compete based on price.
Take a moment to think about some of your favorite brands. Think about the ones that have been around for years and years. These could be restaurants, shoe stores, phone companies, or your favorite cookie brand — anything you would recommend to your friends. Why do you love them? What makes you want to stick with them?
For instance, let's take a look at Lexus. They're a popular luxury car company and they didn't make it to the top out of sheer luck. They offer:
Lifetime Oil Changes
Lifetime Powertrain Warranty
Lifetime Loaner Wars
Lifetime Car Washes
Loyalty Discount Rewards Program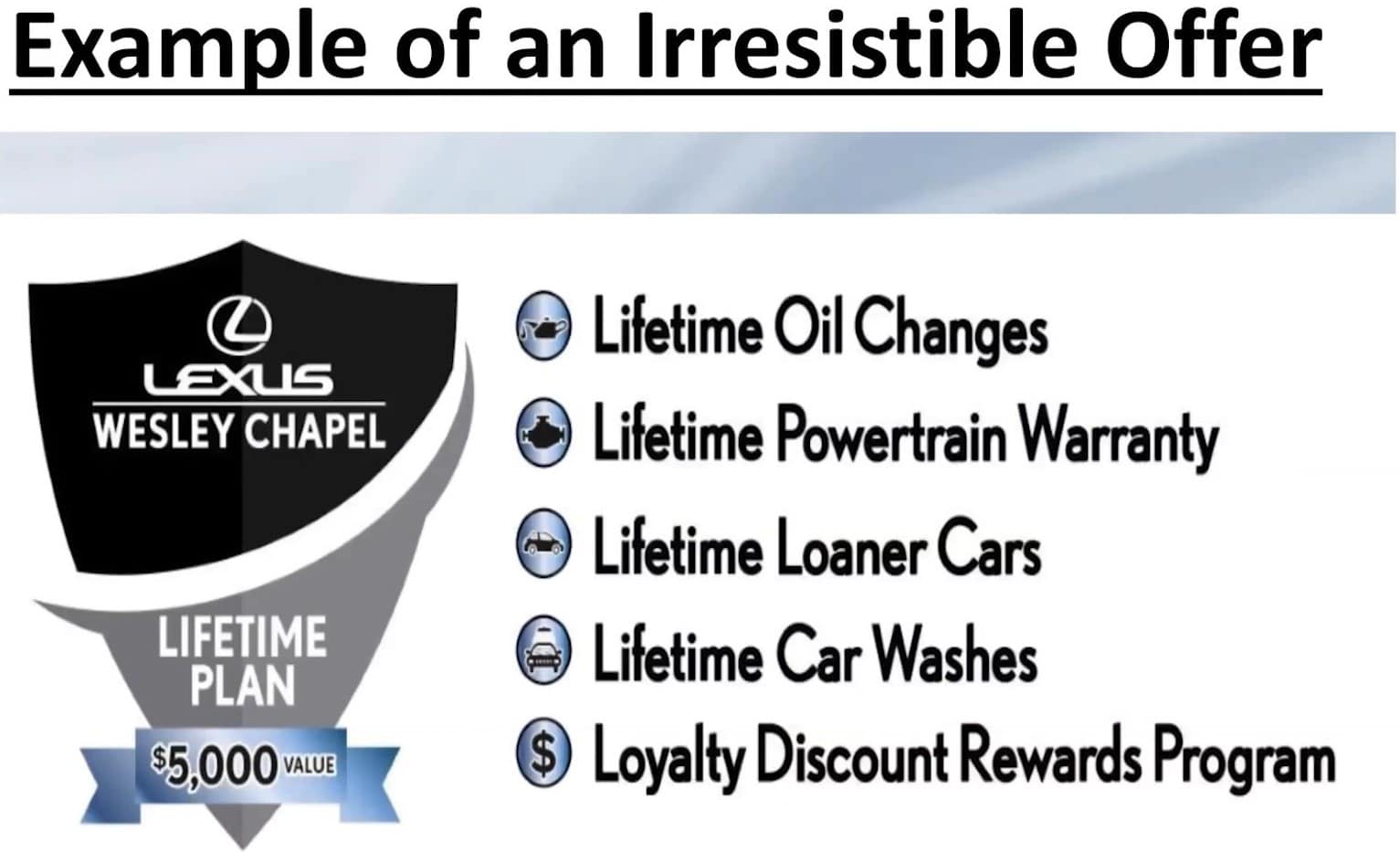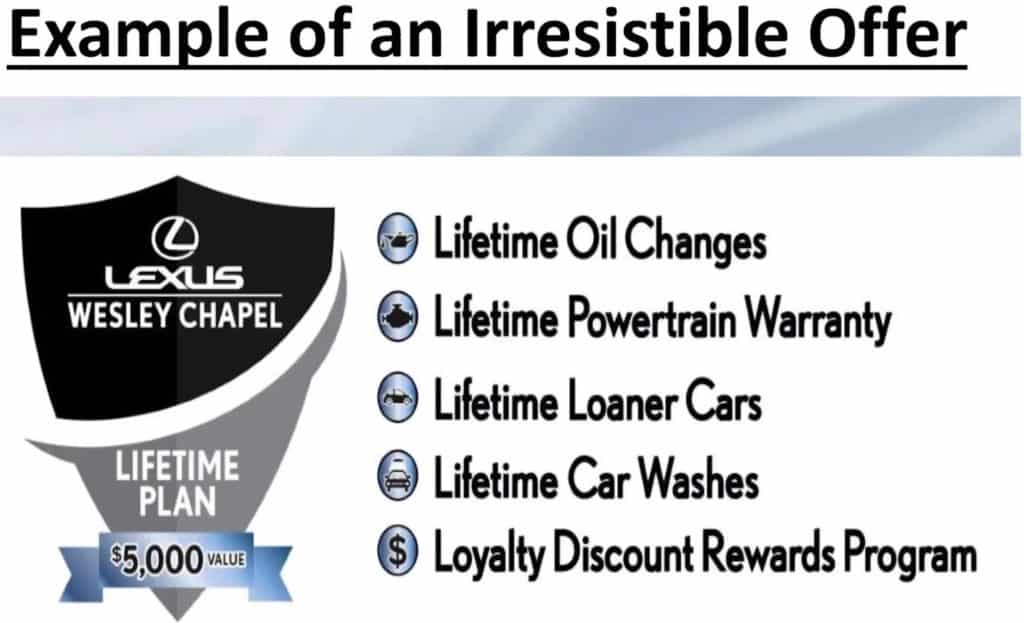 If you want more customers to convert to bi-weekly cleaning schedules, then offer them a deal that they can't refuse. So, how do you put this into practice?
First, reframe your services and create an irresistible offer. The price is how much your customers will pay for your core service. Your offer is that core service, PLUS extra bonuses that add value and create a better experience for your customers.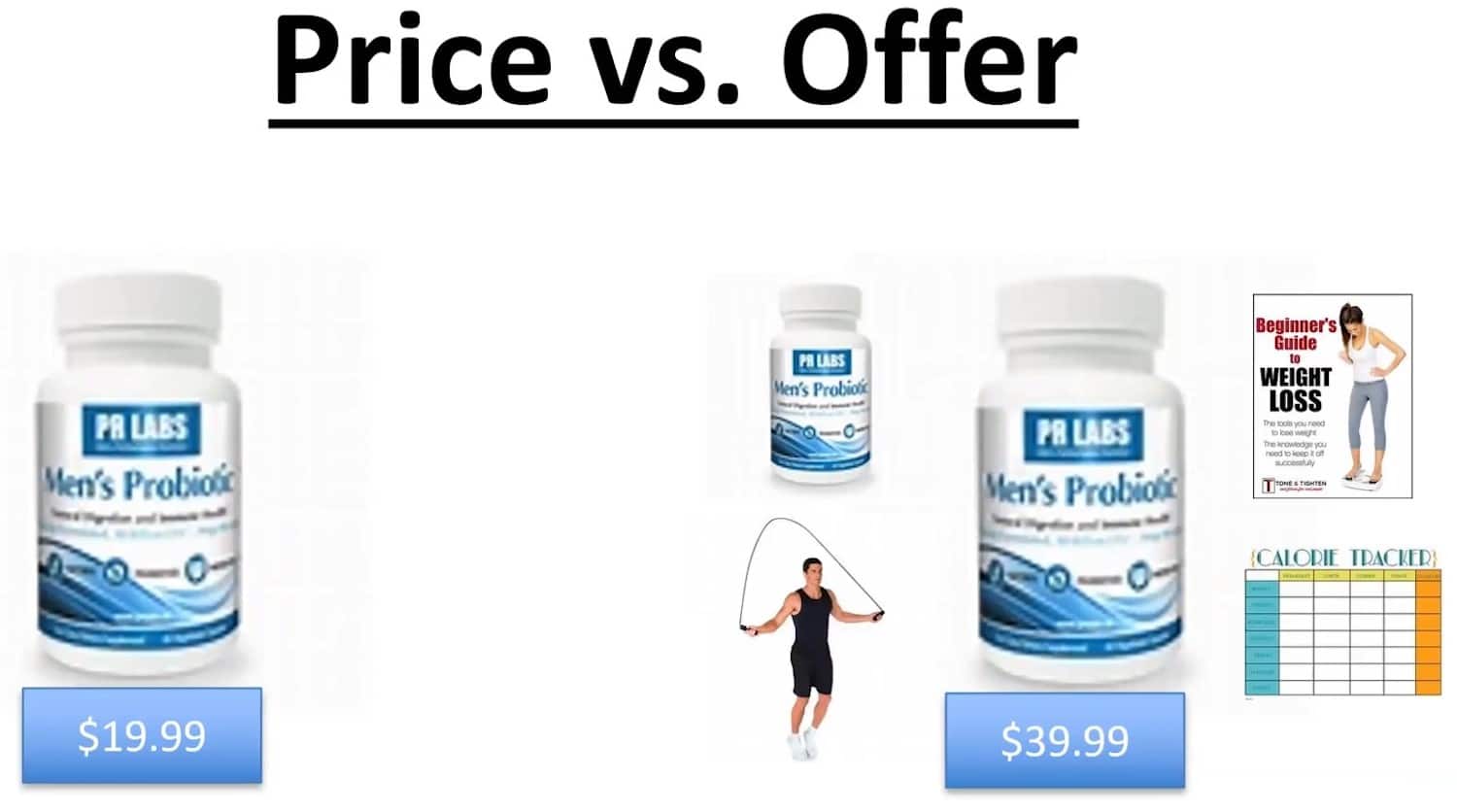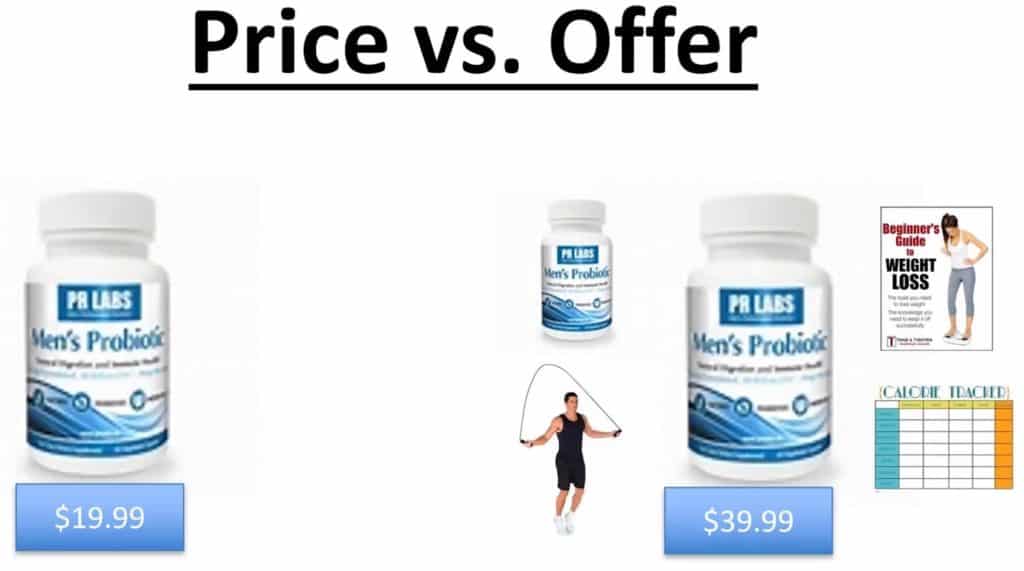 Grab a notebook or a whiteboard and brainstorm your offer. Start with a list of the things that your cleaners do that add value to the service you provide. It helps to have an itemized list of everything covered in your services to better outline the real value your customers receive.
Once you've brainstormed everything, create the official offer. Show your customers everything they will get from you. Rather than competing based solely on price, you are pitching your customers a high-value service.
Position your services as a bundle. A bundle offer helps you emphasize the true value you bring to your customers. Plus, they won't mind paying as much. This bundle can consist of your general house cleaning services, plus a few valuable extras such as:
Window cleaning
Floor cleaning and polish
Kitchen sanitization
Grout cleaning
Linen changing
Laundry folding
Want more information on pricing your maid service? Read this article next: How to create a pricing system for your cleaning business.
With every good offer, you need a solid sales script. Your sales script is designed to build trust with your customers, help them see the value you bring, and highlight the pain points you will help them solve. Here is how you can lay out your sales script:
State the most common pain point your customer is facing (eg. They don't have enough time to keep their home clean)
Offer them a helpful solution (eg: Your bi-weekly cleaning service)
Sell them the goal (eg: How your solution will help free up their time to do more things they love)
Make them an offer they can't resist
Next steps
When you run your own company, it's easy to stick with what you know. But if you notice that your profits aren't growing or you're continuing to lose money, you need to implement the right strategies to scale your business.
Your business can and will thrive! Take the time now to make a few adjustments, and you'll see major changes down the road.
Check out her full presentation from the 2020 Maid Summit.
About the presenter
This talk first aired at the 2020 Maid Service Success Summit.
The Maid Summit is an annual online event that brings together the most successful leaders in the cleaning industry, like Debbie Sardone, Angela Brown, Courtney Wisely, Amy Caris, Chris Schwab and more. Get free access to masterclasses and workshops that will help you to grow, scale and automate your cleaning business so you can get more leads and create more profit. Make sure you're on our email list to find out how to get free tickets to the next event.
If you found this article helpful for your maid service, you may also like:
You and your maid service deserve a little peace and quiet. Try ZenMaid for free today!