Last Updated on January 19, 2023 by The ZenMaid Team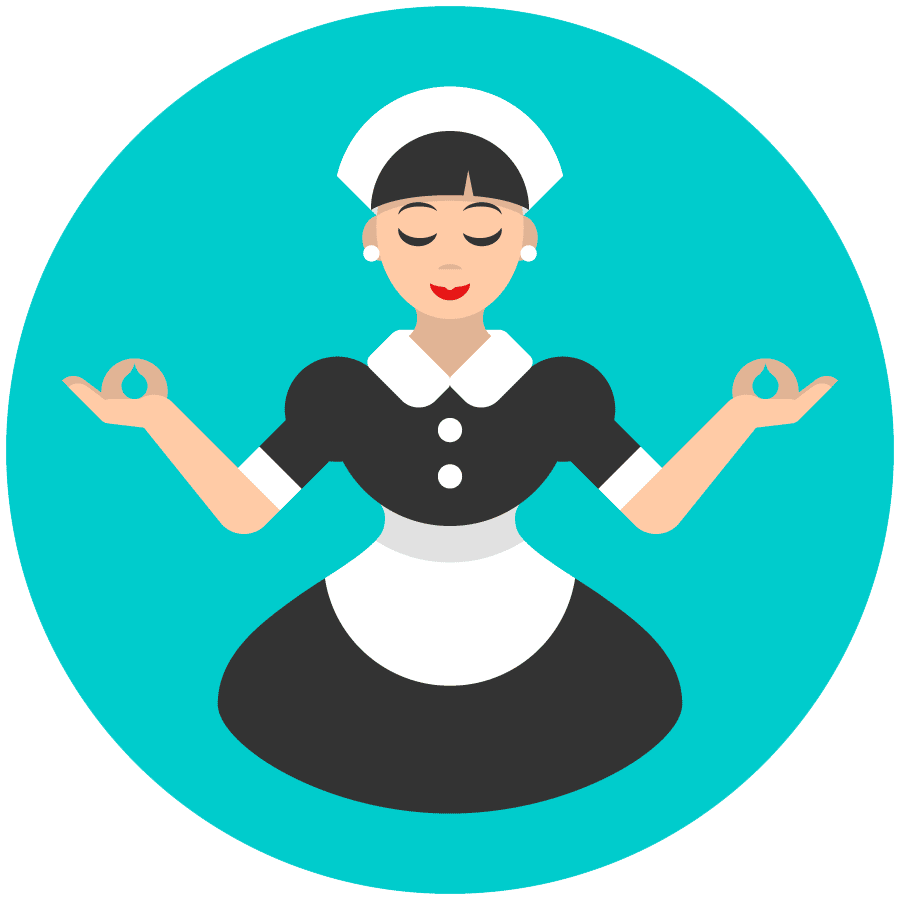 How many hours a week could you be saving in your cleaning business?
ZenMaid is the simple scheduling software that will help you save 30+ hours in your cleaning business, every week. Join thousands of other cleaning business owners who now have time to take a nap, spend time with their family and take vacations! Start your free 14-day trial today to discover how many hours you can get back in your week.
#1 Involve your cleaning business with the right people
Upgrade your life by surrounding your home cleaning company with people who meet your core values, focus on those who want to make your company great.
Consider your existing cleaning client base and who your best customers are, this is the target market that you should think of when bringing new people into your cleaning business.
Who, out of your current cleaning clients, would you want to keep? Who are your most valuable and enjoyable cleaning clients? How could you align your Maid Service's values with theirs?
"It's about having a vision about what type of people you want as your customers." – Alonzo Adams
Designing this vision helps you to work less, focus more and really build that bond between you and your cleaning clients.
This path to branding allows you to increase your cleaning business success rate while showing your cleaning clients how much you truly understand their needs.
Additionally, consider the cleaners and cleaning office staff that you want for your Maid Service. Look for employees who are cooperative, interact well with others, and who are willing to grow with your cleaning company.
Try not to bother yourself with people who just need a job. Your applicants should be team players who are willing to grow with you long-term.
Make moves based on the larger view of your business. Who has your best interest in mind? This includes your vendors, cleaners, additional staff, and your cleaning clients. Don't be afraid to let people go who aren't good for your overall plan.
#2 Hold meetings to plan and execute improvements for your Maid Service
In order to stay informed on your cleaning business success rate, schedule meetings and stay on the same page as your cleaners, office staff and cleaning clients.
This habit allows you to know what is going on with the day to day and to track how your business is improving. When mistakes occur, you will be able to use the lessons to immediately improve your systems.
The frequency of meetings can adjust based on your needs but it is recommended to have daily meetings, and weekly meetings to keep your cleaning company constantly improving.
Monthly, quarterly and annual meetings are also highly recommended in order to go over bigger picture ideas and financial decisions that can increaseyour cleaning business's profit potential.
If you aren't used to having this many meetings then it might seem like a lot, but if you want to execute plans that will increase your cleaning service success rate then you need to stay updated on progress.
You'll be able to better track the impact that implementing new software or system by setting an agenda and paying attention to the process as well as the speed in which these things are accomplished.
#3 Decide on a strategy to achieve the profit potential for your cleaning business
There are many options on how to use strategy to improve your cleaning business success rate and increase your profits.
Essentially strategy is how you choose to execute the plan you've made to improve your home cleaning business whether it's in marketing or a new training module.
Keep your core values in mind when creating these plans so that you stay consistent with your brand message.
In order to be sure that you are getting your vision across, you may think you need to have a large number of values, resist this urge to overdo.
Keeping 5 or less clear and concise principles can help you, your cleaners and your cleaning clients better understand your intentions with your Maid Service.
Simplifying can be a great way to help you to grow and increase your cleaning business's profit potential.
When it comes to your strategy, everything you do should be based on these values: hiring, onboarding, firing, how you interact with customers, how you market, sell, etc.
Each part of your Maid Service can align with your basic principles, target your customers and improve your cleaning business success rate.

#4 Keep a cash cushion for rainy days at your cleaning company
In order to increase your cleaning business's profit potential, you have to give yourself some wiggle room on expenses.
It is important to have money in reserves in case there are any unexpected events that come your way.
Things like damaged furniture or a scuffed floor in a cleaning client's home could be quite costly, especially if you didn't prepare for them in your budget.
Greater unexpected expenses like floods, fires, and other emergency preparations also need plans as well as funds in place so that one unforeseen event doesn't set you back even further.
On the more positive side of preparedness, a cash cushion can also help increase your cleaning business profit potential.
You can apply funds to creative flexibility in marketing, or put them toward investments and other growth opportunities.
Direct your attention towards your cleaning business profit potential by focusing on where your money goes and where it comes from.
Who are your most profitable cleaning clients? Target and impress them so that they bring more of their demographic straight to your Maid Service.
Do you have an easy payment system? Accept credit cards, cash, Venmo or Paypal to provide options to your cleaning client and to get you paid on time.
It is great to be understanding and you should give people the benefit of the doubt if there is a payment error but don't let cleaning clients run over your cleaning business with late payments.
Have systems in place that can helpto be sure you aren't falling into a money hole.
Have regular conversations with your accountant, bookkeeper, and stay on top of your taxes, getting behind on these things can make it difficult to catch up again.
"A company can have fantastic revenues, reasonable expenses, and significant income, but if its financial operations […] are not designed efficiently, it could still have negative cash flow." – Alonzo Adams
Keep track of your finances, invest in your cleaning company and stay excited as you grow your Maid Service to the max!
The article above was based on a talk given by Alonzo Adams that happened live at the 2019 Maid Summit, hosted and organized by ZenMaid.
About the presenter
Alonzo Adams is the president and CEO of Busy Bee Cleaning Company, a cleaning business that has been operating since 1993.
Busy Bee Cleaning Company is award-winning in Pennsylvania for providing professional cleaning services with consistent, quality results.
In the cleaning industry, Alonzo is known as a big thinker because of his focused interest in the expansion, growth, and innovation of his cleaning business.
He has some great advice for Maid Service owners to increase the success rate and the profit potential of your home cleaning business.
Watch the full presentation from Alonzo now:
This talk first aired at the 2019 Maid Service Success Summit.
The Maid Summit is an annual online event that brings together the most successful leaders in the cleaning industry, like Debbie Sardone, Angela Brown, Courtney Wisely, Amy Caris, Chris Schwab and more. Get free access to masterclasses and workshops that will help you to grow, scale and automate your cleaning business so you can get more leads and create more profit. Make sure you're on our email list to find out how to get free tickets to the next event.

If you enjoyed these articles, check these ones out too: