The Ultimate Guide to Marketing Your Maid Service on Instagram
Everything you need to know, from creating an account to building a following and getting new cleaning customers

I have a confession to make. (Don't judge me).
I use Instagram a lot. I can't stay off of it.
I like to see my friends' new beaus, and what they ate for lunch today. (Fascinating). I follow B-list celebs and get to peek into their personal lives.
I also follow and interact with local businesses. Like my favorite gyms, the cafe that's walking distance from my house, a local soap store[a], and more.
And I'm not alone. The majority of Instagram users (70%) have searched for a brand or business on the platform.
That's what makes Instagram one of the most enticing new marketing platforms: Customers want to interact with businesses on Instagram.
Still hesitant?
Here are a few more stats to convince you that Instagram is where it's at: 
And more than half (51%) of active users visit the site daily.
A Step-by-step on setting up an instagram account
A Step-by-step on setting up an instagram account
The how to on using instagram to it's fullest
Convinced yet?
If you're ready to use Instagram for your business, this guide will show you how. It starts from the very basics, for those of you who are new to the platform or thought Instagram was just something your kids used. Then it goes into what to post, how to build a following, how to convert followers into customers, and more.
What is Instagram?
So what is this "Instagram" thing anyways?
Well, it's basically a platform to share photos with your friends.
But it's a little different than just posting photos to Facebook, in a few ways: 
While you might post dozens of photos in an album on Facebook, most Instagram users choose just one favorite image to post on Instagram.
While you might post dozens of photos in an album on Facebook, most Instagram users choose just one favorite image to post on Instagram.
So the net effect is a minimalist app with polished and inspiring images. (And their captions).
Although the vast majority of posts feature a single image and a caption, Instagram does allow other types of posts, such as:
Posts that have multiple pictures (up to 10).
Live video clips, which also stay up for 24 hours.
Here's what an Instagram feed looks like:
My Instagram feed. The top section features Stories and live videos. These disappear in 24 hours. Below that, my image feed starts. The buttons at the bottom of the screen let me navigate to (1) Home (the current page), (2) Search, (3) Posting a photo, (4) Looking at posts I or the people I follow have liked, (5) My profile.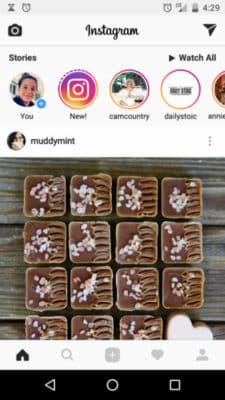 How to Set Up an Instagram Account
Now that you know what Instagram is, let's get you set up on the platform.
Instagram is meant to be used on a smartphone. While you can technically access Instagram from the computer, you are unable to create posts from a computer. So you'll start by installing Instagram on your phone.
Step 1) Download the Instagram app on your smartphone. Go to the Google Play Store or the Apple Store, search for 'Instagram' and click 'Install'.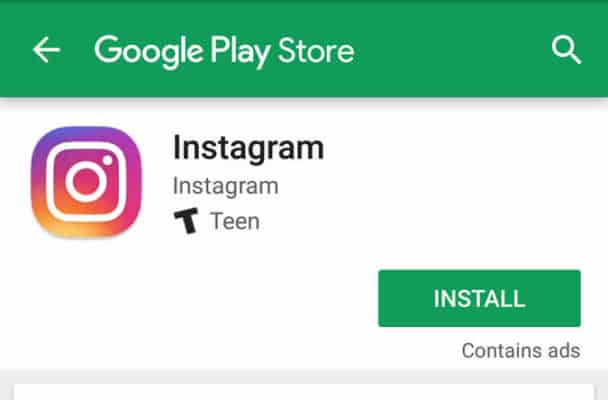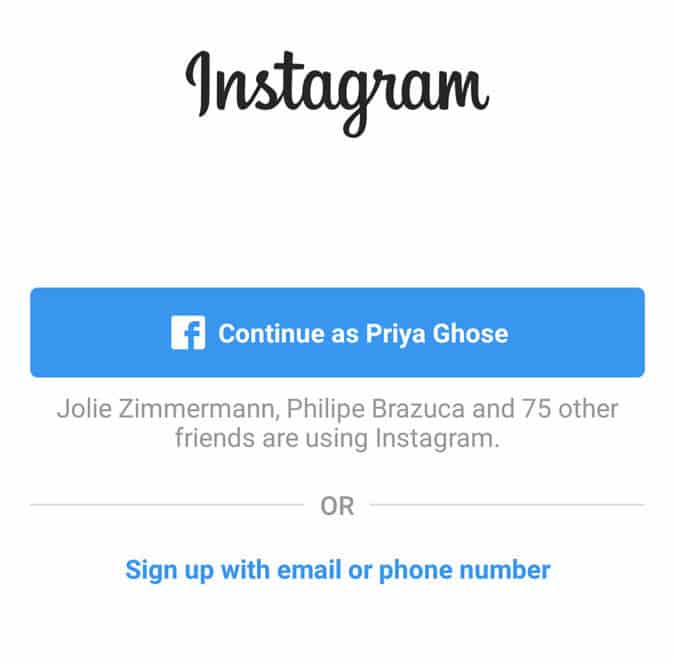 Step 2) Once the app is installed, open it. You'll see the option of creating an account through your Facebook, or creating a new account. If you have a Facebook account that you use solely for your business, then go ahead and create an account through your Facebook. Otherwise, click 'Sign up with email or phone number,' and create a new account using your business email.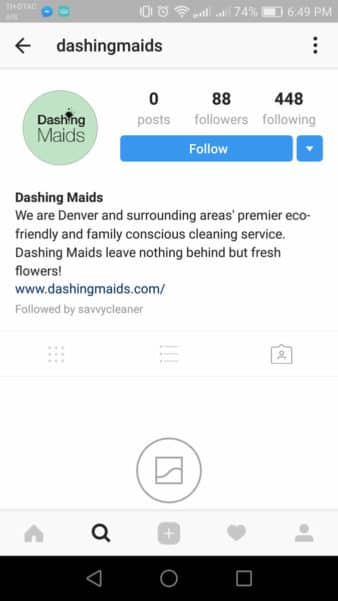 Dashing Maids has their business name as their Instagram name, their logo as their profile picture, and their location clearly stated in their bio. This is exactly how you should set up your profile.
Step 3) Once you've created an account, it's time to fill out your details.
Full Name: Use the name of your business.
Username: Your username is unique to your profile. If your business name is available, use that. If it's not, and your business name does not include your location, add the location. For example, if SpotlessMaids is taken, you could try SpotlessMaidsDenver.
Profile Picture: Use your logo as your profile picture. That way people will realize you are a business, not an individual's Instagram. It also makes your account seem more professional.
Instagram Bio: Your instagram bio is a short (150 characters) description of your business. If your service area isn't in your business name, then you need to include your location in your bio. End your bio with a link to your website.
[Optional] Step 4) If you have a Facebook business page, switch your Instagram to a business account. A business account gives you access to analysis tools and a few additional features. You'll also be able to run paid advertising campaigns. (Promoting your posts to your target market).
To create a business account, go to your profile (click the person icon on the bottom right). Then go to your settings (the three dots on the top right). Scroll down until you see 'Switch to Business Profile.' The app will direct you to login to Facebook, and select the Facebook business page you would like to connect to.
What To Post (10+ Instagram Post Ideas for Maid Services — WITH EXAMPLES)
Alright, you're all setup with an Instagram account. It's time for you to start posting.
You might be feeling a little lost, or shy. What are you supposed to post?!
Don't worry, friend, I've got your back. This section covers a bunch of maid service post ideas (with examples).
The 3 types of posts that works well on Instagram are:
Posts that give people an inside peek into your business
Posts that show people how awesome you are
Posts that come off as friendly, helpful, and fun
On the left is the Molly Maid team at their monthly birthday celebration. Little gatherings like this
are a great opportunity to take a group photo and post it to Instagram.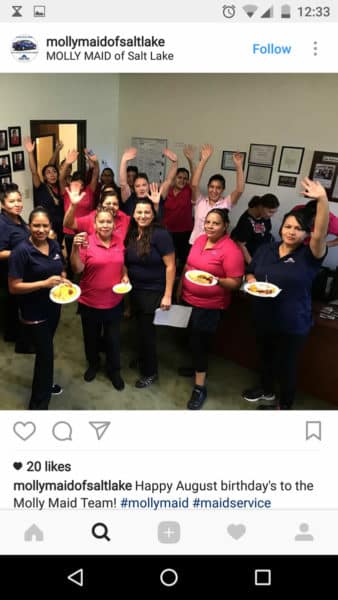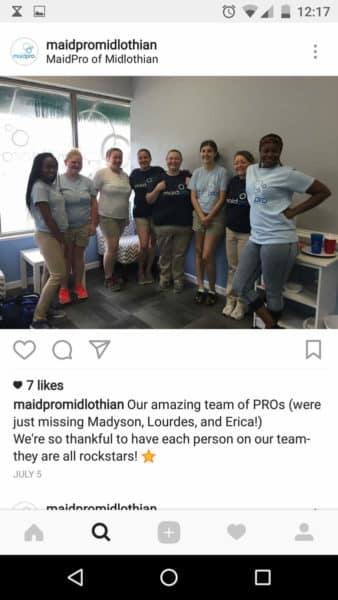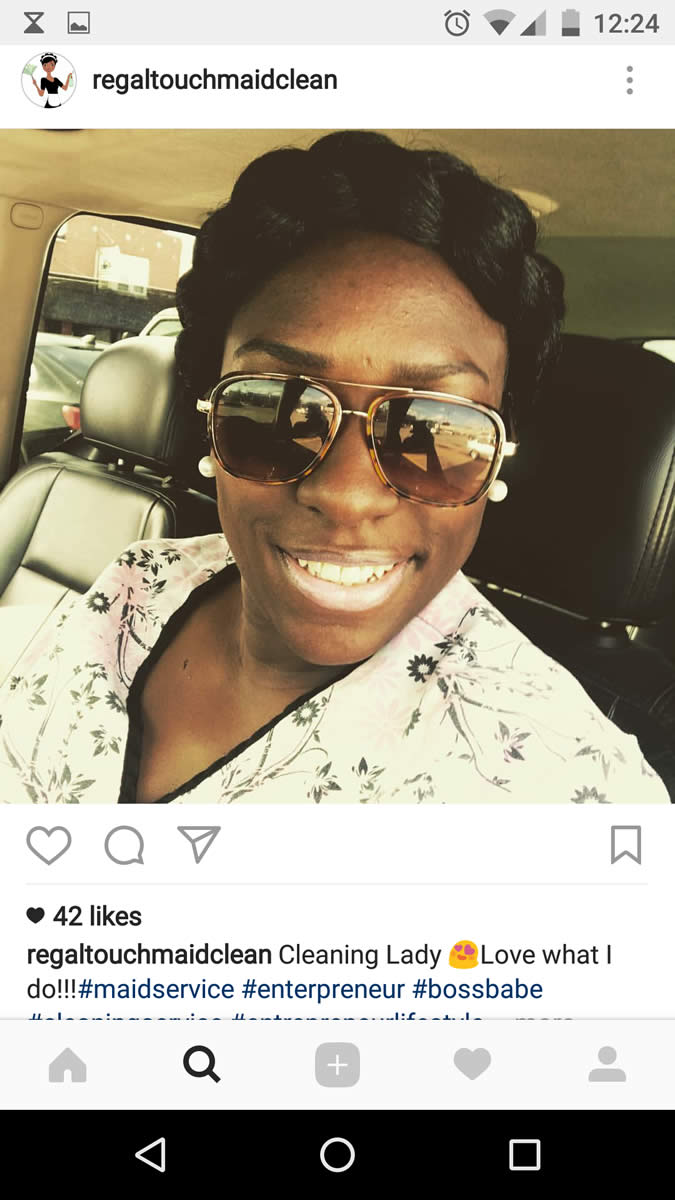 If you're a one-man show, don't be afraid to post a selfie. Seriously, just posting a photo of yourself makes your followers feel like they're getting to know you. (And new customers will feel more open to reaching out for an appointment because you'll seem like a person, not a faceless business).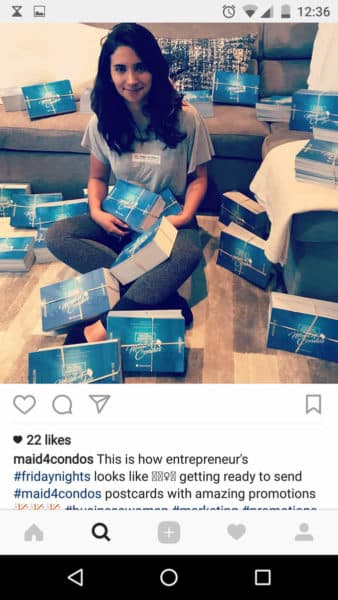 Give your customers a peek behind the scenes of your business! Something they wouldn't usually see, such as administrative or organizational tasks. This may seem like a boring post to you, but for your followers it's interesting to see what it takes to run a successful business.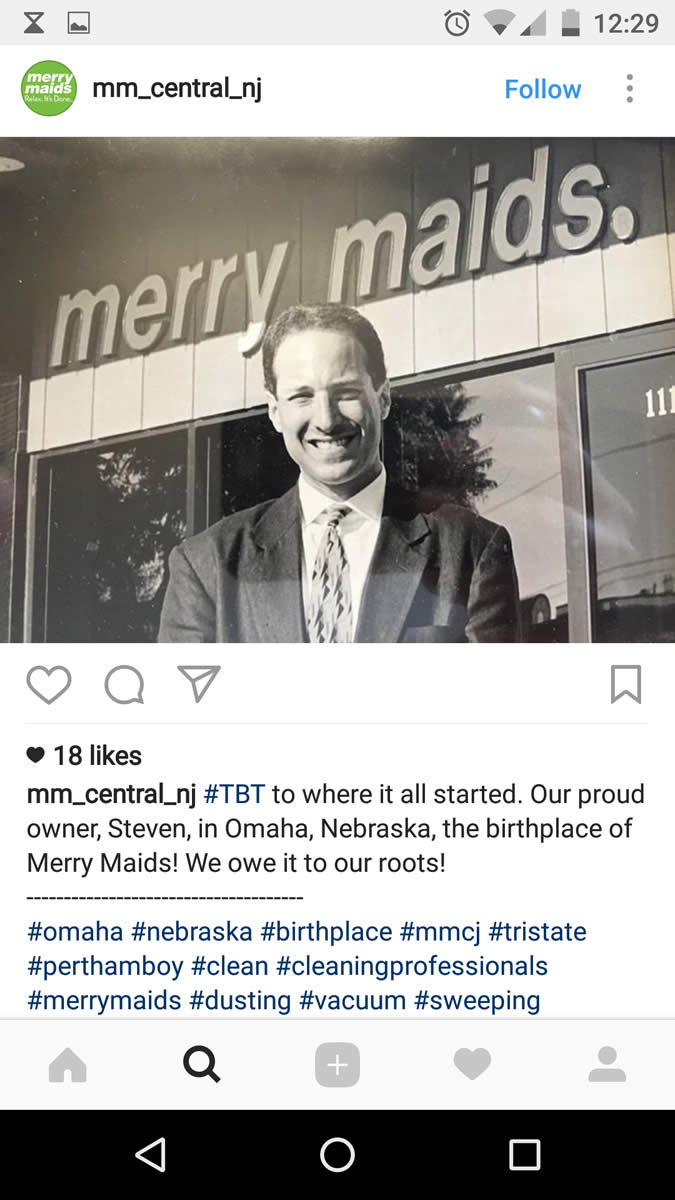 There are a number of weekly hashtag themes – we'll discuss these more in the hashtags section.
One of the most popular is #ThrowbackThursday, where you post an old photo. Use Thursdays as an opportunity to post an old business photo.
Don't worry, it doesn't have to be vintage – even a photo you took a few months ago counts. For example, if you attended a conference before you had an Instagram, you can post a conference photo and tag it as #ThrowbackThursday.
#ThrowbackThursday is meant to be nostalgic, so re-post good memories. And write a little bit about the photo – where were you, what were you doing, and why are you feeling nostalgic towards it?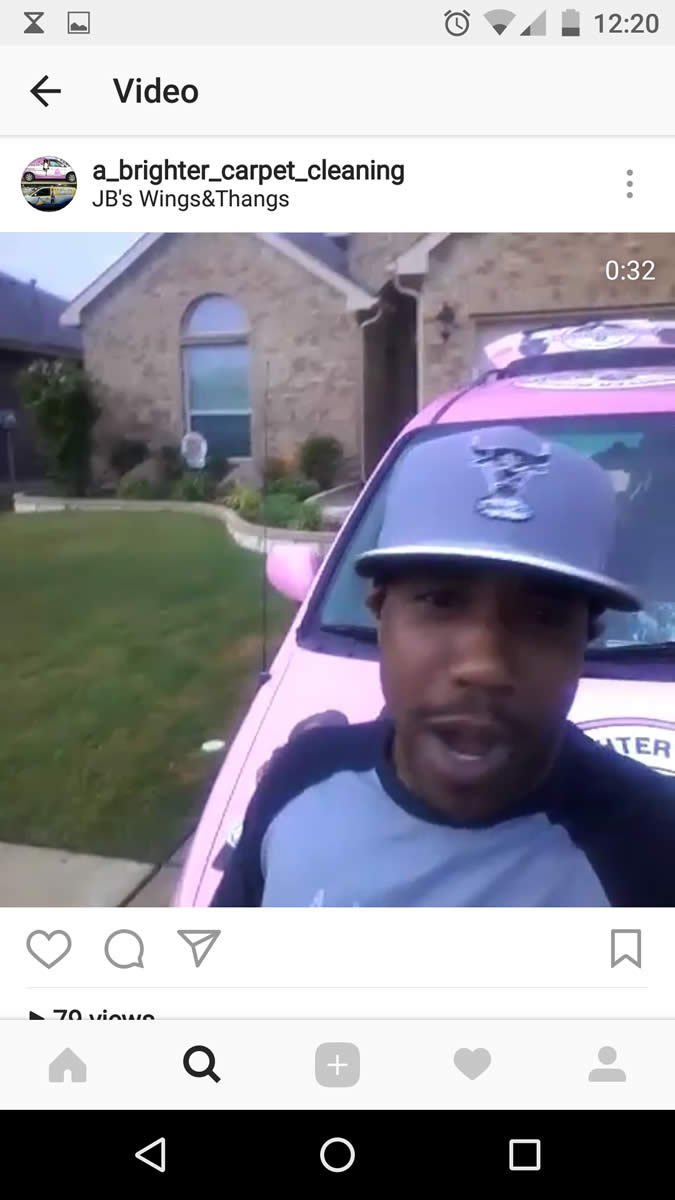 If you're extroverted and likable, you may want to consider taking a video of yourself every so often. You can share a story, give cleaning tips, say something inspiring…really whatever you want to say. Video is becoming a more and more popular medium because it allows viewers to get to know you (in a way that's impossible through just text or images).
A Brighter Carpet Cleaning posts videos where the owner advertises his services, talks about his day, or says something motivational:
Show Off Your Awesomeness
The whole point of having an Instagram is to market yourself and get more customers. So sometimes you'll want to create posts to show just how awesome you are.
The type of posts that make followers wish you would come clean their house.
Here are several post ideas to show the value and quality of your business.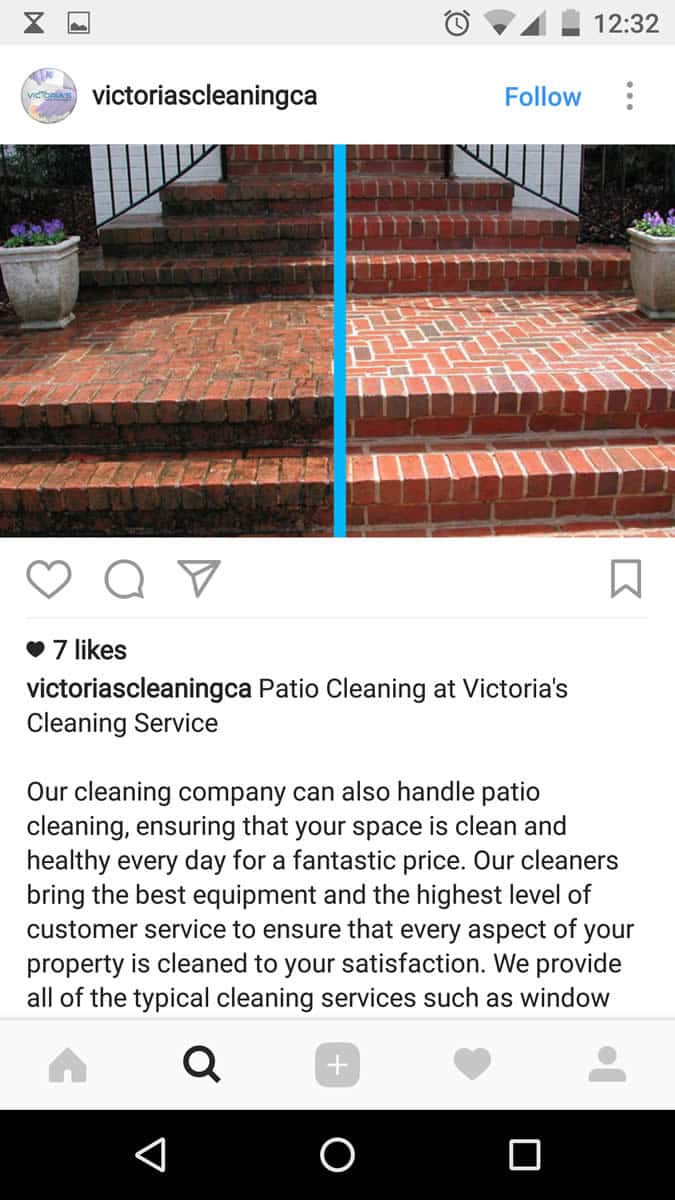 Before & After posts can be powerful visuals. Your followers will start imagining the dirtiest part of their homes, and dreaming about how shiny and beautiful it would look if it were properly cleaned.
This Before & After post promotes a lesser known service that Victoria's Cleaning offers: patio cleaning. This is a great way to get current customers who follow you to try a new service.
Praise and Testimonials
Testimonials allow your followers to see that others' have had a good experience with your business, and trust you.
These types of posts don't need to be fancy – the customer's words matter more than the look of the post. You can post screenshots of testimonials, like this: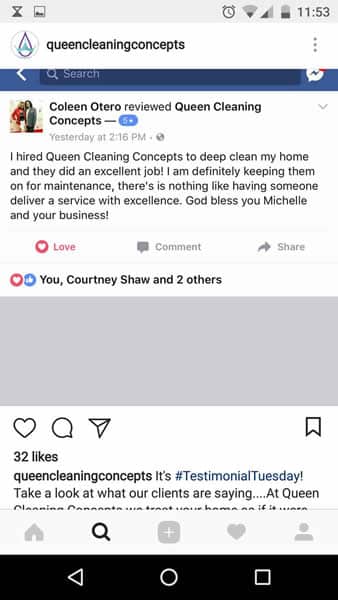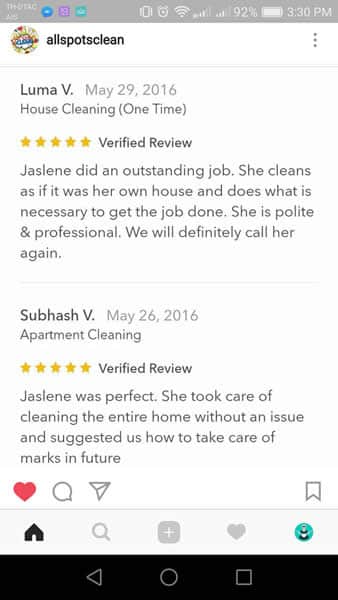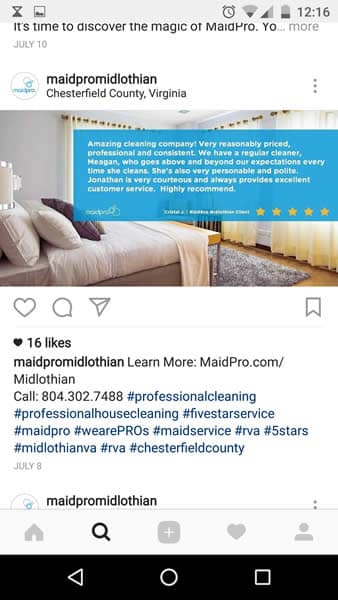 If screenshots are too casual for your branding, you can make a fancier post that looks more like a traditional ad.
Charity Posts
Does your company support charitable causes? That's awesome – so post about it!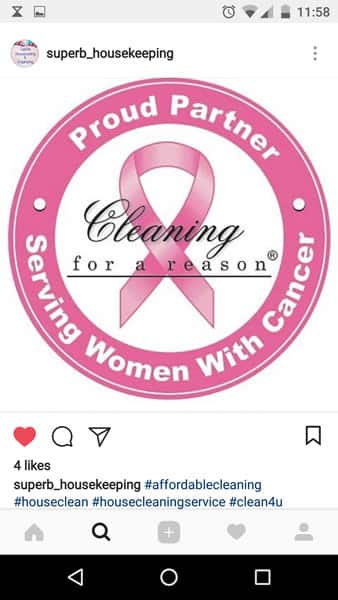 Superb Housekeeping participates in Cleaning for a Reason. We love the picture and hashtags in this post (we'll discuss hashtags soon). But one thing that's missing is a description!
A description would help make this post feel more personal. For example, Superb Housekeeping could talk about one of the patients whose home they have cleaned, or why this cause is important to them.
Blog Posts, Other Content
If you're putting out content on your website or elsewhere, advertise it on Instagram.
You can use canva.com to create a graphic for the image of your post.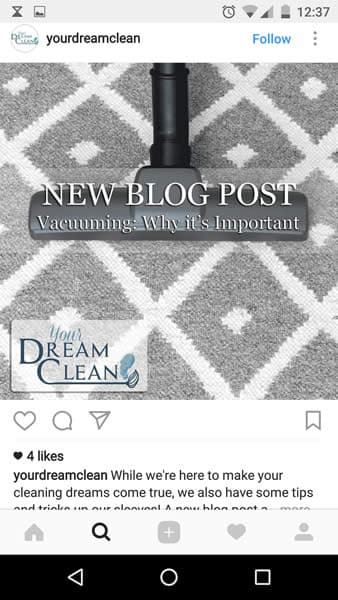 One thing to note – You cannot put a clickable link in the description of a post. So if you want people to follow a link, end the description with "Link in bio." Then update your bio to include a link to the resource or article you are promoting.
Be Helpful, Friendly and Fun
When you're not giving your followers a peek inside your business or showcasing how awesome your business is, you want to add value by being helpful, friendly, and fun. These types of posts make you a likable business, not just a business that only cares about sales.
When your followers need cleaning help, they'll remember your helpful Instagram account and reach out.
The following pages are some ideas of what being helpful, friendly and fun looks like. 
Cleaning Posts
Cleaning is your area of expertise. Why not share your knowledge with your followers by posting a cleaning tip?
Notice that the image in this post is bright and pretty – it doesn't show an excessively dirty area. Instagram users want to scroll through pretty pictures. Even when you're posting cleaning tips, don't post pictures that might gross your followers out.
Inspirational Posts
Share posts that are inspirational or wise. Many Instagram users appreciate a little inspirational pick-me-up as they scroll through their feed.
Here's a fun bit of wisdom from Queen of Clean: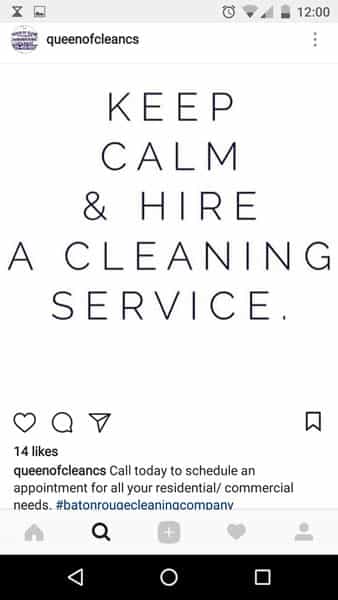 Holiday Posts
Get into the holiday spirit with a holiday-themed post.
The post can just wish your followers a happy holiday. Or, if you're running a holiday promotion, let your followers know about it.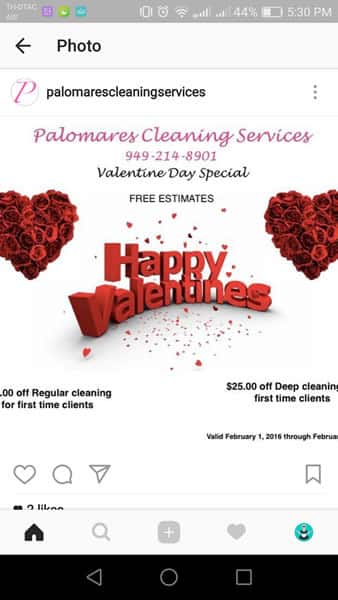 Event-Themed Posts
If there is a big event going on, use it as an opportunity for a themed post.
Here's a Super Bowl themed post from Maid in NC: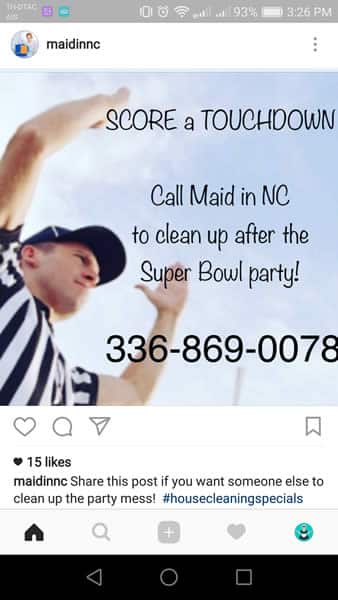 Local Posts
Posts about local events are especially fruitful. That's because the majority of people who search for a local event will be locals themselves. (Which means they're in your target market!)
So make posts based on local sports games or community-wide events.
You can also make local posts that are timeless (not referencing any event). For example, if you're based in San Francisco, you can post a picture of the Golden Gate Bridge. (You'll want to use location-based hashtags so that your post shows up in search results. This is explained in detail in the Hashtag section, later on).
Customer Celebration Posts
If your customer is okay with it, feature them in a post. Post something kind about them, or celebrate their birthday or a recent accomplishment. The customer will love you for it – and other customers may also find it touching, and realize that you and your business really care about your customers.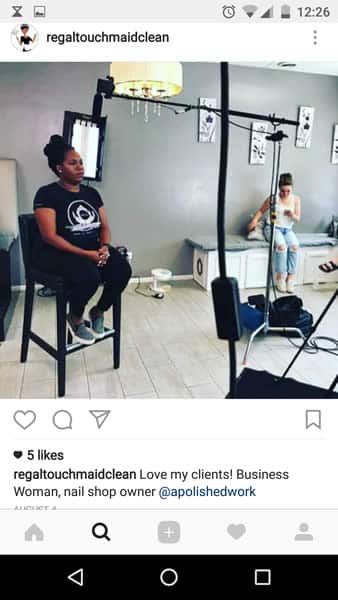 In this post, a maid service owner was cleaning at a customer's business while the customer was being interviewed for TV. She used it as an opportunity to celebrate her client.
So there ya have it. Those are some of the most effective, most recommended posts for maid services.
But don't feel confined to these types of posts. If you're feeling creative, try something different and see what gets engagement. Instagram is still a new medium with a lot of untapped potential!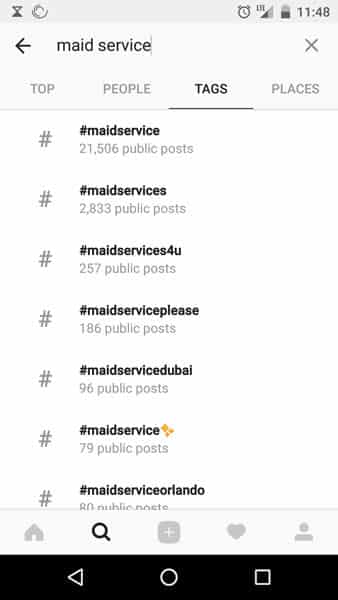 Instagram allows you to search in 3 categories: people (if you're searching for a specific user), places (if you want to see photos taken in a specific location), and tags (if you're looking for posts with a specific hashtag).
If you're looking for posts about maid services you can search Tags for 'maid service'. Instagram will show you the most popular hashtags that contain the words 'maid service'.
When you choose the hashtag you'd like to look up, Instagram will show you recent or popular posts with that hashtag.
You can also see the search results of a hashtag by clicking on a hashtag in a post. So if you use the hashtag #Boston, then a viewer can click '#Boston' and see all posts with that hashtag.
So by using hashtags, you're increasing the odds that someone finds you while they are searching Instagram. It's kind of like the most basic Search Engine Optimization (SEO) for Instagram.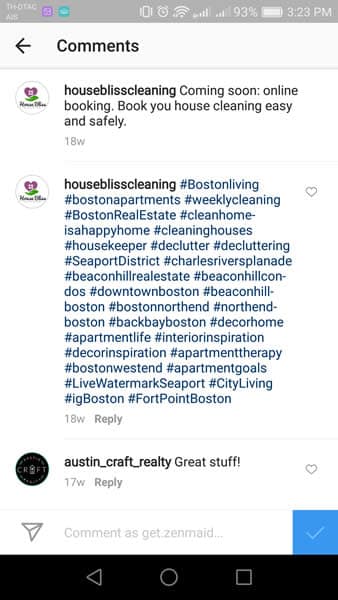 When it comes to hashtags, more is better. The more hashtags you use the more search queries you'll show up in. Typically posts that have 11+ hashtags get almost 100% more interaction than those that only have 2.
If you're going to use many hashtags, put them in the first comment of the post rather than in the post itself. That way the hashtags are less visible and less annoying.
Local Hashtags
Maid services should always use local hashtags. That's where you're most likely to get traction, since most people who search for a location-based hashtag are local to your area.
Plus, posts with a location get 79% higher engagements than posts without them. (You can add the location both through Instagram's interface, and by adding location-based hashtags).
For hashtags, use a variety of hashtags that all refer to the same place. For example, if you are a Nashville-based cleaning service you might use hashtags like #Nashville, #NashvilleTN, #MusicCity, #Nash and so on. That way, no matter what search term someone uses, your post will show up.
Local Hashtags
As a maid service, you'll also want to use hashtags related to your work.
Here's a list of common maid service hashtags:
#housecleaningspecials – when you're offering a discount or deal
You can also create hashtags by combining your location with maid service words, like #NashvilleCleaningService.
Other Relevant Hashtags
Use any other hashtags that are relevant to your post.
If you are posting a Throwback Thursday post, use the hashtag #ThrowbackThursday, or #TBT.
If your post is about the Superbowl, use the hashtag #Superbowl or #SuperbowlSunday or #Superbowl2018.
You can also make up hashtags if they're relevant. If you're attending an event, you can make a hashtag based on the event name. If your post shows your white cat, you can make up the hashtag #whitecat. Anything can be a hashtag.
Getting Locals to Follow You
Of course, none of your creative posts or relevant hashtags matter if you don't have a following.
And paid followers don't count. You want a following of people in your area who are open to hiring a maid service or who are already your customers.
Add Family, Friends, and Customers
Once you have a few posts up, you're ready to get some followers. Start by asking your family and friends to follow you.
Then tell your current customers that you are on Instagram. You can just mention it in an email, and ask them to follow you. You'll also want to add a link to your Instagram on your website and your other social media pages.
If you're having trouble getting enough current customers to follow you, you can run a contest. For example, you can raffle off a cleaning discount to anyone who follows you before a certain date.
Once you have several followers, you'll seem more trustworthy to potential customers.
Follow Your Competitors' Followers
When you follow someone, they get a notification that you started following them. Sometimes they will take a look at your profile.
So if you find other maid service Instagrams in your area and follow their followers, then their followers might check out your profile. Their followers might include people who want to hire a maid service soon but haven't decided which business to go with. Or it might include current customers who are unhappy with the service and might be curious about yours.
There are programs that allow you to auto-follow users who are following a certain user. However, these programs are against Instagram's policy and can get your account shut down.
Instead, manually follow your competitor's followers just one time, when you first create your account.
Partner with Influencers in Your Area to Publicize Your Business
Who Are Influencers?
The best way to grow your following is to work with influencers. Influencers are people with very popular Instagram accounts. As a local business, you'll want to look for local influencers.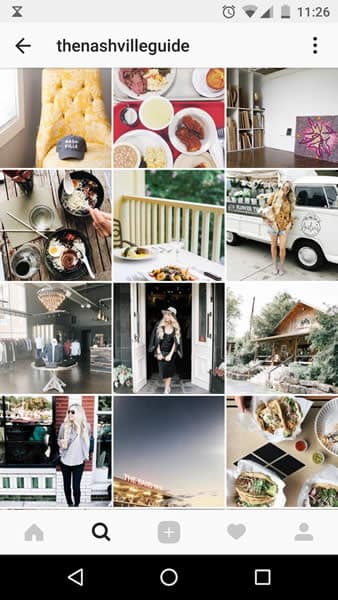 Oftentimes, there are accounts that have the name of your city in their username, and post a variety of pictures of locations and businesses in your city.
Here's an account called "The Nashville Guide." It has 73,000 followers. The account reposts pictures from restaurants, gyms, hikes and other places around town.
They often run promotions with local businesses, offering an exclusive discount for their followers.
Other influencers might be popular businesses in your area with active Instagram accounts. A popular restaurant or cafe can have thousands of followers. (I bet some of them need their houses cleaned!).
How Do You Find Influencers?
So where do you find these sorts of goldmine accounts? Here are some ideas:
Look up all your favorite local businesses on Instagram. Also look up businesses you know are popular.
Search for your city on Instagram. So if you're from Denver, search 'Denver'. Instagram will show you the top accounts with 'Denver' in it's name. These are almost always business or influencer accounts.
Ask your friends and family if they follow any local influencer accounts.
How Can Influencer Accounts Help You?
There are a lot of eyes on an influencer account, so simply interacting with the account can help people find you. For example, if you comment on one of their posts, their followers might see your comment and click to your profile.
You'll get more people clicking through to your profile if you write a thoughtful or interesting comment, rather than something generic. For example, never say something ambiguous that could be a comment on any post, like 'nice pic'. Instead say 'the pie last week was AMAZING,' or 'I'm so glad Fall has finally arrived!'
The holy grail of influencer marketing is for an influencer to make a post about your business. That way all of their thousands of followers will notice you, and many will check out your profile and business.
Before you ask an influencer if they'd like to partner with you, spend time interacting with them. Continue to follow their account and leave comments on their posts.
After a few weeks of engaging with them casually, reach out to them and:
Offer an exclusive discount or promotion for their followers or,
Ask if they are interested in a cross-promotion.
An exclusive discount can take whatever form you choose. For example, you could offer a discount code that their followers can use at checkout for 20% off. Or you might run a promotion where if their followers follow your account, they'll be entered to win a free cleaning.
A cross-promotion is when you make a post about their business in exchange for them making a post about your business. The posts shouldn't feel like ads. Instead, you would interact with their business in a genuine way and make a post about it.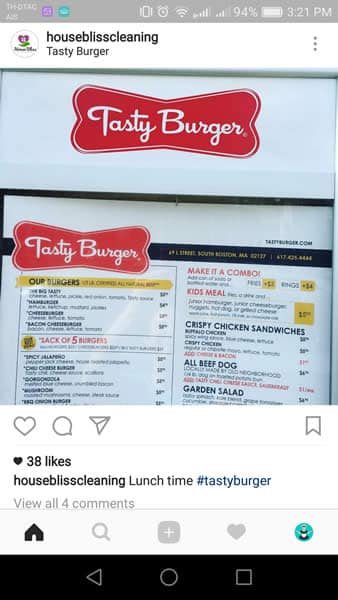 Oftentimes, there are accounts that have the name of your city in their username, and post a variety of pictures of locations and businesses in your city.
Here's an account called "The Nashville Guide." It has 73,000 followers. The account reposts pictures from restaurants, gyms, hikes and other places around town.
They often run promotions with local businesses, offering an exclusive discount for their followers.
Other influencers might be popular businesses in your area with active Instagram accounts. A popular restaurant or cafe can have thousands of followers. (I bet some of them need their houses cleaned!).
House Bliss Cleaning made a post about Tasty Burger. If Tasty Burger has an Instagram account, they can reach out to Tasty Burger and arrange a cross-promotion.
Offer Perks to Your Customers for Publicizing Your Business
While your customers have a lot fewer followers than an influencer account, their followers are usually friends and family who know them in person. Thus their followers have a lot of trust in their recommendations.
Offer your customers a discount on their next cleaning if they make an Instagram post about why they like your service and tag you in it.
Turning Your Followers Into Customers
So what's the point of getting hundreds or thousands of followers anyways?
Well, first off, when a follower needs a cleaning service, they're going to remember your cleaning service more than any other. Chances are, they'll check out your website, and many will setup a cleaning with you.
However, you probably aren't putting time and effort into Instagram just to hope that a few followers convert passively.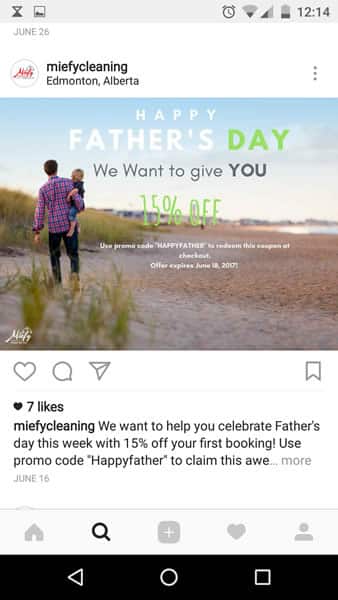 To actively convert followers, you can post advertisements on your Instagram.
However, don't post ads too often or your Instagram will seem spammy, and people will unfollow you.
One trick for ads that don't seem spammy is to create themed promotions. Themed promotions feel like you are celebrating a holiday or event alongside everyone else, rather than feelings salesy or spammy.
Advertising on your LinkedIn allows you to directly transform followers into customers.
How to Create a System so that Managing Your Instagram is Easy and Painless
On average, brands post six images per week on Instagram, or almost one a day.
But you have a lot of other things to manage – like cleaning houses, and managing employees.
You don't have to post 6 times a week just cuz other brands do it. Aim to post at least once a week to make sure you're top of mind when your followers think of a cleaning company.
That said, posting six times per week doesn't have to be overwhelming. It just requires a little forethought and a free automation service.
Here are the steps to managing your Instagram with ease: 
Create an editorial calendar.
Batch post creation so that you create many posts in one sitting.
An editorial calendar helps you plan out your content for the month.
Basically, you'll want to look at a calendar (on paper or online) and fill out what type of posts you will post each day.
It helps to choose a few themes that repeat each week. For example, if you have a lot of pictures from previous years of your business, you can plan to do #ThrowbackThursdays every Thursday.
This is a hypothetical calendar for June
For this example calendar, every Tuesday is a testimonials post, Thursdays are for #ThrowbackThursday, and Fridays showcase Before & After posts. Since Father's Day is June 18th, there are Father's Day Promotion posts a few times. Then a few other posts were added in at random such as a charity post, an inspirational post, and cleaning tip posts.
All of these posts can be created ahead of time. You can create these posts as drafts, and then publish them when you scheduled to post them.
Or, if you would prefer to have the whole process completely automated, you can use third party apps like later.com (free platform) or grum.co (paid platform, but easier to use and has extra perks).
These apps allow you to create posts ahead of time, and schedule when you want each post to be released.
Of course, there are some types of posts that are better created the day of, not early. For example, if you take a picture of a staff event, you might want to post it right away. Selfies and video selfies are also best posted the day of. You can plan ahead to do these types of posts on a certain day, or you can just make them when the inspiration strikes.
Advanced Technique: Post Timing
Alright, ya overachievers.
If you really want to be an Instagram star, you'll want to release your posts at the right time of day.
You see, when you post closer to when most people log into Instagram, the closer you are to the top of their Instagram feed. Which means they'll be more likely to see your post.
Luckily there's been research done to determine the best times to post on each day:
Sunday: 5 PM
Monday: 7PM & 10PM
Tuesday: 3:00 AM & 10:00 PM
Wednesday: 5:00 PM Thursday: 7:00 AM & 11:00 PM
Friday: 1:00 am & 8:00 PM
Saturday: 12:00 AM & 2:00 AM
Although these times work in general, you may want to play around with them because every area is a little different.
Now, if you decide you don't want to use an app like later.com, then don't worry about posting at the right time each day. It's not worth the stress.
But if you are using an app, then you may as well schedule according to the times above so you get more eyes on your post.
A Quick Introduction to Paid Instagram Advertising
If you are seeing traction from your free Instagram marketing efforts, you may want to consider paying for Instagram advertisements.
Instagram advertisements look just like any other post, except that the post is labeled as 'Sponsored.' In addition, the post has a button that says 'Learn More' and can be linked to your website or landing page. Ads show up in someone's news feed between posts from the people they follow.
To get started with paid advertising, you'll need to change your Instagram account to a business account. (You can find instructions for this here).
Once you setup a business account, there will be a 'promote' button next to each of your posts. Choose which post you'd like to promote and Instagram will walk you through the process. You may already be familiar with it, since Instagram's ad campaigns are setup through Facebook's ad platform.
Phew, that was a lot to learn!
Are you feeling Instagram-savvy?
Great, cuz it's time for you to go out and create your own Instagram, charm the world with your posts, and build a following.
But you don't need to do it alone. Share your progress, ask questions, and cheer others on in ZenMaid's Facebook Mastermind group.
And don't forget to follow us on Instagram. (We'll follow back!).
More Money. Less Time.
The Easiest-to-Use and the Best Rated Maid Software on Capterra.
Rated 5 stars by Owners just like YOU!
14 Days Free. No Credit Card Required